Welcome to SPIN's Singles Mix! SPIN staffers have rounded up their favorite, must-hear tracks for your personal playlists. Collecting the finest from indie ravers, Montreal post-punks, an electronic pro with more names than Satan himself, and more, these are the songs you need to know right now.

AFX, "Serge Fenix Rendered 2" (Warp)
The flood of new music from Aphex Twin mastermind Richard D. James continues on "Serge Fenix Rendered 2," the first track off the upcoming EP Orphaned Deejay Selek 2006-2008 and James's first release under the AFX pseudonym in ten years. In typical Aphex Twin (sorry, AFX) fashion, James takes a few spare parts — a thundering boom-clap beat, bubbly analog synths —and knits them into an alien soundscape that could come from no other mind. — TREE PALMEDO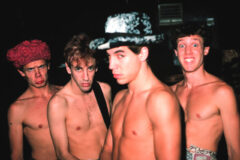 Birds of Passage, "These Things Don't Matter Now" (Cooper Cult)
New Zealand-based ambient composer Alicia Merz barely lets her voice rise above a whisper, but that limited dynamic range still affords her the ability to wreak quiet devastation under her Birds of Passage moniker. With only a few tools (her vocals, a piano, a few drips of reverb), "These Things Don't Matter Now" represents Merz at her most efficient. Every exhalation is a quiet storm capable of imminent destruction. — COLIN JOYCE

The Chemical Brothers, "EML Ritual" (Astralwerks)
The Brothers have been back in town for a few tracks now (the falsetto "Sometimes I Feel So Deserted," the funk-edged "Go" featuring Q-Tip, and the twinkle-pop "Under Neon Lights" with St. Vincent), but they're packing considerably less flash on the minimalist venture "EML Ritual." Showcasing Ali Love on vocals, who they also tapped for 2007's "Do It Again," the U.K. electronic duo's latest slow-builds with a nervous, fidgety undercurrent, while short high-pitched blasts assault your senses — perhaps not unlike the brain shocks you get when weaning off SSRIs. —RACHEL BRODSKY

Cornershop, "Pinpoint" (Ample Play Records)
"Think Chic meet St Etienne," reads Cornershop's SoundCloud info for "Pinpoint," one half of the outfit's upcoming double A-side single. Not far off: The track's bubbling bass line, canned horns and excusably excessive use of tambourine do Nile Rodgers proud, while the pristine airiness of Welsh singer Accu's guest vocal (on enigmatic lyrics like ""Waking wonder keeps me under") would make her a worthy brunch companion to Sarah Cracknell. It's a tricky blend, but Cornershop's been pulling off even tougher ones for over 20 years now, and their cross-cultural funkiness is as delectable as ever. — ANDREW UNTERBERGER

Crystal Castles, "Deicide" (Self-Released)
Alice Glass or no Alice Glass, Crystal Castles are forging ahead, now comprised of Ethan Kath and a new vocalist who so far goes by simply "Edith." The duo's second single together, which may or may not be a nod to the death metal band of the same name, is as dark as the faceless image assigned to it, with muted synths layered under doggedly sharper blasts. All the while, a heavy bass drum and Edith's gently vocoded vocals goad your feet to the floor. — R.B.

Daphni, "Vikram" (Self-Released)
"Free Download :)" Dan Snaith wrote on the Facebook page for Daphni, his more worldly alternative to euphoric dance main ego Caribou. "Vikram" spits what sounds like a chopped-up Indian music practitioner's vocal sample over a steady mechanized hand drum pulse, with tinny reverberations and deeply distorted echoes of the high-pitched chirps bursting throughout for texture. After keeping things at a steadily clicking BPM throughout, Snaith rounds out "Vikram" with the barest hint of cinematic strings. — HARLEY BROWN

Eric Prydz, "Rebel XX" (Pryda)
In May, Los Angeles-via-Sweden producer Eric Prydz announced three EPs compiling ten years of unreleased music from one of his labels, Pryda. "Rebel XX" — formerly played live as "Shrine ID" — opens Vol. 1 with a massive detonation. For seven and a half minutes Prydz shows no mercy: "Rebel XX" winds down only to keep going like a broken ceiling fan as a siren swells in the background back up to the towering heights from which he lets the bass drop. — H.B.

Helen, "Motorcycle" (Kranky)
Grouper's Liz Harris has said at different times that she wanted her band Helen to be "thrash" and "pop," but those violent signifiers only apply when new single "Motorcycle" is held in comparison to her otherwise opiated output. This guitar-driven track unfolds more like a dull ache creeping back as the painkillers wear off, with Harris' multi-tracked vocals as the final heavenly hallucinations before you have to face the day again. — C.J.

Ought, "Beautiful Blue Sky" (Constellation)
For their latest, Ought get their kraut-pop motorik runnin' yet again. Pinging guitar parts interlock with a dizzy drum pummel and the results are pure German engineering. But despite the momentum, the Montrealers' lyrical predilections run more Audubon than autobahn, looking up at the bright-lit blue sky as a reminder that it's OK to live on despite the depressing condo developments closing in. — C.J.

Prince, "HARDROCKLOVER" (NPG)
"It's time to check your cell phone / Red Bull and Patrón," sings the Artist Formerly Known as Someone We Never Thought Would Name-Drop Those Three Things. More expected is his yearning falsetto ripping from a sea of heavily processed guitar waves and reliable slap bass dives. Give Miguel a run for his money? Nah, he just wants his cut. — DAN WEISS