SPIN Rating:
Release Date:
May 19, 2015
Label:
Slumberland / Turnstile / Fortuna Pop!
Joanna Gruesome's debut 2013 full-length, Weird Sister, established the band as a spiritual descendent of both the early '90s K Records/Kill Rock Stars rosters and the U.K. riot grrrl scene. The Cardiff, Wales, quintet expertly stitched together lo-fi indie-pop, haywire noise jags, and bruising punk attacks, with the common thread being the sweetly poisonous vocals of ex-Evans the Death member Alanna McArdle.
The band's second full-length, Peanut Butter, covers similar territory. Partly this is because of personnel continuity: Like Weird Sister, the album was produced by M.J. from the Leeds-based psych-noise band Hookworms. Once again, he helps Joanna Gruesome casually fuse together diverse sounds, and then leverage this friction to create beautiful cacophony. Sub-two-minute popbombs such as "There Is No Function Stacy" and "Honestly Do Yr Worst" shamble forward on the strength of slanted guitars and dulcet co-ed vocals, while strident chiming riffs emerge from the creaky distortion and lurching rhythms of "Jamie (Luvver)."
Elsewhere, "I Don't Wanna Relax" begins with a burst of ear-splitting feedback before settling down into a groove greased by droning organ and fuzzy guitar splinters; the results sound like a hybrid of Dinosaur Jr. and Lush. The slow-churning "Crayon" also approximates a slightly rawer version of the woozy dream-pop favored by such acts as Lush. (At a shade over three minutes, it's also the longest song on Peanut Butter.) But as the latter tune demonstrates, Joanna Gruesome sound more deliberate in both their songwriting and execution. For all its charms, Weird Sister still felt like a debut record; it was a series of messy, joyous outbursts unfettered by expectations. Peanut Butter is far more self-aware, and that leads to music with greater resonance and variety.
Yet this conscious progress is also a byproduct of Joanna Gruesome's increased confidence. In particular, the foursome sounds far more fearless when embracing their chaotic side. McArdle, for one, lets loose this time around vocally: While plenty of songs highlight her ethereal upper register, she unleashes an unhinged, wild-eyed banshee howl on "Last Year" and some blood-curdling, cheerleader-from-hell chants on the Soviettes-esque "Psykick Espionage." Not coincidentally, these tunes rank among the best on the album.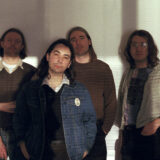 If there's a quibble with Peanut Butter, it's that the record is almost too short — its ten songs clock in at a mere 21 minutes. Yet this is also an indication that Joanna Gruesome have learned a lesson many seasoned acts are still trying to figure out: Say what you need to say, and always leave 'em wanting more.