SPIN Rating:
Release Date:
April 27, 2015
Label:
Parlophone
Sometime in the year 2023, Blur and Radiohead will release the exact same album. As Radiohead's material continues to get jammier, mellower and less electronic-based, and Blur's gets bloopier, headier, and funkier, the distance between the two greatest thinking-man's bands of the last quarter-century of British rock shrinks to increasingly negligible proportions. It might say something about the unifying effects of middle age on rock bands smart enough to evolve out of the vital brashness of youth, or it might suggest that there was never as much distance between the two groups as it seemed at their peaks, but it is in an interesting lens through which to view The Magic Whip, an intriguing statement of contemporary anxiety that often feels far more connected to OK Computer and Hail to the Thief than it does Parklife and 13.
Of course, that's not to suggest that Magic Whip sees a Blur totally unrecognizable as the band that briefly conquered Britpop in the mid-'90s. Indeed, opener "Lonesome Street" has a darting guitar riff and a chunky groove that would have fit perfectly onto one of the band's Parklife B-sides, even packing a title that you could swear had already named a Blur song 20 years prior. Lead single "Go Out" flirts with the same kind of Euro-disco sleaze as Parklife's "Girls and Boys" and The Great Escape's "Entertain Me," with a touch of those albums' working class faux-anthems in the "I go out to the lo-o-o-o-cal!" chorus. Hell, the pint-swigging chant-along hook of "Ong Ong" ("La la la la, la la la la la la la / I wanna be with you!") even calls back to the band's Sunday Sunday Popular Community Song CD dance hall days of covering "Daisy Bell" and "Let's All Go Down the Strand."
But even with those similarities, the Blur of Magic Whip is undoubtedly one older, wearier, and more mature than even the bunch that made the underappreciated globe-tripper Think Tank in 2003 — the quartet's last album (at least on the tracks where one-foot-out-the-door guitarist Graham Coxon was present) before this. The two sides of a 2012 one-off single — the elegiac balladry of "Under the Westway" and the frenetic instability of "The Puritan" — are far more predictive of the band's new effort, as singer Damon Albarn and company have seemed to split the difference between the two tracks. The modern cultural apprehension of both tracks are present throughout, but the slow songs on Whip aren't so dolorous and the faster songs aren't as unhinged; rather, the band mostly finds a middle ground both in rhythm and tone that feels discomfiting but not jarring, contemplative but not depressing.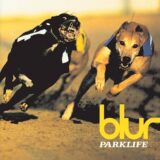 The most notable transition of Albarn's songwriting over the years has been his gradual shift out of direct storytelling to almost wholly abstract portraiture. Obviously, the Ray Davies-style third-person tales of "Stereotypes" and "Charmless Man" are now decades in the rearview, with the first-person character sketches of "Country Sad Ballad Man" and "Bugman" nearly as distant. But don't forget that Think Tank included the Fatboy Slim-produced rave-up "Crazy Beat" as one of its singles and the relatively straightforward love song "Ambulance" as its opener, amidst all the fears over media exhaustion and American militarism.
There's nothing like either on Magic Whip, an album not only without any easily understood lyrical narratives, but without any obvious hits. The scummy loner tale of of "Go Out" ("I get into my bed / And do it to myself") would come closest on both fronts, but the song's account shifts so dramatically throughout ("I did it to my head / There's nothing to be addressed now," "To many Western man / It's a problem left undone") that it's impossible to derive a straight reading from, and the song's Fat Elvis vocals and dissolving beat keep it from threatening actual dance floor (or stadium rock) mass appeal. In fact, the singles have never been harder to spot on a Blur record — even on an album as roundly uncommercial and inscrutable as 13, there was no mistaking the "Coffee and TV"s for the "1992"s.
However, that fluidity turns out to be the album's greatest asset. There's never been a Blur record that's flowed as well as Magic Whip; you might have to go all the way back to Modern Life Is Rubbish to find one that even comes close. Take the album's closing third, as the gentle dub bounce of "Ghost Ship" gives way to the spooky surf-pop of "Pyongyang," which tumbles into the near-sea-shanty singalong of "Ong Ong" and crests with the smoky Old West balladry of "Mirrorball." Four songs, none of which sound like one another, but which all roll along with roughly the same mid-tempo sway and hazy ambiance, creating one of the group's all-time most transfixing song cycles. Even during less stunningly cohesive stretches of the album, there's not a "B.L.U.R.E.M.I." or "We've Got a File on You" to be found here to purposefully break the album's spell with snap-to-attention riffs and distractingly loony vocals. For fans of late-period Blur albums, those sore-thumb tracks eventually grew to be part of their respective albums' character, but it's hard to say they're missed here.
The lack of punk blasts and the lyrical focus on 21st-century unease might make the album sound like an extension of Damon's stately, ornately composed solo work. But in fact, Magic Whip shows how critical the full-band dynamism of Blur is to keeping Albarn's weariness from drowning in dreariness. Take the album's joint centerpieces, "Thought I Was a Spaceman" and "There Are Too Many of Us." "Spaceman," a mournful ballad that sees Damon relating "The desert had encroached upon the places where we lived / People like me fighting, to keep the demons in / But we never succeeded" could easily be oppressive in its defeatist melancholy, if not for Alex James' bubbling bass, the reverberating hum of Graham Coxon's guitars, and the absolutely gorgeous layers of synths that consume the song. Similarly, the foreboding rat-a-tat drumming and over-population (and/or anti-uniformity) lamentations of "Too Many" ("Living in tiny houses / Of the same mistakes we made") are buoyed by the introduction of a galloping beat and pulse-racing riffing that almost puts it in company with Muse's "Knights of Cydonia." Despite all of Damon's post-millennial paranoia, Magic Whip is still a fun album, nearly as much so as any of his Gorillaz LPs.
What Magic Whip really shares with the rest of Blur's catalog, and the thing that reminds you about what a special band this is, is its general sense of unpredictability. Even without the roadblock riffers of the last few albums, or the oom-pah instrumentals of the "Life" trilogy, there's a variety of left turns taken on Magic Whip, with the sizzling new wave guitar-pop of "I Broadcast" zooming out of left field to enliven the album's middle stretch, and the spectral builds to tracks like "Spaceman" and "Pyongyang" elevating the songs into stratospheres far beyond what you'd expect from their earthbound intros. Even without a pop classic like "Girls & Boys" or "For Tomorrow" to its credit, or a song suite as affecting as 13's brutal second half, Magic Whip finds enough majesty and intrigue in the band's more meditative days to remain worthy company to any of the band's classic LPs. Radiohead have their work cut out for them.