When Sylvan Esso's Amelia Meath calls SPIN in mid-November, she's sitting in a public park in Los Angeles, taking a rare breather from her band's busy 2014. The night before, she and bandmate Nicholas Sanborn made an appearance on Conan; this month, the pair will begin work on their follow-up to this year's self-titled debut, one of SPIN's 50 Best Albums of 2014. The folk-pop project incorporates Meath's twangy leanings — from her time as a member of the Appalachian-esque Mountain Man — into Sanborn's electronic, blippy production. Sylvan Esso peaked at No. 39 on the Billboard 200, and rock radio happily embraced lead single "Coffee," a twinkling sleeper jam with an equally mesmerizing music video. SPIN talked to Meath about Sylvan Esso's busiest, brightest year so far.
What was your 2014 like?
Essentially, 2014 looked like the inside of many rooms and many new faces. It's like making a lot of brand new, invisible friends that we don't necessarily know yet. All of a sudden, it feels like our lives have opened up in a really overwhelming new way. It was like sitting on a cloud and knowing that there are huge communities of people on neighboring clouds and you can't see them, but you know they're there.
"Coffee" blew up in a big way on the radio this year. Was there any other song from the album that you thought people would latch onto instead?
I mean, it's really fascinating that "Coffee" did the trick. It definitely wasn't the standout in my mind. But at the same time, I'm still so proud of the record, which is really nice to have because usually you play things for three months and then you're like, "I'm done with these songs. I can do more and be better." I feel like that, but I'm still excited to show it to people every night.
//www.youtube.com/embed/Qr5AIKRPIHo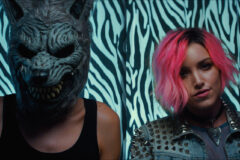 Do you think have superfans yet?
Definitely! One of my favorite is this cadre of seminarians. They were at the Webster Hall show that we did with Volcano Choir. I befriended one of them on accident because he didn't have enough money for an LP, so I just gave him one. Little did I know that I was gifting a Roman Catholic priest-in-training a record. Once you do that, you've made a friend for life. They come to every show. They're all these incredible frat boys for God. They adhere to a different set of beliefs that I completely don't agree with, and I am so in awe of their generosity and excitement about our music, which in my mind does not line up with their belief system at all.
So you struck up a friendship with them?
Oh yeah! Everytime I go smoke a cigarette, we talk about the Holy Ghost. How wonderful is it that there are a group of men after every show that I play in Philadelphia, New York, New Jersey, who say, "Hey, we're praying for you. Do you need any help with anything? Do you need us to direct any energy towards someone?" Last time I went, they gave me a beautiful pendant with Mary on it.
If you happened to show up to a karaoke bar one night and the book was restricted to 2014 songs, which ones would you tackle?
I would do that Tove Lo song that's all over the radio [Ed. note: "Habits (Stay High)"]. I think there's something important there. I've also been listening to a lot of world music right now. I would do the songs of pygmy rainforest music, though I would need 50 of me and an understanding of polyrhythms that you have to grow up with. Or if I could make the sounds with my body that Dntel makes, and be able to communicate longing and excitement at the same time without words, I would do that.
You've said that "Hey Mami" ties in with issues surrounding body image and catcalling. With that street harassment video that went viral recently, is there a new way to look at that song now?
I've purposely not watched the video myself — fucking clickbait. There's nothing more infuriating to me than clickbait right now. Somehow, the Internet has convinced us all to read the tabloids. It's like all the checkout counters at the grocery store were on Facebook.
That [particular] dialogue for me has been open since I got breasts when I was 10. It was a very exciting time. People now feel like they have the authority to make a general statement because of that fucking video. The rant culture of the Internet really gets me down. People still get really excited about "Hey Mami"… oh, there are two ducks having wild sex in the water right now. Right next to a floating vodka bottle. [Laughs.] Everyone who has listened to the lyrics [of "Hey Mami"] has come to their own conclusions. Some people hear an anti-catcalling feminist anthem; some people hear a pro-catcalling feminist anthem; and some people just think it's about catcalling, and that's what it is, and not an anthem at all, just an observation. Quite honestly, it's an observation from both sides. I am a feminist. But that's beside the point.
//www.youtube.com/embed/3mh2RctlGxc
Did you see that Time put up a poll for "the words to ban in 2015" and one of them is "feminist." So I'm just wondering if that's something…
Oh my God. I didn't see that and if I did, my blood would have fucking boiled. I think this definitely has to do with the Beyoncé release, which for a lot of people reintroduced [them] to that word. It's a hot thing to talk about right now. There was always this secret, underlying idea of what feminism actually was, but you had to decide for yourself whatever you wanted it to be. So, of course right now, people are like, "Feminists, that's so over! That's 2014." People are eggheads.
If the word shows up next to "yaaasssss" and "turnt" and stuff, it's hard to take that seriously.
Oh yeah, but it also isn't. It's hard to take seriously and it shows what that word means to the general public right now. It's a pug. It's a Tamagotchi. It pisses me off also because while it's really cool that we've opened out the conversation about feminism, we've actually made it… I'm reading this dope book called Bad Feminist by Roxanne Gay. Man, her shit fucking rules. Have you read that?
I actually just started it.
Oh my God, it's so cool. She's got a really great article about Lena Dunham [and] Girls. In it, she points out the fact that every time a woman stands up and says something very specific, we want it to be a feminist statement and we want it to cover every base and be right, which is a standard that artistic expressions that aren't expressly female don't have to do. It's fascinating to watch her say, "I'm disappointed with the show Girls, and it's totally unfair that I expect this 25-year-old girl to be able to express every injustice." And that's not something we look at. We didn't want Six Feet Under to do that!
What do you think your 2015 will look like?
I'd like there to be a little more calmness, and much more songwriting, which is great because we've rented a studio out for the entirety of December. So we're gonna get back in there and start working on a new record. I'd like it to look like the inside of studios, and the faces of people I love.