Gender-bending glam-pop collective of Montreal have announced their thirteenth album, due on March 3. Titled Aureate Gloom, the disc will have ten tracks. Of the record's anguishy name, frontman Kevin Barnes explained in a press release that it translates to "a golden despondency," or, more specifically, a term that "best describes the overall state of his life and mental outlook while working on the record."
Lead single "Bassem Sabry," though characteristically bouncy, has a noticeably political agenda; it's named for an Egyptian blogger who died under mysterious circumstances last April. Accompanied by attention-getting hand-claps and march-worthy drums, Barnes asserts that "every leader is a cellophane punk" and asks "if you hear me, say yeah!" Well, consider our flags raised.
"I was going through a very stormy period in my life and felt like I was just completely trashed," Barnes continued. "I might be guilty of sharing or exposing too much of my private life, but to me the best albums are those that help people connect with an artist on a deep, human level and that do so without too much artifice or evasiveness."
Preorder Aureate Gloom here, and check out the track list below.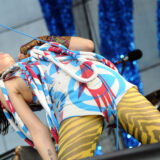 Aureate Gloom track list:
1. "Bassem Sabry"
2. "Last Rites At The Jane Hotel"
3. "Empyrean Abbatoir"
4. "Aluminum Crown"
5. "Virgillian Lots"
6. "Monolithic Egress"
7. "Apollyon Of Blue Room"
8. "Estocadas"
9. "Chthonian Dirge For Uruk The Other"
10. "Like Ashoka's Inferno of Memory"