At first, the collaboration between How to Dress Well and TRUSST was one fueled by desperation. In early 2014, Tom Krell, the soulful pop singer who records as How to Dress Well, was about to go on tour in support of his upcoming album "What Is This Heart?", his biggest release yet, but had no visuals. Krell turned to a colleague and former collaborator, the Montreal electronic producer Jacques Greene for advice; Greene, in turn, instantly put him in touch with Melissa Matos, the art director who runs TRUSST, the Montreal-based multi-disciplinary creative studio that splits time between personal and commercial projects. Then, in about a week, Matos and editor/producer Emmanuel Rinfret proceeded to design How to Dress Well a live show. And they've never really stopped. The latest iteration of the collaboration between TRUSST and How To Dress Well will be rolled out as part of the Connect Sessions powered by Microsoft; so SPIN sat down with Krell and Matos to discuss the details of how their partnership got off the ground, and how it continues to fly high.
Melissa, you've collaborated quite a few times with musicians. Can you give me a sense of what you like and what you don't like about working with music? And, talk a little bit about your engagement with sound from a visual standpoint?
Melissa Matos: Working with musicians is different for everyone. Some people like to have more control over [the project], some don't. It's a very different culture. But I really like working with sound. It's like translating one language into another, that's the best way I could describe it. It's understanding what mind state that person was in when they were creating, or what they're trying to evoke, and trying to create the visual mood that represents that, trying to match it. A lot of my music collaborations have just been experiments that I've wanted to do on my own, so they could actually be really playful. I find there's a lot more liberty working with music than working with, let's say, a fashion brand.
The work that [TRUSST has] done with Tom, it's like, "how can we always push this further? How can we push this so we can evolve as artists and as people as much as we can?" Even in the production process: let's take this footage, let's project it, re-edit it, project it and re-edit it again. It might never end, if there weren't deadlines. (Maybe that's why I work a little bit more commercially, because I'm forced to have deadlines. Otherwise, it's just these like ongoing like visual novels that would never end.)
Tom, tell me a little about working with TRUSST. Where is the common ground, and what does she add to How To Dress Well?
Tom Krell: Melissa's like a legend. And what she does is something I relate to artistically. She'll do such simple shit. Like, she'll get a thing of dry ice, put it in a bucket in her kitchen, film it with her iPhone and then take that and find the one specific place to zoom in on it, so that there's a dynamic of motion and images that's completely alien. Like you have no idea what it is. Is it a body? Is it skin? Is it water? Is it clouds? She has this real knack for taking simple things and finding the little sweet spot where they become really special.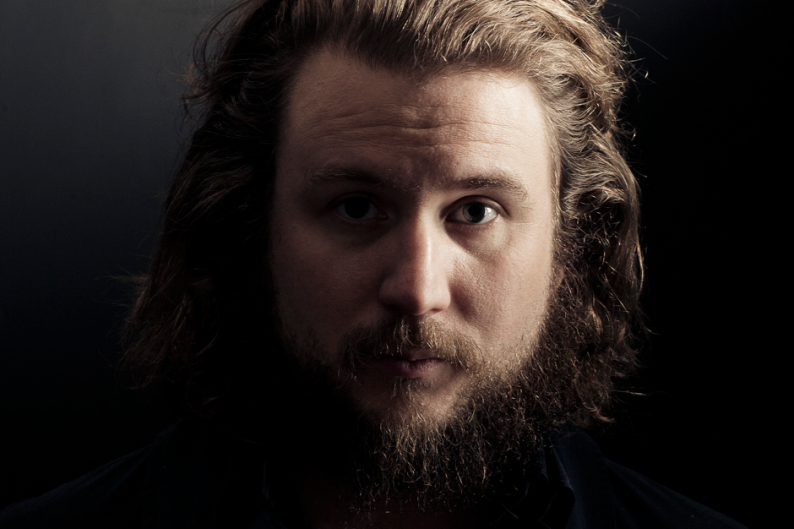 [For the How to Dress Well tour], we came up with this scheme of projecting images onto me and onto the band, using the projections as, more or less, full lighting, with the addition of candles and maybe some warm lights just to illuminate the space. So we just started shooting things, song for song, sort of like the weirdest possible storyboard you could come up with: "This part feels like flames." Or "This part feels kind of visceral and nasty." Or "This part of the song has this acidic quality, so let's take paint and put it on a subwoofer, make it shake and then film that and then zoom it into the point where we can see this weird cavity in the shaking paint, and put that up on the screen, and now it looks like I'm in this cave of shaking paint." We're like, "OK, we're on the right path."
Melissa: We just went back and forth on Skype. I was sending him references, and he was saying "yes" or "no." I was shooting things, and he would say, "I prefer this." It takes a long time to be able to really know what someone wants and likes. Tom knows what he wants, so that makes it fun. To be able to have that conversation and to be able to make decisions, that's part of this engaging process. Tom really likes organic textures. My work tends to be quite black-and-white and quite graphic. However, with him it's completely textural. He loves color. So of the visuals have been mainly comprised of different textures, chemical reactions, the metamorphosis between different chemicals, just a lot of experimentation.
So tell me how the ideas behind your Connect Sessions collaboration took shape? Describe a little bit of it, if you can.
Tom: Ours was just a fun collaboration from the start, and this is basically an opportunity to refine and further develop our visuals, and also to incorporate another aspect. Melissa controls things live, so if I'm doing like a gesture, she tries to anticipate it with something visual. And the Kinect makes it so that the visuals react to my gestures. So she's playing off the energy of the live set with the visuals and the actual visual aspect is playing off of my energy and gestures.
Melissa: We're taking these textures and making them really interactive, a lot of his silhouette following him around as he moves. So Tom is really able to control what happens, depending on his different actions, he will trigger reactions on the screen.
Tom: So if I'm dancing to the music, my body has to do certain things in order to achieve certain things sonically. And those sonic achievements are directly intertwined with visual achievements on the screen because of the Kinect technology.
Was this something you and Melissa previously discussed, or was this an idea you came up with specifically for the Connect Sessions?
Tom: It's kind of like impossible to say. Was it an invention? Was it a discovery? It's something we've been talking about, that's been on the tip of our tongues. And when this opportunity came up, we were like, "oh shit." That's the perfect opportunity to seize this idea and bring it to fruition.