Guided by Voices are, once again, no more. Robert Pollard's band featured quite a rotating cast before splitting in 2004, but the Dayton lo-fi heroes reunited in 2010 sporting their classic lineup — which is to say the group that was around for the release of Bee Thousand, an album so good that it's managed to not get lost amidst the million-odd other LPs Bob and the band have released across their intertwining careers.
Cleveland.com broke the news (via Pitchfork), reporting that GBV updated their website with a "CLOSED" sign, a bunch of crossed-out tour dates, and the following message:
Guided By Voices has come to an end. With 4 years of great shows and six killer albums, it was a hell of a comeback run. The remaining shows in the next two months are unfortunately canceled. Our sincere apologies to those that have purchased tickets and made travel plans. Thanks to everyone who has supported GBV.
The group released six new albums over the last three years, their most recent being May's Cool Planet. Drummer Kevin Fennell got the boot in 2013 after attempting to sell his drum kit on eBay at an asking price of $55,000 (Pollard was not happy, or kind, about this). It'd not only been used on Bee Thousand, but on 2012's Let's Go Eat the Factory, which SPIN dubbed an Essential. Twelve shows — stretching from Portland, Oregon, to Detroit — have been axed.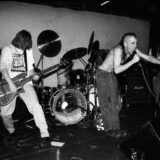 Guided By Voices has come to an end. All remaining shows are unfortunately canceled. Thanks to all: http://t.co/2wBYofsWdq

— Guided By Voices (@GBVTweets) September 18, 2014