When speaking about oft mythicized hometown of Olympia, Washington, caustic surf-scum trio Naomi Punk agrees that the concept of a punk-rock utopia is fickle. "It has its moments," says guitarist Neil Gregorson. Over the course of our conversation, the band talks at length about the small town's charm, the unhurried attitude that fosters creativity without threats of rent spikes or urgency. "Right now it feels pretty utopian," says vocalist Travis Coster.
Unlike many of their noisy counterparts, Naomi Punk aims for the elusive nucleus of calm rooted deep within the overtly pummeling feedback. The band's forthcoming Television Man, out August 5 on Captured Tracks, does its best to fully grasp the skull-squelching live sound they debuted on 2012's The Feeling while focusing more strongly on the trio's songwriting. In the meantime, the band brought their thrashing live shows on the road while touring with label mate Mac DeMarco. Now they're back in Olympia, feeling out new material.
The three fellows are aware the misty terrain they call home has a legacy of lore. It's a place that bred cult phenomena not limited to grunge and David Lynch's surrealist early '90s series Twin Peaks. That is, while Naomi Punk is from the town that bred K Records, The Wipers and Bikini Kill, the guys are more struck by the more alien wonders of nu-metal and things like the noise-thrash of their recent tourmates, Warthog. Mostly, the guys find the Pacific Northwest mystique humorous.
"There's so many K Records tourists, it's hilarious. People make pilgrimages here," says Coster by phone. The three are at drummer Nick Luempert's house eating breakfast together. Gregerson takes over the receiver. He adds: "Most people come here for that. Then they get a Black Flag tattoo." They mean no disrespect to the prolific K Records and Calvin Johnson. They explain that the Northwest's infamous musical lineage has taken so many different iterations since the late '80s, that's it's a huge generalization to say that all Olympia bands are linked or indebted to a singular visionary.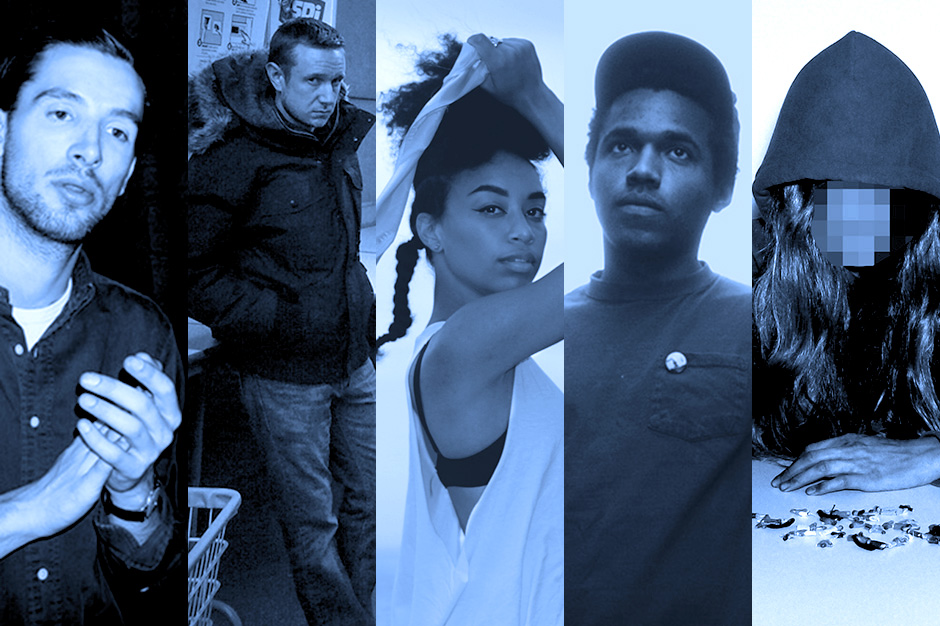 All three members of Naomi Punk have been involved in Olympia's small but thriving music scene for many years, playing in local standouts including Masters and Johnson, Seahouse and U. The band initially began as Coster's solo project, but soon expanded to include Luempert and Gregerson, whom he met through frequenting shows in the area. Although the guys don't play in other bands anymore, the bruised-to-perfection Naomi Punk has never operated on a linear timeline.
"We had no professional aspirations when we were recording [the album]," says Coster, when asked about the band's initial recordings. Back then each instrument was meticulously recorded separately on a four-track cassette. And even though taste-making label Captured Tracks picked up their second album The Feeling for a reissue in 2012, Naomi Punk still operate on a largely DIY basis. The band has a minimal Internet presence, preferring to speak through flyers and zines, a move indicative of their self-disciplined approach to creation from their music to the culture surrounding them.
That self-awareness translates to their music as well. For Naomi Punk, traditional elements of music mastery — such as technical precision and pristine chords — peel away completely, exposing its seams. Where grunge famously took a thudding, enraged heaviness and gave it a palatable edge, Naomi Punk takes those shards and makes them glisten with a minimalist edge, maximalist sound.
At times it feels like the Naomi Punk spirit is less a question of genre and more one of volume. Sonically, moments of brutality and abrasion are compounded by moments of meditative bliss, as evidenced by the squalor in The Feeling. Their lyrics emote the political theory texts printed from Evergreen College's library melded with themes of deranged witchcraft, reminiscent of The Blair Witch Project. Sprinkle in a healthy dose of Ingmar Bergman's psychological thriller Persona (Coster's favorite movie) and you have an abstract sketch of the entity that is Naomi Punk. Oh, and a serious appreciation for Enya too.
"I was really into Enya when I was mixing [The Feeling]. I wanted it to be really swooping and meditative," says Coster. While the vocalist describes their last record as "pretty weak" and "amateurish," a vibrant spark emerged from the squalor of eardrum-annihilating guitarlines and skittering breakdowns.
The guys' nonplussed attitude and genuine zeal for recording embraces the oddities of being a band without it being a completely deliberate pursuit. They're not trying to impress anyone – not even themselves – and are having a stellar time building something together. When asked what they grew up listening to, they don't tick off cool or seminal bands. Instead the guys emphasize an elementary school love of The Crystal Method, early 2000s rap-rock, Captain Beefheart, Nine Inch Nails and local dad bands at a Fathers' Day beer festival in Seattle, the latter of which was Neil's first exposure to rock music.
"Television Man sounds kind of sound-checky. All the songs sound like shards of something, weird fragments," explains Coster. "We were trying to do something really direct and record it in a way to help people imagine how heavy we are live." It's fitting, then, that the muck-trudging Television Man was recorded over several months last year during the band's extensive touring season. "It's kind of an evolution of the same punk. It's not a change, just shifting focus."