Real Talk Overheard at Beyoncé and Jay Z's 'On the Run' Concert
The fans' candid thoughts on Queen Bey and her sidekick Jay
Fake it while you make it: At least that's what the Carters seemed to be doing this past weekend. During the sold-out, New York City stop of the couple's co-headlining 'On the Run' tour, Mr. and Mrs. Carter were perfectly on point, with every dance move in step and fitted-hat tilted just so. It was the kind of sterile perfection that we're used to from the pair's public personas. In reality Beyoncé and Jay Z's personal lives —and any insight into their relationship at all— is severely protected by a team of publicists, managers, and non-disclosure agreements. (What was that Solange spat about? The world will never know.) In turn, the Carters gave fans at Metlife Stadium what they so desperately want from the reigning king and queen of urban pop: a backstory. An overly dramatized, wildly romanticized backstory at that.
The cinematic theme was threaded through the two-hour concert, wherein videos showed fictional versions of the couple falling in love, getting into trouble, breaking up, making up, and overplaying both their sexiness (Bey) and money (Jay). The performances were often stunning: Beyoncé's fierceness never slagged as she flawlessly acted out her roles (as diva, hustler, boss bitch, and emotionally-scarred ex). Jay-Z just as readily assumed his throne as King of New York with old-school, BedStuy-repping flair. But as the pair performed together, their individual spark was lost to the uncomfortable feeling that the pair did indeed have to perform to make their marriage shine on stage. Beyoncé teared up through a stunning, lovelorn rendition of "Resentment," though she did manage to eventually crack a smile as Jay Z wrapped his arm around her at the closing of "Drunk in Love." The show ended with home videos of the pair: clips of the wedding, honeymoon, and Blue Ivy played as fans clutched their hands over their hearts and let out a stadium-wide coo of loving approval. ("Aww!" / "Omg, I love them!" / "They're perfect!") And that's exactly how Beyoncé and Jay Z wanted it to be.
But what did the fans have to say about the show? We kept our ears to the streets —from the two-hour bus ride to the stadium to the concessions stands— and compiled some of the best comments below.
While stuck in traffic, about a mile away from Metlife Stadium.
Girl (to Bus Driver A): Can I get off the bus?
Bus Driver A: I'm sorry, do you need to use the bathroom?
Girl: No, I can get there faster this way.
(Bus Driver A stops alongside another bus.)
Bus Driver A to Bus Driver B: Can I let this girl off the bus?
Bus Driver B to Bus Driver A: We're in the middle of the highway, fool.
Bus Driver A to Girl: We're in the middle of the highway, fool.
Girl who is playing "Drunk in Love" on her phone on the bus: THE SHOW HAS STARTED. THE SHOW HAS STARTED AND WE'RE ON THIS BUS.
Girl's Boyfriend: Don't worry. It'll just be the opener.
Girl: Every show has an opener, right?
Girl's Boyfriend: Who's the opener on this one?
Girl: I don't know. Solange?
As a different girl watches the video for "Drunk in Love" on her phone: They don't show her ass in this video. Why don't they show her ass?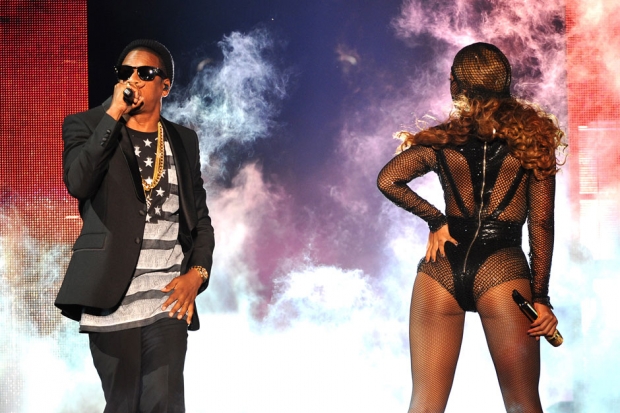 Primped Bus Grump 1: I better not miss "Partition."
Primped Bus Grump 2: If they open with "Crazy In Love," I'll die.
Inside Metlife Stadium, at the intro to "Clique."
Jay Z: Make some noise if you came here with your real friend and not your fake fucking friend.
Press Row Bro: How much do you think it cost for them to get this super moon going?
VIP Row Chick: Let's get a selfie with the super moon!
Beyoncé, from stage: Look at that full moon. This is a special night.
As Jay Z raps "99 Problems."
Press Row Bro 1: Is Solange here? 99 Problems and a bitch is one, right?
Press Row Bro 2: Good joke from Twitter, bro.
As two girls (approximate age, 16) strip down to leotards and don gold gloves to dance to "Single Ladies."
Concerned Mom: Whose mother let them go out wearing leotards like that at that age?
Less Concerned Mom: Beyoncé's mother let her…
As Beyoncé sings "Single Ladies":
Girl in Leotard: Who do you think gives Yoncé her bikini wax?
Another Girl in Leotard: How often do you think she has to get waxed?
Dad in Red Sox t-shirt at sold-out concession stand: Listen, we really need you to give me a pretzel. My daughter accidentally drank too much… soda.
Popped-collar dudes at closed concession stand.
Dude 1: Can we get a beer? Is the beer stand closed to everyone?
Dude 2: If I was part of the illuminati could I get a beer?
(Both make Roc sign. High-five.)
Dad with young daughters as "Hard Knock Life" plays: Jay still tryna look like he's down, huh.
As "Drunk in Love" unfolds live.
Woman 1 in "Surfboard" t-shirt: Yo she looks mad pissed. Why does she look so mad?
Woman 2 in "Surfboard" t-shirt: She isn't mad, she's fierce.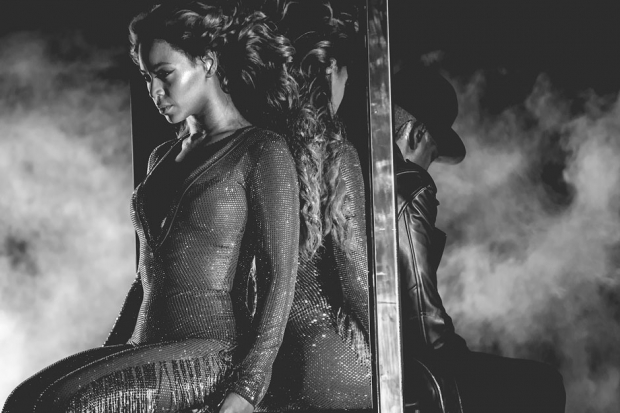 As the instrumental to Kanye's "Hell of a Night" plays.
Girl toting plastic champagne flute: If Kanye comes out, I'll die.
As the instrumental to "Holy Grail" plays.
Press Row Chick 1: If Justin Timberlake comes out, I'll die.
Press Row Chick 2: Why didn't Beyoncé sing JT's verse from the beginning?
Press Row Chick 1: Jay Z is boring. I'm bored.
In stadium aisle as Beyoncé performs "Diva."
Clueless Dad: Remember that story on Beyoncé's gang of security?
Daughter: No, what? Wait what are you talking about dad.
Clueless Dad: Her publicists or something.
Daughter: Are you talking about the SNL skit?
Clueless Dad: Oh was it on SNL?
Daughter: Yeah.
Clueless Dad: Oh. What an interesting story though!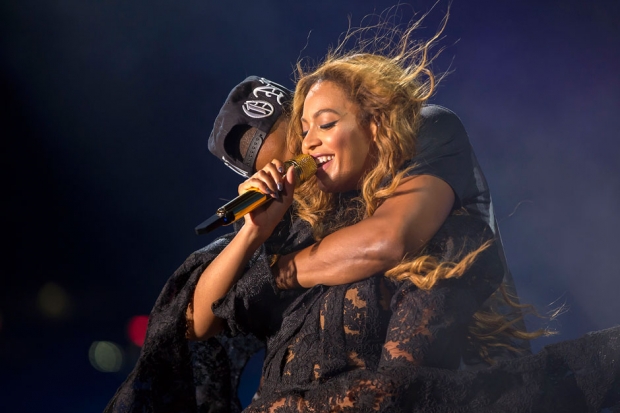 As interpretive dancers take over the stage to perform to "Haunted."
VIP Row Bro: I'm over the religious stuff. This religious opera is boring. I'm bored.
As Beyoncé sings "Resentment" wearing a long, white wedding dress.
Journalist 1: Okay, this is getting so weird. This is weird, right?
Journalist 2: Is this about them? This is about them, right?
Journalist 1: Who else would it be about, right?
Journalist 2: Beyoncé hates her husband, right?
As "Resentment" continues to play onstage.
Teeny-boppy girl taking a breath from making out with her boyfriend: Who did Beyoncé even date before Jay Z?
Teeny-boppy boyfriend: No one.
Teeny-boppy girlfriend: This is the best makeout song.