10 Essential Father's Day Songs from 'Kindling Quarterly'
This Sunday is Father's Day, an annual American celebration of golf tees, aftershave, and beer. To mark the occasion, SPIN asked the founders of the independent Kindling Quarterly, a culturally astute journal about contemporary fatherhood that's recently profiled the likes of "trill dad" DJ Ayers and producer RJD2, for a playlist of paternal songs. Editor David Michael Perez kindly complied, with help from creative director August Heffner. As you might suspect from two Brooklyn men cheekily immortalized in the pages of the New Yorker as "hipster dads," they have good taste. Their 10 selections follow.
1.10 Essential Father's Day Songs from 'Kindling Quarterly'
1/11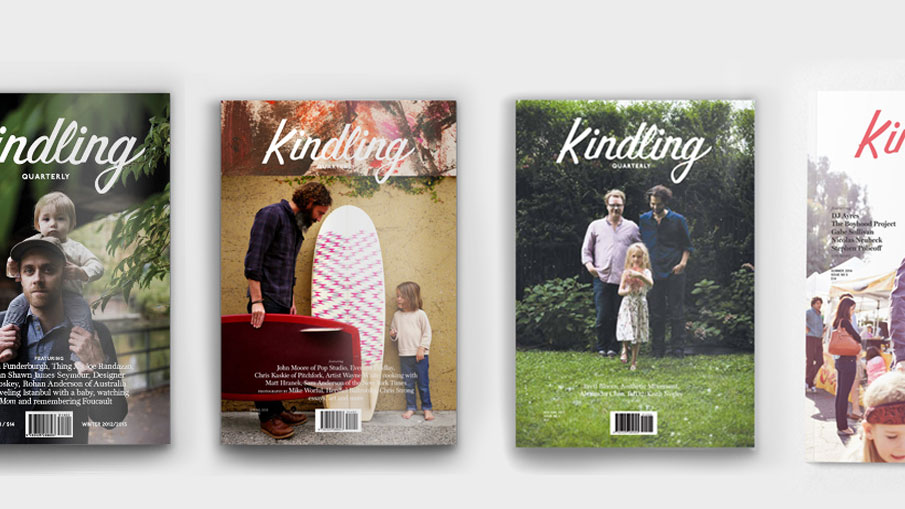 2.Droop E – "I'm Loaded (feat. E-40)"
2/11
There are so many fantastic collaborations between Bay Area legend E-40 and his son Droop-E — an incredible producer and rapper in his own right — but this hypnotic Sade-sampling single from 2010's BLVK Diamond Life mixtape has to be my favorite. A hugely talented father/son pair. DAVID MICHAEL PEREZ
3.Sun Kil Moon – "I Love My Dad"
3/11
The song's straightforward title reflects the uncomfortably honest lyrics. A clear picture with absolutely no metaphors, it's almost a modern "Cat's in the Cradle." AUGUST HEFFNER
On Life is Good, Nas really set the standard for maturing artistically without losing any creative relevance. "Daughters" is an incredibly vulnerable meditation on the challenge of modeling behavior and wanting more from your kids than you can reasonably expect. D.M.P and A.H.
5.Big K.R.I.T. – "Rich Dad, Poor Dad"
5/11
Rap's most touching dedication to fatherly wisdom. D.M.P.
6.Jay Z – "Glory (feat. Blue Ivy Carter)"
6/11
That feeling of 'New Dad Elation' has never been so eloquently captured on tape. We're suckers for it — all praise to Papa H.O.V.A. D.M.P. and A.H.
7.John Lennon – "Beautiful Boy (Darling Boy)"
7/11
Dedicated to Sean, this hypnotic lullaby from Double Fantasy remains incredibly touching despite the bittersweet knowledge that Lennon would die after its release. As the song famously says, "Life is what happens to you while you're busy making other plans." D.M.P. and A.H.
8.Earl Sweatshirt – "Chum"
8/11
Earl Sweatshirt paints one of the most evocative and harrowingly honest portraits of the absent father and its effect on the psyche, brilliantly underscoring why dads are so important. D.M.P.
9.Kendrick Lamar – "Cartoons & Cereal (feat. Gunplay)"
9/11
Kendrick Lamar effortlessly puts us in the space of his younger self, painfully making sense of disappointing role models without sacrificing the larger social context of our modern day 'bread-and-circus' mentality: "I wonder if you ever knew that you was a role model to me first / The next day I-I woke up in
the morning / Seen you on the news / Looked in the mirror then realized that I-I-I had something to prove / You told me 'don't be like me, just finish watching cartoons." Easily one of the most stunning rap songs of the last 25 years. D.M.P.
10.2Pac – "Dear Mama"
10/11
Really the best thing to do on Father's Day is to thank all the women in your life and note how far we have to go in regards to childcare and gender equality. As the Guardian's Jessica Valenti recently noted, "Women still do the vast majority of domestic work, from housework to child care." Bonus: 2Pac 'Papa'z Song' is required listening in any discussion of music and fathers. D.M.P. and A.H.
11.Ani DiFranco – "Angry Anymore"
11/11
In high school, I probably saw Ani DiFranco perform more times than some of my peers saw Phish or DMB (looking at you, August). I'll go on record to say that her catalog provides a better moral compass to the challenges of fatherhood than any of the other artists on this list. This touching ode to forgiving your parents and letting go of the past gets me every time. D.M.P.