Curtis Harding speaks with the easy drawl of an accomplished artist. Even without a microphone, there's a quiet, confident power in the singer-songwriter's smoky voice. But there's also a freshness and an unmasked eagerness, the mark of someone who's just beginning his career. It's a fitting dichotomy: The Michigan-bred, Atlanta-based tunesmith is a seasoned talent who's served as a backup singer and writer for Cee-Lo Green and currently moonlights as a member of Night Sun, the lo-fi soul project he birthed with the Black Lips' Cole Alexander; he's also on the cusp of releasing his first-ever solo album, Soul Power, set to arrive on May 6 by way of Burger Records.
Recorded at the Living Room Studios in Atlanta with Justin McNeight and Edward Rawls (recent credits include work with the Black Lips and the Coathangers), Soul Power bears a 2014 time-stamp, but also features the kinds of foot-stomping backbeats, brassy guitar-work, and booming horns often associated with '60s and '70s soul music. And while soul and R&B are at the root of Harding's debut effort, the 12-track set also finds room for heartbreak ("Castaway") and disco-kissed optimism ("Heaven's on the Other Side"), among other genre touchstones.
Harding got on the phone with SPIN recently to discuss his influences, his self-described "sloppin' soul" sound, and the making of Soul Power, which is streaming in its entirety via Spotify. Listen to the record below, and scroll down further to read our chat with Harding.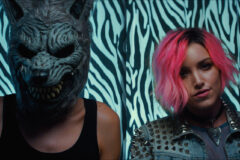 After working with Cole Alexander and Cee-Lo Green, what made you decide to go solo?
I've always been a solo artist. I've always written songs. I've always written songs for other people, too. So that was natural: to collaborate. When I was young I sang in church choirs and stuff, so that's like singing backup. I've been doing it all my life. I figure after I've been doing all these other things — it wouldn't hurt to do my own. [Laughs.] It was just a natural progression.
Did you collaborate with anyone while writing the songs for Soul Power?
I do have some co-writes. Randy Michael composed the music on "Keep on Shining," which was the single, and I wrote the lyrics. I have Jason Reynolds, who's not a musician himself, he's actually a writer, who wrote a couple of songs with me. Andy James also wrote a song with me, and that's about it. All the rest I completely wrote.
How would you describe the sound of Soul Power?
Sound-wise, it's all over the place, really. But I think the foundation is soul and R&B. I christened the term "sloppin'-soul," just because I've taken the leftovers of everything I've encountered and put it together with the music I really listen to, which is soul music.
Who are some of your favorite soul artists?
Albert King, the Everly Brothers, Ronnie Dyson. Everything across the board, really. I could go on all day, which would actually take up this whole interview.
Who were some of your inspirations on this album?
The music I wrote for this record was really inspired by my family and friends. My mom was a gospel singer and my friends are all musicians, pretty much, so it's really about people. Relationships. It's about love, love lost. It's about overcoming different things. So it was really inspired by instances with people in general. Music in general is embedded in me. It's soul music, so it just comes out like that.
Do you have any favorite tracks on the album? Or any you're particularly proud of?
One of my favorites is actually "Next Time," the lead song on the album. Not for any particular reason, I just really like that song. "The Drive" is another one that I really love. "Heaven's on the Other Side" is a good one too. I wrote that one with Jason Reynolds a long time ago. When we initially wrote it, it was kind of slow — it was more indie-rock-ish and now it's a disco track. I kind of conformed it a little bit.
How long did it take for the album production to come together?
When I went into the studio, I think it took us roughly two weeks. You have to work like that — on a timed schedule — when you don't have that much money to spend. Recording really didn't take that long, but the songs themselves, those have basically taken a lifetime to curate. For songs in general, it just takes life experience in order to be able to write. I think I recorded, like, 20 songs.
But you only have 12 of them on the album, was it hard to cut those other songs out?
Oh, definitely, definitely. That's always the hard part when you get down to it. It's like, disowning one of your kids or something. Like, "No, you can't come to the party!"
What was direction you were trying to go for with this album? Do you feel like you got there?
Definitely. I tried to make the album as audible as possible for everyone. Whether you like soul music, whether you like garage, whether you like punk. I'm definitely driven by soul, but I tried to make it something for everyone to listen to. I believe I achieved my goal by hitting all those markets. I hope everyone digs it.