Warpaint on Safari
"Iiiiiiiiiii swal-lowed a fly," sings Warpaint co-leader Emily Kokal, to the tune made famous by Sugar Ray. She's staring into the American Museum of Natural History's vaulted ceiling, her peculiar chorus bouncing back down at her, as a pair of stuffed, glass-eyed moose are poised for battle to her right and water buffalo lazily idle to her left. Tourists with cameras quietly navigate around her to snap photos of the beasts frozen in time — needless to say, Kokal is easily the most animated mammal in the room. Though a moment later, drummer Stella Mozgawa runs up behind her to join in on the warped hook, which, in a matter of seconds, has devolved into a chant that the girls yelp in unison: "Fly! High! High! High!"
What prompted this burst of energy is a mystery, but given the decade they've spent together, it's no surprise that the women of Warpaint are both oblivious to strangers and readily available for impromptu band sing-a-longs. Not to mention that they're easily distracted, especially by each other.
The girls' impulsive natures coagulate in a similar way on their second, self-titled album of sexy, glossy-sheened love songs. While their music has always relied heavily on a ghostly, melancholic ambience — the kind that settles over even the more joyful tracks — it's easy to spot the inspired evolution on Warpaint, as Stella, Emily, fellow singer Theresa Wayman, and bassist Jenny Lee Lindberg push beyond the broad, atmospheric crooning they're best known for. This time, it feels like they've got something to say.
Each Warpainter plays her part, too: "Biggy" builds around an essential bassline, "Love Is to Die" relies on a lovelorn vocal nonchalance, and "Disco // Very" is a freestyled jam session that flaunts a distinct we-don't-give-a-fuck attitude. Released on Rough Trade late last month, Warpaint is also their first go at writing independently of each other before coming together as a whole: "We each took on any or all of the roles of the band at any given time," explains Stella, whose percussive influence is prevalent throughout. "We would write alone or branch off in a pair, and then bring it back to the group. We all have a song on the album that feels distinct to us."
In fact, keeping track of the foursome in person is a feat in itself. As we wander through the museum, surrounded by gigantic displays of taxidermied bears and replicas of rabid raccoons, at least one Warpainter is lost and then quickly found at any given time. Theresa wanders off at the sight of a family of mountain goats; Stella and Emily pause to investigate a glass panel of beetles. Meanwhile, the tribal yell that opens The Lion King's "Circle of Life" is the Marco Polo rallying cry that leads us to Jenny, who took a left when everyone else went right — we find her jokingly opening her arms in embrace of a display-case jaguar, acting as the Rafiki to her newly discovered Simba. The girls are always aware of each other, at least, functioning as an amoebic unit as we walk; when one band member pulls away, another inevitably follows. No one wanders far enough to get truly lost.
"We're all in pretty heavy relationships with each other — we have a sense of one another," says Theresa the next day, talking between bites of the sushi-and-oyster lunch they've snuck in before performing at a radio show in the Bronx, an early test for their new material. "We're in romantic relationships as well. But our relationship with one another goes deep and can be just as intense."
We spoke to the band a few days prior to Warpaint's release, and tagged along as they went sightseeing, performed at KEXP, and gave an intimiate release show at Brooklyn's Union Pool. Read interview highlights and check out our photos above.
1.Warpaint on Safari
1/12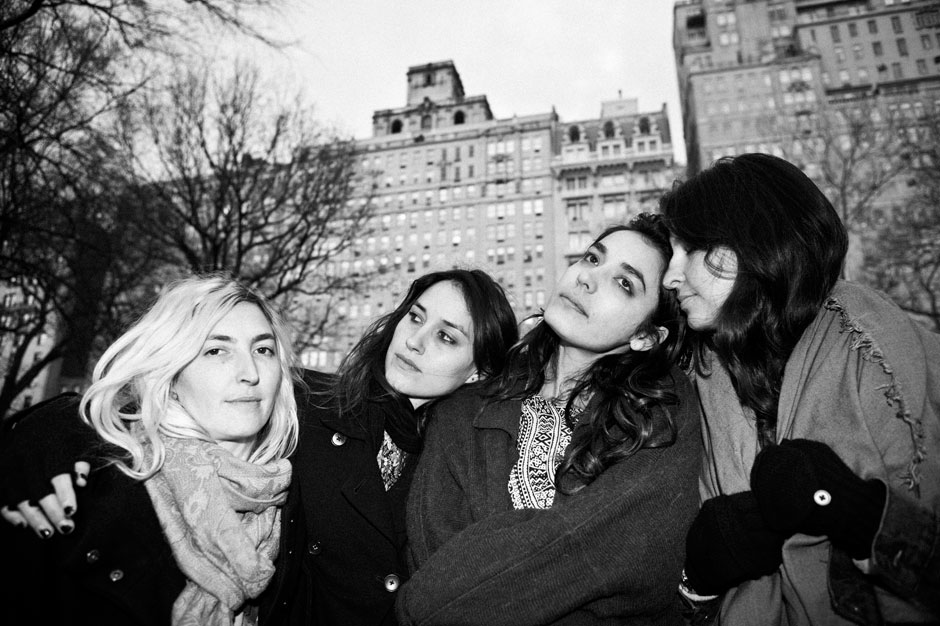 2.Warpaint's Lonely Hearts Club Band
2/12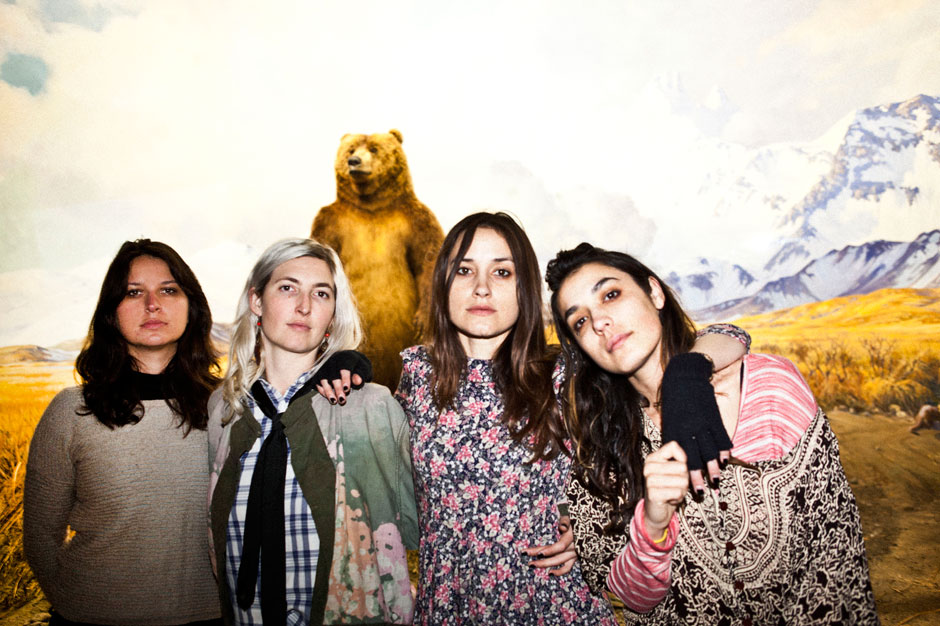 Jenny: It's true, we formed on Valentine's Day. We didn't make that up! We were the Lonely Hearts Club!
Emily: Okay, it's true. But it was just a coincidence. At that time, none of us had significant others, and I don't think we even realized it was Valentine's Day until we were playing and realized, 'Oh, holy shit! It's February 14th!' For real.
Jenny: It's cool. We were each other's Valentines.
American Museum of Natural History, NYC
3.On Relationships, Inside and Out
3/12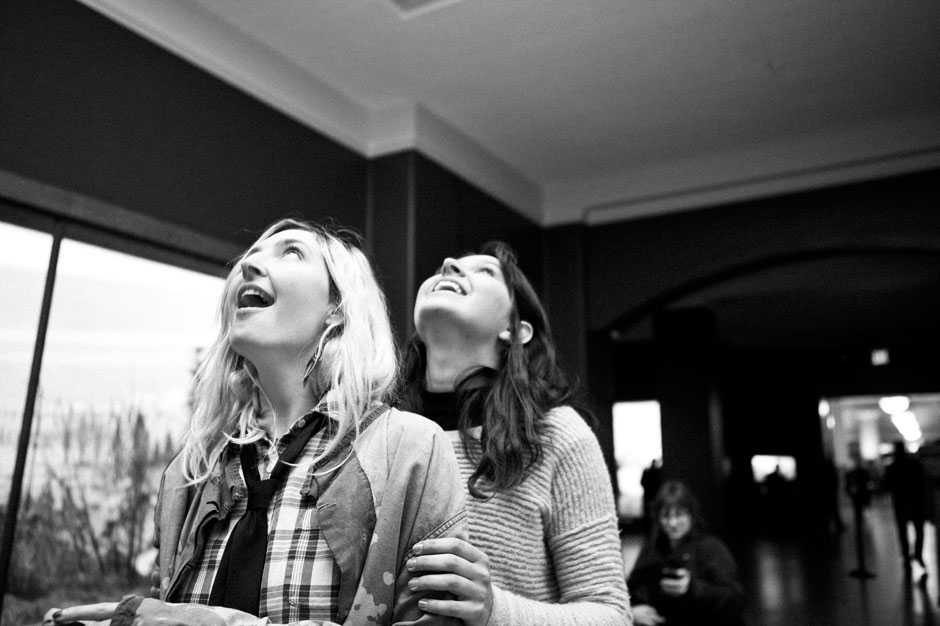 Emily: I think we have two relationships with each other individually: Our relationship in the band that feels set in a way, and then there's the relationship we have with each other on a more personal level that can be very different from our relationships within the band. There could be a tension in the band room, and then outside of it, it's totally different. Every one of us has a song on the album that's about our own personal relationships.
Jenny: "CC" is about my husband, straight up. They're his initials! Yeah, all of our love lives find their way onto the album.
American Museum of Natural History, NYC
4.Making Space and Exploring Landscapes
4/12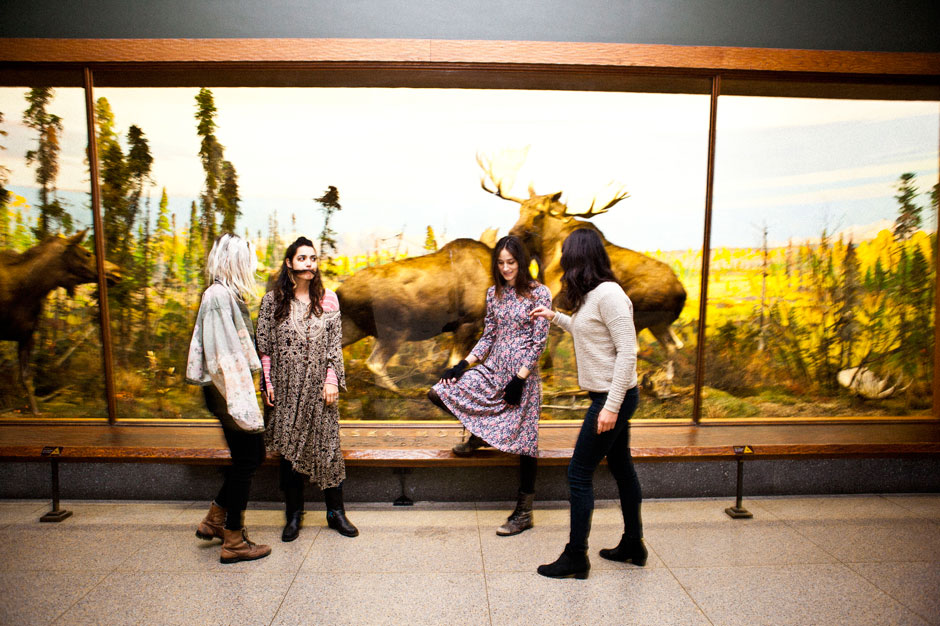 Stella: We wrote a lot of songs in Joshua Tree, but only one song was actually recorded there: a song called "Go In." It was an experimental period for us, basically. It was really beneficial for us, because we had been on tour with each other for so long playing the same songs. We were so eager to make something new and figure out what kind of band we were in this environment; not just the physical landscape, but I feel like we explored parts of ourselves individually and collectively that we couldn't have done."
American Museum of Natural History, NYC
5.Conflict Resolution
5/12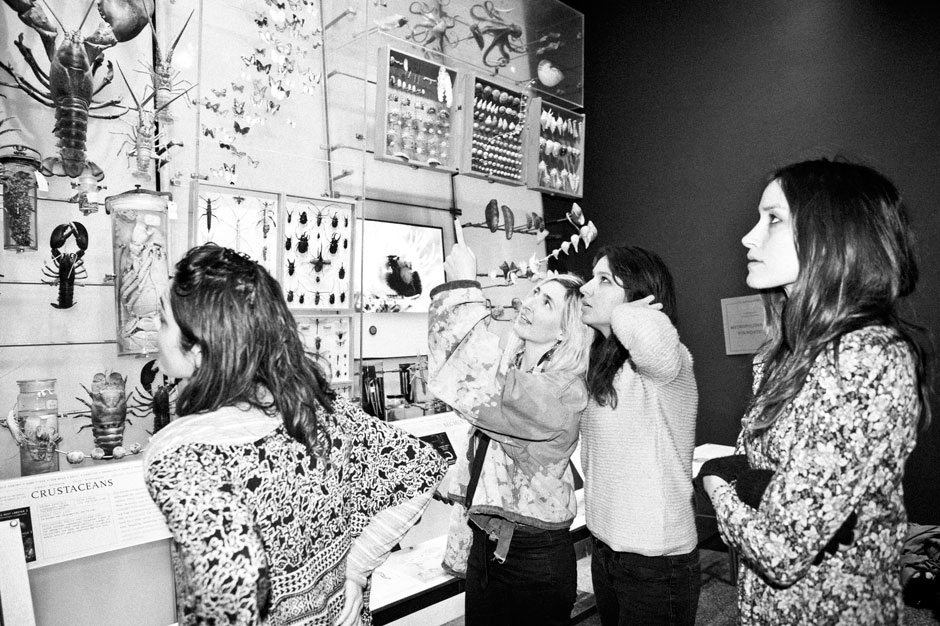 Emily: In a group, dudes, you'd think they'd be like, "Fuck you, I don't agree with you." Or they'd be fine having different perspectives. As women, we're always trying to understand each other, but also have our needs met of being understood. So the fact that there are different opinions can be difficult in that we're always trying to agree instead of being okay with disagreeing. It's a little more sensitive. And sometimes frustrating.
American Museum of Natural History, NYC
6.Trials and Triumphs
6/12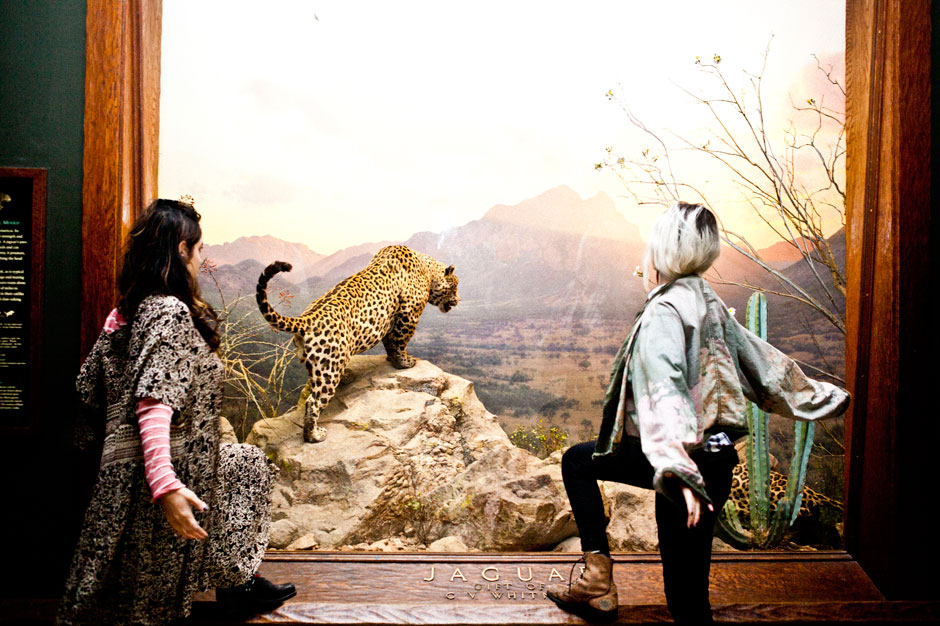 Theresa: Being an all-female group is a trial and a triumph at the same time, sometimes over the same things. Communication is one thing that we're better at, but sometimes we really talk things into the ground. We can do it too much. It's too emotional or too nitpicky. But it makes us who we are.
American Museum of Natural History, New York City, January 15, 2014
7.Pop-Love and Ghost-Pop
7/12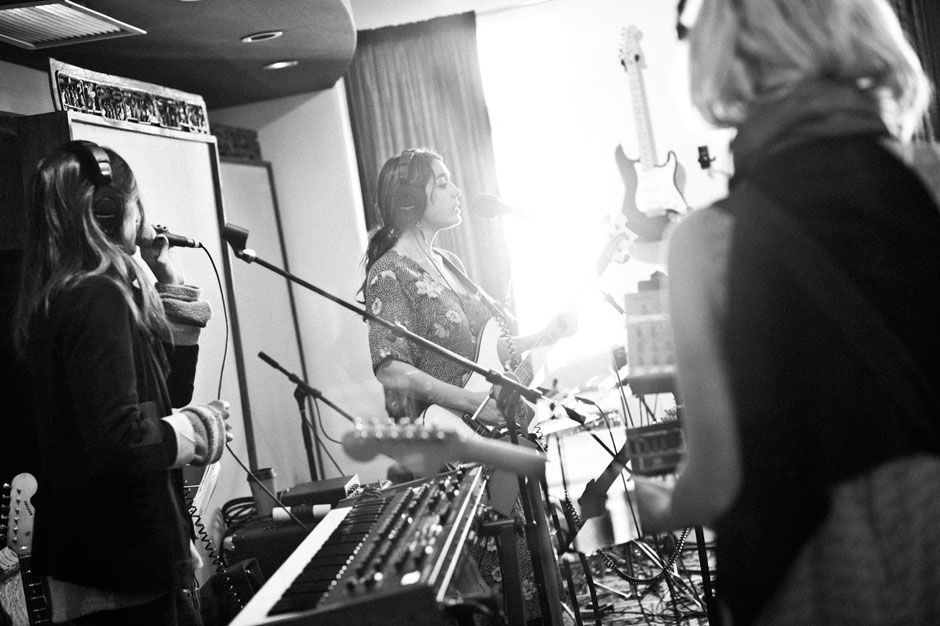 Theresa: There's pop music being made now that's more inventive than some of the underground music that's happening. A lot of the indie bands are following more formulas than the higher echelons. Like if you think of the song "Cockiness" by Rihanna. Or "Drunk in Love," the Beyoncé song. I think there are a lot of elements of pop, like ghost-pop, in our group. It would just be a matter of simplifying some of our elements.
Live on KEXP from The Cutting Room Recording Studios, NYC, January 17, 2014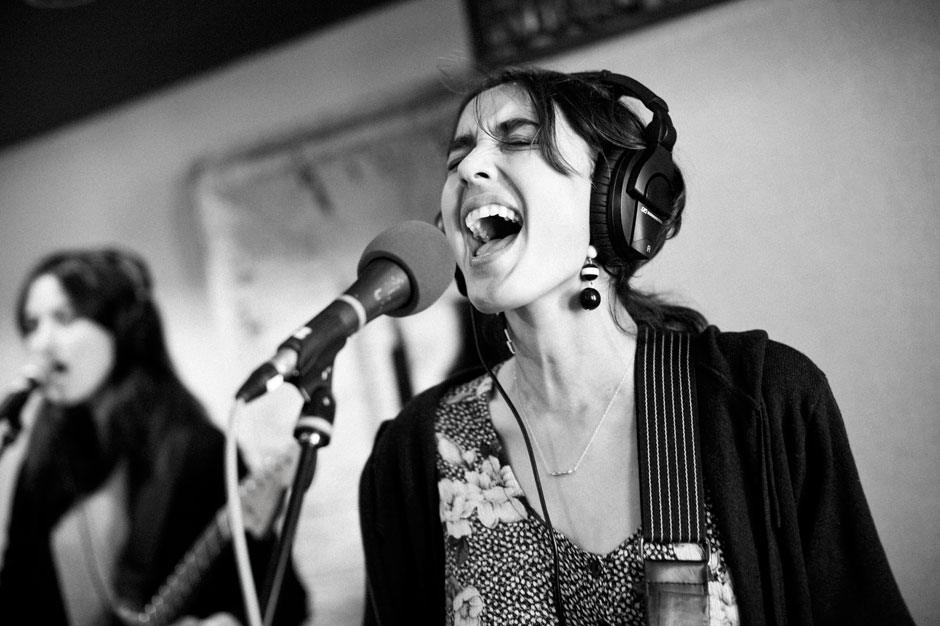 Jenny: The way we write our songs is an introspective experience – if you look around the room any time we're writing, you'll see that everyone's eyes are closed. We're having a personal experience together when no one has to perform for each other.
Live on KEXP from The Cutting Room Recording Studios, NYC
Live on KEXP from The Cutting Room Recording Studios, New York City
9.Jam Sessions and Songwriting
9/12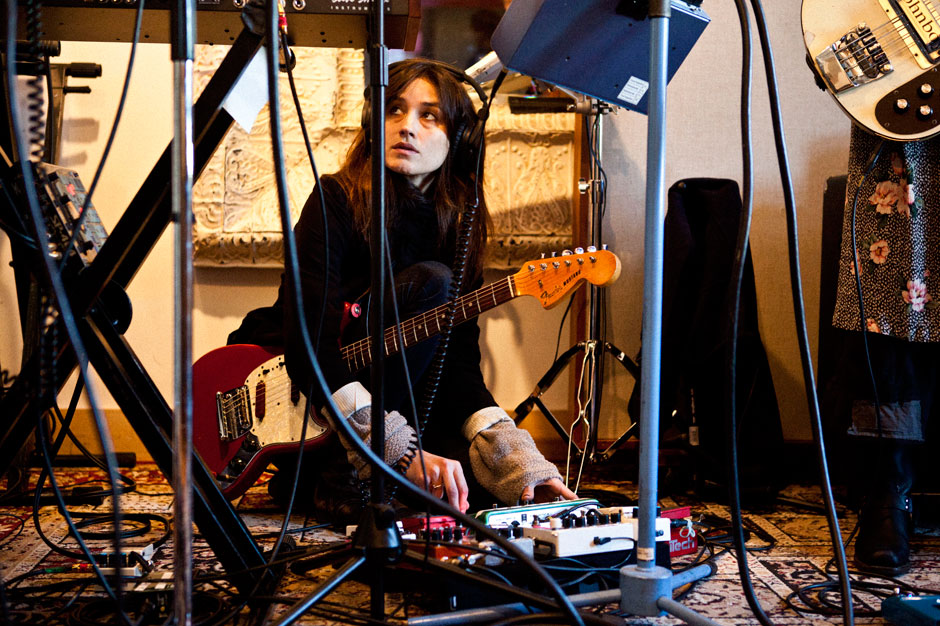 Theresa: I think it was often jam sessions that develop into songs. But we've been exploring other ways of writing, too: Two people branching off and working a song start to finish, and then other people add onto it later. But half the songs from the album did just come from us getting together in our rehearsal space and playing together and then arranging it later."
Live on KEXP from The Cutting Room Recording Studios, NYC
10.Freestyling Disco
10/12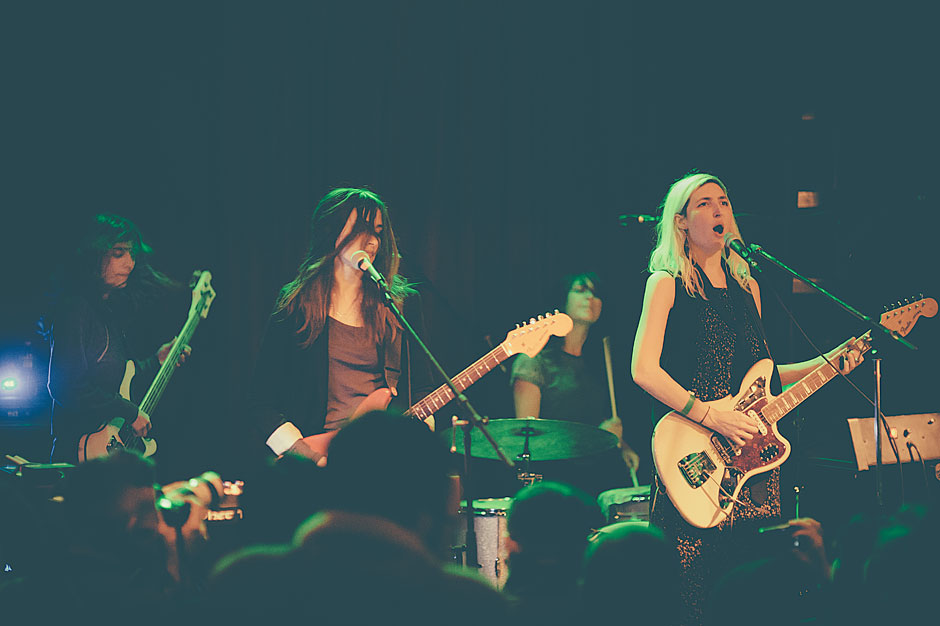 Jenny: We set out to make a record we could dance to. With "Disco // Very," it started out just as bass and drums, and Emily was kind of rapping over it. I thought that the song should just be a free-for-all and that we should all sing a verse. I think that's why that song is catching people's ears, because there's a looseness to it. We weren't getting too heavy about it.
Union Pool, Brooklyn
11.Make New Songs, But Keep the Old
11/12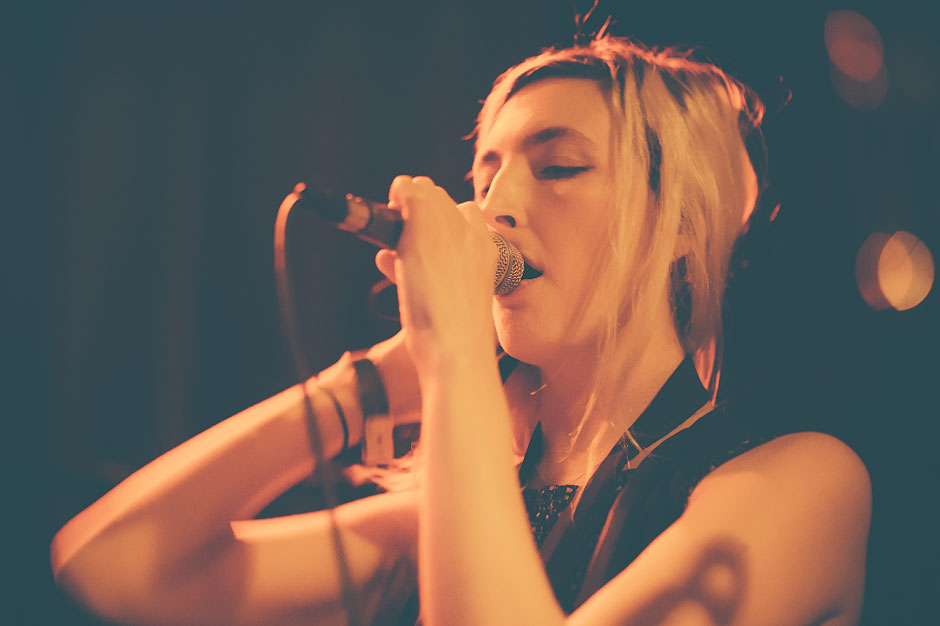 Emily: We can get bored with our old songs. We can't connect to them the same way we did when we wrote them. But the audience may be connecting or experiencing the music in a way that we're not, so we try not to get in the way of that, either. Old songs can feel like we're playing them for the first time again. When we play live, it's exciting — we're more animated, the space within a song opens up with the venue. We kind of play into our environment. It's more about enjoying the sonics and playing off of each other. We get off on both sides.
Union Pool, Brooklyn
12.This Is Not a Love Song
12/12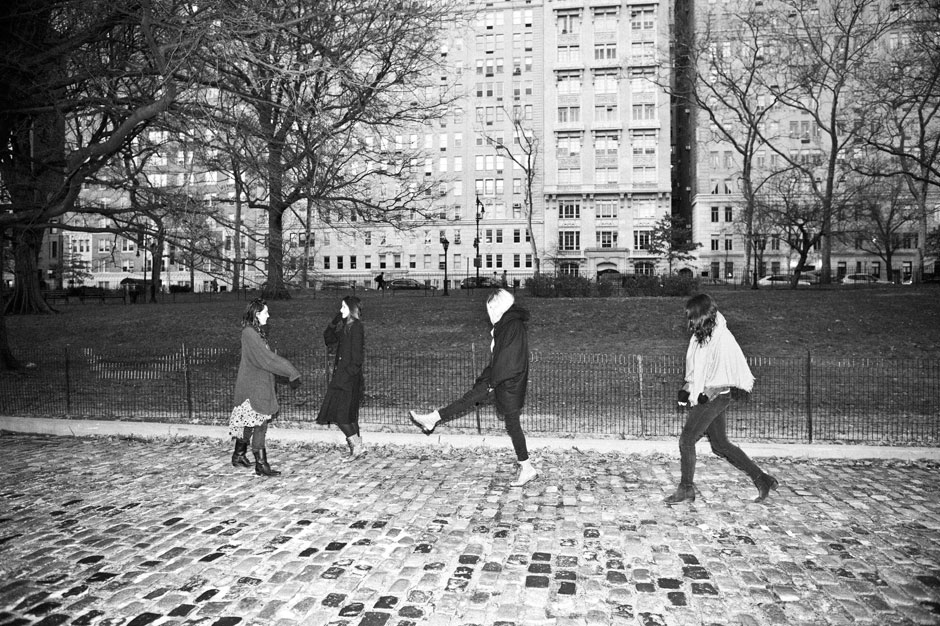 Theresa: It's funny that I don't think of this album as about love as much as our other albums. We do say the word "love" a million times, but it's not about love. You're always kind of confronted with the same things regularly: how to treat people right, how to be treated right, how to be open to love and intimacy. That's just life, you know?
American Museum of Natural History, NYC