Pardon the Eruption: 36 Hours in Milwaukee with Volcano Choir
Tonight in Chicago, Volcano Choir will enjoy the first set of their first North American tour, a run of five dates that will take the Wisconsin-based, Justin Vernon-led post-rock supergroup through the American Northeast and Ontario, all in support of their just-released second full-length, Repave. Though the record (like its predecessor, 2009's Unmap) was recorded at Vernon's home-studio compound just outside of Eau Claire, Wisconsin, nearly 250 miles to the northwest, Repave marks the transformation from studio experiment to band, a change that can be heard and felt — since February, VC's six members, scattered across the state, have been gathering in Milwaukee to rehearse at Tannery Recording Studio, a recently converted warehouse space on the south side of town, within feet of the Kinnickinnic River just as it winds its way into Lake Michigan. Last weekend, photographer Brian Guido sat in on what would be the last of their practices before hitting the road. Here's what he saw, as remembered by Tom Wincek, Chris Rosenau, and Vernon.
1. Pardon the Eruption: 36 Hours in Milwaukee with Volcano Choir
1/22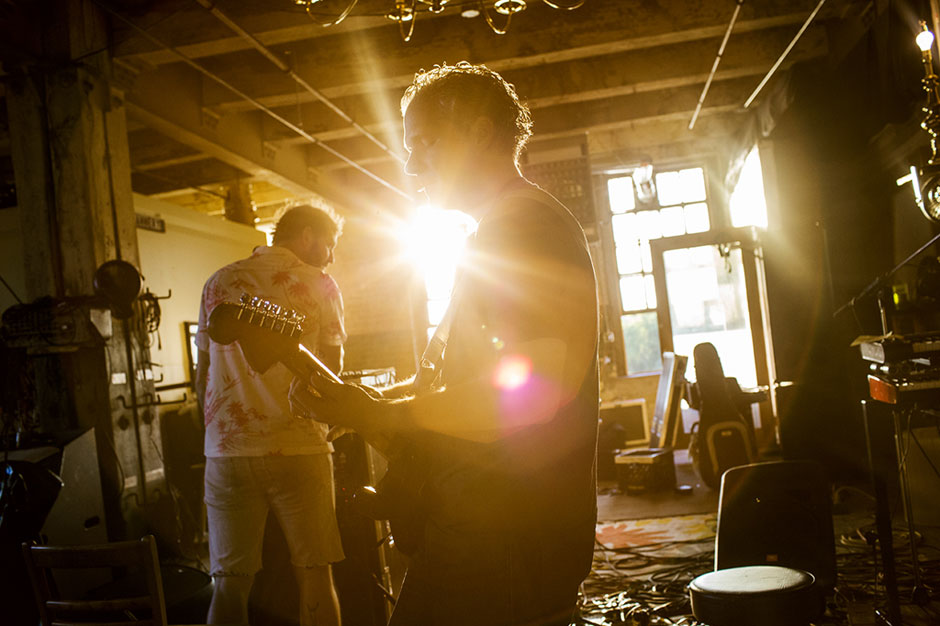 2. The Tannery Recording Studio, Milwaukee, Wisconsin, 4:34 p.m., August 30
2/22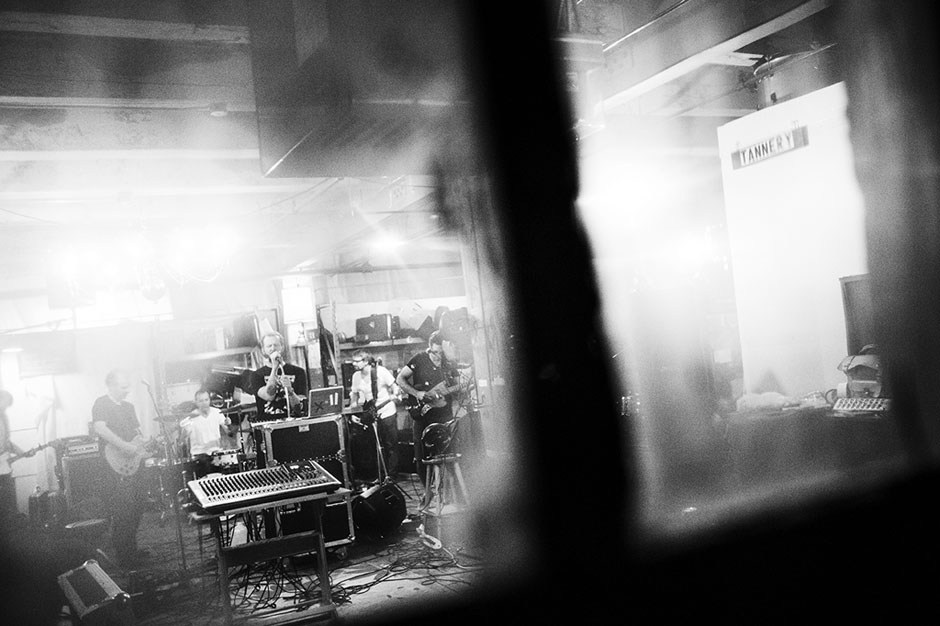 Wincek: "The Tannery is run by my best friend and drummer for All Tiny Creatures and Collection of Colonies of Bees, Ben Derickson. He took over operations there. It's more just a place for friends at this point. It used to be a studio that would take in outside projects. But there's enough projects between all of us that its always busy up there, either as a rehearsal space or a recording studio. It's in an old warehouse from, I don't know, a hundred or so years ago that was used for tanning hides. It's got great big ceilings, and they built a control room. Ben just put a new board in there and just recorded some stuff, so it's up and running again. It's a great hub to have, a great resource to have in Milwaukee. On top of that, it's also a great-sounding room."
3. Guitarist Daniel Spack at the Tannery, 4:58 p.m., August 30
3/22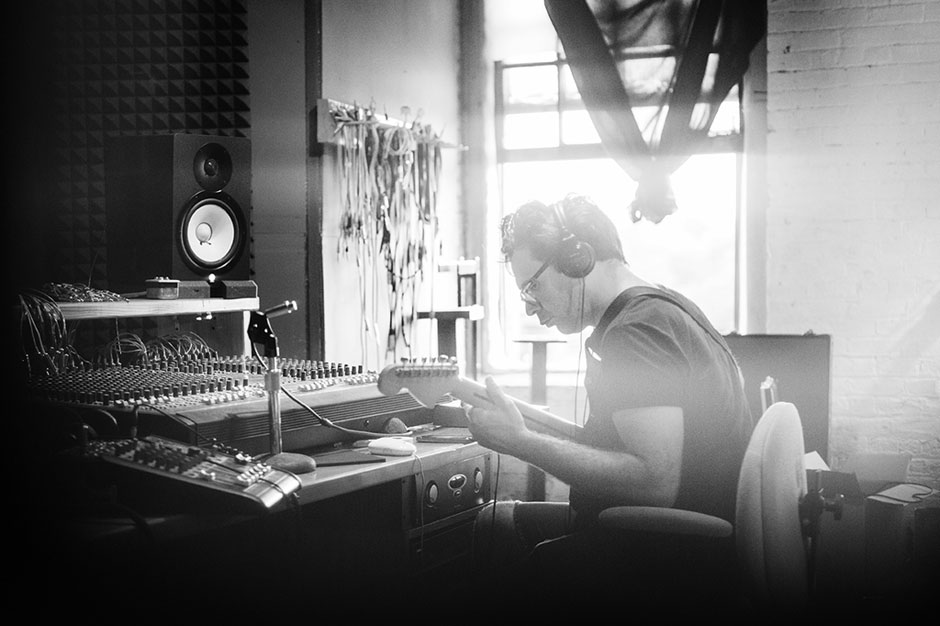 Rosenau: "To get ready for these performances, we did a lot of weekends here. We wrote this record all together, but no one actually sat down and played any of this stuff until we had to learn it. So we started going to the Tannery in smaller groups when it was still snowing out, because we just really wanted to give ourselves time. We didn't want to have to cram for this thing. We wanted to let it sit, let it breathe, let it figure itself out — you know, just like anything else Volcano Choir. We've been doing that for months and months and months. We had two big weekends with everybody here and polished everything up."
4. Justin Vernon in the role of Beavis, 9:32 p.m., August 30
4/22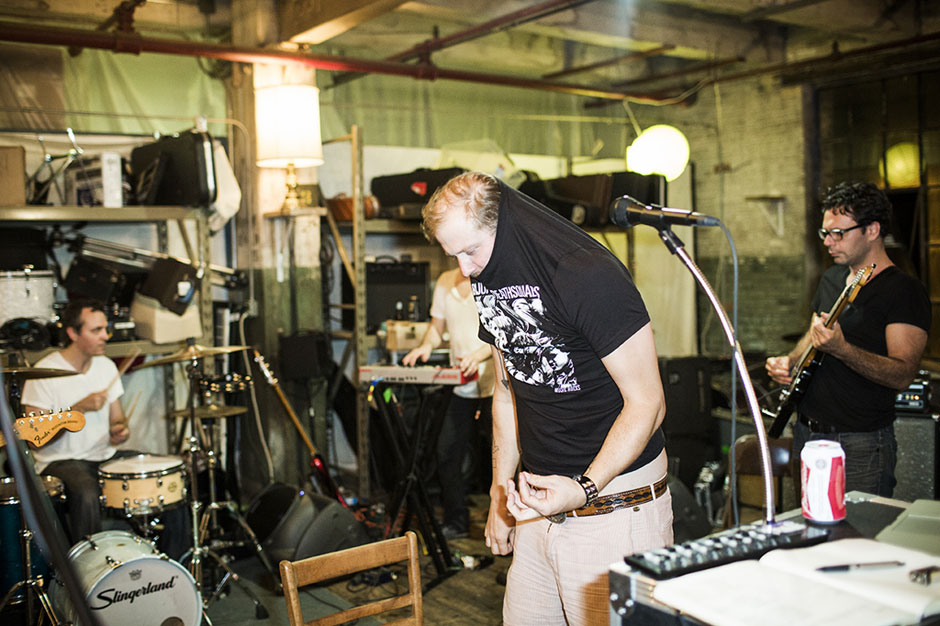 Vernon: "This is me watching Chris. I'm learning how to play his guitar parts so that when I kill him, I can take over."
5. Multi-instrumentalist Andy Fitgerald at Boone & Crockett, 12:41 a.m., August 31
5/22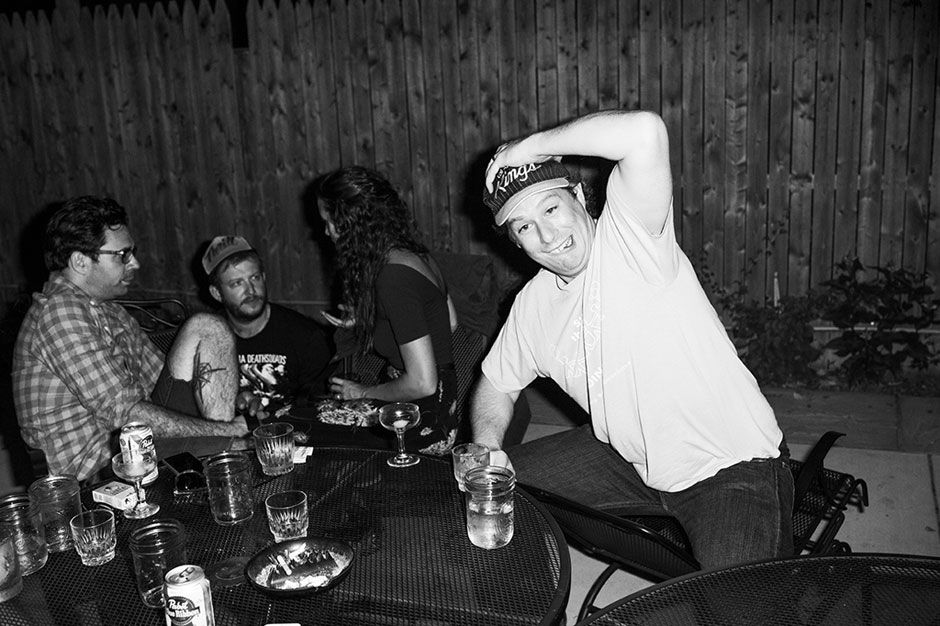 Rosenau: "This is at a bar in Milwaukee called Boone & Crockett. It's a walk away from the practice space; it's actually dangerously close to the practice space. Andy is a really good physical comedian, so he's just showing his chops there."
6. Spack at home in Milwaukee, 1:27 a.m., August 31
6/22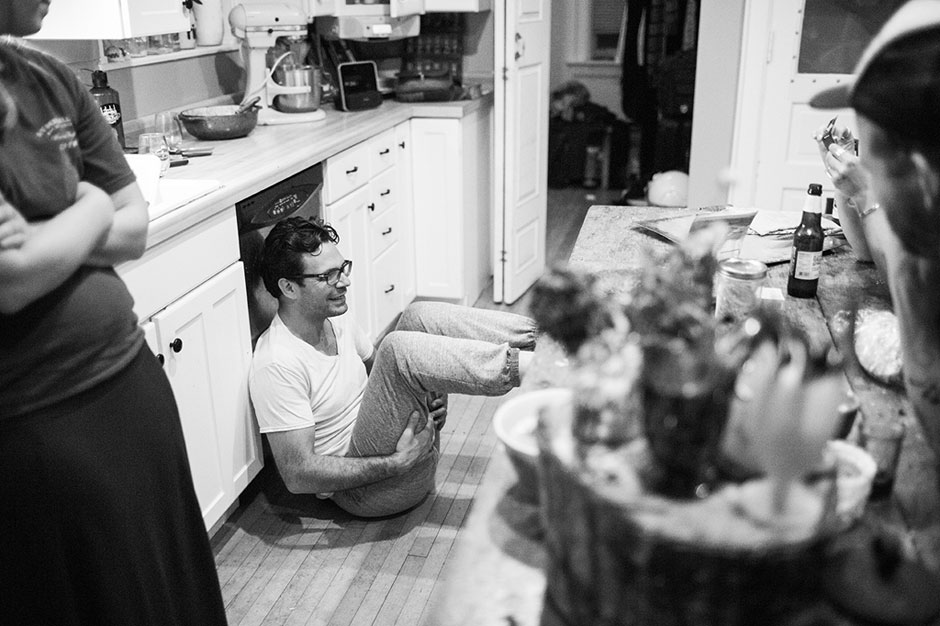 Vernon: "That's Daniel Spack in his kitchen, just down the road. A bunch of people went over there after we had drinks to hang out for a little while. He also helped do a lot of the original design of Studio A at April Base."
7. Vernon, 9:57 a.m., August 31
7/22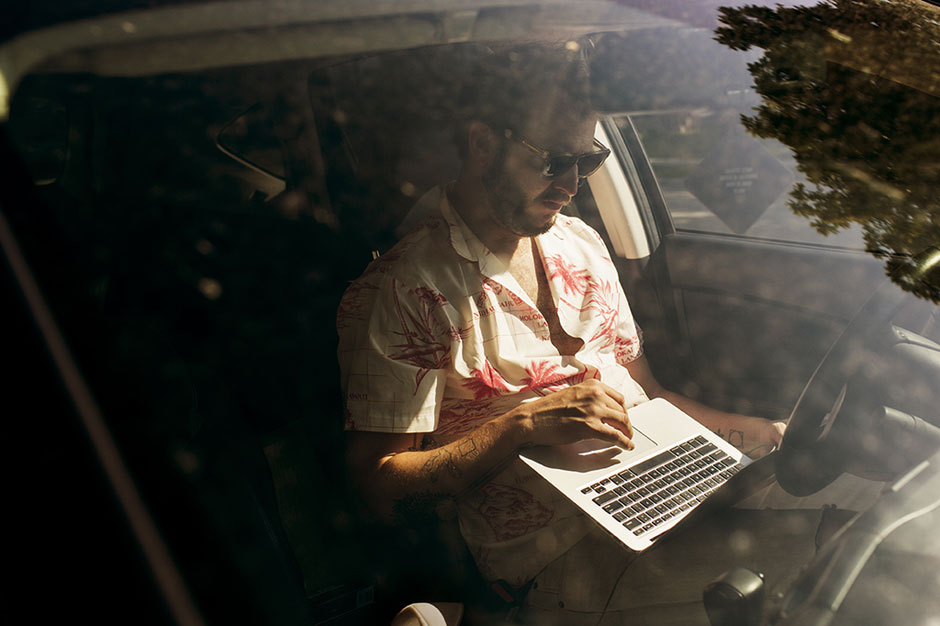 Vernon: "In the morning, I was sitting outside of Dan's waiting for him to come down, and just checking in on my vocal stuff, my harmony settings."
8. Spack and Vernon with the former's roommate on Lake Michigan, 10:28 a.m., August 31
8/22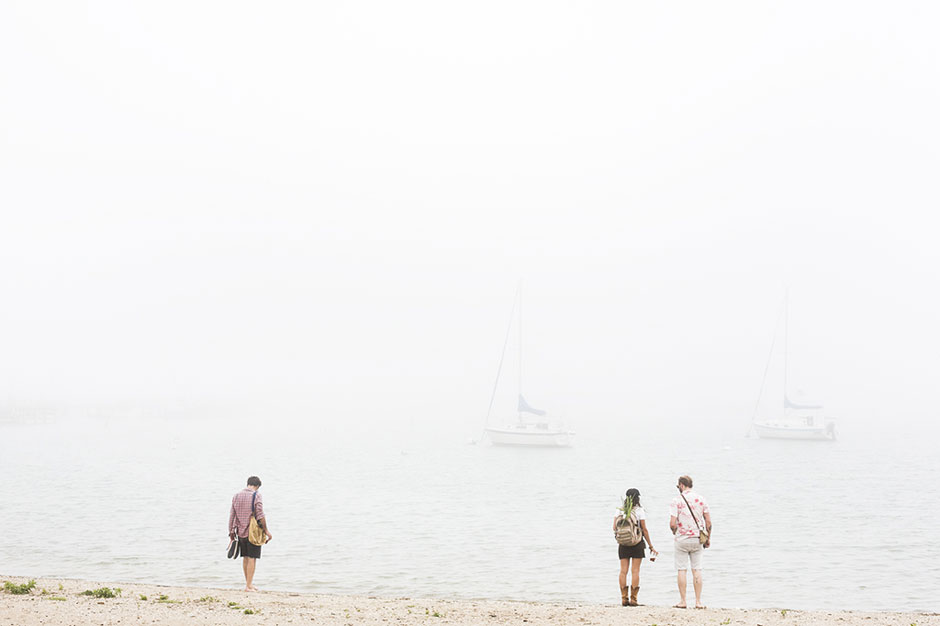 Vernon: "Dan and I and a few of his roommates went down to the farmer's market and got breakfast there before practice. I got my picture taken on the beach [at Lake Michigan] with a bunch of babies. They were like, 'Oh my god, that's the guy from Volcano Choir, let's take pictures with him and our babies.'"
9. Vernon, 11:28 a.m., August 31
9/22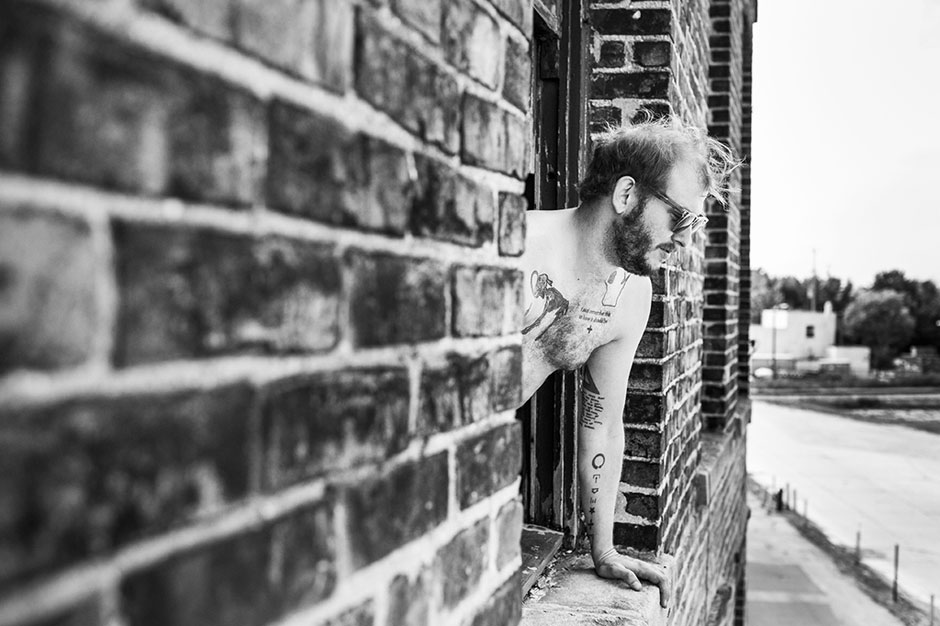 Vernon: "That was me contemplating suicide, in the Tannery."
Wincek: "I'll say. It was pretty hot in there, and I thought about suicide, too."
10. Vernon, 12:26 p.m., August 31
10/22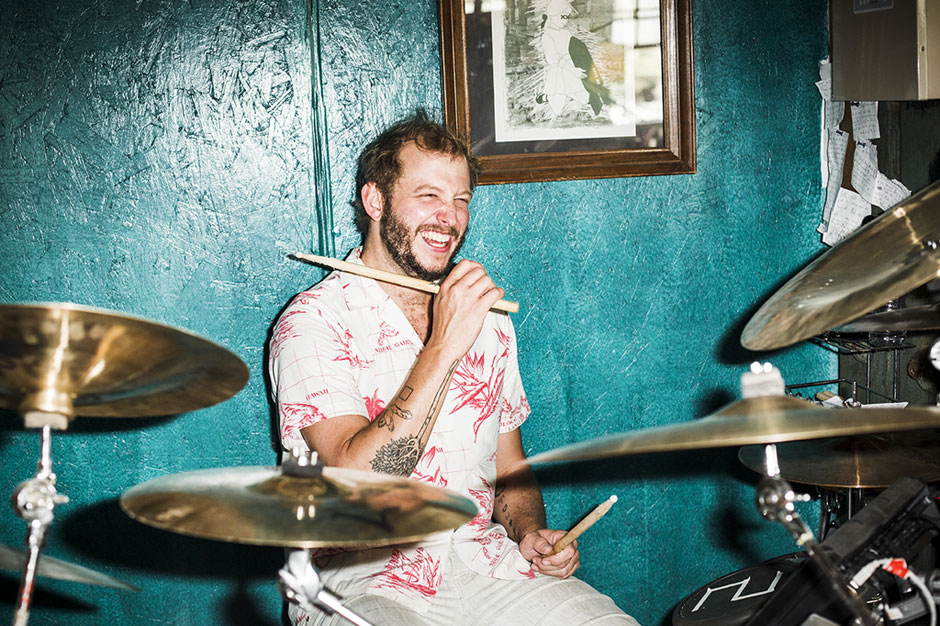 Vernon: "I'm a really, really, really good drummer."
Wincek: "Hold on. He's a pretty good drummer."
Vernon: "I'd say I model my drumming after Tim 'Herb' Alexander, the guy on the first six Primus records. A bit of double-kick-pedal involved."
11. Volcano Choir at the Tannery, 12:28 p.m., August 31
11/22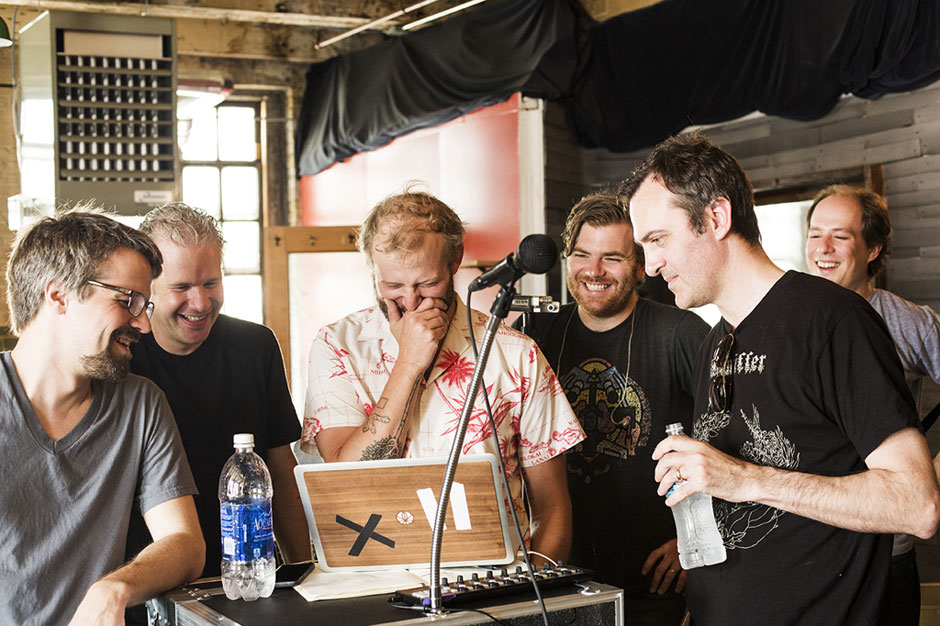 Vernon: "We're watching that hilarious sketch from Upright Citizens Brigade where the guy has a sushi chef and he's like, 'I love sushi. Hi, hi, hi.' We just had to watch that because we were on a break."
Rosenau: "The gag is that he's rich, but he doesn't want to get rid of his sushi chef. Pretty funny. Wait, no, excuse me — he's poor, but he wants to keep all of his money. I fucking blew that whole thing. I'm sorry. I'll do better next time."
12. Vernon, 12:47 p.m., August 31
12/22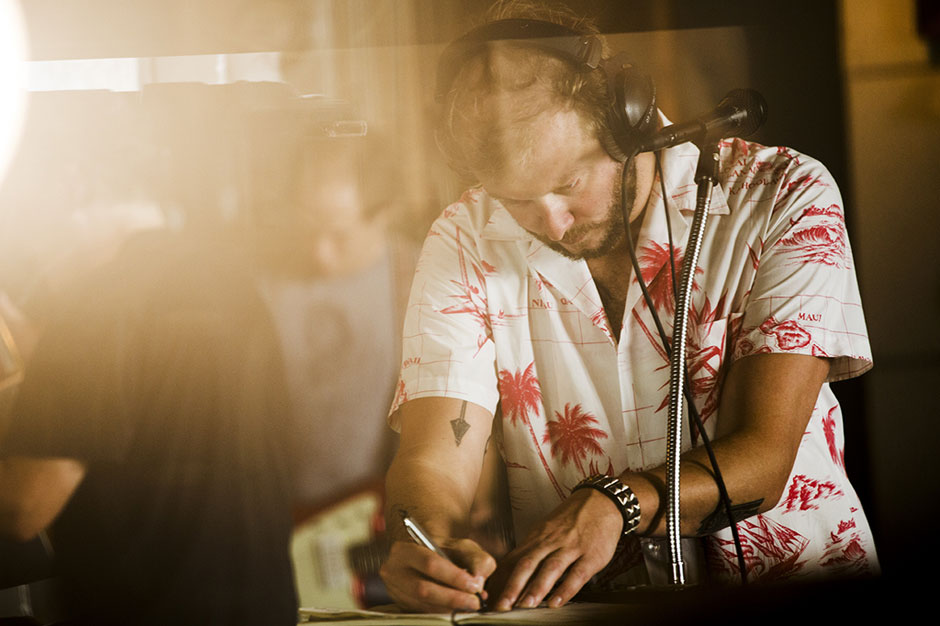 Vernon: "During rehearsals, I'll write down technical notes mid-song. Me and Tom have these weird song maps with all of these number codes that we created, so that we can remember what the fuck happens within our songs. I'm scrambling to write down reminders for myself in the map. "
13. Volcano Choir at the Tannery, 1:46 p.m., August 31
13/22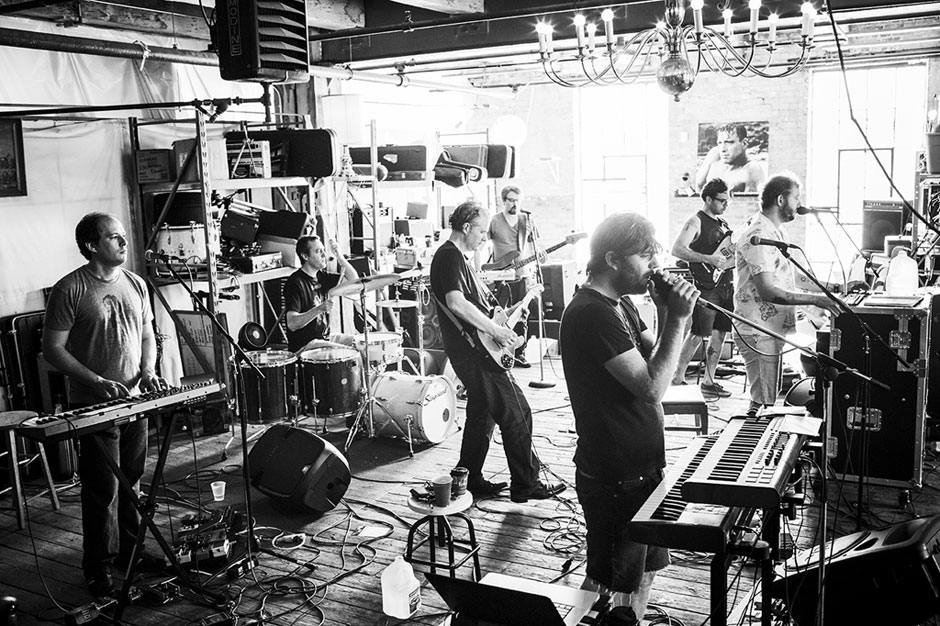 Rosenau: "The Milwaukee and Madison people, we see each other more than we see Justin, but he's down here enough that it's not that strange for us to see him. But it was the first time where we were all, 'Well, here we go, start the set, let's see what the hell is gonna happen.' Which was fun."
Wincek: "There was a lot put into it, and a lot that Justin and I had to figure out just logistically, like the vocal setup; we're using computers as a hub — not for playing tracks or anything, but for instruments and vocal processing. There was a ton to figure out, and we really had to fine-tune it so by the time we started rehearsing, I was pretty confident that it was going to go smoothly. And it did — everybody knew their parts. We actually started to feel like we were ready to play some shows."
14. Volcano Choir on the streets of Milwaukee, 2:47 p.m., August 31
14/22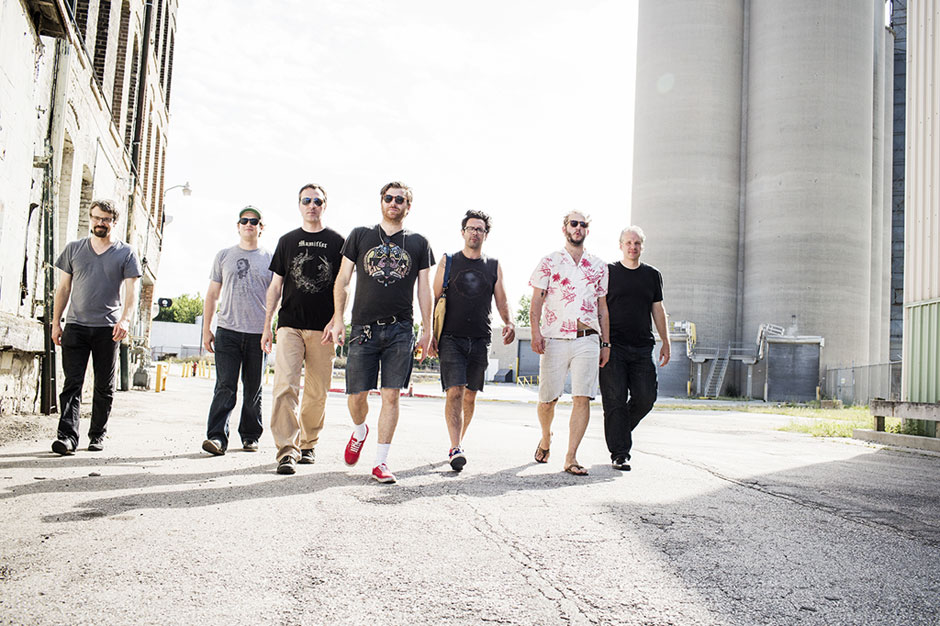 Vernon: "Us walking in Volcano Choir formation. It gives us a different kind of power when we walk like that."
Rosenau: "You'll note that we're laughing. The irony is not lost on us."
15. Volcano Choir at Barnacle Bud's, 3:11 p.m.
15/22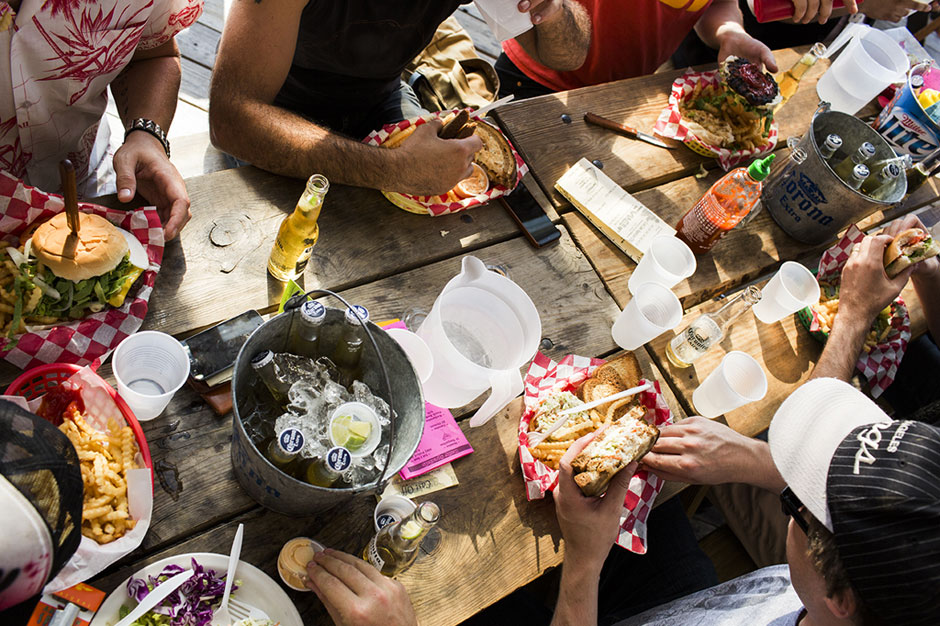 Wincek: "This a place that's even closer to the Tannery, so we're sort of relegated to go there. It's called Barnacle Bud's. It's right on the water. Boats drive up there. People party all day, and then they go and get crabcakes. We can walk out the door and be there in three minutes, so we just go there by default, even though it's not the best place to eat, really."
Vernon: "It fit with our whole nautical situation".
Rosenau: "I got oysters. The oysters were actually pretty good."
16. Volcano Choir at the Tannery, 3:41 p.m., August 31
16/22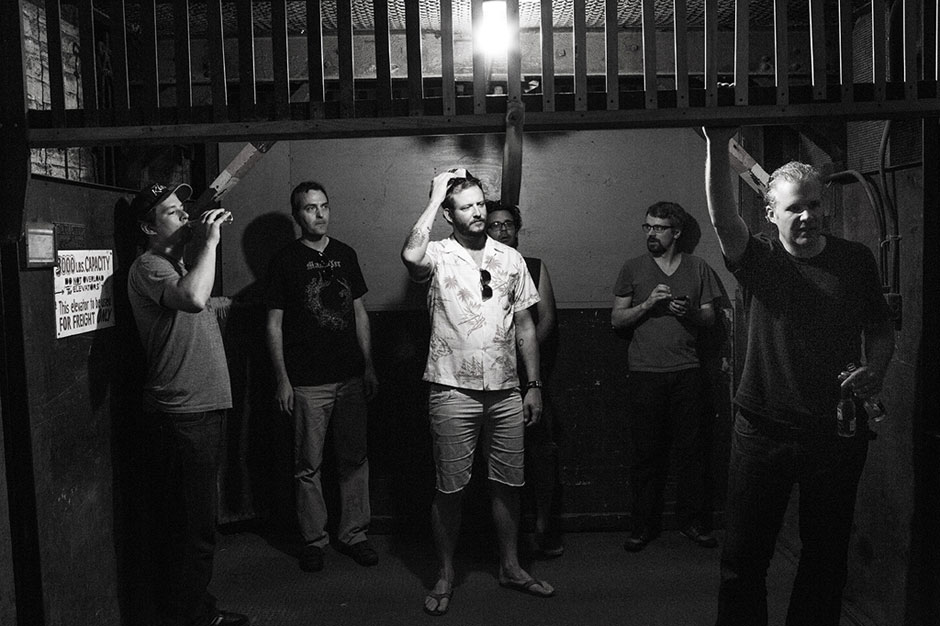 Rosenau: "Our rehearsal space is on the third floor of the building, and this is the freight elevator. It goes up and down, and it's straight out of a weird horror movie. And out of a super-lame-band-photo movie."
Wincek: "I always take the stairs. That's why I'm not in this photo."
Rosenau: "I just said 'super-lame-band-photo movie.'"
17. 4:09 p.m., August 31
17/22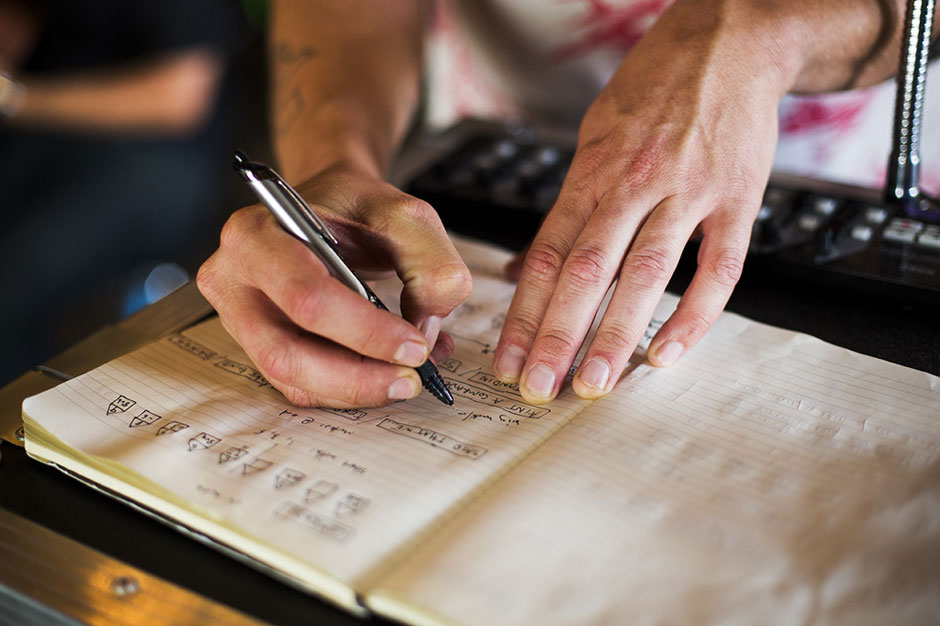 Vernon: "I'm taking awesome notes and drawing cool maps."
18. Vernon, 4:29 p.m., August 31
18/22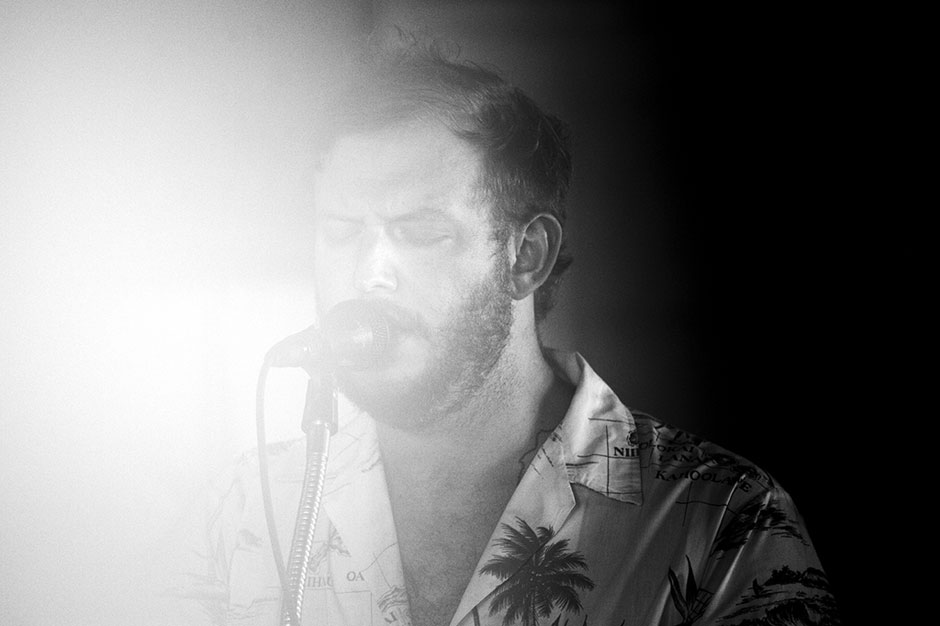 Vernon: "Me singing. You can tell I'm really feeling it here."
19. Mark Waldoch, Volcano Choir guitar tech, 4:59 p.m., August 31
19/22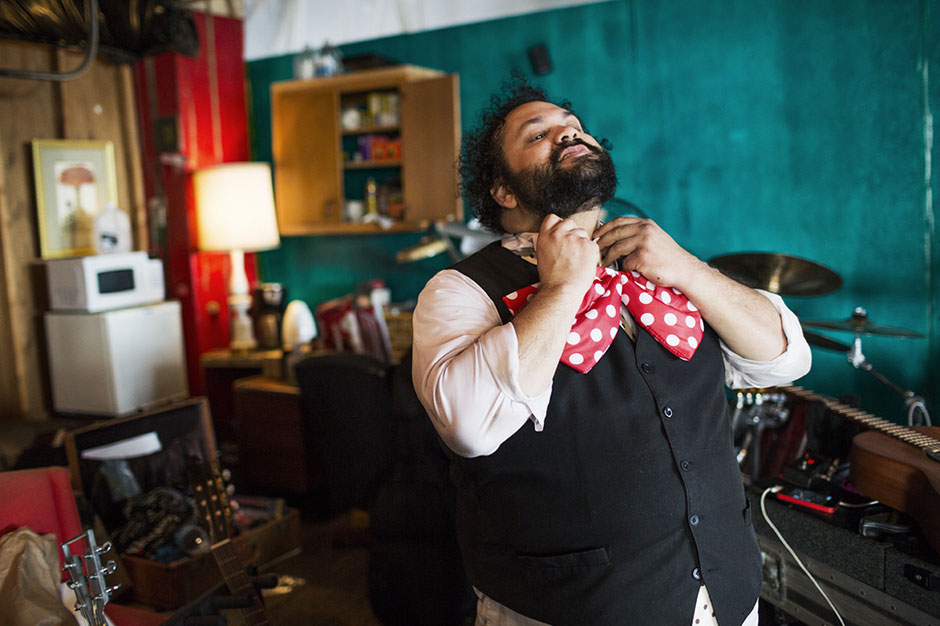 Rosenau: "Mark, our guitar tech, bought me a bow tie, a big novelty bow tie. He's modeling it here. He was at this shop buying fucking super-loud whistles for my two daughters, and apparently he saw that and decided to get that for me. It's all jokes."
20. Volcano Choir at the Tannery, 5:51 p.m., August 31
20/22
Wincek: "It was extremely hot and really, really unpleasant that weekend. But It was pleasant figuring out the music and being with the guys, so that made up for it."
21. Chris Rosenau, 6:33 p.m., August 31
21/22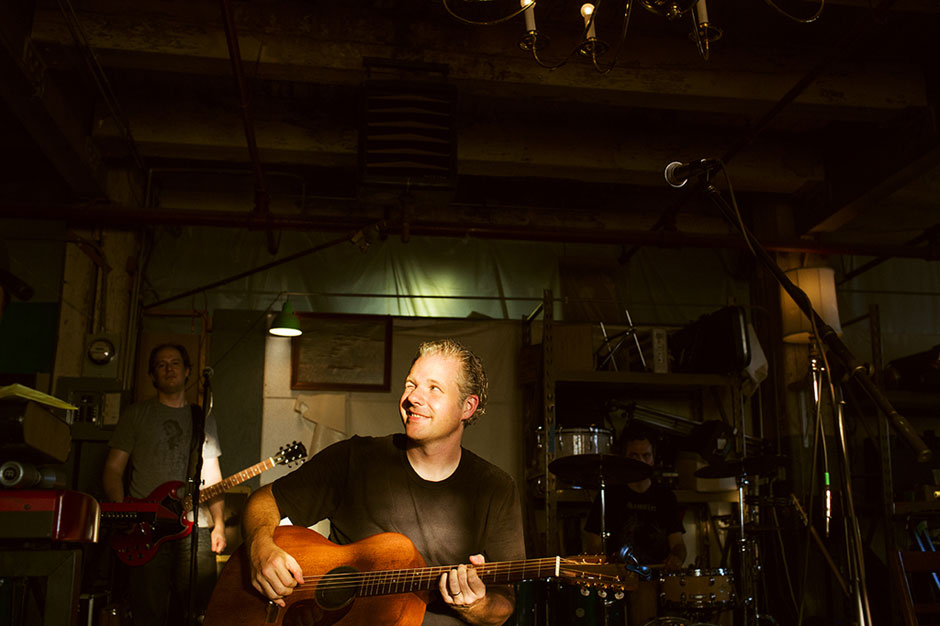 Rosenau: "It's kind of funny: We work really, really hard when we get together, whether it's recording or rehearsing or whatever. But we always have an insanely good time, which is why I think we can rehearse for 10 consecutive hours. There's definitely an agenda and a list that gets checked off, but it's a very relaxed atmosphere, just like friends spending time together. It's insane how long we stayed up there. Tom and Justin got there on a Wednesday night, and were there all day every day until Sunday."
22. Volcano Choir outside the Tannery, 7:38 p.m., August 31
22/22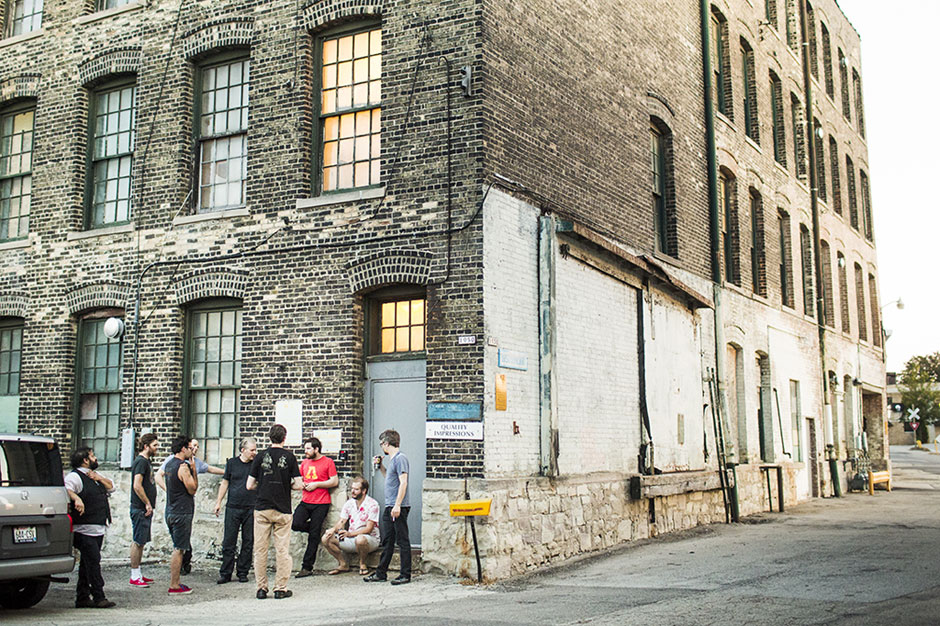 Rosenau: "Unmap was a studio record. We hadn't really ever thought about playing those songs live, because no one knew how, and there wasn't a reason to. But one of our friends in Japan, who has been bringing bands that we've been involved with over there for a decade now, proposed this idea of a short Japanese run in 2010, and everyone was super excited by the idea. We all kneejerk agreed: 'Fuck yes, of course.' And then we backed up a step and realized, 'Wait, now we have to figure out how to play our songs.' Which was a tall order, but it's great that we actually did that. The five of us playing songs is totally the same, but it changed our approach. The journey that we embarked upon with the six shows we've actually played were the beginning of this arc that we're on right now. Those shows informed so much of Repave, of what this live set is, because it told us what we were capable of. Hopefully, this show is going to really be something. We're really trying to bring it to another level."