The Royal We: 36 Hours in San Francisco with King Tuff
Even after months on the road in support of the reissue of his rediscovered classic Was Dead, Vermont garage-glam guitar god King Tuff is still up for a good time. We tagged along as Tuffy and his band stormed San Francisco for the Outside Lands Festival and their own club gig.
1. The Royal We: 36 Hours in San Francisco with King Tuff
1/20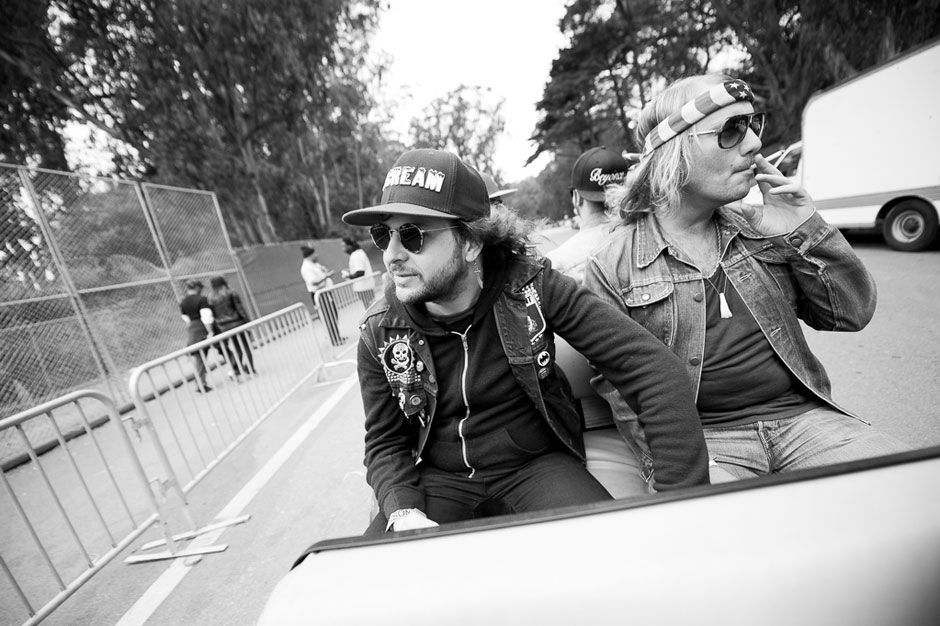 2. Brick and Mortar Music Hall, 5:00 PM, August 10
2/20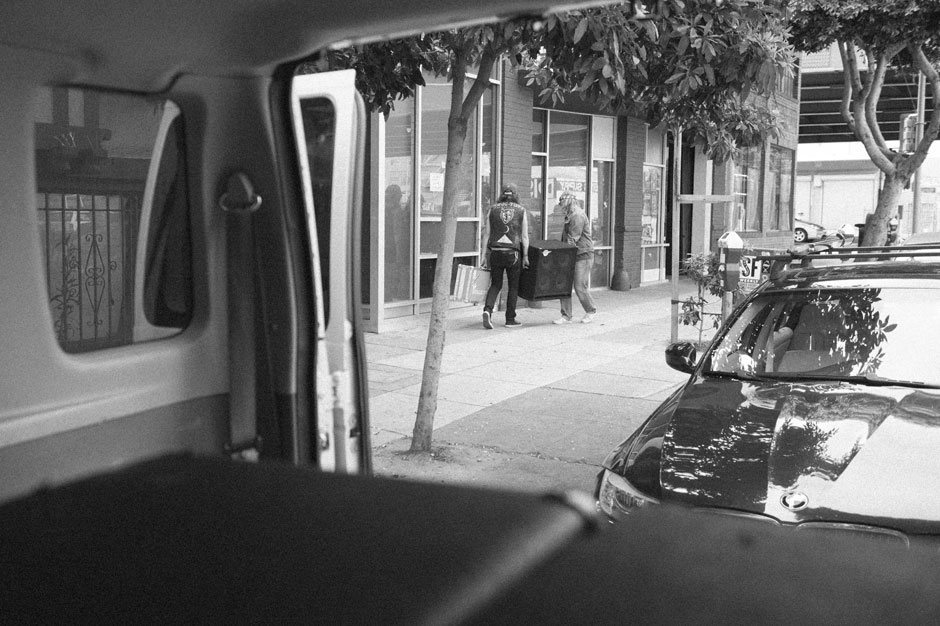 "We're loading into the club where we played, the Brick and Mortar in San Francisco," says King Tuff. "You know, just draggin' amps around as usual. It doesn't take too long. We have it down. Loading out is like playing Tetris in the van. We've figured it out, so it's pretty easy. Totally Tetris. I'm okay, but my mom kills at Tetris. You know how there's the long piece in Tetris? She's always called it a dinky-donker."
3. Brick and Mortar Music Hall, 6:00 PM, August 10
3/20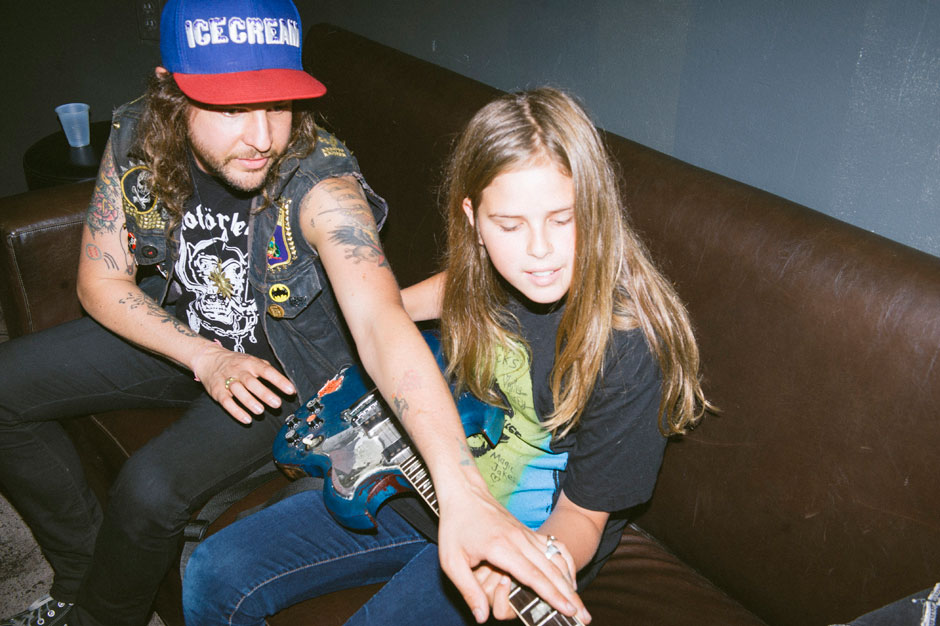 "That girl's name is Stella. We met her at the Pickathon Festival in Oregon about a week before. She was with her dad, and she was just really psyched and really cool. She's twelve. We were soundchecking before the show and her and her dad just kind of strolled in. I guess they live out here. She couldn't come to the show because it wasn't all-ages, so they kind of guessed what time we were soundchecking and just happened to come in when they were doing it. I let her play my guitar. She was rockin', and knew tons of chords. She's gonna be a shredder. Then we sound-checked, and I asked her what song she wanted to hear. She wanted to hear 'Anthem.' That's one of my favorite things about playing music: getting to talk to kids or people learning music, and they tell me I influence them to do something. It makes it all worth it."
4. A cafe, 7:45 PM, August 10
4/20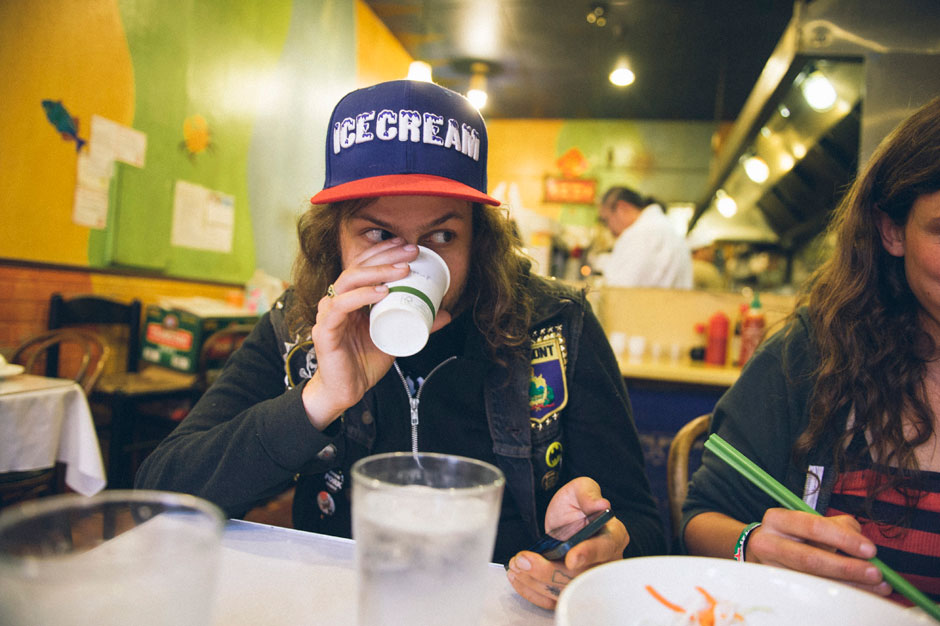 "I drink coffee all the time. Black as fuck, usually an Americano. This is coffee face. There's something real good about being mischievous. I like to swim in the waters of mischief now and again. I think the coffee does it to me. I'm kind of shaky all the time, because I have a hereditary shake, so I don't know if it's that, the coffee, or both. I feel like I always have electricity running through my hands."
5. Walgreen's, 8:05 PM, August 10
5/20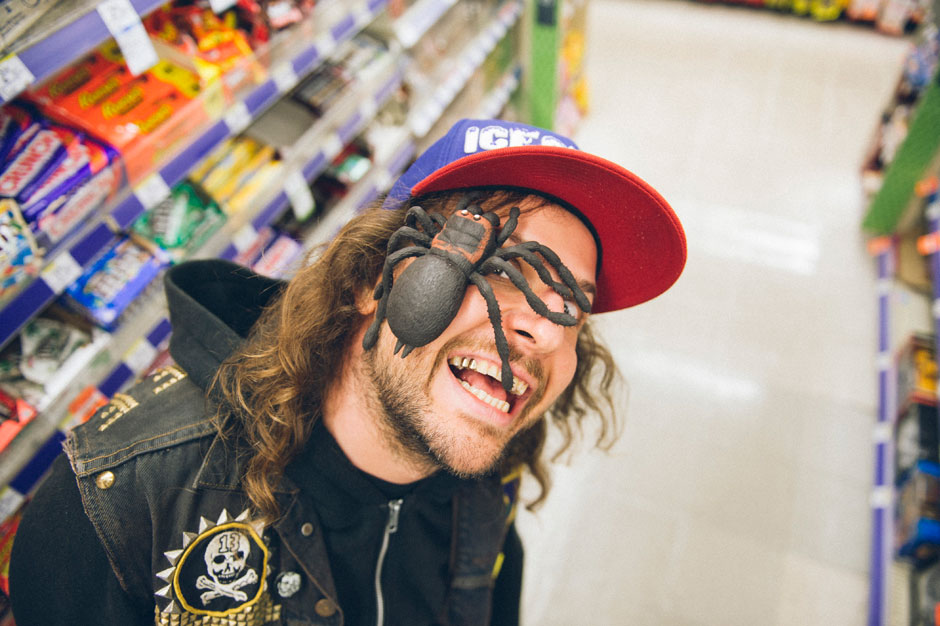 "I got attacked by a spider! A giant spider jumped off the shelves and onto my face! But then I realized he was just getting one of its twelve hugs it needs a day. It was a deep hug. His name was Choobie. He whispered it sweetly in my ear."
6. Brick and Mortal Music Hall, 11:15 PM, August 10
6/20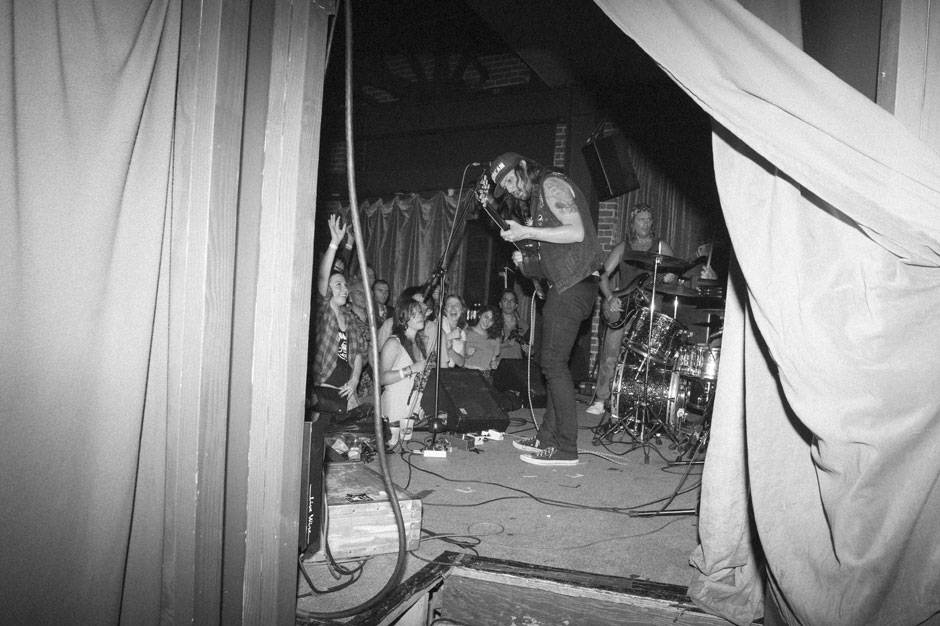 "This show was really rowdy. Because it was a smaller space, the energy was contained and got pretty crazy. We were getting sweaty. I was absolutely shit-hammered at that show. Usually I don't play drunk but they got me. They kept feeding me Moscow Mules! I had a great time. I don't know what we sounded like, but it was fun. I grew up playing punk shows and house shows, so these kinds of shows are close to my heart."
7. Brick and Mortar Music Hall, 11:30 PM, August 10
7/20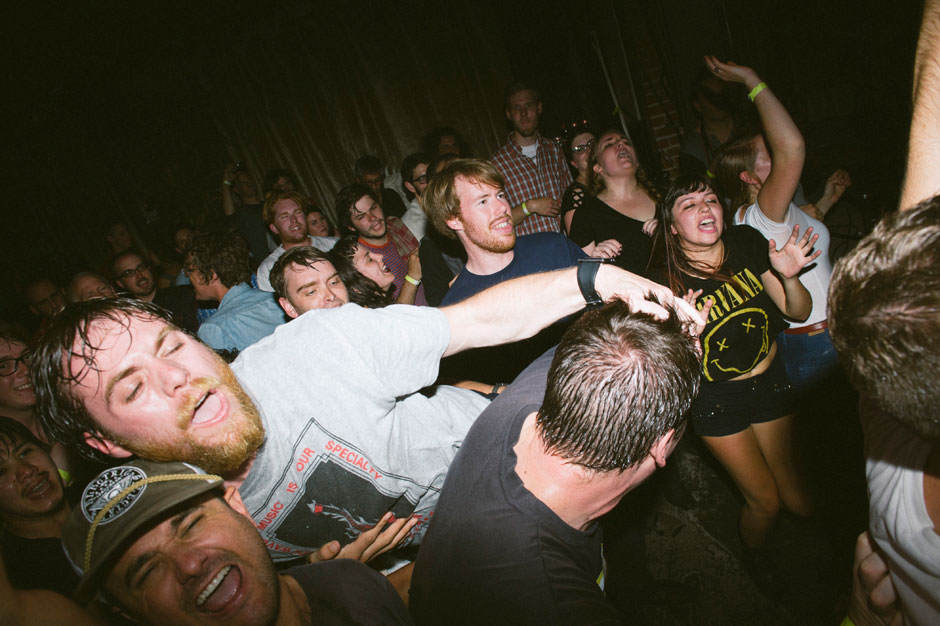 "There's usually a couple of cave-people in the crowd, and that's always good. Cave people know how to rock, if you know what I mean."
8. Brick and Mortar Music Hall, 12:30 AM, August 11
8/20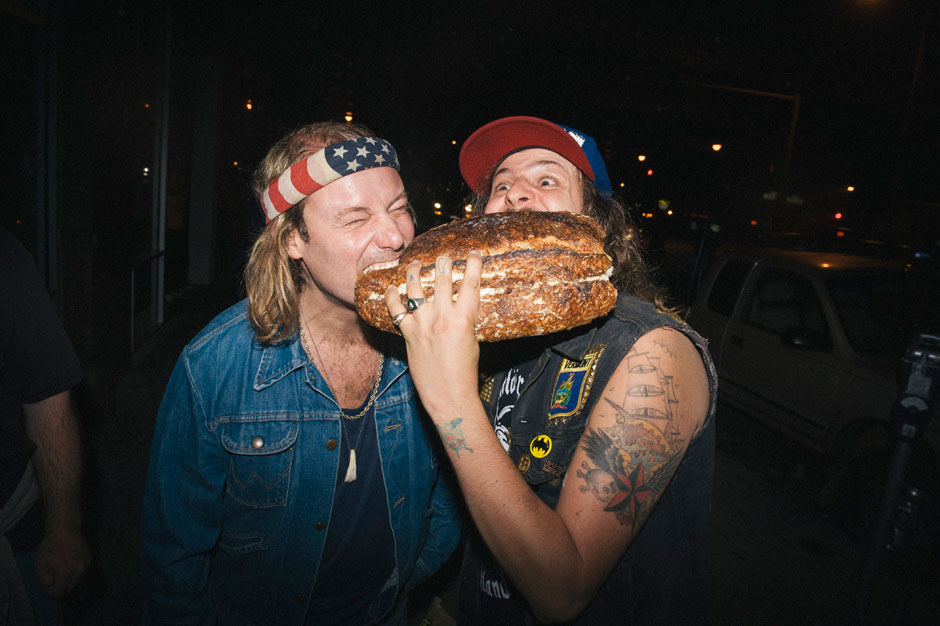 "We have this friend that works at this awesome bakery in San Francisco, Tartine. He brought us loaf of bread after the show. It was a delicious bread. A football rye. So Jake and I were chompin' and mowin' down on that guy. It looked so much like a football, so once we had our fill I punted it across the street."
9. In the van, 12:00 PM, August 11
9/20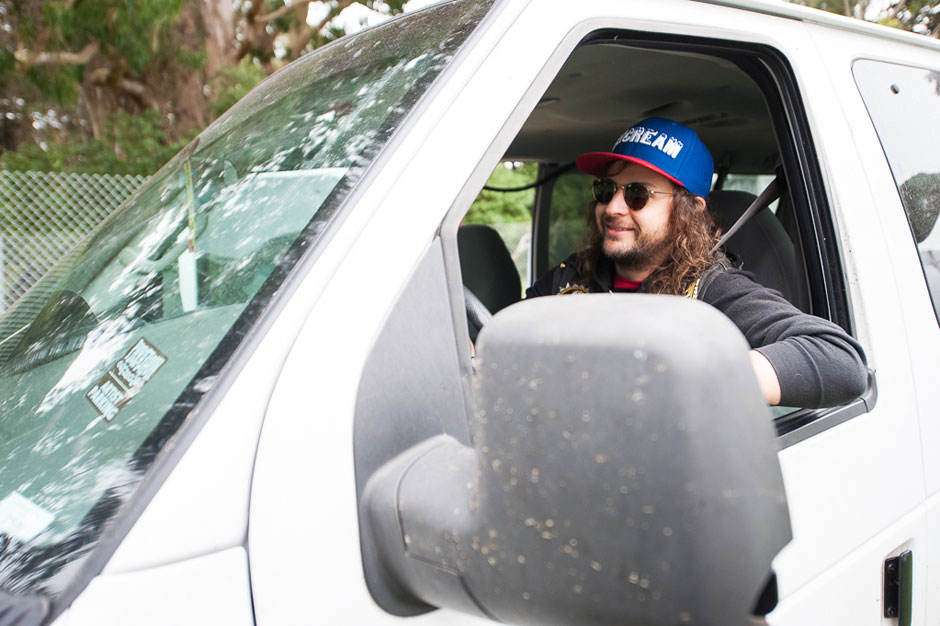 "We were dropping our stuff off for our Outside Lands set. For some reason I've done most of the driving on this tour. I guess because I get into a driving mode and I feel the most sane when I'm cruising. But I just bought that van a few months ago. We're still growing in our relationship. She hasn't told me her name yet. We're taking it slow. Eventually I'll start sleeping over, and we'll build our trust."
10. Interview at Outside Lands, 2:00 PM, August 11
10/20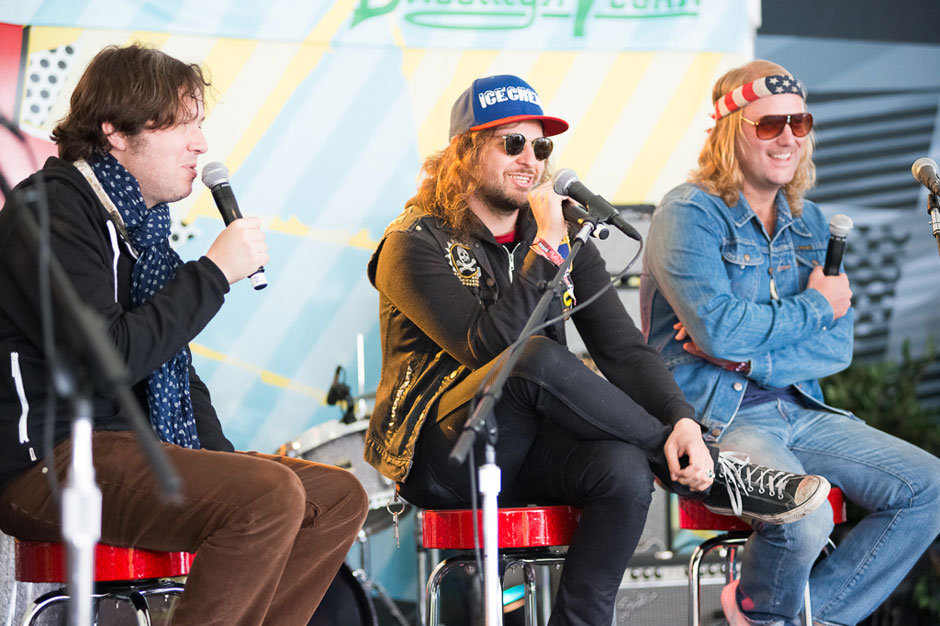 "That was an interview we were doing onstage at Outside Lands. That guy's a comedian. I'm not exactly sure what that was for, I just ended up there. It was funny, and kind of awkward. There were a lot of awkward silences, and an audience in front of us. It was a strange interview. At one point these girls raised their hand to ask a question, but they asked for hugs instead. So they came up onstage and got hugs. That was the funnest part. My bass player Jake, he says that you need twelve hugs a day. He says it every day. He's always trying to hug people. If he's being bad, I'll withhold them, then later surprise him with hugs."
11. Backstage at Outside Lands, 2:45 PM, August 11
11/20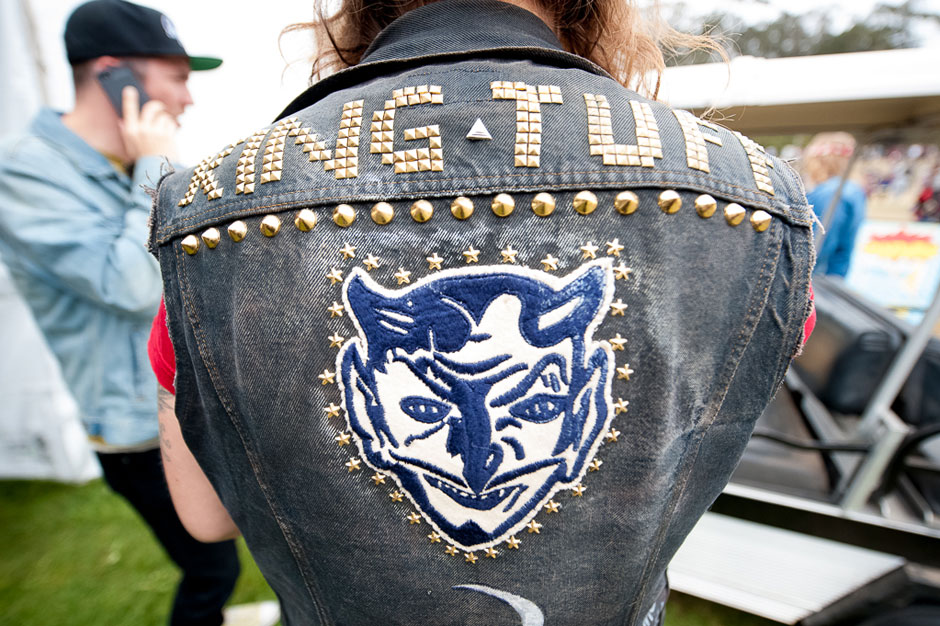 "That was just a vest I made. there's a stud store in L.A., downtown in the fashion district. It has all kinds of crazy stuff. It's a big shitty kind of warehouse that you'd never know was there, really. But I got a bunch of studs there. I don't have the tool to put them in, you need this special tool or whatever, so I just used my fingers so they got all cut up when I was doing it. It didn't take me that long because I grew up a punk, and I have punk speed. It's basically how fast you can stud a jacket. I was thinking of making vests for other people, customizing other people's clothing, or making vests and selling them. Because I have fun doing stuff like that. So, yeah. I'm gonna be studding when I'm 80!"
12. Prepping onstage at Outside Lands, 4:00 PM, August 11
12/20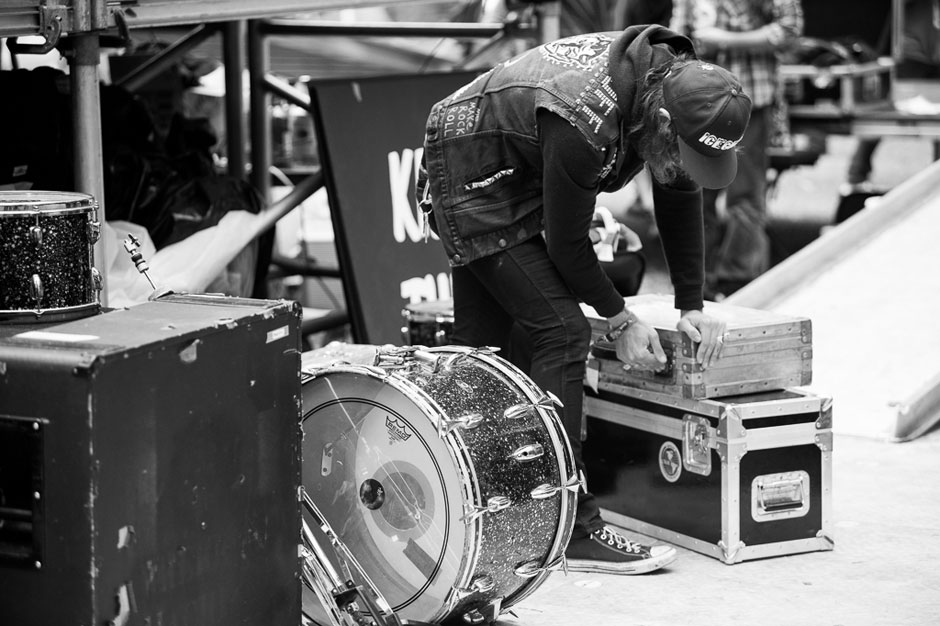 "Just unlocking the boxes and unleashing the beast here. [Tuff's guitar] Jazijoo is in there! It took her a long time to tell me her name, but she finally told me. I had to give her many massages. She's pretty chill. She's been my main guitar for probably eight or nine years."
13. Backstage at Outside Lands, 4:15 PM, August 11
13/20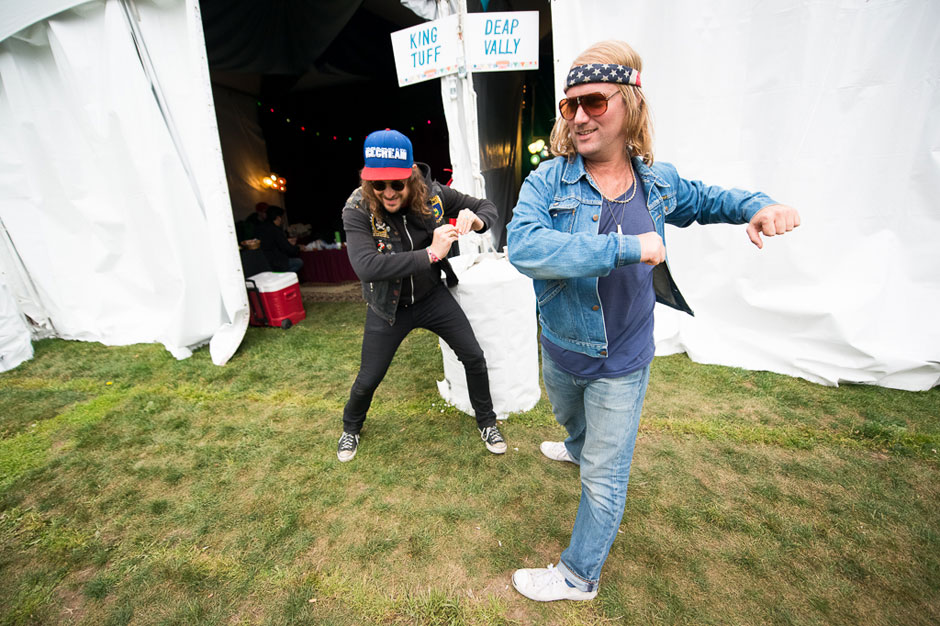 "Jake and I are getting pumped up here before the show, strengthening our core. I do a lot of mushroom squats before going on. Jake likes to do a lot of thrusts. He thrusts every body part in every direction."
14. Onstage at Outside Lands, 4:25 PM, August 11
14/20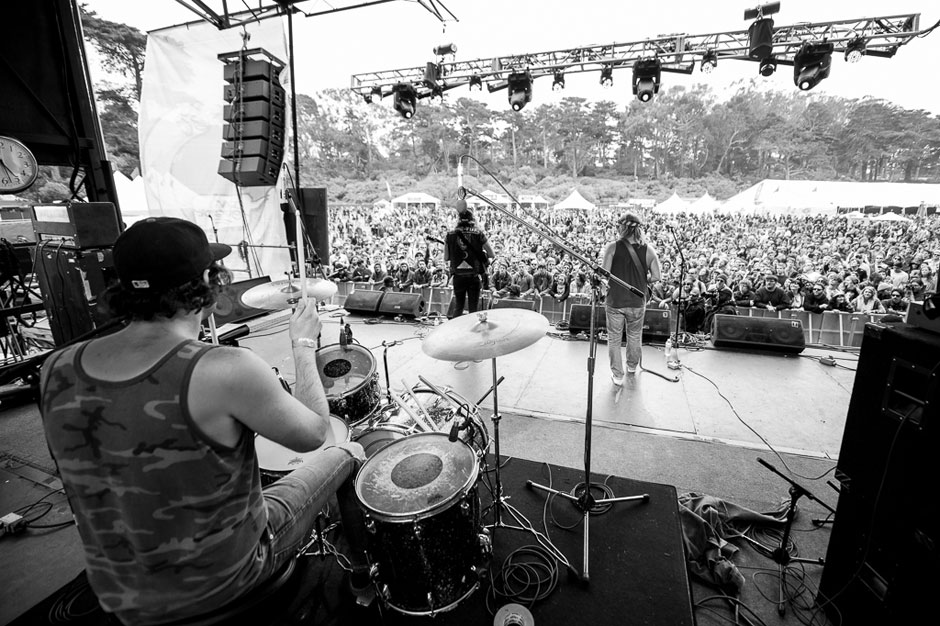 "I had a lot of fun at this show. The crowd was really great, and there were a lot of younger kids there. I kept spotting people I knew in the crowd. Everyone was smiling. We were having a great time. We did an equal mix of the self-titled record and Was Dead. I tend to get a pretty wide audience, because there's elements of everything: Older folks can hear the classic rock element, and kids hear the more punk side. It makes me happy to see many age groups there."
15. Onstage at Outside Lands, 4:45 PM, August 11
15/20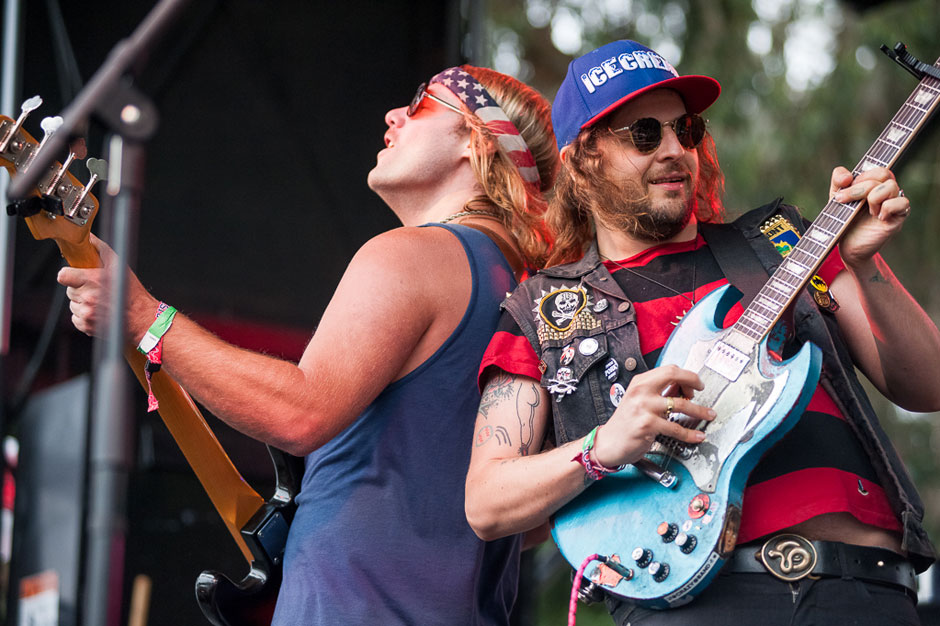 "Sometimes Jake and I like to hug when we're onstage, so we do a back hug. That counts as one of the twelve hugs day. That's a rock hug."
16. The festival grounds at Outside Lands, 5:30 PM, August 11
16/20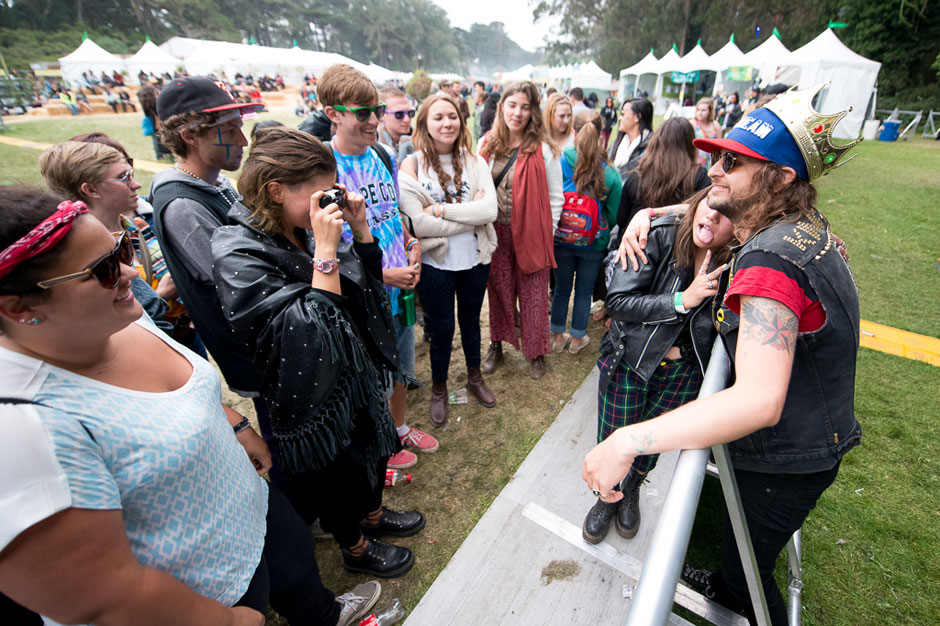 "That was after our set. After the show, someone made me a crown that said 'King Tuffy' on it. I'm not sure who made it, but it's on the dashboard of my van now. I went down and was saying hi to the fans, taking pictures with them. We were having a grand ol' time down there!"
17. The festival grounds at Outside Lands, 5:45 PM, August 11
17/20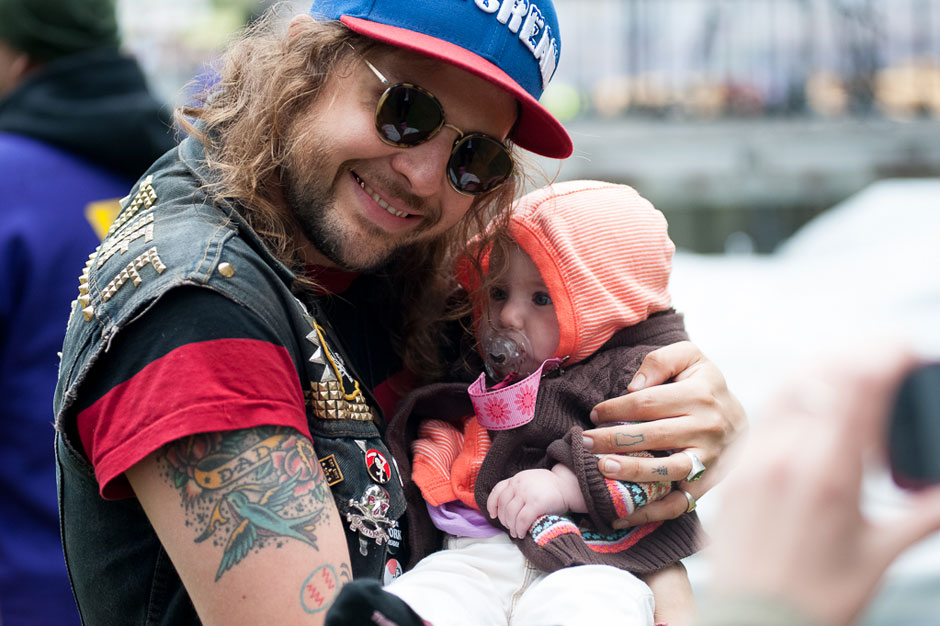 "That's a rock and roll baby! It was so cute! I couldn't even believe I was holding a baby. She was smiling. That's somebody who was working the festival's child. She said the baby was a fan! I've had other people tell me that the only way to get their babies to stop crying is to put on my album. Babies are so crazy, they're just like jelly blobs of joy. "
18. The catering tent at Outside Lands, 6:15 PM, August 11
18/20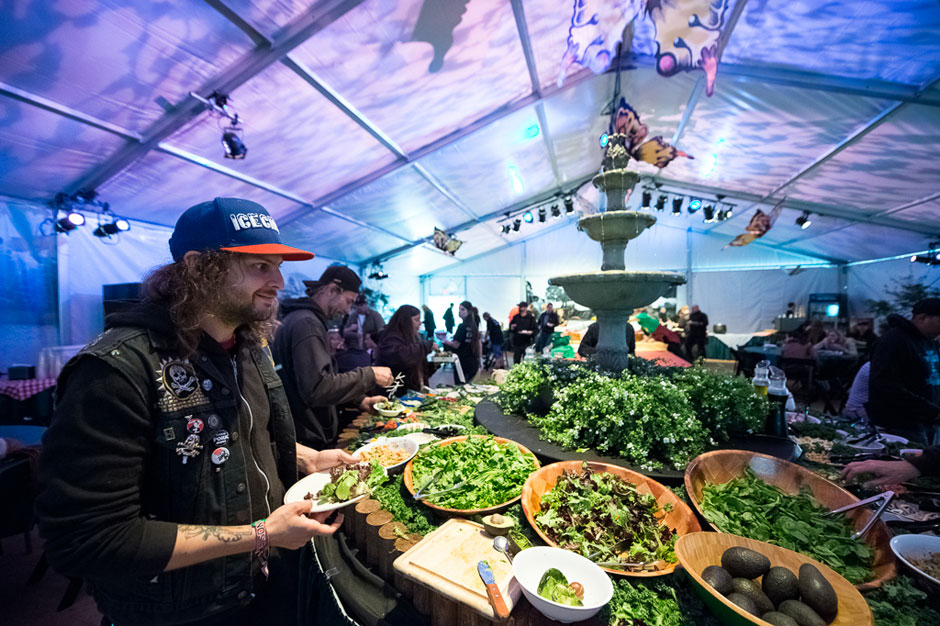 "That's what I call my avocado eyes. My eyes actually turn green and they have a black pit in the middle of them when I see an avocado. I eat an avocado with a spoon every day. And my body is sort of the shape of an avocado, so it makes sense. I'm kind of an avocado. That was a stacked banquet hall. They even had a juice bar, it was crazy. But I just ate gravy, juice and avocados."
19. In the crowd at Outside Lands, 8:00 PM, August 11
19/20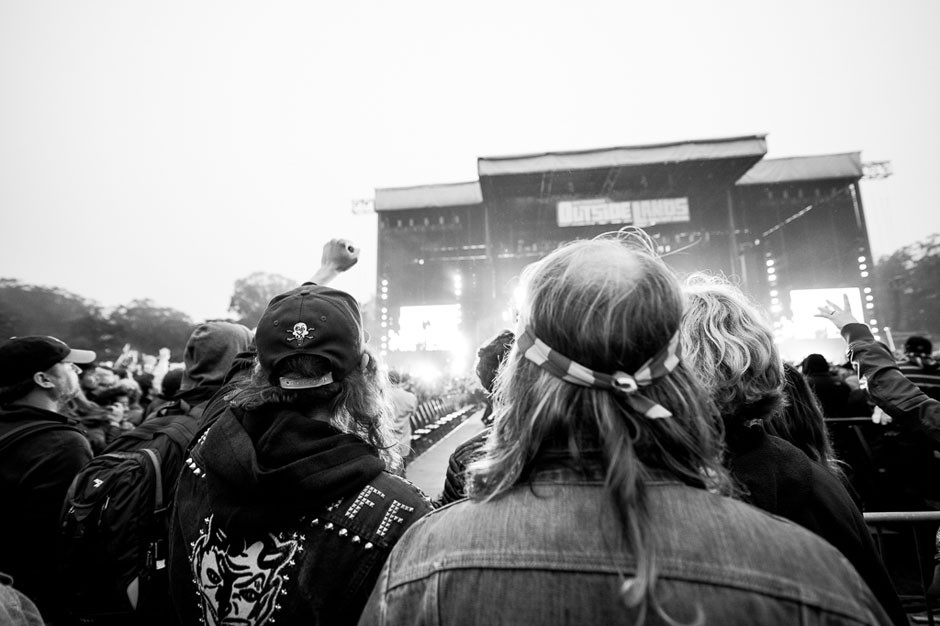 "This was at Red Hot Chili Peps, during 'Californication.' It was awesome! I wouldn't say I know all their stuff but I think Californication is my favorite album by them. There were so many people there, you couldn't even really tell what was going on. I mean, Anthony Kiedis is a lyrical genius. I think he's a funkmaster."
20. In the crowd at Outside Lands, 8:10 PM, August 11
20/20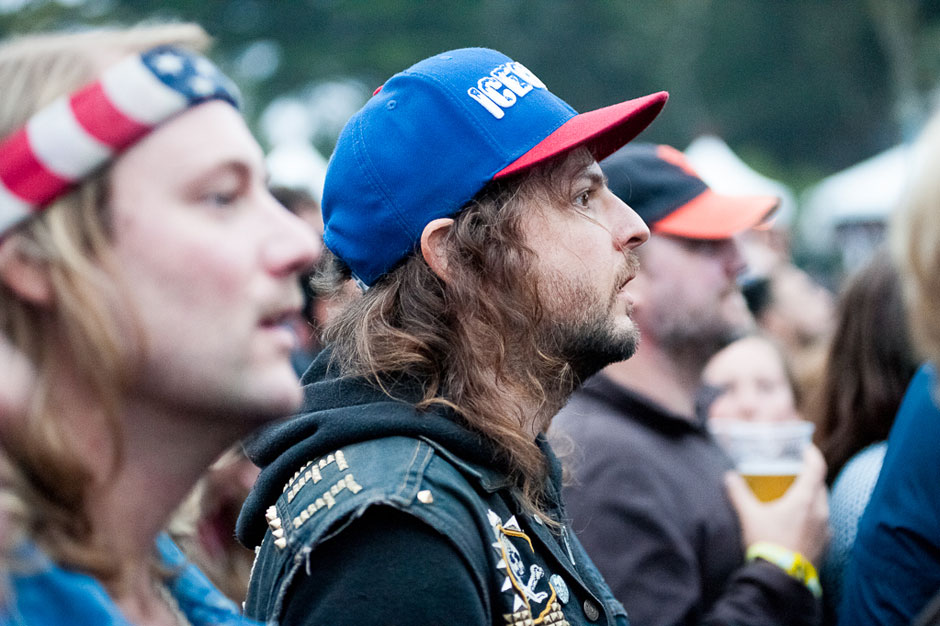 "That's me being mesmerized by Flea. You can't take your eyes off him when he's slappin' that bass."