The 40 Best Things We Saw at Gathering of the Juggalos 2013 [NSFW]
Returning to the tiny town of Cave-in-Rock, Illinois, the 14th annual Gathering of the Juggalos once again turned the Hogrock campgrounds into a live-and-let-live, anything-goes island of nudity, speed-rapping, intoxication, fam-il-y, and fountains of Faygo. Here are the 40 best things that we heard and saw. Whoop whoop!
1. The 40 Best Things We Saw at Gathering of the Juggalos 2013 [NSFW]
1/39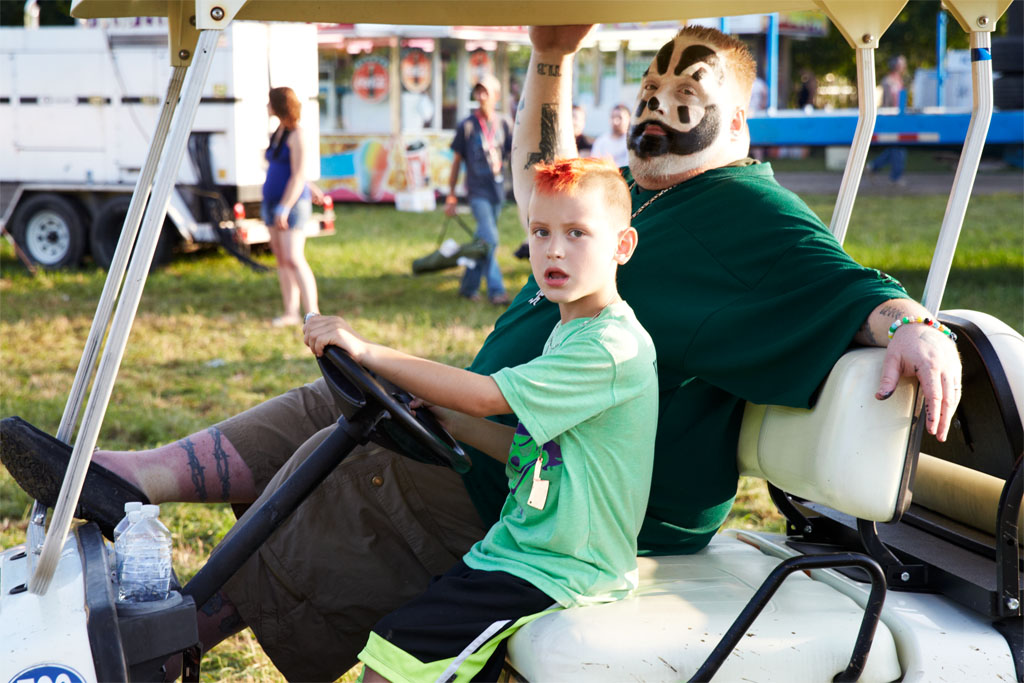 2. The Cave-in-Rock Ferry
2/39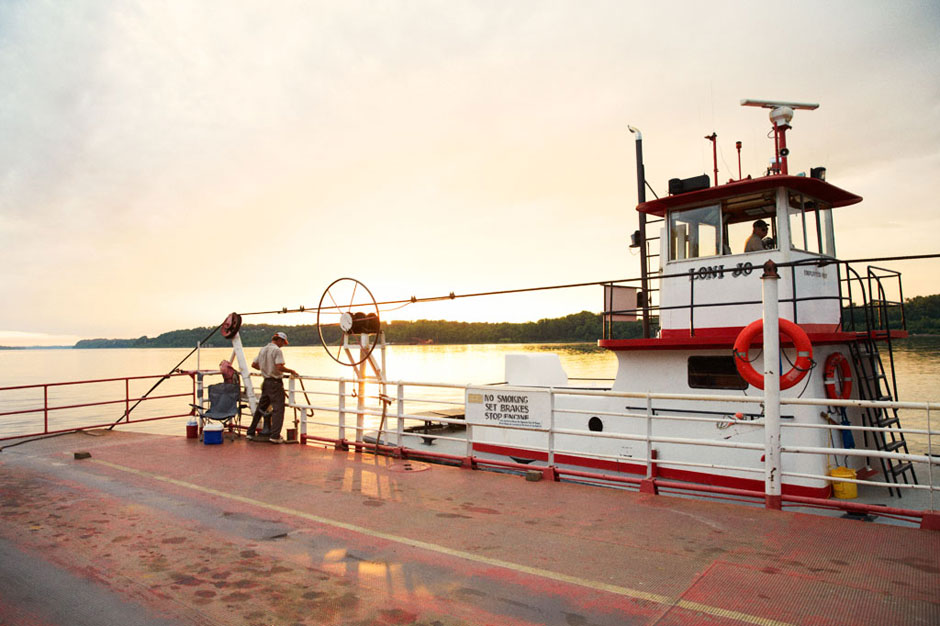 After passing through miles and miles of cornfields, a few small towns that look as though they haven't changed in half a century, Amish country, and a few more cornfields, the road to Cave-in-Rock comes to an abrupt end, literally leading you straight into the Ohio River. The solution? A small (and free, if you can believe it) ferry that shuttles up to nine cars at a time. The view is remarkable, a quick calm before a five-day Faygo storm, and the boat provides the first safe space of the weekend, and a place to join fellow travelers for a few warm-up whoop-whoops.
3. The Faygo Launching Competition
3/39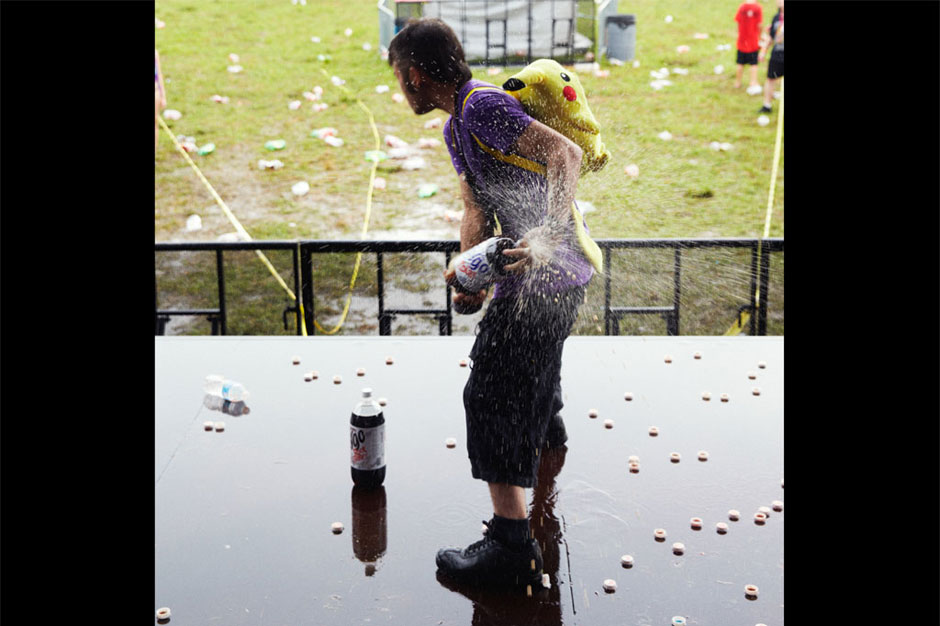 You could drink your soda, yes, but you could also kick off Thursday afternoon by participating in the first Gathering of the Juggalos Faygo Launching Competition. Host Shaggy 2 Dope showed the proper technique — you gotta empty out the top third and then shake it up and shoot it off — but it took 20 minutes for most contestants to figure this out. When one finally did, he launched the winning bottle straight over the soundboard tent forty feet in front of the stage. By then Juggalos on both sides were tossing the half-empty bottles back and forth until the air smelled of grape and root beer.
4. Juggalo Night Court
4/39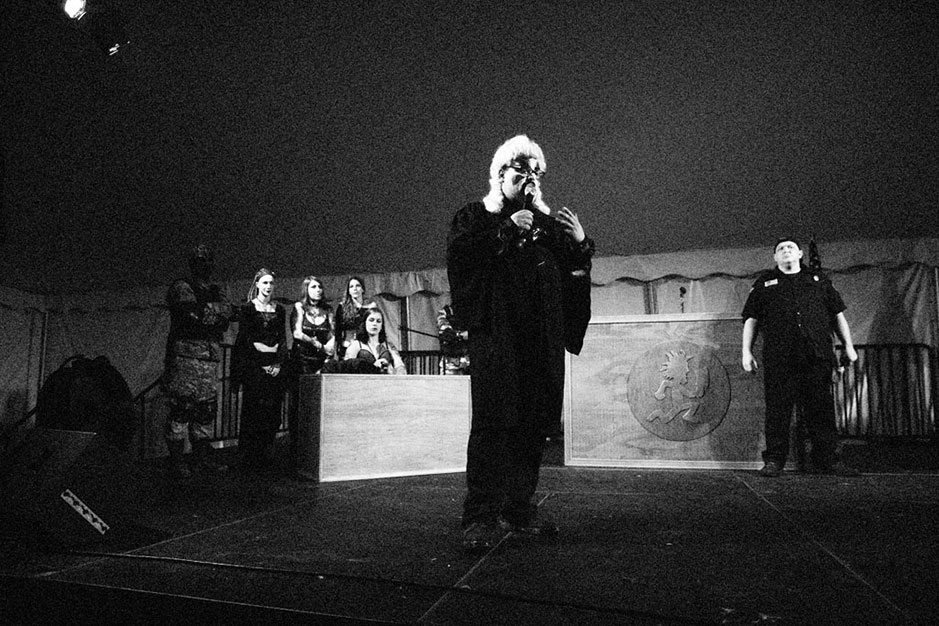 Juggalo loyalty runs deep. On Wednesday night we met a woman who had recently traveled alone to Hawaii who ended up spending most of her time with a pair of ICP fans whom she had never previously met. So most fam-i-ly squabbles at the Gathering are resolved quickly and easily. Juggalo Night Court, returning after a seven-year hiatus, is for the tension that run deeper — "I know one of y'all had a friend who farted in the car on the way here," the bailiff said in his call for cases. As it turned out, the first case was supposed to involve a young man suing a young woman (referred to only as "Dumbass") for dissing court judge and festival whipping boy Upchuck without realizing he was standing right in front of her. Their case was thrown out in favor of Maggie Malone vs. Beefy. Beefy, however, was nowhere to be found. In a twist that we assure you seemed remarkable at the time, it turned out that "Beefy" and "Dumbass" were in fact the same person. She never appeared.
5. The Awesome Juggalo Night Court Sentencing
5/39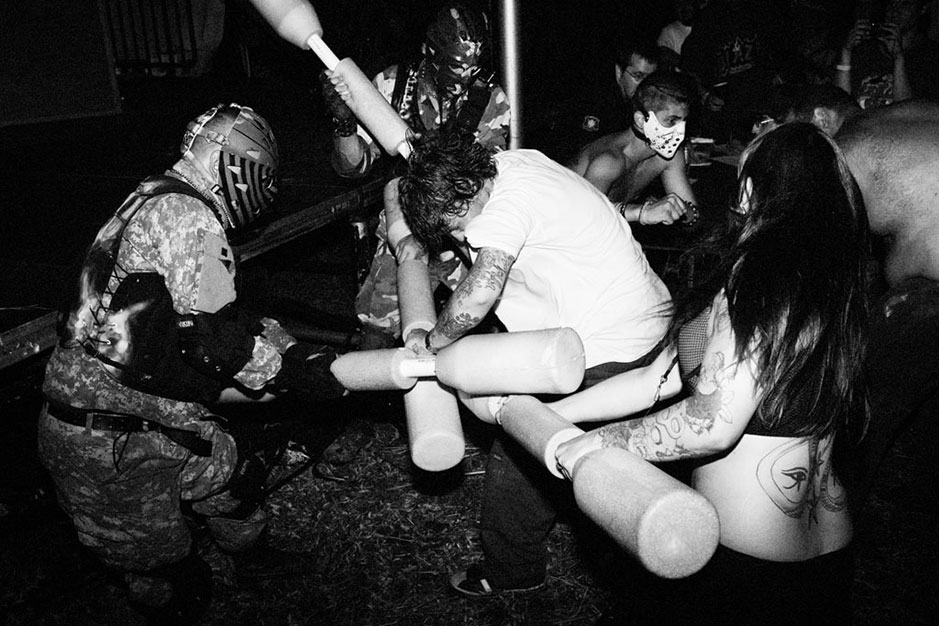 Naturally, every single possible Juggalo Night Court punishment parked its RV in the area where "Cruel" and "Unusual" overlap. But none captured the spirit of the Gathering more than the punning "Permanent Peon," in which the winner got to draw Sharpie dicks all over the loser's body. Other contenders: "Dunk Tank" (self-explanatory), "Honey Chicken," which we never saw but can assume was awesome, and "One vs. All," where three people hit the losing party with foam bats until he or she falls down. "Your eye's a little puffy, bro," commented the bailiff at the conclusion of one of those.
6. Wolfpac Mean-Mugging the Audience
6/39
Playing the always bonkers 3 a.m. slot, Wolfpac packed the aptly named Freakshow Stage with eight dancers, four photographers, a few toughs that dressed somewhere between Jason X and Public Enemy's S1Ws, two (we guess you would call them) rappers, and one DJ so inept that he would probably have found a way to botch pressing the sync button. The stage got lighter one bra and miniskirt at a time, true, but the most remarkable exodus occurred when the S1Juggalos hopped down off the stage in order to spook audience members. We looked up from our notepad just in time to see one of these dudes staring us straight in the eyes.
7. The Wolfpac Trash Pit
7/39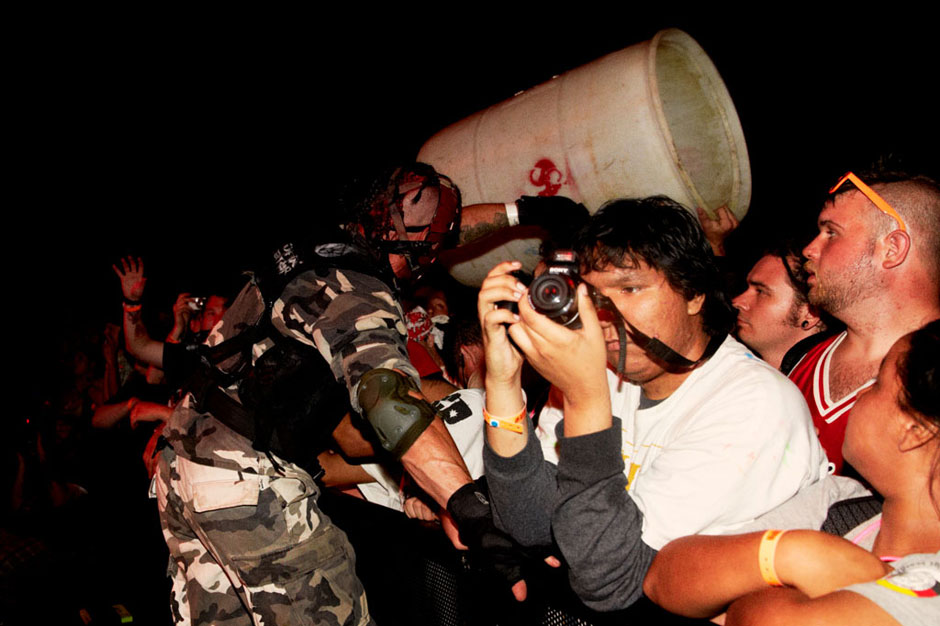 The wildest kids at the Wolfpac set formed a mosh pit in front of the stage and spent the next half-hour tossing around not only their drunk, shirtless bodies but also large, plastic trash cans found nearby. This Donkey Kong shit was slightly terrifying. People standing adjacent to the pit risked, at the very least, a minor concussion.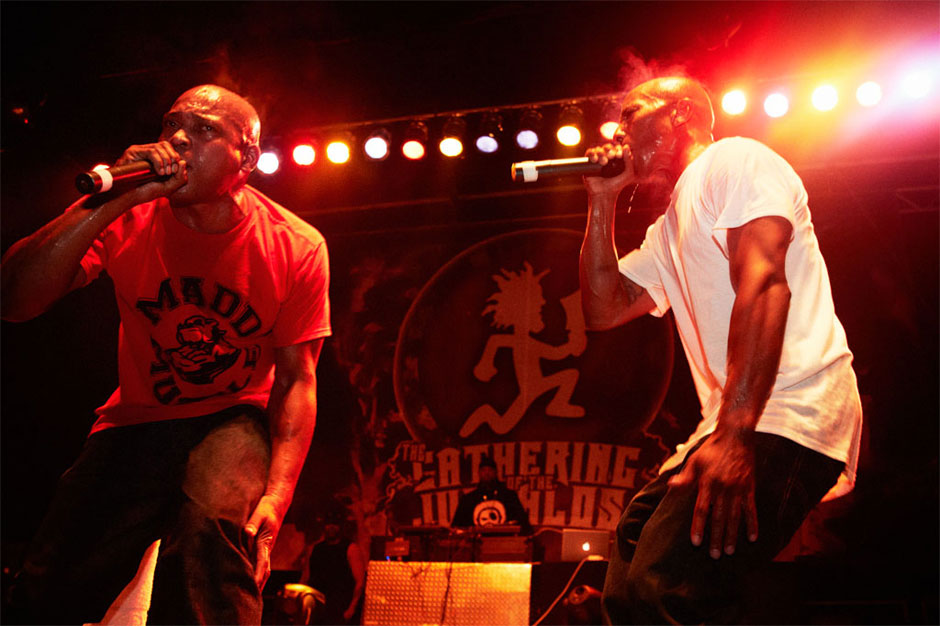 "You know why we family man? 'Cuz we live and die for the same fuckin' shit," declared one of the two members of pioneering shout-rap crew Onyx that showed. You knew he meant it because they gave the Juggalos a performance that started early and ended late. Shouting out other rap-rock fusions like Run-DMC, the Beastie Boys, Body Count, and of course ICP, they followed a performance of "Slam" that invoked an audience response that would have made that last group proud. Even as the sun began to rise and the duo moved from old classics into freestyles and new tracks — suicide anywhere else — the crowd stayed with them.
9. T-Shirts Being the Fastest Way to Lose a Wet T-Shirt Contest
9/39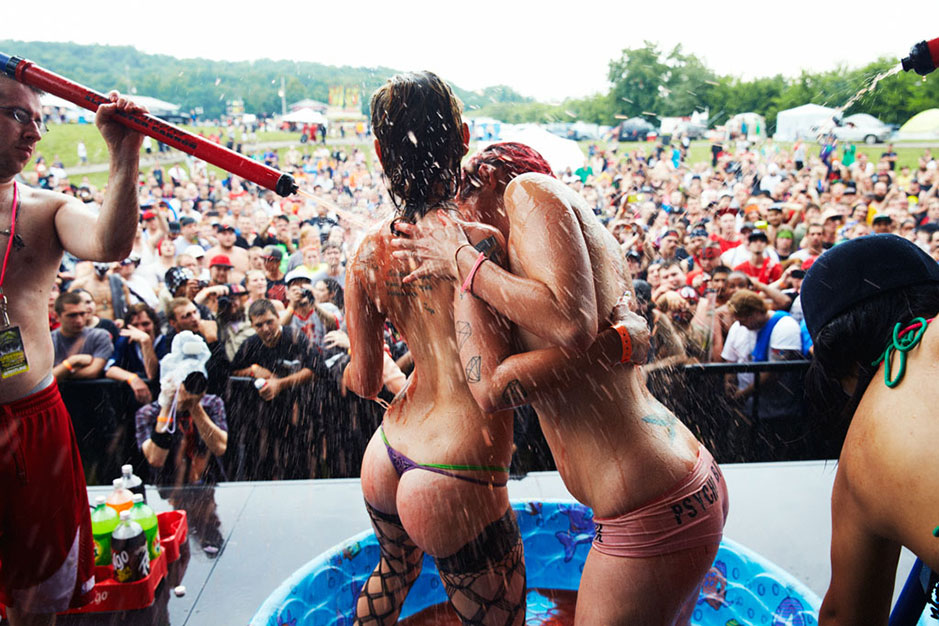 If there's one thing this year's contests taught us, it's that a Faygo-soaked wife beater is still too much.
10. The Unexpected Nü-Nü-Metal Revival
10/39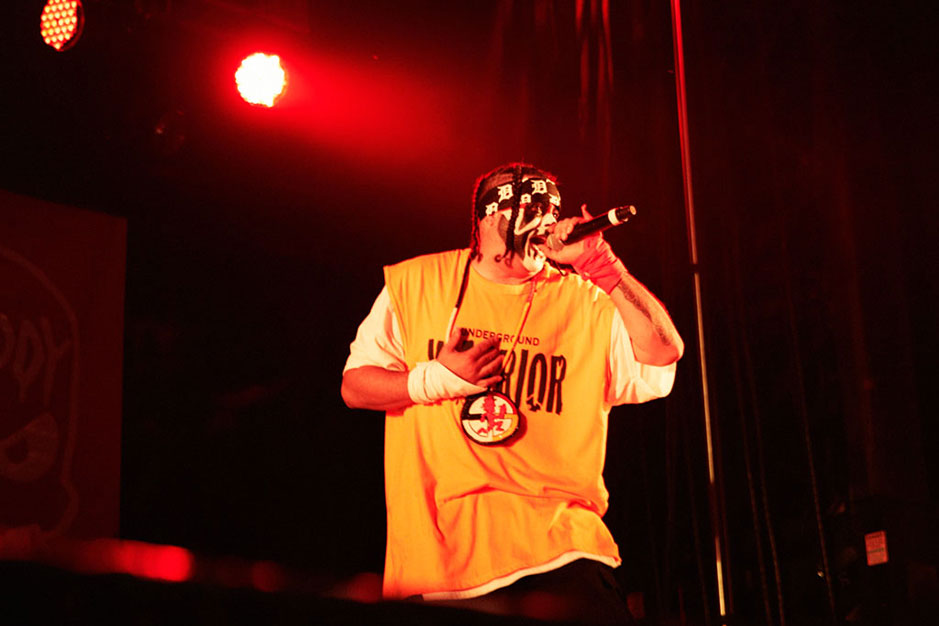 That nu-metal revival you've been waiting for? Right here. Of course, "revival" implies that the Y2K fusion genre was, for a time, dead, a claim that acts like ABK, the "Anybody Killa" who has been rapping (against his lisp, mind you) over big guitar riffs since the turn of the millennium, would likely contest. On night one, he got the Main Stage going with bangers like "Gang Related" and "Stick & Move," and one day later Miami dudes Mayday rocked the same stage with a sound that might best be described as "trap Linkin Park." With bongos.
11. The Time a Big Hoodoo CD Made Someone Late
11/39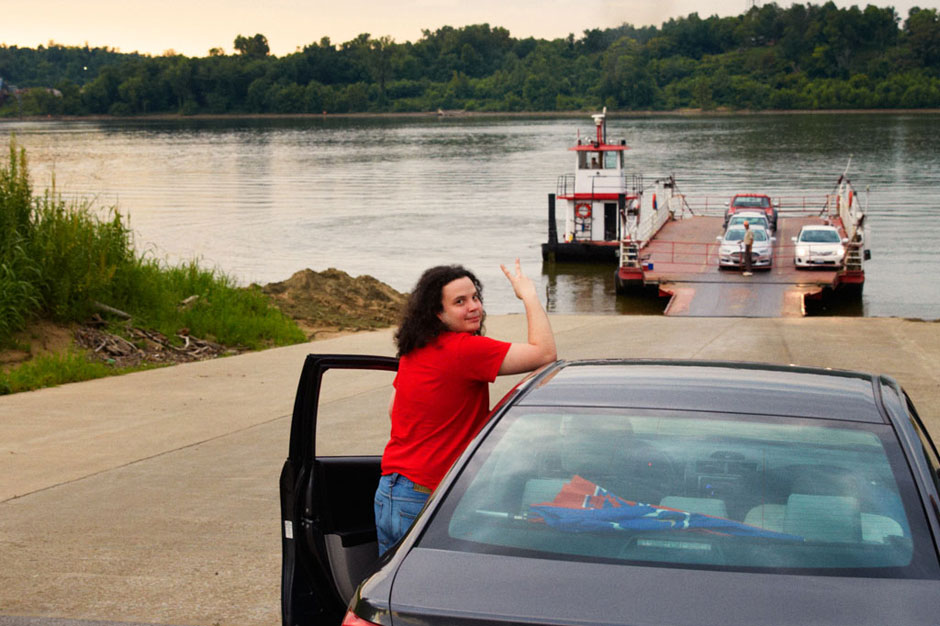 Waiting for the ferry, we met a pair of Juggalos who had been driving for days, first in one's '99 Audi, then in a rental car picked up somewhere in Iowa. What happened? In the driver's account, the problems started when his pal riding shotgun couldn't fit between the seats to grab him an energy drink. That was fine, initially, but then the pal decided to play the new CD by Psychopathic Records signee Big Hoodoo, a record that was "so fucking boring" that the driver ended up asleep and the Audi ended up ramming into a nearby tractor-trailer. "My insurance company has it now," he explained. "They'll probably give me a shit deal on it, but whatever."
12. Hatchet Girl Undies
12/39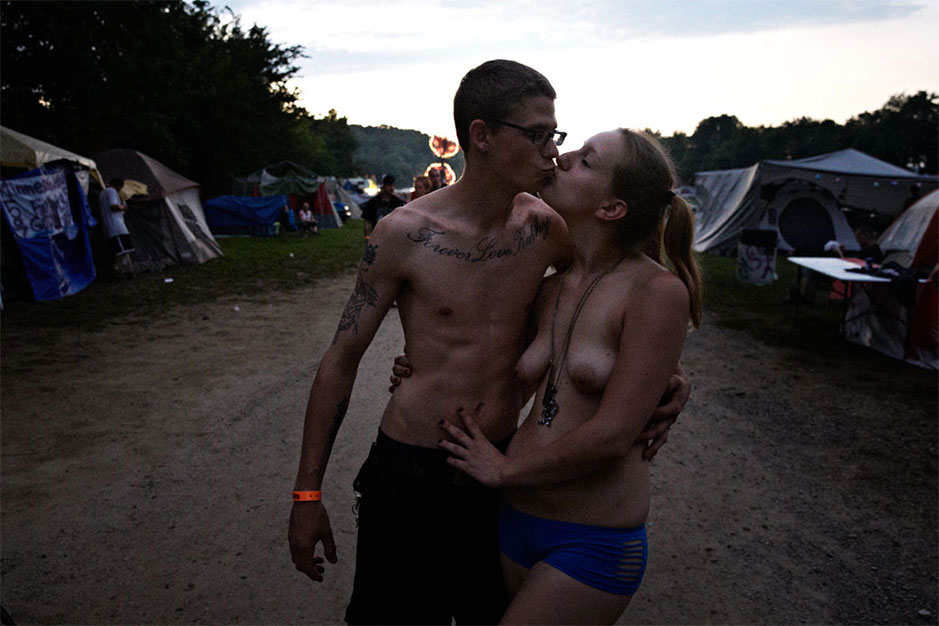 With a merch tent larger than some Brooklyn venues, the Gathering isn't only a music festival but also an outlet store where you can pick up a year's worth of ICP and Psychopathic gear, none cooler than these official band thongs. Meanwhile, big money rustlas looking for more unique souvenirs could bid hundreds of dollars on worn-by-ICP gear, music video props, and the RIAA platinum plaque (remember those?) awarded to the group for their The Amazing Jeckel Brothers in an auction raising money for the Juggalo Defense Fund.
13. Good News From the Psychopathic Records Seminar
13/39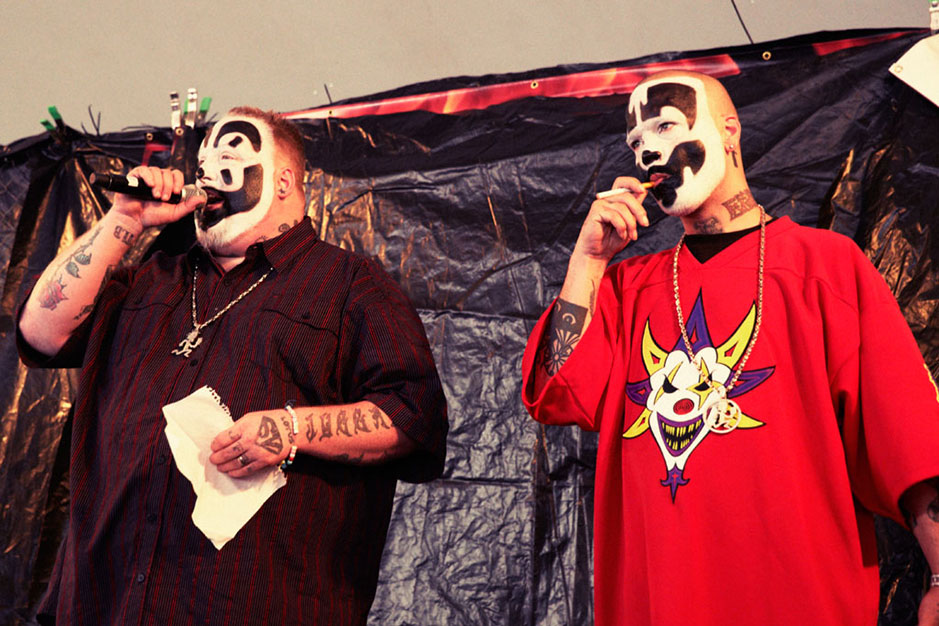 If ICP can justify the expense, they might make a third movie. If it happens, this one will take place in the future.
14. The Hatchet Man Teepee
14/39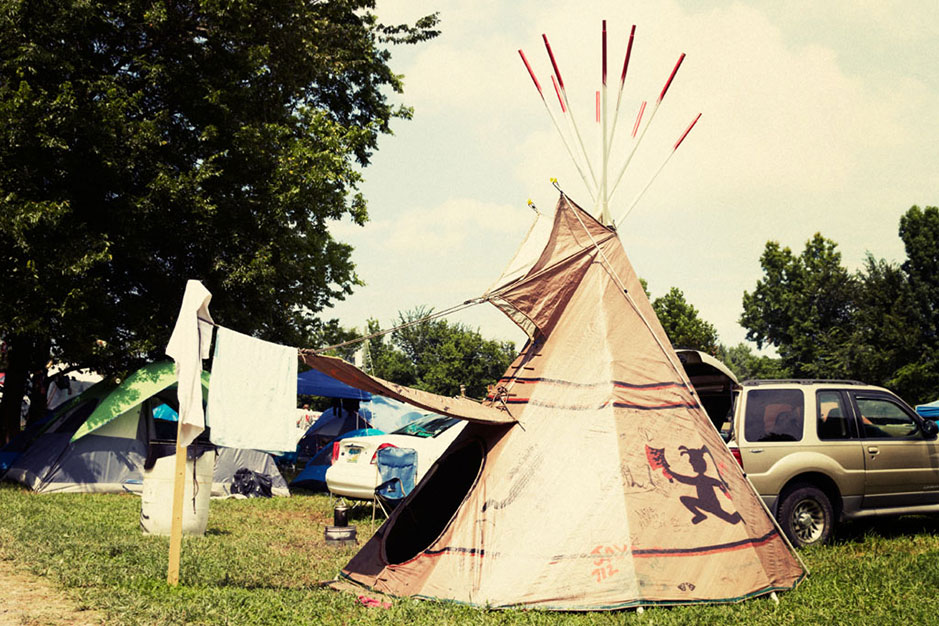 On the near side of the so-called Lost Ninja Clan area, a family from Western Pennsylvania pitched not your standard Coleman or Marmot — but a full-on teepee, complete with hatchet men and women and enough space for two years of passers-by to sign their name. "We're going to keep this going as long as we can," the father, Mick, explained, and proceeded to offer a pull of the smoothest moonshine we'll likely ever taste. "It's strong too," he continued, "How we bumped into each other trying to walk back last night, I'm surprised we don't have bruises on our shoulders."
15. Rahzel's Cabaret Act
15/39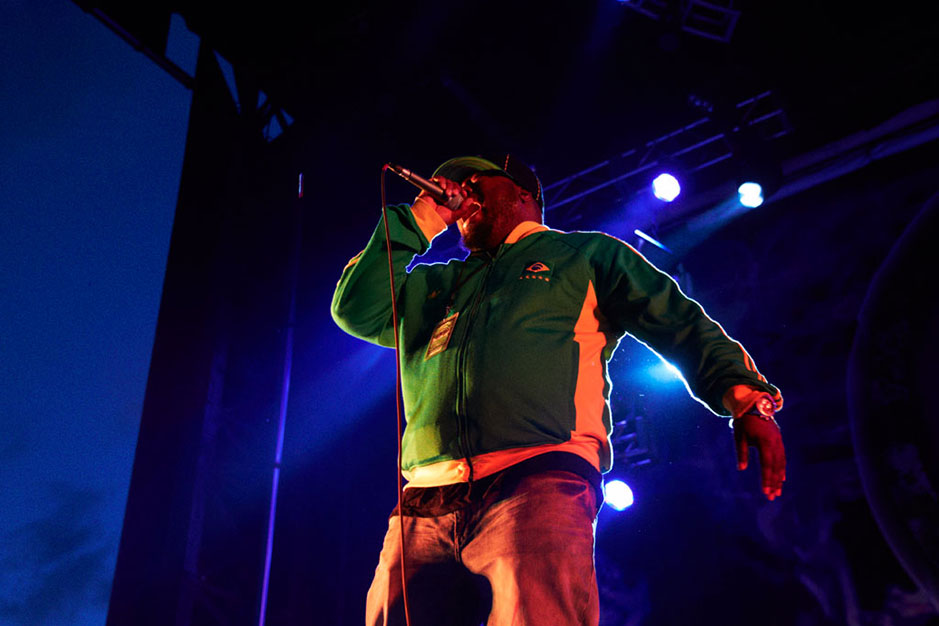 One of the few acts who missed their set time (unbelievable considering how often performers arrive late to easy-to-reach clubs in the middle of major cities), Rahzel went on later than expected and got the crowd surprisingly excited for show that was essentially hip-hop cabaret. Beyond beatboxing the usual bass, drums and scratches, the festival regular rapped verses in the voices of MCs like Biggie and KRS-One. For a finale, his DJ teased the first bars of Sabbath's "Iron Man," riffs he replicated with ease, and finishing by adding Ozzy's vocals as well.
16. Violent J's Stage Presence with Psychopathic Rydas
16/39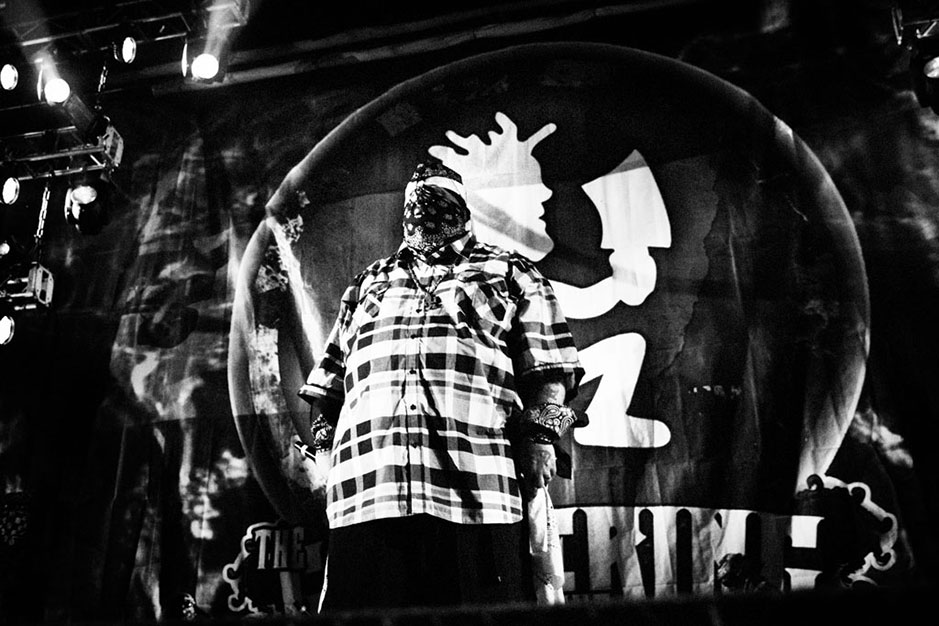 While the rest of his Rydas stalked the stage like predators waiting to pounce, J only bounced up and down, remaining stationary even when he was rapping. There's a perfectly good explanation — he's scheduled to get surgery on a torn meniscus after the Gathering and before the completion of the Mighty Death Pop! tour — but the effect was so captivating that he should consider sticking with it. Though he moved more for ICP a few nights later, there remained a few remarkably moments when he parked next to a Faygo table and did nothing but launch soda bottles, machine-like, into the crowd.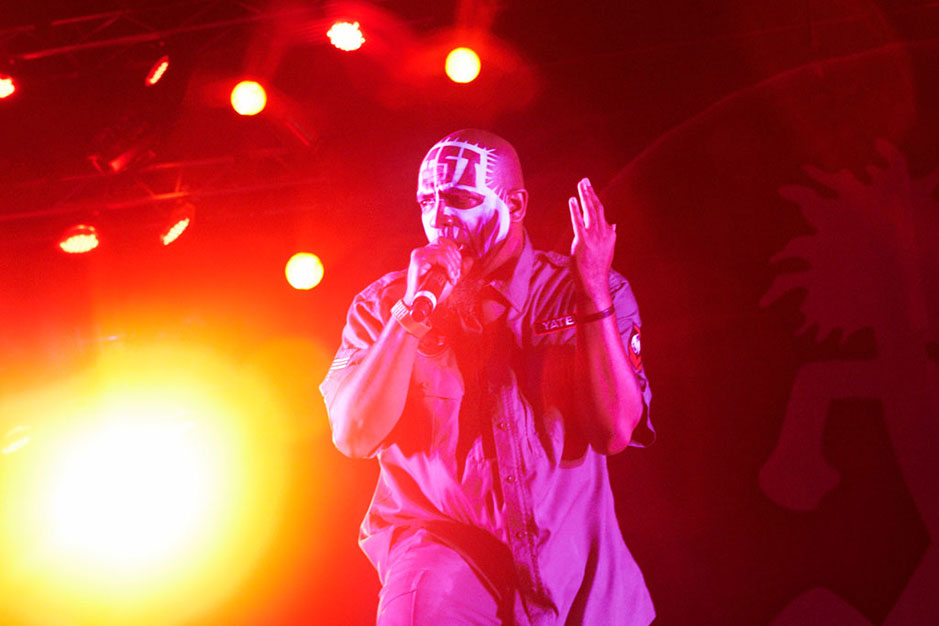 Tech N9ne "The only nigga ahead of me is Jay Z, and he's on TV and I ain't," proclaimed Tech N9ne, referring to his recent album Something Else charting at No. 2 on the Billboard rap chart. Jay might rule the networks, but Tech rules the Gathering, one of the few acts with the ability to keep the crowd hype in the wake of the aforementioned Psychopathic Rydas. Around here, he's known as something like the speed-rapping Godfather of Horrorcore, a title the ICP boys are happy to bestow upon him, and his set's death count was nearly as high as its syllables-per-minute. Highlights included an E-40-sampling hyphy tune and of course, "Areola," a Juggalo anthem that borrows heavily from Miami bass. Perhaps best of all, Tech and associate Krizz Kaliko paired these tunes with choreographed dance routines, unusual both here and in hip-hop large.
18. Jellyroll's Spring Breakers Moment
18/39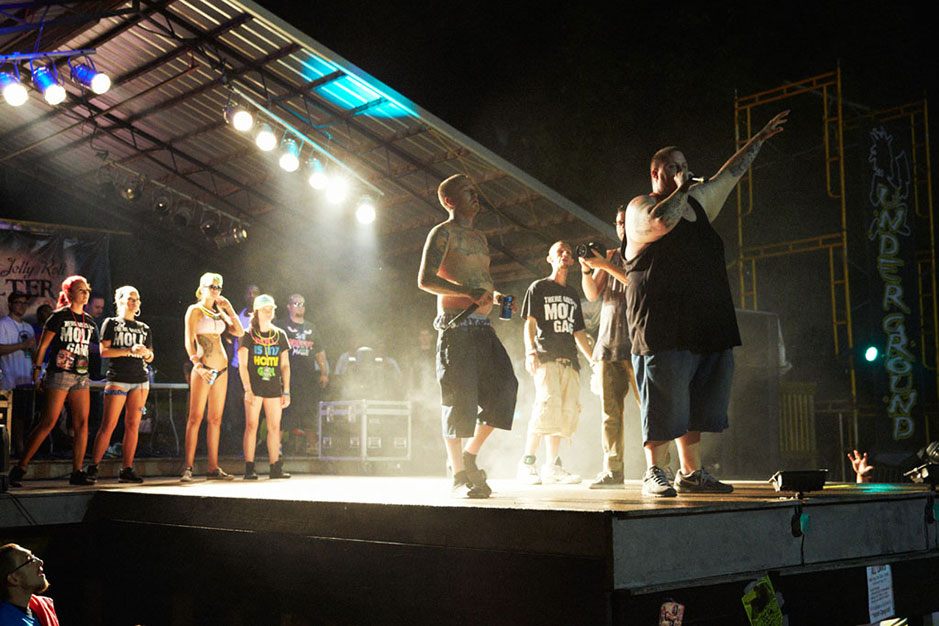 Warming the crowd for Krizz Kaliko's night-closing solo performance, Nashville Whiskey, Weed, and Waffle House rapper Jellyroll, tripping off mushrooms and big enough to fill a stage without much help, was joined by one of the Gathering's most unusual assortment of people. Falling somewhere between Gucci Mane's Archie (demeanor, vocation) and James Franco's Alien (skin tone, vocation), one had to wonder if his four fresh-faced, sort of uncomfortable, not-really-dancing dancers were recruited in order to make a Spring Breakers comparison even more explicit. Ultimately, they were joined by an unnamed hype man, collaborator Lil Wyte, and a videographer who might have been the closest thing the festival had to a hipster.
19. The Best Arbitrary Beef
19/39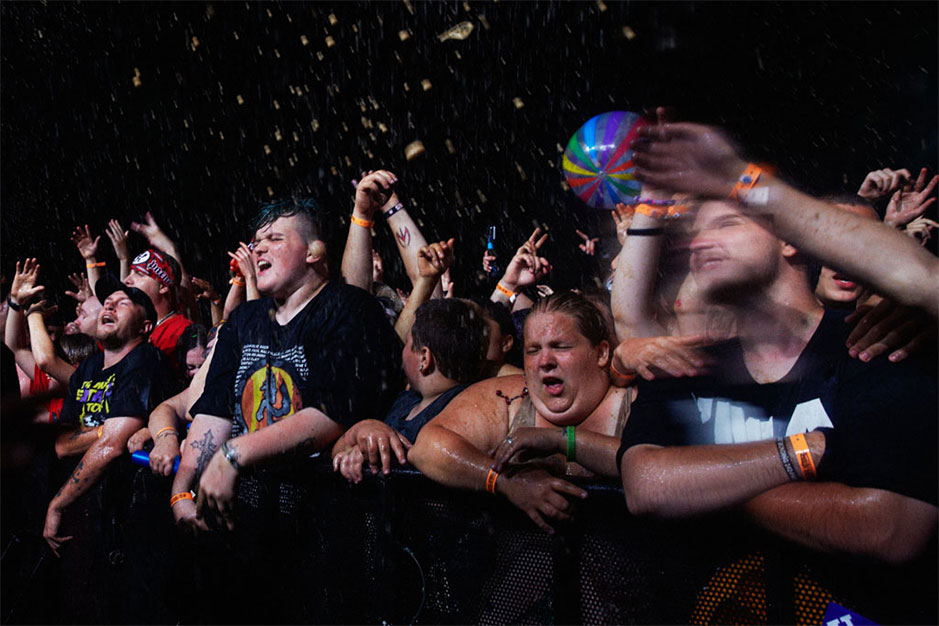 The Best Arbitrary Beef People who throw things forward vs. People who throw things backwards. Choose a side, or your side will be chosen for you. This one plays out the same way at every major performance: A couple Juggalos — high on some combination of life, beer, Faygo caffeine, and maybe DMT — show their excitement by chucking a can, glowstick, or whatever else they have on their person in the direction of the stage. Inevitably, this debris lands on another Juggalo, or at least gets them sticky wet, and that other Juggalo responds by returning fire. This tends to elevate until the performance ends or — even better — the performer does something so rad that everybody unites to throw things at the stage.
Said the diminutive freak show host pictured above, courting any and all Juggalettes in his audience: "I'm the only Juggalo whose cock is bigger than his arm."
21. Psychopathic Radio
21/39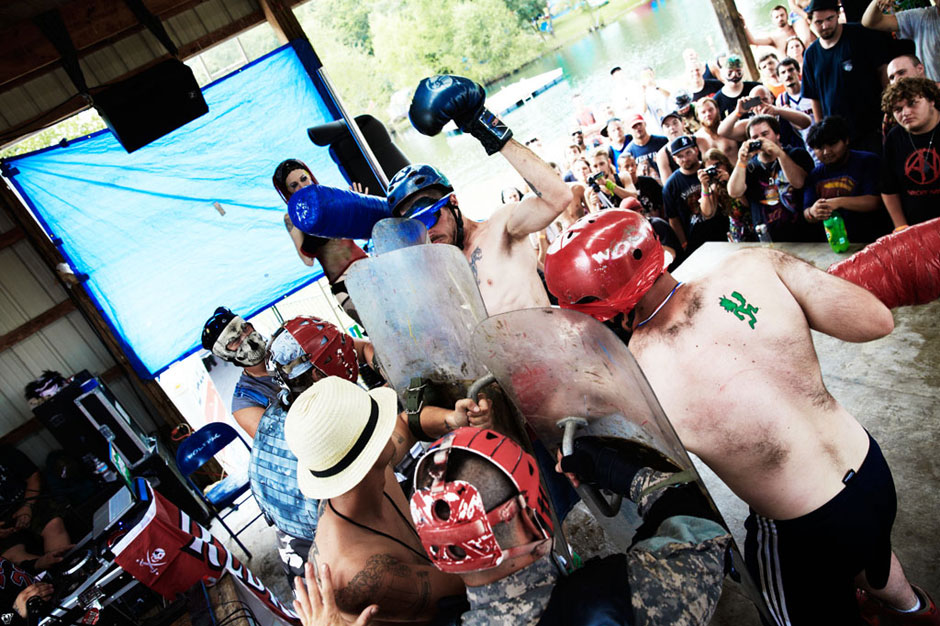 Sure, Howard Stern gets porn stars and strippers to appear on his show, but Psychopathic Radio hosts Wolfpac make their own porn videos and get women to strip every time station jock DJ Clay plays music. It's oddly visual for a radio broadcast, but other segments, Fear Factor–style competitions that challenged Juggalos to consume the worst sort of pseudo-foods you can imagine, would have been fine with just audio. Somehow no one vomited during the race to drink 15 shots of cooking grease and hot sauce — Gathering favorite "Flaming Anus" hot sauce, no less.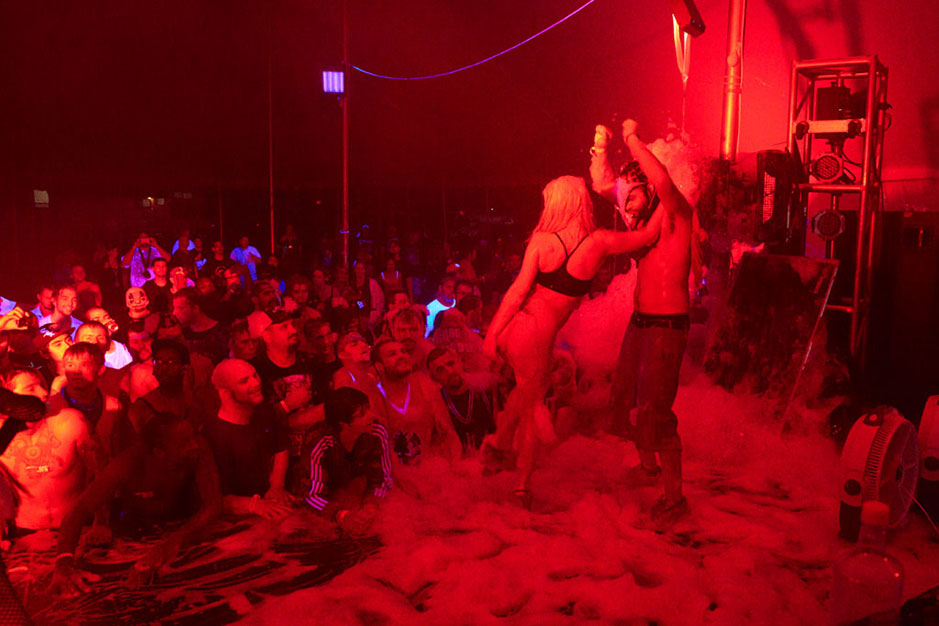 After five days at the Gathering, where Krizz Kaliko and Anybody Killa soundtrack late night afterparties and the biggest rap song on local radio is Florida Georgia Line's "Cruise," it's easy to forget that, as population density increases, the sound and content of hip-hop changes. If you ever needed to be remind yourself of this, the Bomb House was the place to go, with selectors like DJ Clay and Mike E. Clark mixing mainstream and Psychopathic hits at late night parties like "DJ Clay's Horny Nuts and Big Butts Party" and "Mike E. Clark's Frothy Foam Murder Mix." Kanye and friends' "Clique" and "Mercy" both got spins.
23. "Freaky Tales" Saves the Ladies Oil Wrestling Contest
23/39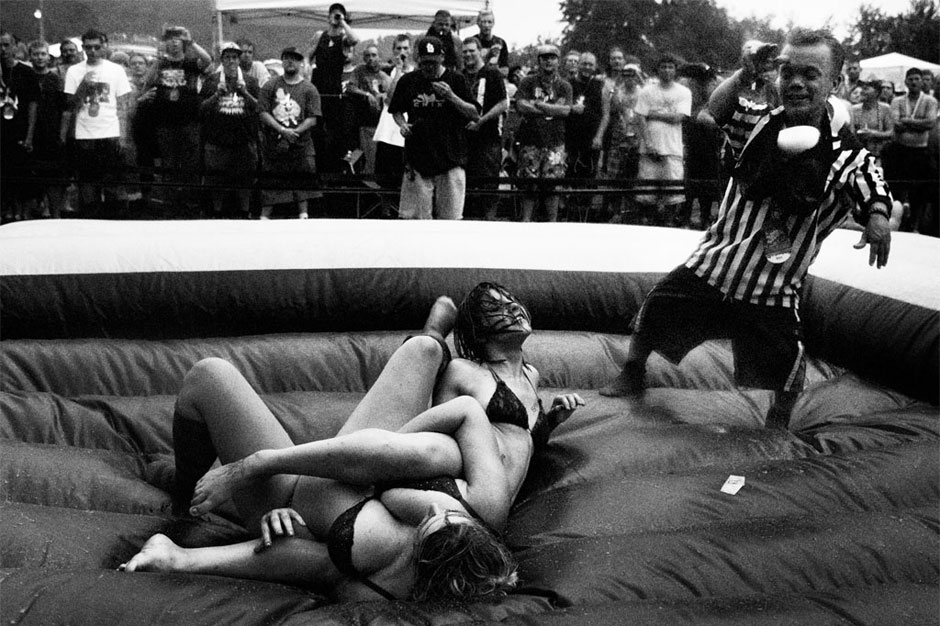 After an overdose closed the drug bridge and left the festival in a brief moment of confusion, the Ladies Oil Wrestling contest didn't get started until nearly 45 minutes after the allotted time. No matter: They played Violent J and Shaggy 2 Dope's hour-long take on Too $hort's "Freaky Tales" over the speakers. It was long enough (and entertaining enough) that both the wrestlers and the men who love them nodded and chuckled along until the show finally started. And yes, the show was worth the wait. The first match pitted a woman who called herself Hypnotic (unless it's spelled like the vodka) against a lady who called herself Nibbler (the one Bob Costas would have interviewed: Her wife recently beat cancer). It began with a "Fuck Girls Gone Wild" chant, which we were into until it became clear that the guy running the wrestling was even a bigger creep than Joe Francis.
24. Vanilla Ice's New EDM Tunes
24/39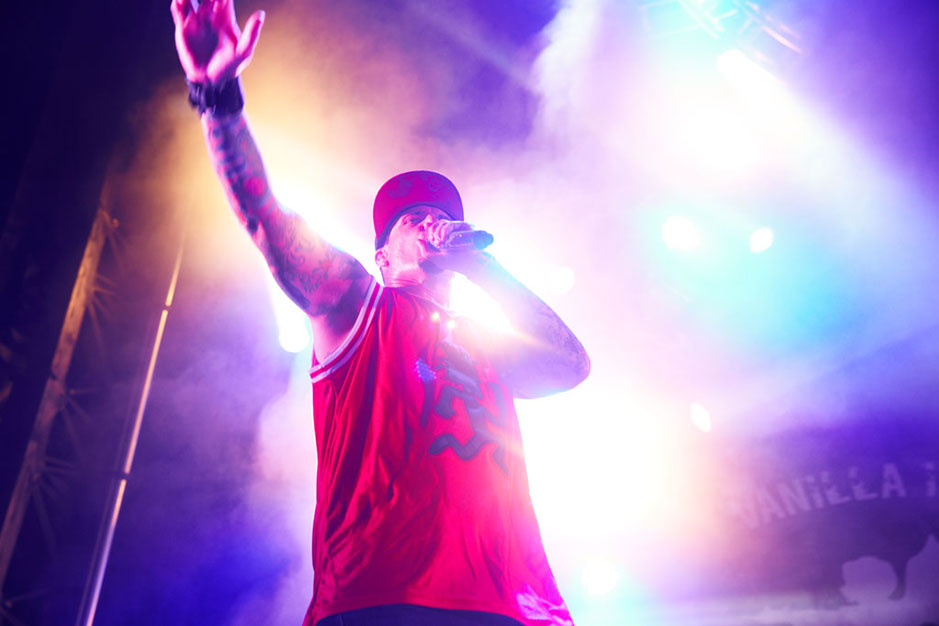 If "whoop whoop" is the Gathering's most popular expression and "blunts five dollars" is a distant second, number three might be "fuck the mainstream" and all its variants. Vanilla Ice, though? You know he's down, even if he had one of the most popular songs of the '90s and closed his set with a 20-minute electro and dubstep dance party where the number of women onstage at least tripled the number of verses rapped. Earlier in the set, "Ice Ice Baby" was as good as expected, but he inexplicably performed "Ninja Rap" as a downtempo rock song, even cutting the opening whistle blows. Ice on collaborating with TMNT: "I still love them turtles, man." And on releasing his supposedly forthcoming LP on Psychopathic: "We get in where we fit in."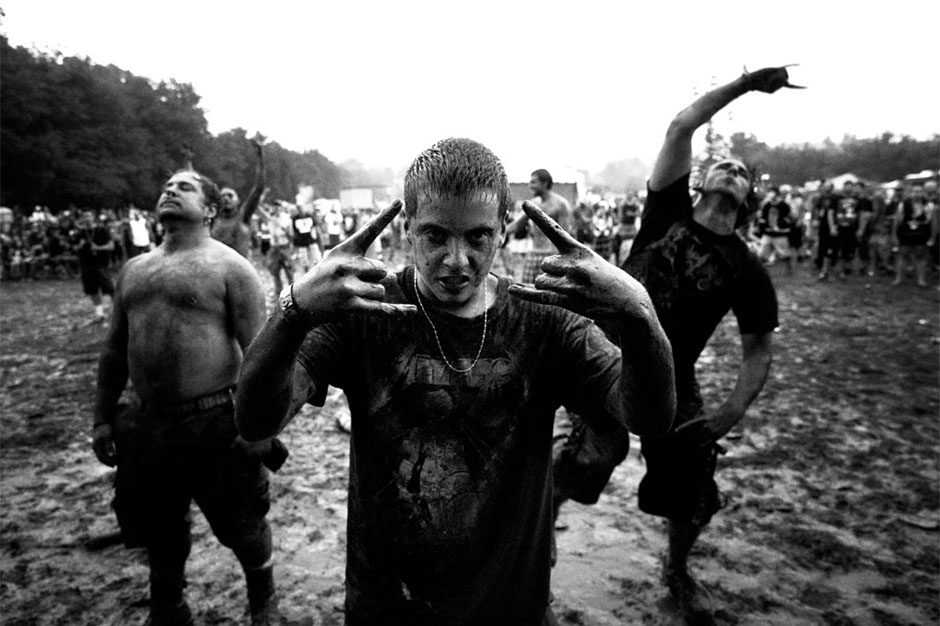 Billing Soulfly as the band for "mosh pitting, crowd surfing, high jumping, titty flashing, trashing wild action," the Gathering program successfully hyped the few in attendance who weren't already hype for what would be one of the festival's wildest performances. Almost immediately, a group of 20 or so fans opened up a circle pit that was — to tweak a line we've already used — bigger than most NYC venues and spent the next 40 minutes doing everything that had been promised. "I don't know what was in that mud — all my skin is burning," said someone returning to his camp.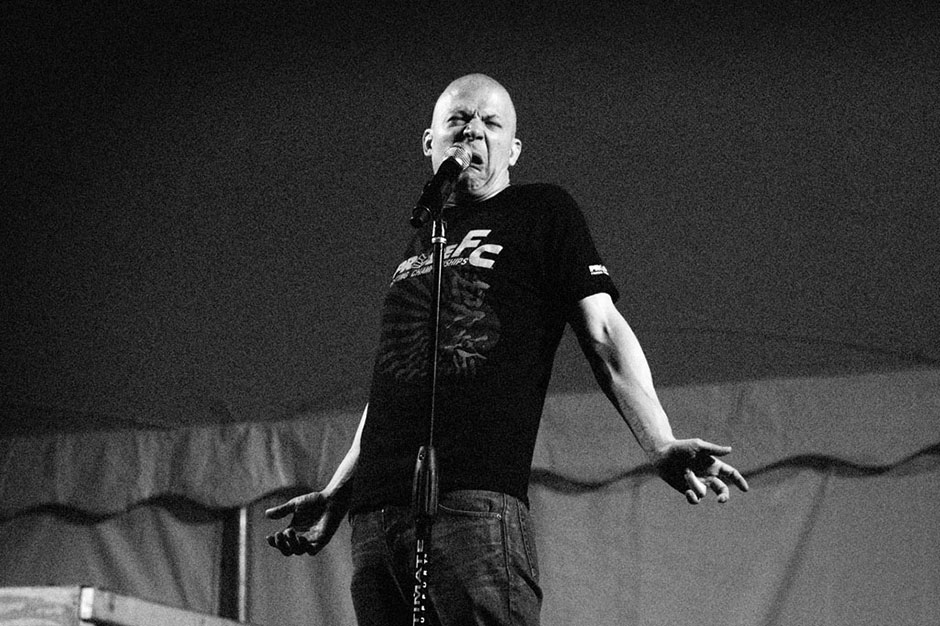 "I had no idea what to expect when I came here," an appreciative Norton admitted as he left the comedy tent having kept the notoriously tough Juggalo crowd laughing for his entire hour. With a set made up almost entirely of jokes about fucking, he was a natural fit, but it still took him a few minutes to understand the audience's peculiarities — how, for instance, the mean things they would occasionally yell were usually just directed at Upchuck. "You guys heckle with weird shit," he finally admitted, but only after a line about girls with big butts inspired one fan to yell, "My mom!"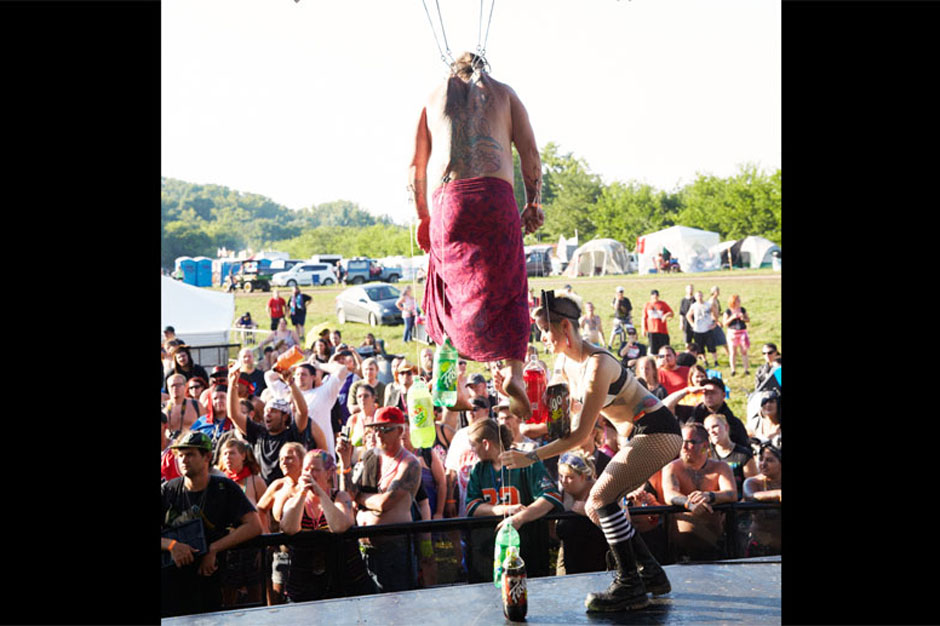 Like, in your back. All you had to do was go to the Oddity Freakshow and they would surely hook you up.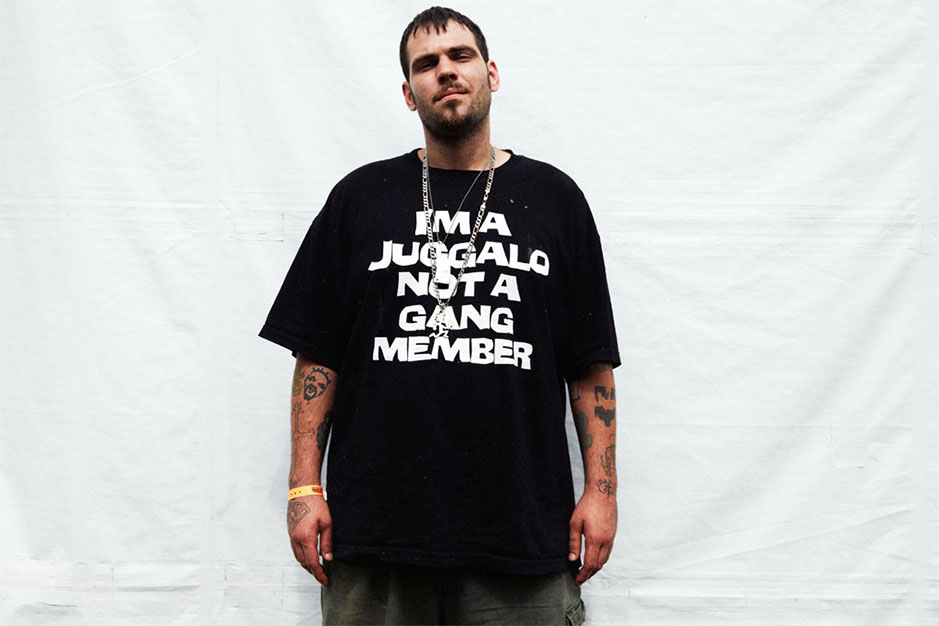 Talking with Juggalos, it was clear that many felt persecuted even before the FBI classified the group as a "gang" — cops in small towns have never been down with the clown, it seems — and instructed law enforcement to treat them as such. But in the aftermath of this decision, harassment has only increased. The typical Juggalo response seems to fall somewhere between, "Fuck cops" and, "We're no different than Deadheads or Alice Cooper fans," a sentiment this shirt, ubiquitous around the Hogrock grounds, is able to say in seven words.
29. Brother Lynch Hung's Save
29/39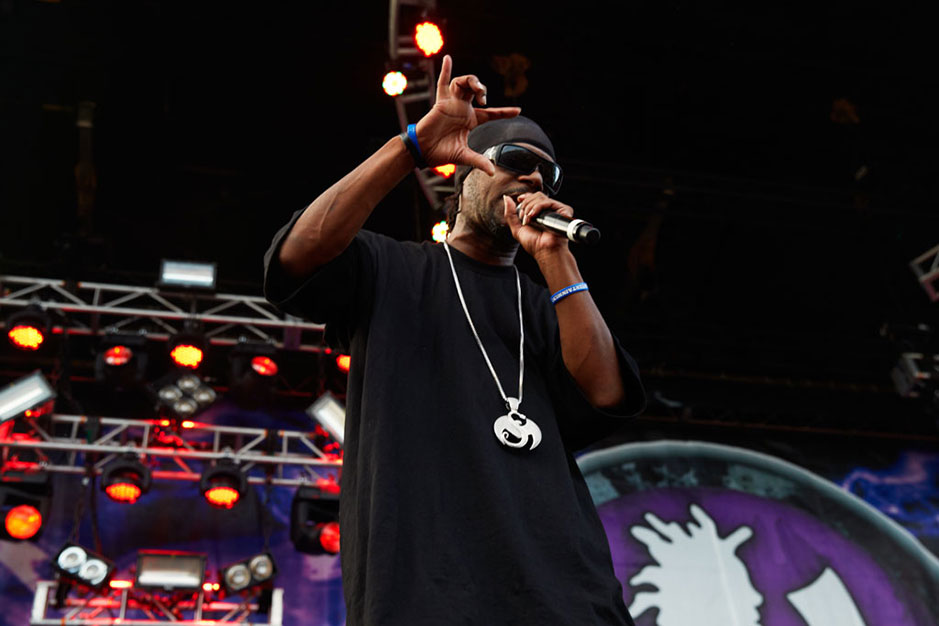 By this point, it's common knowledge that Psychopathic staff briefs outside acts on the do's and don'ts of performing at Gathering stage. One can assume that when Brotha Lynch Hung played the 2010 event, "Don't confuse the initials of ICP" landed at the top of the list. Luckily, Lynch's hypeman was quick to correct the Oakland rapper when he expressed his gratitude to "IPC," and the set continued without further incident, giving Juggalos 30 minutes of the gory speed-rapping they so adore.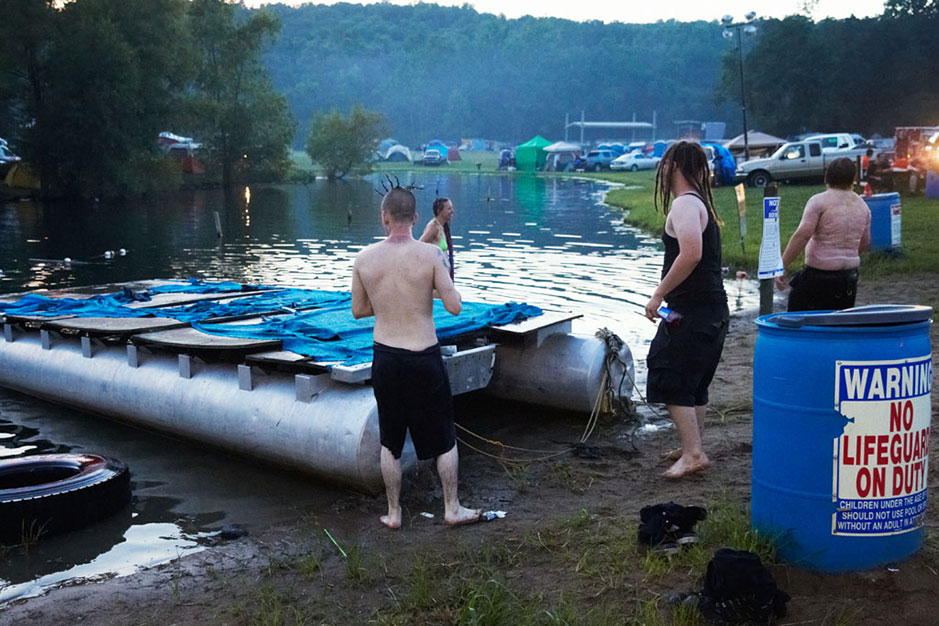 Filthy as it is, we have to admit that when Saturday temperatures pushed into the mid-90s, we did consider taking a dip.
31. The ICP Seminar Deads Rumors
31/39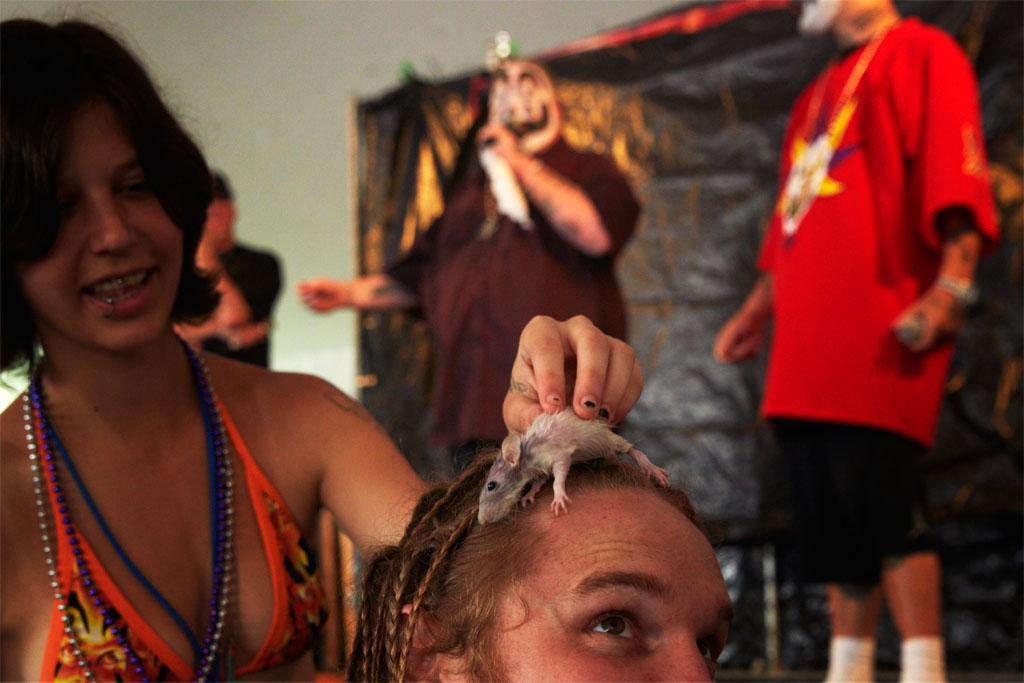 With decreased turnout, fewer big-name bookings, and internal Psychopathic tension, many bracing for the worst wondered whether the festival might be leaving Cave-in-Rock or calling it quits all together. Completely untrue, said Violent J, reading off notes that he claimed to have written seven minutes and 22 seconds earlier. On the other hand, a few things that actually are happening: an ICP tour of Canada (Shaggy is off probation), an ICP tour of Australia ("The last time I went to Australia I got laid three times!"), a new album (they'll begin work after returning home), a Great Milenko concert, and a few beatbox tracks recorded by J's son, Violent JJ.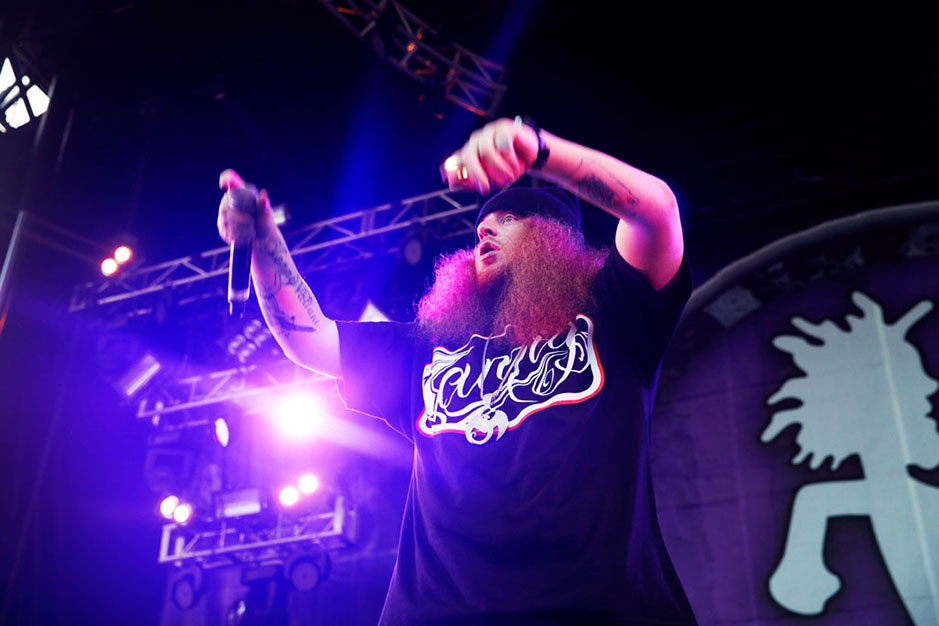 Exposed to this fan base primarily through his presence on Tech N9ne's Strange Music label, Rittz's crackers were few but loyal, chanting his name throughout the day and his hyperspeed lyrics throughout his set. He was like a less dynamic Yelawolf with clearer hooks: "One, two / Fuck Swag" was the most energetic, and "All we do is drink / And all we do is smoke / And all we're doing is wasting time" was the most apt.
33. A Psychopathic Rydas History Lesson
33/39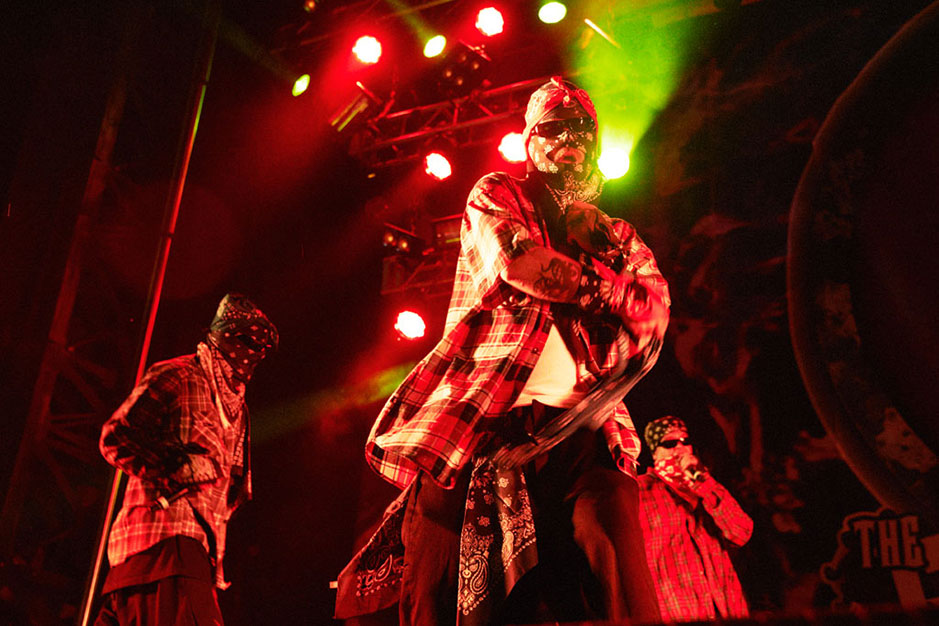 Long before Cave-in-Rock and its Hogrock campgrounds hosted, as the program puts it, "the Dark Carnival's very own manifestation here on Earth," the town was a home for outlaws who hid out in the actual cave that's in an actual rock on the Ohio River. Psychopathic Rydas, meanwhile, are a Juggalo supergroup to end all Juggalo supergroups, one including both members of ICP, both members of Twiztid, and solo acts ABK and Blaze Ya Dead Homie, jacking much of their sound and style from early '90s L.A. while riding onto stage, faces hidden, like a group of Wild West bandits. They are a festival favorite, of course, and they played their Thursday evening set with the sort of energy and theatrics you expect from a Saturday closer. "Duk Da Fuk Down," was the highlight, and later on a pair of knowing throwbacks — the first over the "Juicy" instrumental, the second over Scarface's "My Block" — were equally satisfying. When they ended the latter song with the line, "At the end of the day, I'm riding off into the sunset," you picture him them doing it on horseback.
34. Violent JJ: The Best Gathering Debut From Someone Under 10
34/39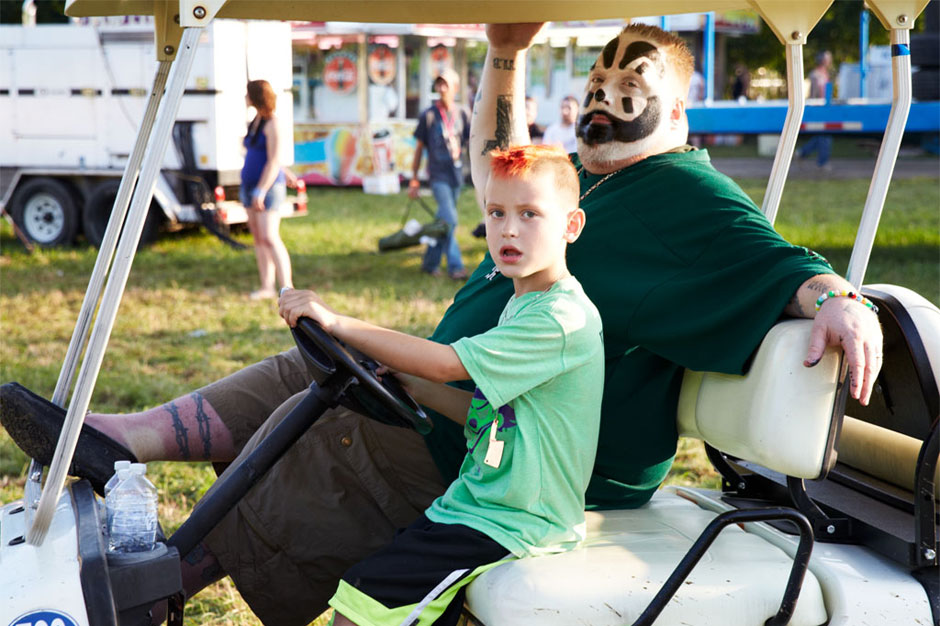 Children, "unpolluted yet by life," as big J writes in Behind the Paint, hold a special place in ICP mythology, so it was no surprise how much this year's attendees loved little JJ, especially because he's one of the few who can actually claim to have been down with the clown since the day they were born.
35. The Ms. Juggalette Competition
35/39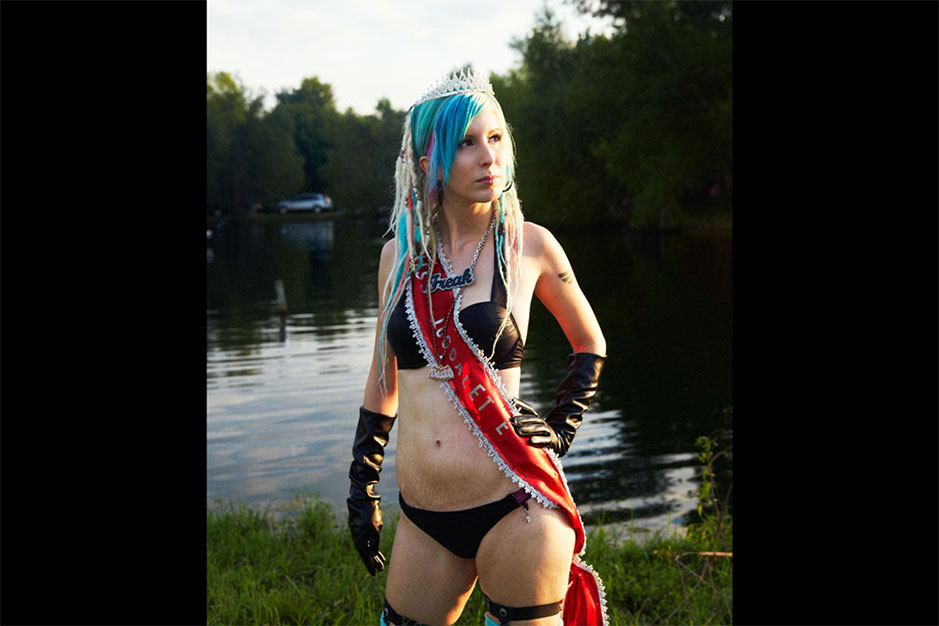 Once a wet T-shirt contest that lacked both water and t-shirts, this year's Ms. Juggalette pageant gave girls the chance to show off not just their skin but their personality and talents. The talent portion opened with a singer, a poet, and a twerker, and it was the poet who got the best response.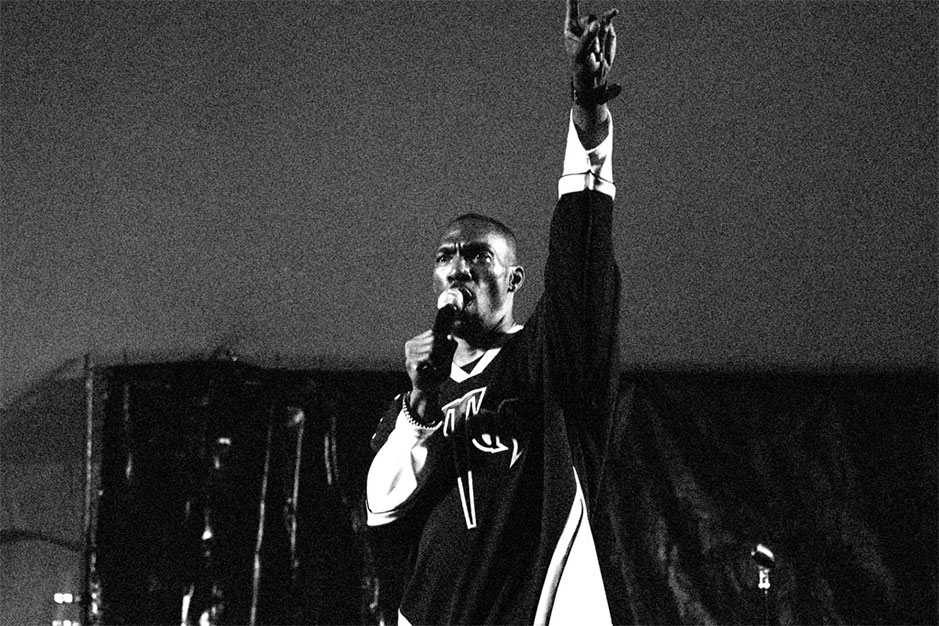 God bless Charlie Murphy, the dude best known for being the brother of Eddie and that time another comedian said his name funny. After walking around Hogrock shouting his name Chappelle-style for literally three days, Juggalos were remarkably respectful during the actual performance, particularly after Murphy took an extended hit from a five-foot bong. Someone in the crowd did complain when he extended the chant to whoop, whoop, whoop, but someone else quickly came to his defense, yelling back, "He's Charlie Murphy! He can say whoop as many times as he fucking wants!"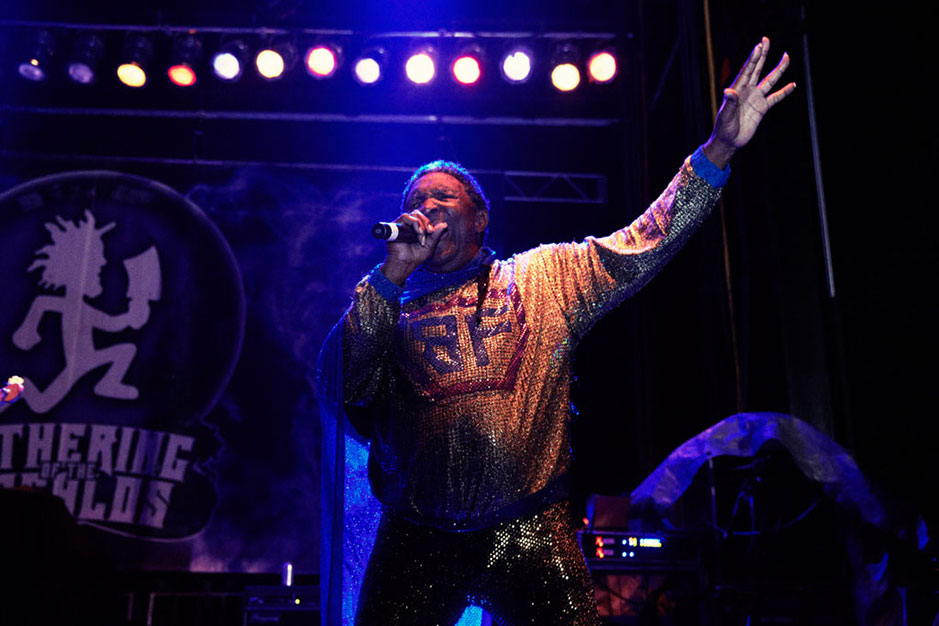 Blowfly, if you aren't familiar, is a 74-year-old man who dresses up like a superhero, secretly invented rap, and sings the filthiest songs you've ever heard. When we arrived at his stage, his reworking of "Should I Stay or Should I Go" into "Should I Fuck That Big Fat Ho" set the mood and was followed by "Rap Dirty" (the classic original), "Don't Beat It, Eat It" (a Michael Jackson–inspired piece of sex advice), and — perfect for this particular festival season — the R. Kelly rip "I Believe My Dick Can Fly."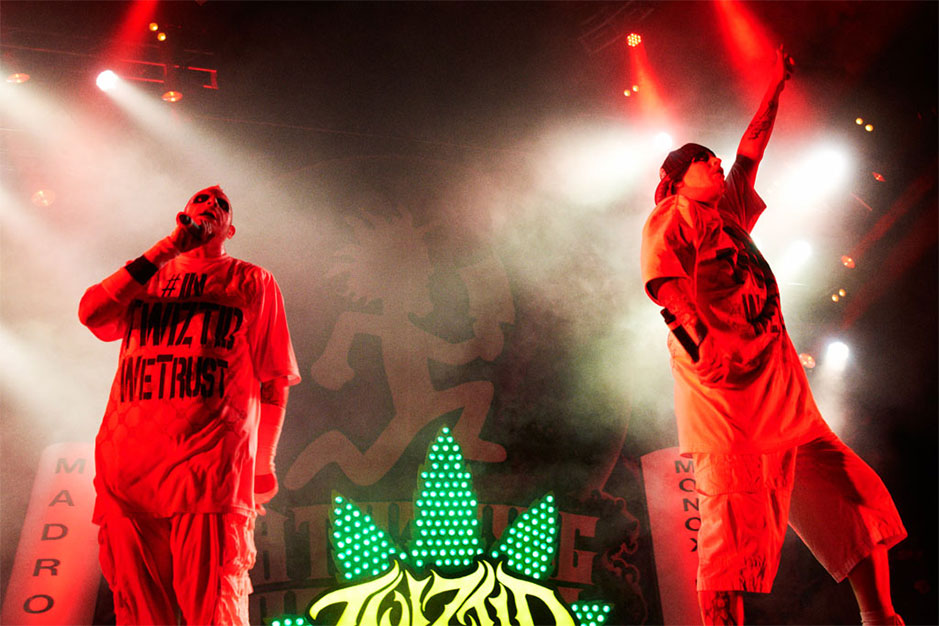 Once you hear Twiztid hype a crowd with the question, "Are there any serial killers in the house?" the Fatman Scoop/Mr. Cee "If you got a 50 dollar bill put your hands up" routine will never hit you same way. Follow-up requests for cannibals and lunatics only make the damage that much more irreparable. The duo made their serial killers proud — no surprise there — but their recent departure from Psychopathic touched the set with some rare melancholy. The "family" chants began even before Twiztid, rapping in front of a Lite Brite marijuana leaf and a pair of giant personalized bongs, appeared on stage, and they were returned when the group offered a chant of their own: "We love y'all! We love y'all!"
39. Insane Clown Posse
39/39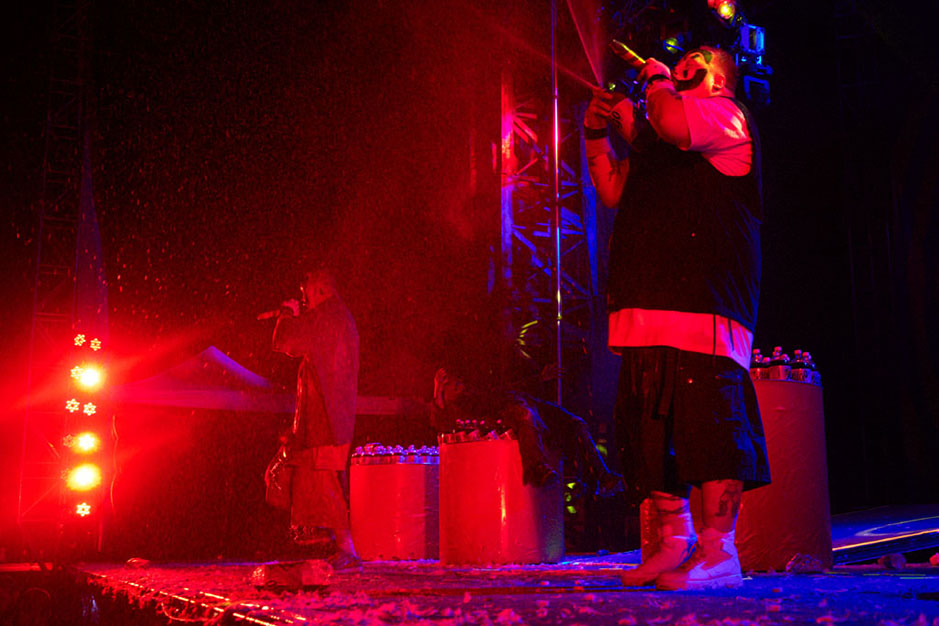 Headlining Saturday night, concluding a day that we heard two people refer to as "better than Christmas," it was almost immediately clear how much better ICP was than anyone else in the five-day lineup. Serious but not taking themselves to seriously, lyrical without having to constantly prove it, funny without making jokes, the duo killed from first song to the last, mixing the best of The Mighty Bang Pop! ("Bazooka Joey," "When I'm Clownin'," "Mighty Bang Pop") with older material that still sounded years ahead of new material performed by their peers and followers.
Talking to fans, it became evident that there's a generational divide among Juggalos. Nothing unusual for a band that's been making music since before many of its fans were born, of course, but there nonetheless. Either way, this tension was never more visible than during the closing set, where looking around it was clear which fans had never heard those older, Milenko-era tunes. Before, a longtime Gathering attendee told me that he couldn't believe how slowly people were trickling into the stage area, and midway through, when we stepped back to avoid the Faygo Apocalypse, another commented on how everyone standing in our area was either a first-timer afraid of getting wet or a tenth-timer who was just kind of over it. But right on cue, the stage crowded with fans of all generations, gallons of the soft drink shot into the crowd, fireworks exploded overhead, and it was hard to imagine a better music festival anywhere in the country.