Drake, feat. Sampha "The Motion"
So, Drake is just a troll, right? He knows what he's doing. Part of his endgame, it seems, is to make himself look like a clueless dolt who stays winning, regardless. He has no shame. How else to explain the Canadian child star penning "Started From the Bottom," and citing his uncle demanding the car back as an example of less-ideal times? On "The Motion," Drake continues playing himself. He allows his gentle croon to go up against London dubstep's Dean Martin Sampha, who has one of the warmest and accomplished voices in electronic music right now. Then again, maybe this is Drizzy doing Sampha a solid, since Usher's "Climax" was just a SBTRKT featuring Sampha jack? The big-deal rapper bro reaching out to underground-to-lamestreamer artists, like Sampha (or Migos!), is admirable. Also admirable: Just how dedicated to the slow-build this John Carpenter funk with strings track remains for its entire running time. Drake is negligible to its success. It needs more Sampha.
//www.youtube.com/embed/BZy1f0Tl7OM
Lee Bannon "NW/WB"
In which a Sacramento producer best known for making beats for Joey Bada$$ and guys who Mr. Bada$$ presumably loves (like Mobb Deep affiliate Big Shug), continues his embrace of the do-whatever powers of the limitless rap Internet in 2013 with not nearly enough people cheering him on or even noticing. Already this year, Bannon has released a gothic crunk-rap project (Caligula Theme Music 2.7.5), and an ambient-noise EP with a very Prurient-like cover (Never /mind/the/darkness/of/it…). And now, there's "NW/WB," a drum'n'bass track that nods to Squarepusher but leaves the jazzbo tendencies of Tom Jenkinson behind, replacing them with post-A$AP Mortal Kombat 2 soundtrack strings and a dub reggae-like breakdown. Yeah yeah yeah, everything is like Yeezus or whatever right now, but "NW/WB" might be the missing link between Aphex Twin's "Elephant Song" (as AFX, from Analogue Bubblebath 4) and the Aphex-derived yells and "acid distortion" that Chris Ott hears on "Black Skinhead."
//www.youtube.com/embed/IXIKeqSMsmU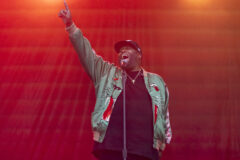 M.I.A. "Bring The Noize"
"Bring the Noize" invites a Public Enemy comparison that M.I.A. (and frankly, no other agitprop pop artist anywhere from any period of time) could ever live up to, flips Janis Joplin by way of Kris Kristofferson into a very appropriate-for-2013, "We're all screwed, politically, you know that right? So YOLO" message on the outro, and indulges some "Ugh, really?" undergrad sloganeering that Immortal Technique would've passed on ("Truth is like a rotten tooth, you gotta spit it out!"). But through the busted-apart Baltimore Club din, cut with what sounds like broken pieces of a Fatback Band loop and Roxette's "The Look," you can hear M.I.A. declare, "Cause it's not me and you, it's the fucking banks," and shout out her cousin who's grabbing dough from the government for discrimination against the disabled. Like /\/\/\Y/\, which seemed to eerily predict YouTube rabbithole remix culture and IRL debacles like NSA spying, "Bring the Noize" is another hot-mess, personal-is-political rage-out that will probably make more sense with time. Stay with this one.
//www.youtube.com/embed/cCkIYkaLBGs
Riff Raff "Dolce & Gabbana"
The new single from Riff Raff, off the forever-hyped debut album Neon Icon, finds Riff pandering a bit. It probably sounds impossible for an MTV logo-tatted oddball from the armpit of the Internet to pander, but he's definitely aiming for like, 2 Chainz at his worst rapping over Tyga's "Bubble Butt" here. So yeah, you get none of Riff Raff's charming Screwston-derived off-the-dome flow and instead a lot of recycled content (fried Okra with Oprah). Still fun, and it's not like anyone was listening to heady Riff Raff tracks like "Time" and realizing it was pretty much a depressive Modest Mouse song, anyways, you know? All about the cheap strong stuff here. Funny things he mentions: The Lion King, a Sebring, Super Dave Osbourne, Bo Jackson, Action Jackson, Scary Movie, Ruby Tuesday's, and the Oklahoma Sooners. Also, you are supposed to imagine that he's been "semi-butt naked" drinking with D&G-draped ladies for most of his life.
//www.youtube.com/embed/sxiEM33FDtg
Run the Jewels, feat. Prince Paul "Twin Hype Back"
At 46 years old, Prince Paul remains hip-hop's most hilarious and biting satirist. Crammed between Killer Mike and El-P's raps, Paul's monologue reduces rap's creepy loverman condescension to absurdity: "Now come over here and let me give you a tongue kiss on your Hot Pocket…I must say you do look stunning. I mean you're the kind of girl I could really see myself artificially inseminating. Oh, I'm sorry, I'm being a little aggressive. Can we start from the beginning? My name is Chest Rockwell, right? And I love to make love, to your booty…How you feeling now, sweetheart? A little more relaxed? Maybe it's that half-a-molly I put in your Mountain Dew. Yeah, works like a charm. Just chill out for a second, relax, relax. I got it under control. I got you a glass of Beefeater, I got a brand new deck of Uno cards. Oh yeah, baby, the night's just getting started. Okay, how about I come over tonight and pick you up in my brand new Segway and we can go over to Long John Silver's, get a fish platter, and you can take me home and massage me with butter all on my neck. I love you."
//www.youtube.com/embed/nnXP1D1UGD8