Alexis Taylor doesn't just call Hot Chip home. The singer/guitarist moonlights as Fainting by Numbers and now, once again, with About Group. That offshoot will debut its third album Between the Walls on July 2 via Domino Records, from which we've already heard two tracks: "Walk on by" and "All Is Not Lost." Another, "Words," premiered on Rolling Stone today.
"'Words' is a song I started writing on a guitar, in an About Group soundcheck in Helsinki," Taylor says of the track, a fatigued hybrid of synth, sitar, and feedback. "By the time we recorded the album version I had removed the guitar and replaced it with these synth chords which put fifths with each note, so all the chords end up sounding pretty strange and discordant." He added, "The song has to do with the idea that words aren't always equivalent to the multiple meanings of what we wish to say — but that a song, with words, can still continue on and have meanings despite that apparent dichotomy. It's also about love and friendship and not punching doors, but pushing them open instead."
Between the Walls reunites Taylor with guitarist John Coxon (of Spring Heel Jack and Spiritualized), drummer Charles Hayward (of This Heat), and keyboardist Pat Thomas.
Also on Taylor's plate: Hot Chip have a new single, "Dark and Stormy," due in July, and back in April, Fainting by Numbers dropped fresh cut "A Stone in the Ground."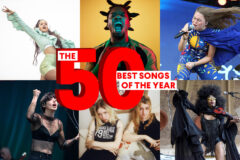 Pre-order Between the Walls here.
Between the Walls track list:
1. "After Video"
2. "Walk on by"
3. "All Is Not Lost"
4. "Words"
5. "Graph Paper"
6. "Make the World Laugh"
7. "Love Because"
8. "Nightlife / Sinking"
9. "Untitled"
10. "I Never Lock That Door"
11. "Yes"
12. "If You Can't Love Me"