The 25 Best Things We Saw at Hangout Music Fest 2013
The fourth annual Hangout Fest took over a sandy, sunny expanse of Gulf Shores, Alabama, last weekend. In addition to stars like Stevie Wonder, Yeah Yeah Yeahs, and Bassnectar, SPIN saw some shenanigans and beachy tom-foolery. Here's the best of what we witnessed.
1.The 25 Best Things We Saw at Hangout Music Fest 2013
1/26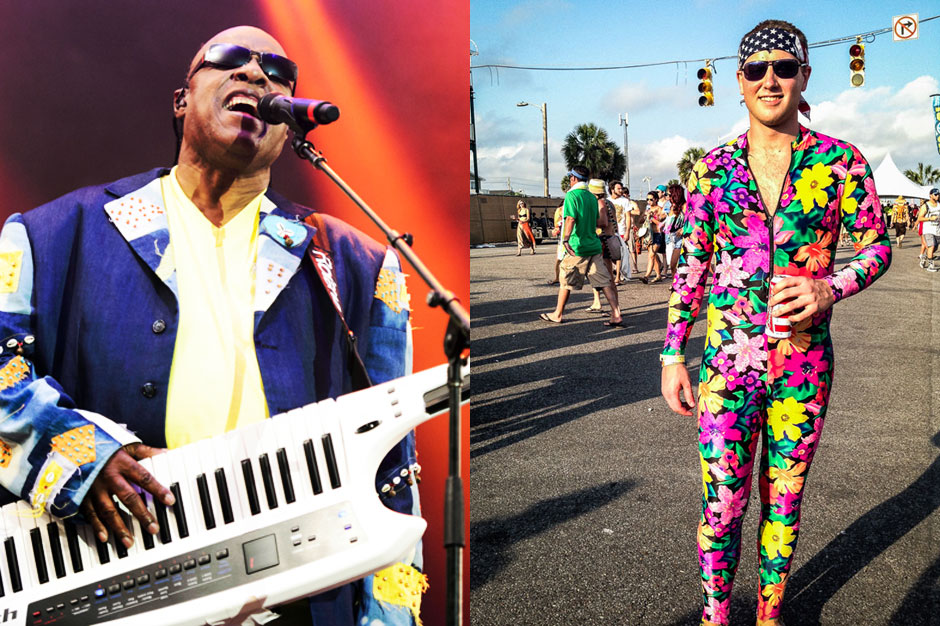 2.Best Performance: STEVIE WONDER
2/26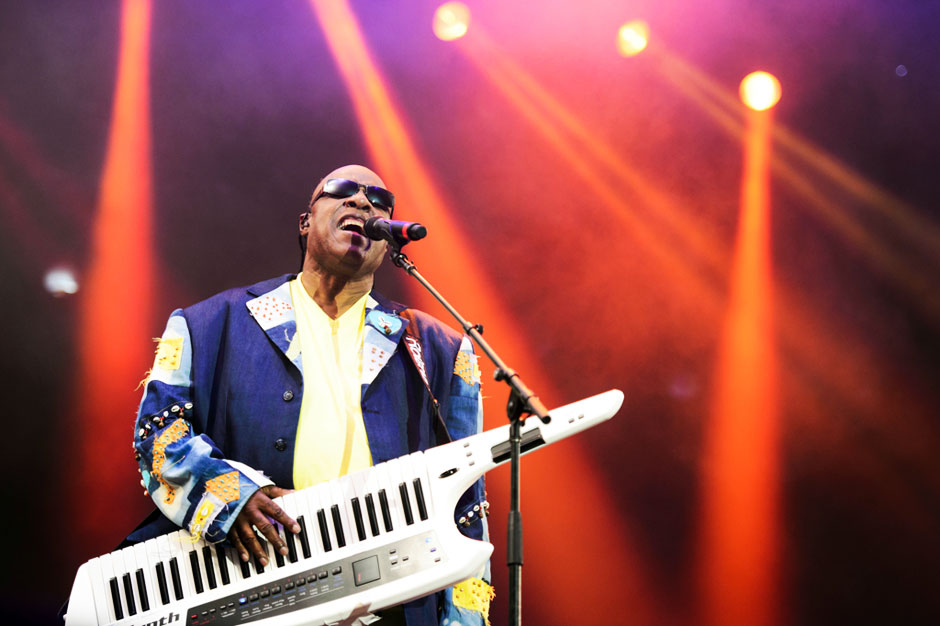 For a little over two hours on Sunday night, the 63-year-old born Stevland Hardaway Judkins embodied everything superlative about live music. He followed a loose set list of his hits ("Higher Ground," "Signed, Sealed, Delivered," "For Once in My Life," a million other songs you know), original-rivaling covers (John Lennon's "Imagine," Michael Jackson's "The Way You Make Me Feel"), stop-everything impromptu jams ("Ebony and Ivory") and unexpected heartfelt banter. Every song seemed to turn into a thousands-strong karaoke, with the Hangout audience, whom Wonder dubbed "Stevie's Incredible Singers of Alabama," belting the words they knew. It's the charisma that every artist aspires to, and Wonder, who led a jubilant 14-piece band, demonstrated it with a grace that didn't let on that he had made his debut as Little Stevie Wonder a half a century ago this year. But rather than just play his greatest hits, he seemed to let his whims guide him.
"This is a song I liked when I was a little kid," he said at one point, "but I'm going to do it differently." Then he led his band into Parliament's "Give Up the Funk (Tear the Roof off the Sucker)," which turned into a funky version of the Beatles' "Daytripper." Midway through the song he stood and smiled and just howled, surrendering to his instincts. In fact, Wonder appeared to have the stamina of a man half his age. At the end of his Michael Jackson cover (because, "We cannot do the show without some Michael"), he fell to his knees and panted with the rhythm. And during "Isn't She Lovely," he walked around the stage, playing the tune's famous harmonica solo. Then things got emotional.
The set's most moving moment came just after he put his harmonica down and he stood and faced the audience. The cameras in the audience focused on his face, which looked serious. "My mother was born in this state," he said, pausing. Then his voice grew weak. "They said to her, you'll never be nothing. You'll never have nothing. They'd given up on her." Then a stream began to trickle from behind his sunglasses. "To think that some years later, in this time, in this place, I've been blessed to be here. And how much, because of you, because of your love, for what God blessed me with, I was able to give my mother a good life before she went away. I want to thank you for that." Stevie's Incredible Singers roared with approval as he leaned back, emotional, and two of his bandmates came to his side to comfort him and dry his cheeks. KORY GROW
3.Best Dressed: YEAH YEAH YEAHS
3/26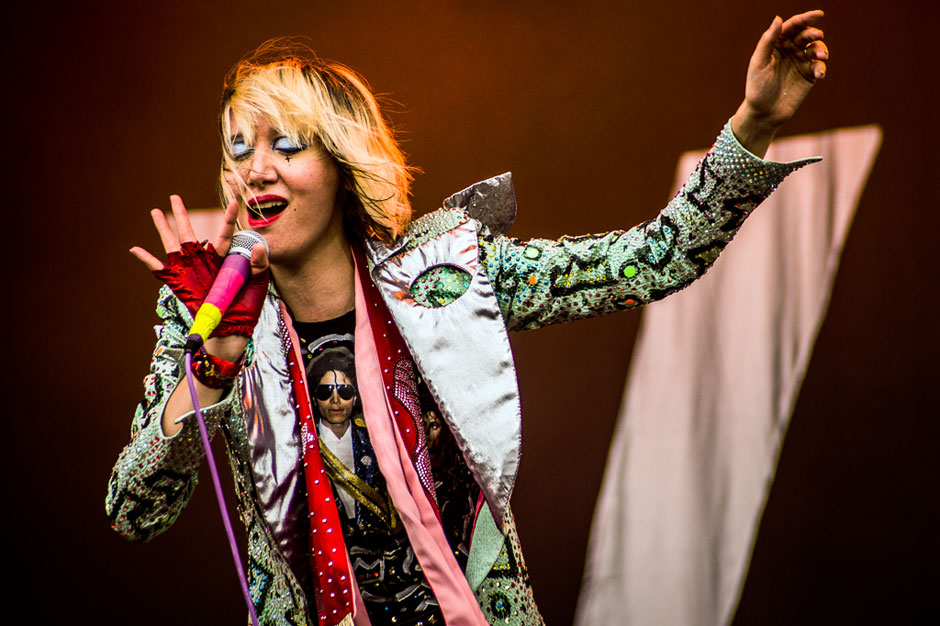 Yes, the Yeah Yeah Yeahs played impassioned renditions of "Gold Lion" and "Cheated Hearts" and songs from their new Mosquito. Yes, Karen O staged the sort of frenetic and sexually charged performance she's famous for, growling, leaning back with the mic in her mouth, rubbing it on her chest and in her pants. And yes, she made it clear that she psyched about Hangout, declaring, "Let's get this shit over with so we can watch Stevie Wonder." And finally, yes, the band played all of the songs impeccably, thanks, in part, to an appearance by the Zelig of Indie Rock, David Pajo.
But what will stick in our brains is Karen O's fashion sense. To contrast her bandmates' black button-downs, the frontwoman wore a lime-green, wide-lapelled jacket with mile-wide shoulder pads, sporting Jean-Michel Basquiat crowns and stars, a pattern costume designer Christian Joy replicated on her shorts. Her shirt bore not one but three Michael Jacksons, a look she completed with a red motorcross glove on her right hand. Her two-toned pink socks ran into flower-adorned Converse sneakers. And she completed the outfit with WrestleMania-sized belt that simply said "YEAH." K.G.
4.Best Chameleon: ELLIE GOULDING
4/26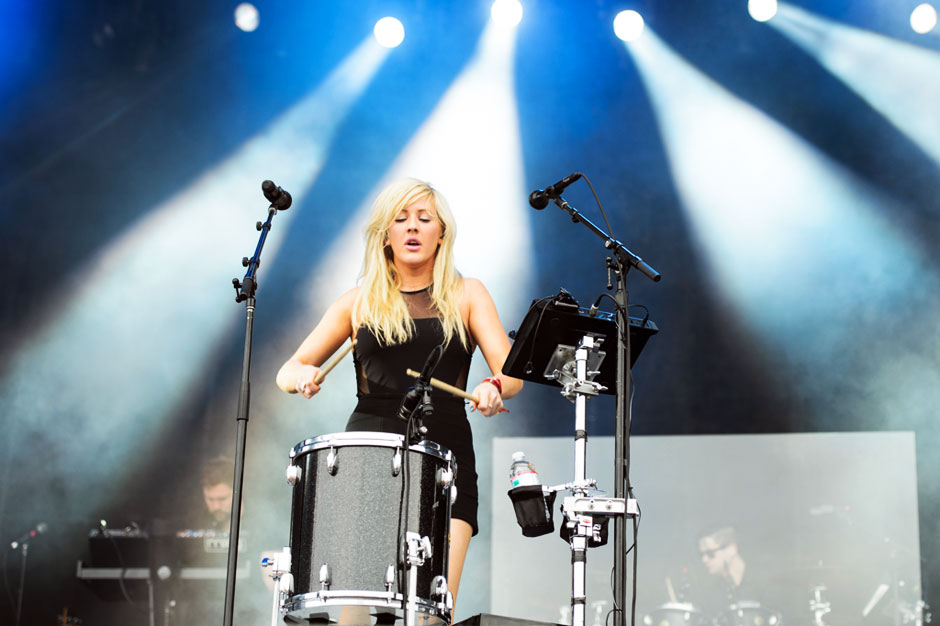 Ellie Goulding's main stage performance wasn't much to watch — her band was in all black, tucked in the back, most hiding behind Moogs or Plexiglass. But it was a lot to hear. Sometimes Ellie Goulding's voice was like a Speak & Spell in the uncanny valley between human and backing track. Sometimes it was near-Florence highs or whispers. On "Under the Sheets" it was Auto-Tuned into a woosh. On the climax of "Anything Can Happen," it evolved into a Joplin-esque rasp ("Ho, yeah!"). And it was best on sparse ballads like "Explosions" where you could hear it unaccompanied. CHRISTOPHER R. WEINGARTEN
5.Best Crowdsurfing: BASSNECTAR
5/26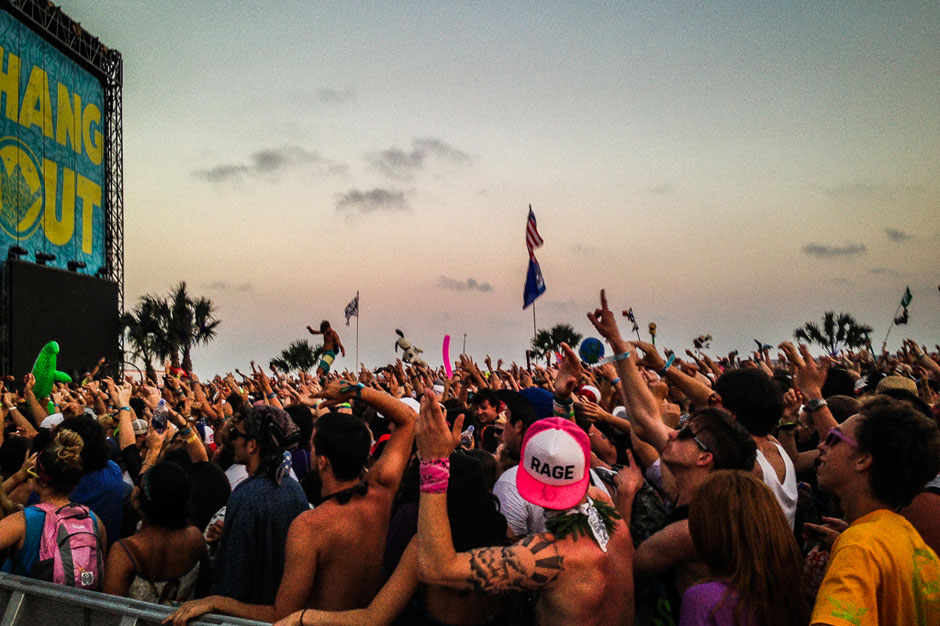 There's no metal or hard rock at the decidedly chill Hangout Fest, but the punishing volume and headbanging grooves of Bassnectar — the one EDM act too big to be relegated to the Boom Boom Tent — had some partygoers acting like he was Metallica. One crowd-surfer just stood on his friends like he was surfing, another rode an inflatable whale. It makes sense, since this set was true body music: even if you were standing still, his merciless bass exclamation points vibrated your chest. And there were melodies that cut deeper and reached wider than EDM — Nirvana's "Breed," Dead Prez's "Hip-Hop," the B-52's "Love Shack" — even though the biggest sing-along was probably people screaming the two-word chorus to his own "Bass Head." C.W.
6.Best Nerd-Out Moments: THE BREEDERS
6/26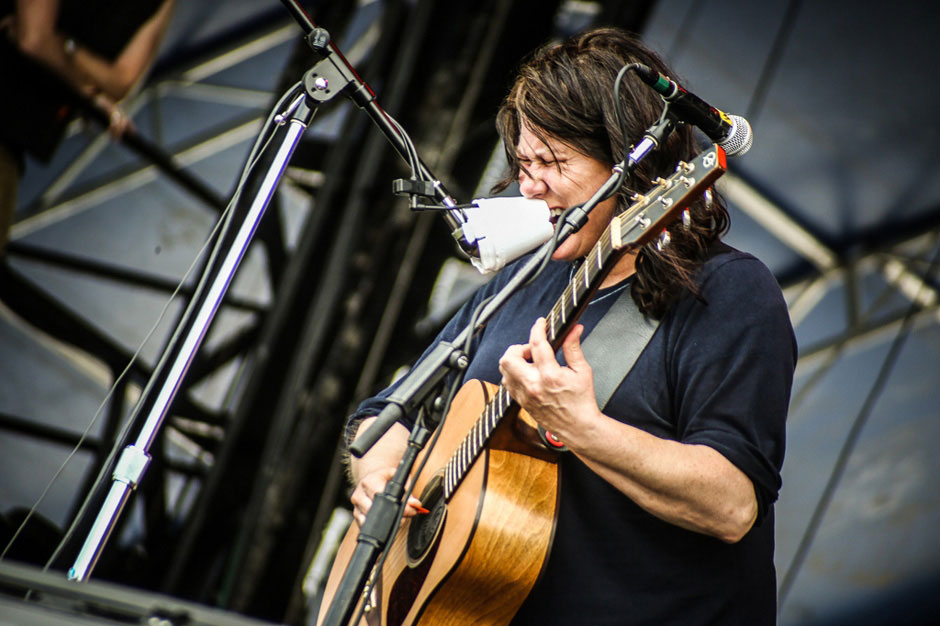 As we've noted in our Last Splash oral history, the Breeders are currently touring with their 1993 line-up, playing their landmark LP in its entirety. But beyond hitting its 15 songs in order and bringing along auxiliary violin player Carrie Bradley, it got way nerdier: They bragged about sampling the same mini-Moog they used on the album and even touring with the same windchimes (causing one excitable audience member to yell back, "Yeah, windchimes!"). Even after a handful of shows, the band couldn't stop happily geeking out about the whole thing — Bradley left her post at one point to take photots or video of the audience; and you could see guitarist Kelley Deal mouth the word "wow" after an especially loud, feedbacky note in "Do You Love Me Now?" C.W.
7.Best Back Hair: RYAN BALTHROP
7/26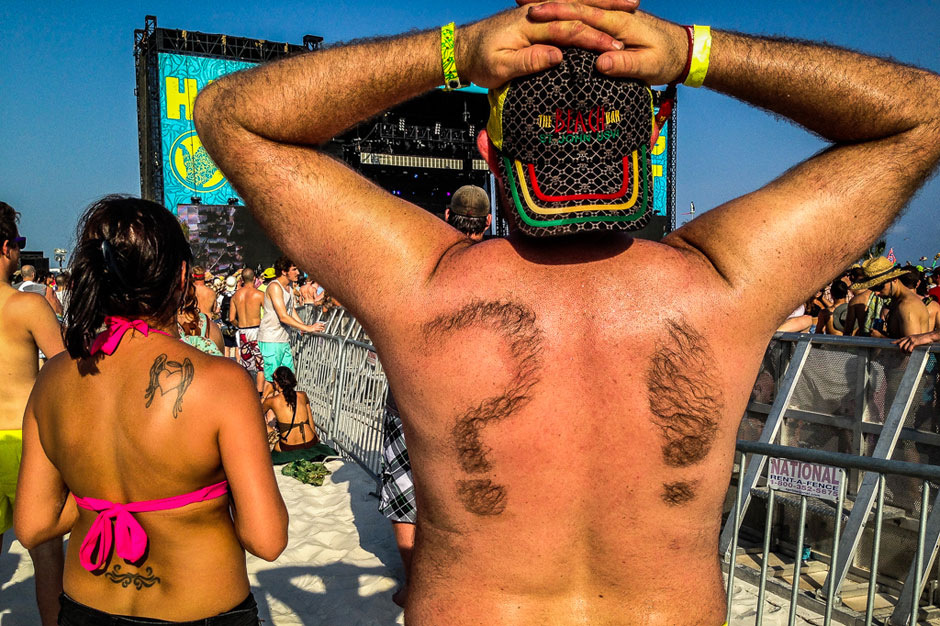 Ryan Balthrop is an island blues/folk/funk singer from nearby Mobile, Alabama, who was playing guitar and ukelele on the official Hangout shuttles. But his claim to fame at the Chevrolet Stage was being the dude with punctuation marks shaved into his back. "I passed out and she shaved it," he said, motioning to his girlfriend, Kelli. "I didn't pass out, I fell asleep. I fall asleep hard."
"I was supposed to do one of these," says Kelli, making the Hangout Fest "hang loose" sign with her hand," but I couldn't figure it out."
8.Best Star Turn: KENDRICK LAMAR
8/26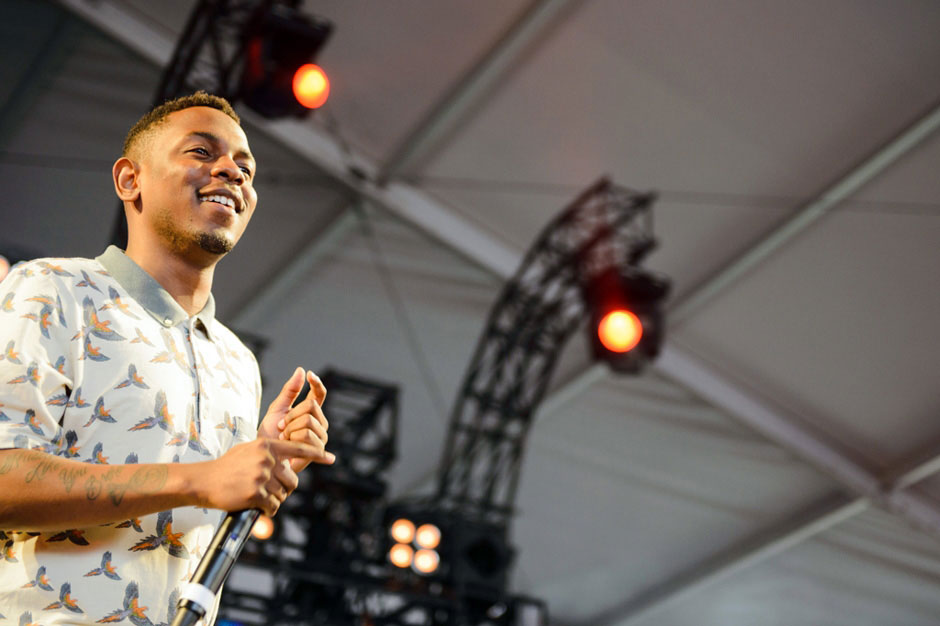 Los Angeles golden child Lamar has often seemed to teeter on a certain edge between tastemaker critical esteem and mainstream tipping point. Bloggers and rap geeks love Kendrick, but so do hordes of relaxed bros in tank tops. All of these types crammed into Hangout's Boom Boom Tent on Saturday evening for a glimpse of the 25-year-old. And they didn't even seem to mind that he showed up 30 minutes late, forcing them to sit through a painful pre-show freestyle battle presided over by MTV's Sway Calloway. When Lamar finally did saunter out, he did so with the total assurance of an artist who needs only to show up to score points. He could have easily dialed in the hit parade of nearly every holler-along from his debut album, good kid, m.A.A.d. city, but he gamely kept things hyped for the ADHD generation, stopping abruptly, then starting a new song every passing minute. The elbow-to-elbow audience of sweating millennials still gamely chanted every word, though, making Lamar himself almost redundant onstage. He even seemed to recognize that, eventually, letting the audience itself rap almost the entirety of "Backseat Freestyle" before he finally joined back in at the end. ARIELLE CASTILLO
9.Best Questionable Dedication: TOM PETTY & THE HEARTBREAKERS
9/26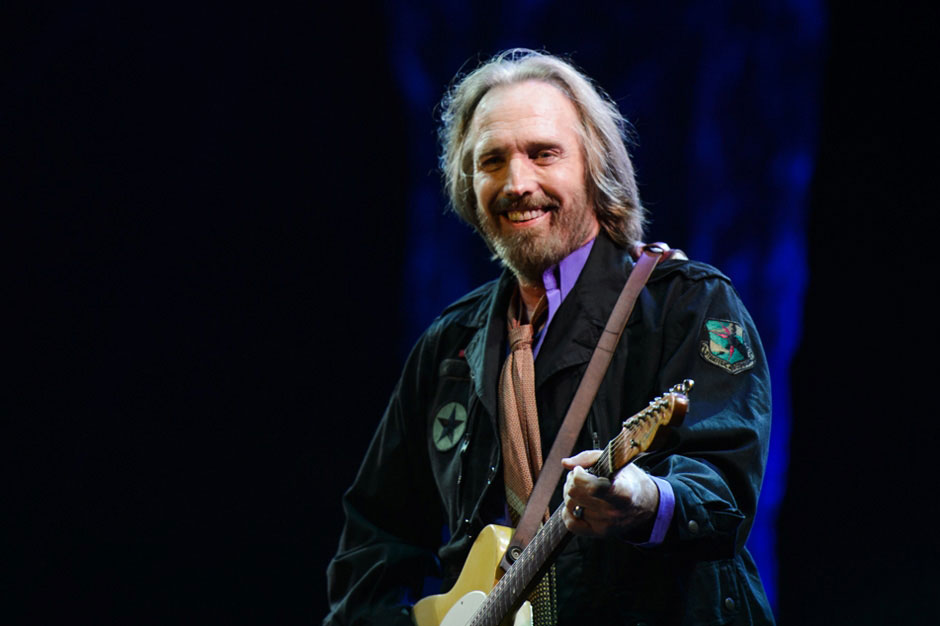 "You've been here for a few nights," Tom Petty mused midway through his Saturday headlining set. "Maybe you've had a few relationships blossom... Maybe you've had a few breakups." Then he just went there. "I want to dedicate this next song to all the people sneaking out on the old lady or the old man tonight." Then tens of thousands of Petty party animals let out one of those "ohhhhs" you last heard when you got called to the principal's office in second grade. And with that, he began his ode to infidelity, "Free Fallin'," and the crowd ate it up, singing every word.
In fact, the audience sang along to nearly every Petty song, proving his canon. Whether the "whoas" in "You Wreck Me" or the whole chorus to "Learning to Fly," which Petty conducted, the Heartbreakers' fans obliged them with powerful vocals. And other than a few deep cuts, such as "Tweeter and the Monkey Man," which Petty cowrote with Bob Dylan in their Traveling Wilburys days, Petty stuck to the hits, hitting "Refugee," "Don't Come Around Here No More," "American Girl," "I Won't Back Down," "Mary Jane's Last Dance" and on and on. Whether you're a fan or not, you know every word, and what better place to discover this than on a moonlit beach? Just don't tell Petty if it leads to some free-fallin' hanky panky or he might write a song about it. K.G.
10.Best Engagement Present: GRIZZLY BEAR
10/26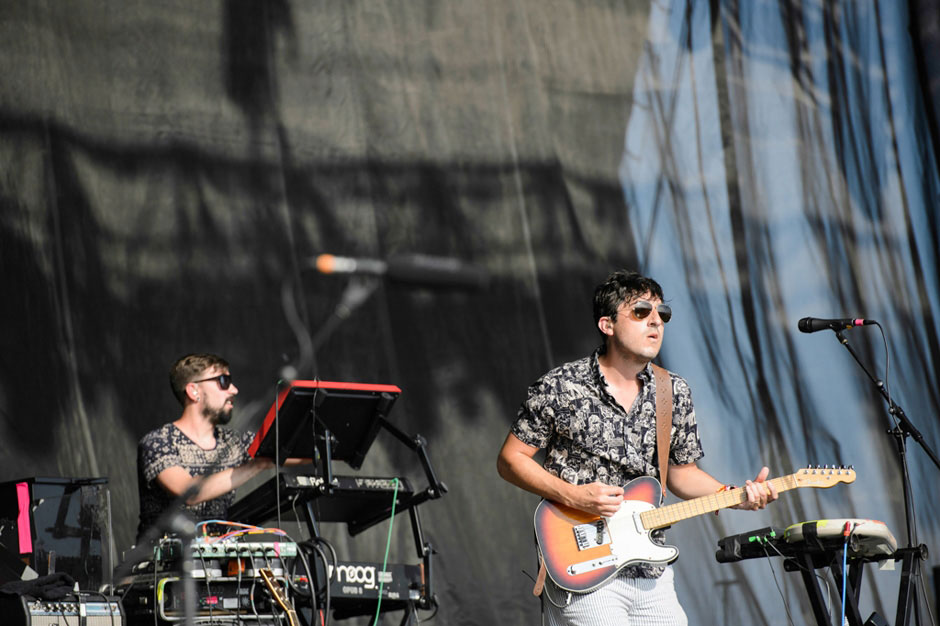 After a splendiferous hour of shimmery guitars and downtempo Ronnie Spector-inspired "whoa-oh-ohs," the members of indie-rockers Grizzly Bear were making their exit when the group's flaxen-haired bassist Chris Taylor spoke up. "I just want to say congrats to the newly engaged couple down in front," he said. "Stay together!" A little pocket by the barricade erupted in cheers. The sun was beating down hard on the group for their first-ever concert in Alabama, but the band made it through with aplomb, finding Taylor playing a clarinet on "A Simple Answer," singer-guitarist Daniel Rossen sitting behind a Wurlitzer on "Two Weeks," and touring member Aaron Arntz playing what Droste described as a thousand keyboards throughout — his arsenal contained an upright piano, a Moog, a Roland, a drum pad and much more. It was certainly stunnijng, but we probably didn't enjoy it as much as the happy couple did. K.G.
11.Best Band-Baiting Technique: THE "HI FRANK FLAG"
11/26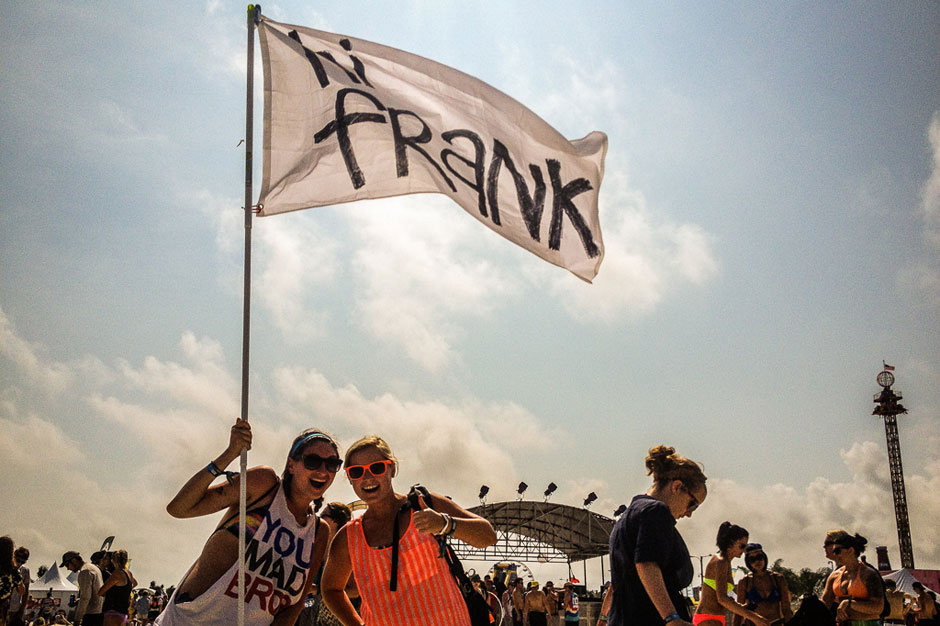 "Hi, Frank!" shouted Dirty Projectors singer-guitarist Amber Coffman midway through the band's Saturday set. "You did it! Is everyone saying hi to you today? I bet they are." Funnily enough, the flag didn't even belong to a "Frank," but instead Meredith Kay (holding the staff) and Hannah McRae, both of Atlanta. They have a friend named Frank and were using the flag to find him, having thrown it over the Porta Potty to sneak it in. The Dirty Projectors was their first show of the day, and their first shout-out, and they were stoked on the flag's power. "We hope we get more throughout the day," Kay said. The bands Kay and McRae were most excited to see (and potentially get shout-outs from) were Bassnectar, Tom Petty, and the Yeah Yeah Yeahs. "We're going to wear a diaper to that one," McRae said, "because we might shit ourselves."
12.Best Stationary Dance Moves: BAAUER
12/26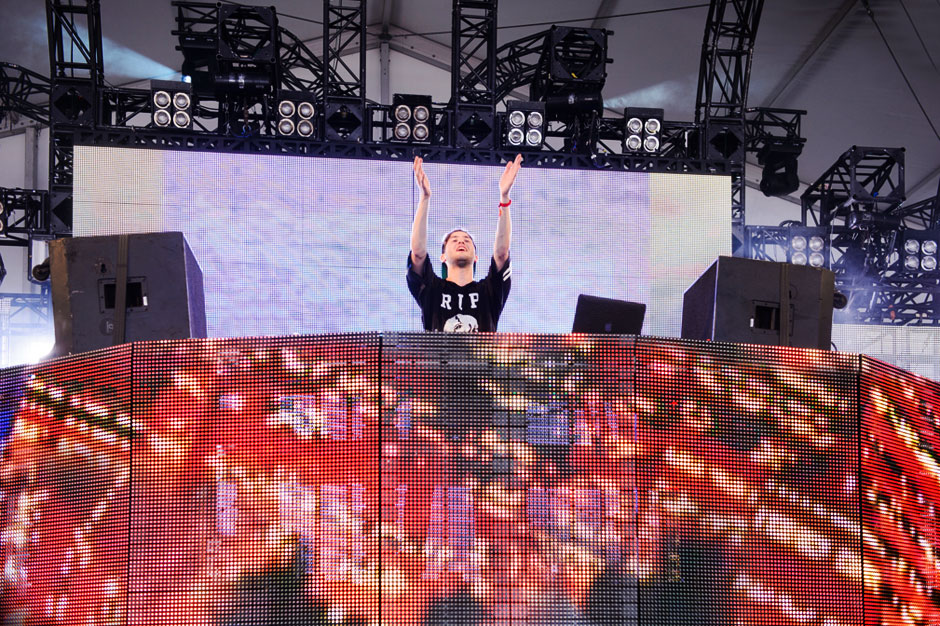 For his lean afternoon bass party, Baauer had all the best convulsive moves — a little swimming dance, a moving his arms in circles thing, some headbanging, putting both hands on the mixer and it looks like he's riding a bull. But who can blame him for dancing with his set of no-bullshit Billboard-goes-to-the-trap music, basically an id-celebrating mix of popular rap (Waka Flocka Flame, Snoop Dogg, Rich Boy, T.I.), booming low-end (Rustie, TNGHT, Major Lazer), and the places where the two meet (an RL Grime's Chief Keef remix, a Tom Wrecks Nas remix). But maybe you can just see for yourself on YouTube since there was plenty of cellphones hoping to catch the moment when "Harlem Shake" dropped 28 minutes in. C.W.
13.Best Use of a Sousaphone: THE ROOTS
13/26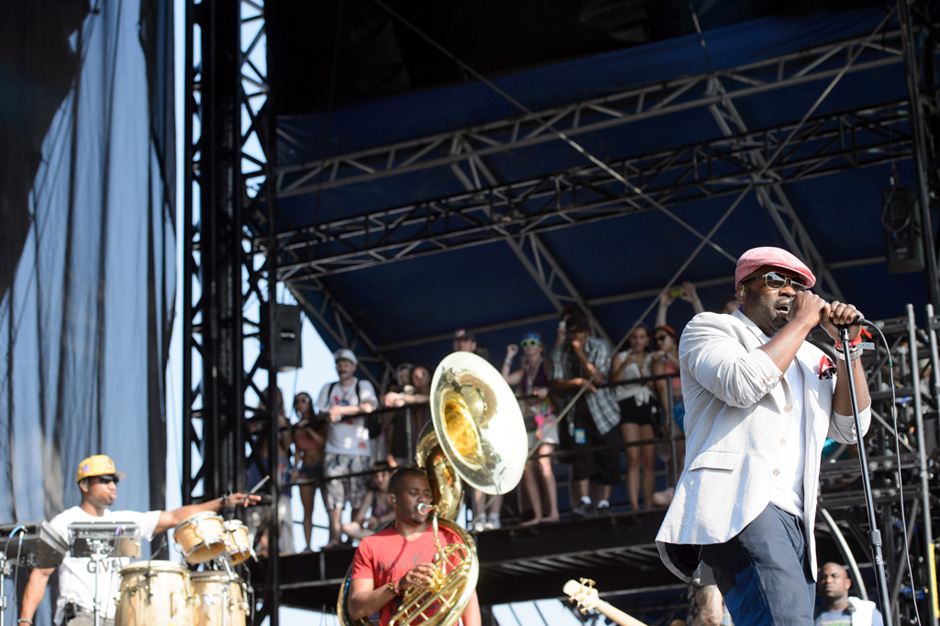 The Hangout Festival, with its slight jam-band predilections, offered a bunch in the way of horn-heavy fun — there was dubby festival staple Slightly Stoopid on Saturday, the funky Galactic on Sunday, and, of course, a brass band tribute to Daft Punk. But no one held it down like the Roots' Damon "Tuba Gooding Jr." Bryson. His low-end womp punctuated the live swing of vintage Roots classics like "Next Movement" and stretched through a killer cover medley of everything from Led Zeppelin's "Immigrant's Song" to Chief Keef's "I Don't Like." A.C.
14.Best Audience "Member": THIS INFLATABLE DICK
14/26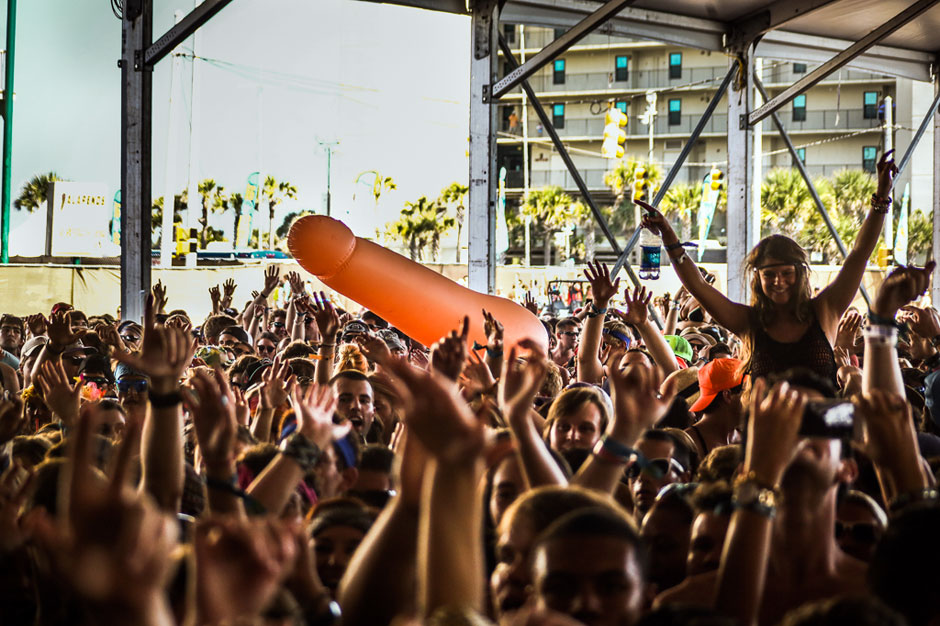 Afrojack's jovial fans brought a lot of toys and doo-dads to loft in the air — a pirate flag, a plastic penguin on a stick, some kind of duck, a creepy mask, a balloon, a flag with a potleaf and a mushroom, a Cast Away volleyball wearing a hat, a flag that says "Home is where your gnome is," two stuffed Marios, a stuffed Snoopy, a plastic(?) lamp(?), a fuzzy butterfly, a laminated sign that says "BUNK POLICE TEST KITS," a foam hand giving "the shocker," an inflatable cactus with shorts and glasses and an American flag, a crutch. But none made more of an impact that this giant, inflatable penis fucking the air to the beat. C.W.
15.Best Reminder That the Sun is Still Out: AFROJACK
15/26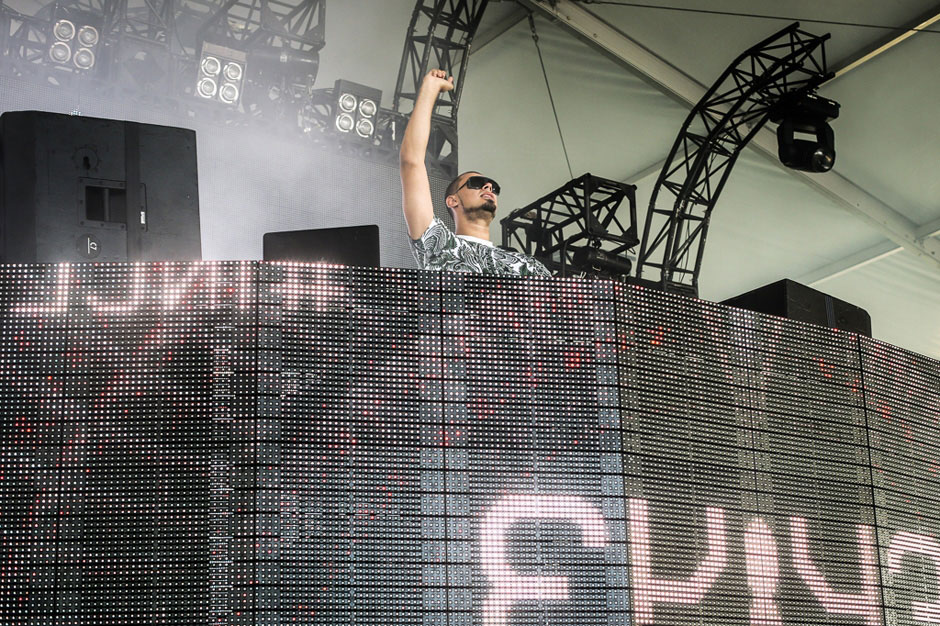 As one of the leading lights of EDM/pop crossover, Afrojack started his 3:45 p.m. set about nine minutes early, whipping the crowd into a hands-in-the-air frenzy — when he dropped Calvin Harris' "Sweet Nothing," he cut the music at just the right point where you could here the Boom Boom Tent singing along. He told everyone he was sweating his balls off, but exerted bosslike cool the whole time, leaving his sunglasses on and even toweling his face off like he was kind of a badass. But the sweat wasn't best reminder that this was an sunny afternoon rave-up instead of a club night. There was a hilarious juxtaposition when he started winding down with his own "Can't Stop Me" around 4:55 in the afternoon: The lyrics "If this was the last dance of the night / Will you join me 'til the morning light / Dance the night away, 'cause it feels right" probably resonate a little harder when people aren't in swimsuits and sunblock. C.W.
16.Best Career Retrospective By A Band Whose Members Are All Under 40: KINGS OF LEON
16/26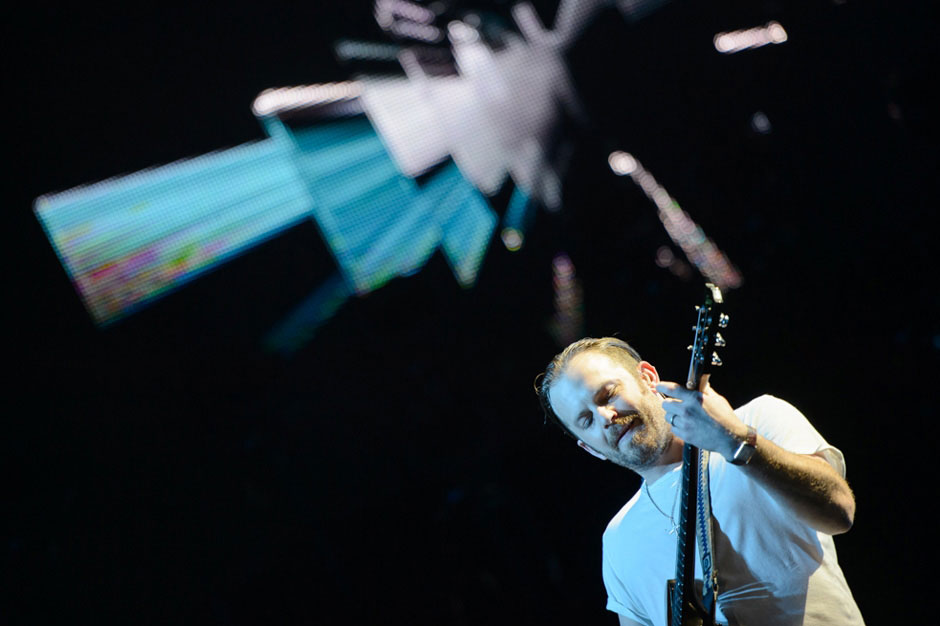 The last two nights of Hangout belonged to American legends — Tom Petty on Saturday night and Stevie Wonder on Sunday. So Kings of Leon's Friday headlining slot had to had to feel big, a confirmation of the band's long-ago transformation from hairy '70s revivalists to Heartland Rock Superstars. The band sounded extra comfortable, almost enthusiastic, playing the role of legacy act, reaching far back into their catalog for their nearly two-hour set. Of course the group dutifully went through all of its latter-day slick, subgenre-less radio favorites — "Use Somebody," "Sex On Fire," "Radioactive." But even nearly decade-old fare showed up — "Molly's Chambers," "The Bucket" — sounding as energetic as ever, but definitely raw in comparison. Getting down to business, frontman Caleb Followill skipped most stage patter except for well-placed Alabama flattery: "We feel like we're surrounded by our own people here." A.C.
17.Best Beachball-Puncturing Implement: ?UESTLOVE'S DRUMSTICK
17/26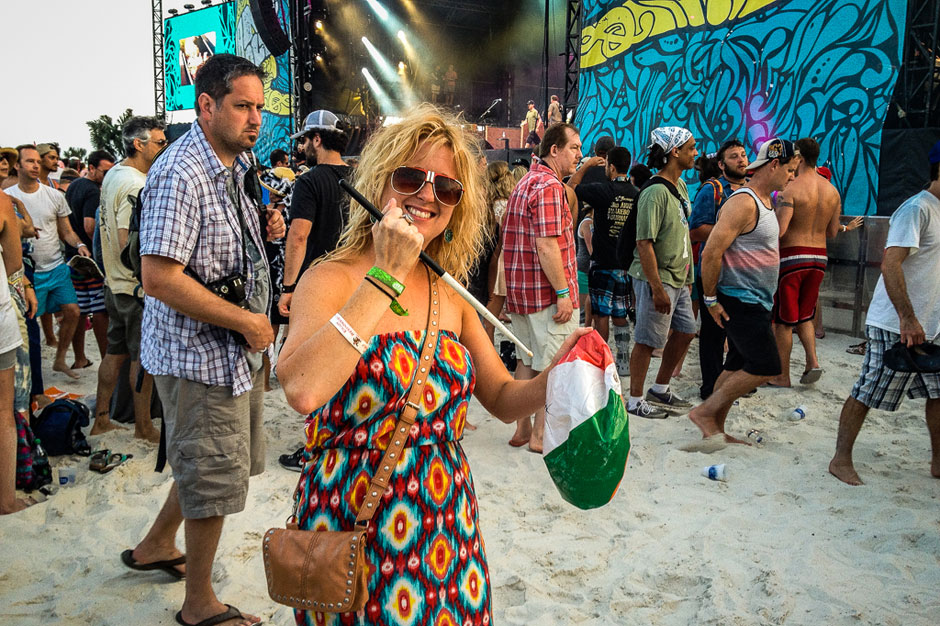 Near the end of the Black Crowes' Saturday set, someone had the grand idea to partake in the grand beach-festival tradition of bouncing a beach ball around the crowd. As fate would have it, though, concertgoer Jami Reblinger of Asheville, North Carolina, did not approve. Midway into "Remedy," when the ball made its way over to her, she went full Dexter on the ball using a curious weapon…?uestlove's drumstick. "I'm so tired of beach balls," Reblinger said after the Crowes' set, calling the party staple "drunk people confetti" while violently thwapping your intrepid reporter for emphasis. But after she lightened up (she's nice, honest), she explained that the highlight of her day was catching the drummer's stick at the end of the Roots set. K.G.
18.Best Partial Compliment for the Audience: THE SHINS
18/26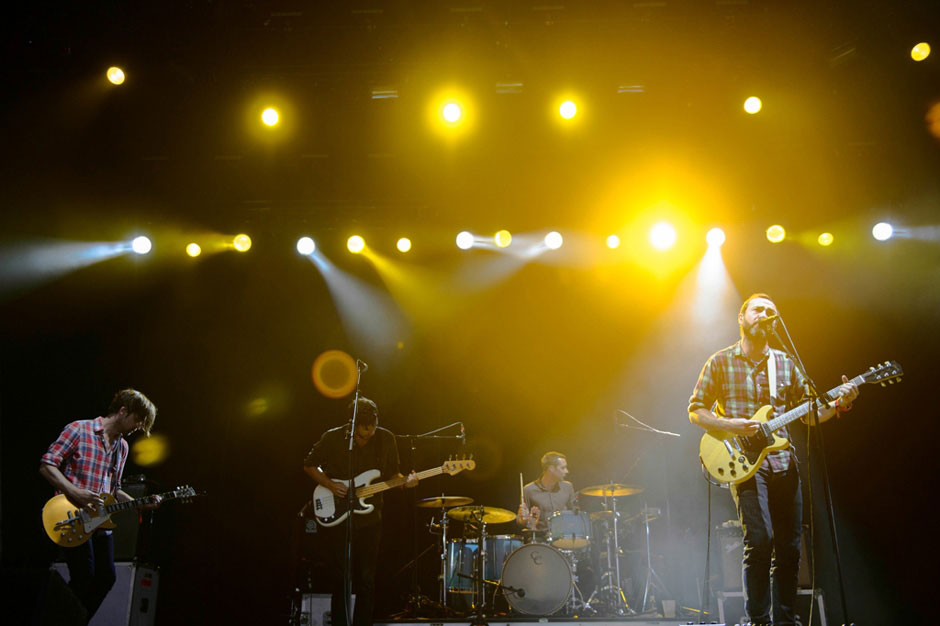 "You guys are beautiful," Shins frontman James Mercer told the Hangout audience during his introduction for "Bait and Switch." Then he paused and added, "Well half of you are. This one goes out to whoever invented the bikini." Well, luckily for Mr. Mercer, even the ugly people seemed to appreciate the indie-rockers' classics-filled 90-minute set, which included songs that were (apparently) great for crowd-surfing like, "Know Your Onion," "New Slang" and their elongated closer, "One by One All Day." In addition to their top-notch performances, the Shins won the crowd over with fun, unpretentious banter between Mercer and keyboardist Richard Swift. One of the better moments being when the latter outed the frontman for destroying part of the Gulf Shores beach. "James do you have a story about a seashell?" Swift baited. "We were waking on the beach earlier today," Mercer said, looking caught off-guard. "I stepped on a seashell and I broke one. I'll send you a seashell as repayment." Swift simply said, "Thanks for 'fessing up." K.G.
19.Best Medical Booth: THIS ONE
19/26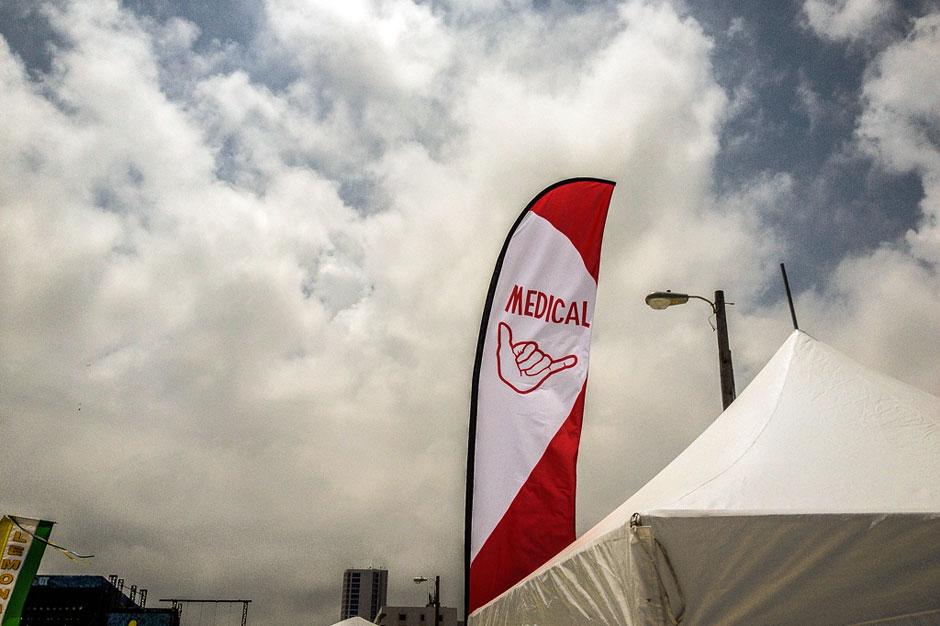 No, it's not a medical marijuana booth. It's the official Hangout Fest medical tent! We're hoping the "hang loose" symbol doesn't apply to broken limbs.
20.Best Head-Scratcher: THE DIRTY PROJECTORS
20/26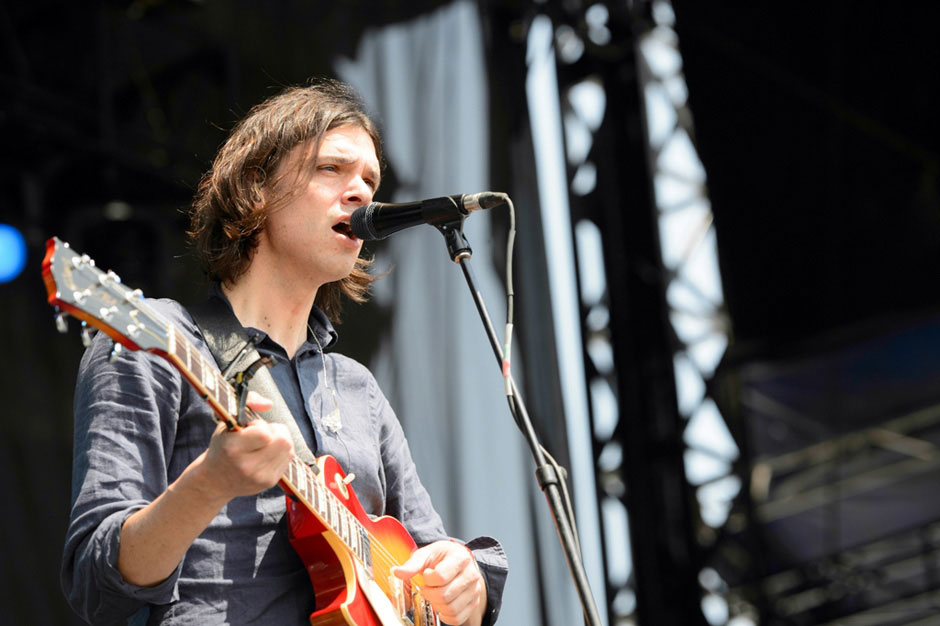 Although the Dirty Projectors generally kept their banter to a minimum on Saturday, they broke form after singing the electronic-drum-heavy "Offspring Are Blank." "You guys got your suntan lotion on?" singer-guitarist Amber Coffman asked the crowd, getting a minimal reply. "That's good." Then her fellow singer-guitarist David Longstreth offered up a couple of head-scratchers. "I think you can get a pretty good SPF out here." Followed by: "I feel like the sand is just going to be a lobster by the end of the day." As obtuse as their banter was, their performance was on point. Highlights included the trio of Coffman, Haley Dekle, and Olga Bell singing intricate harmonies that recalled the Andrews Sisters-like harmonies of the '40s on "Beautiful Mother" and some carefully textured guitar work from Longstreth on "Stillness Is Move." When they were done, they retreated backstage where we hope they were serving lobster. K.G.
21.Best One-Man Garden Party: THIS DUDE
21/26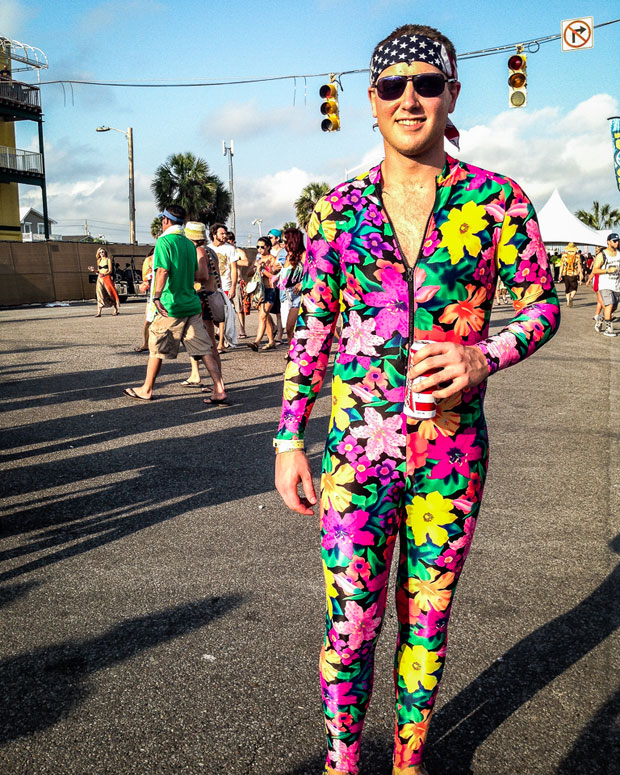 Pro tip: For bright colors and healthy chest hairs, water your poinsettias with Budwiser.
22.Best Flavor Flav: PUBLIC ENEMY
22/26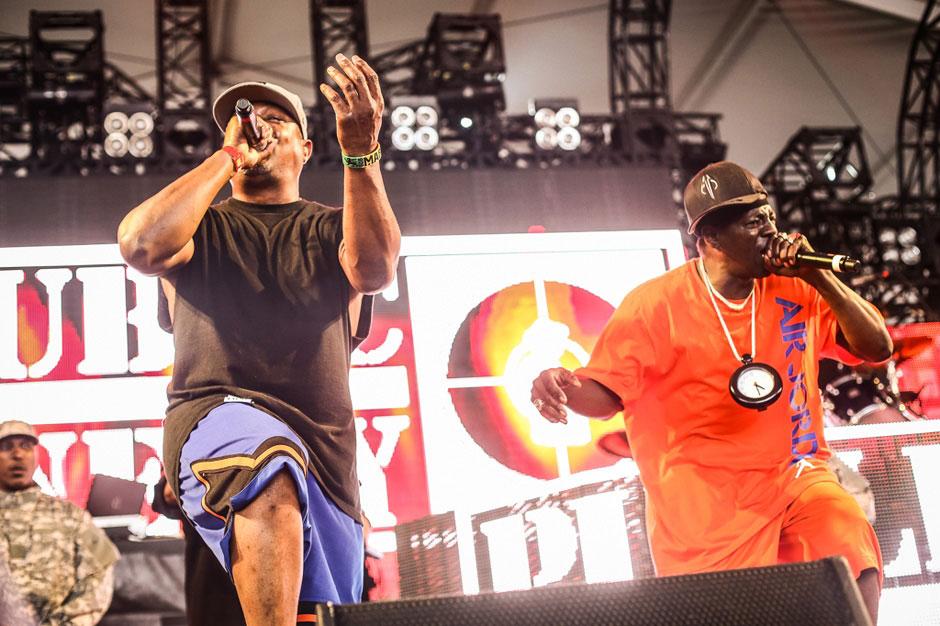 The best live show in hip-hop was in full swing — even if the S1W's had to wear their full camo gear in the Alabama sun. And it's still hard to compete with Chuck D, who ran circles around guitarist Khari Whynn, and fake-scratched his "here we go again" line from "Bring the Noise" adding "That's no hologram." But it seemed like Flavor Flav was on a mission to steal this show. Flavor, in bright orange shorts and shirt, dove in from stage left, and repeated his gleeful boast from this month's Beale Street Music Fest: "Last time that y'all saw me, I had a big white clock around my neck. And I said I ain't gonna take that clock off until I got in the Rock and Roll Hall of Fame." He angled to stand on speakers, popped and slapped on Davy D's bass, jumped in the photo pit, gave an "I fucking love you, man" to Sway, and got flip-flops hopping in the sand for "911 is a Joke." C.W.
23.Best Beach Vibes: BEST COAST
23/26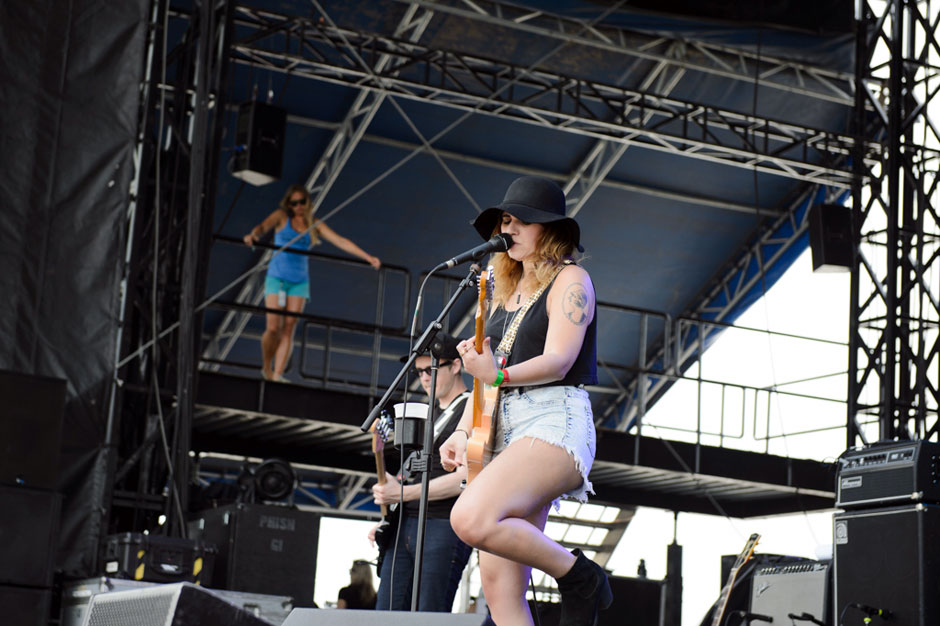 A small but fervent contingent showed up early Sunday, where Best Coast opened the Chevrolet Stage at 1:30p.m., ringing in the afternoon with a feel-good, easily digested set. The band, led by the unflappable Bethany Cosentino, planned the appearance as a tactical strike, landing the night before and heading back to their native California almost immediately afterwards. Despite the relative rush, though, Cosentino still kept things chill, languidly strumming through upbeat ditties like "When I'm With You" and ballads like "How They Want Me To Be." She kept things informal, joking with a crowd that seemed intent on making her feel loved, fielding a marriage proposal (she accepted!) and an unending rain of other compliments. Cosentino's sunny disposition and sunny sound was a sweet, gentle easing into the weekend's final day. A.C.
24.Most Reassuring Sign: THIS IS A VELOCIRAPTOR-FREE WORKPLACE
24/26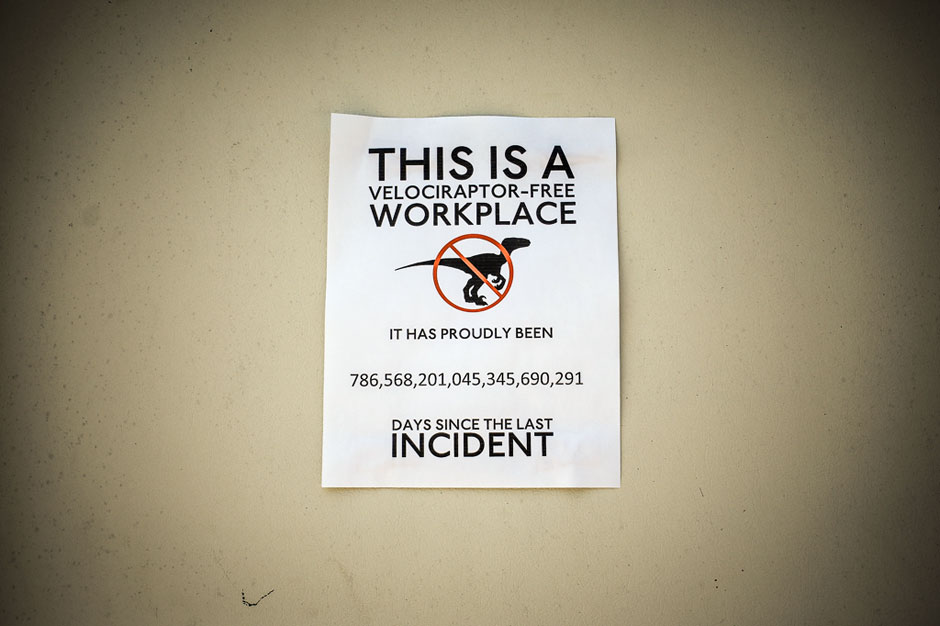 Do you see any dinosaurs dutifully preying on Grizzly Bear around here? No? Good. Because for the last 786,568,201,045,345,690,291 days (strictly scientifically speaking, a whole crapload of years), the production trailer behind the Chevrolet Stage has not seen one either.
25.Best Setlist Secret: THE BEATLES
25/26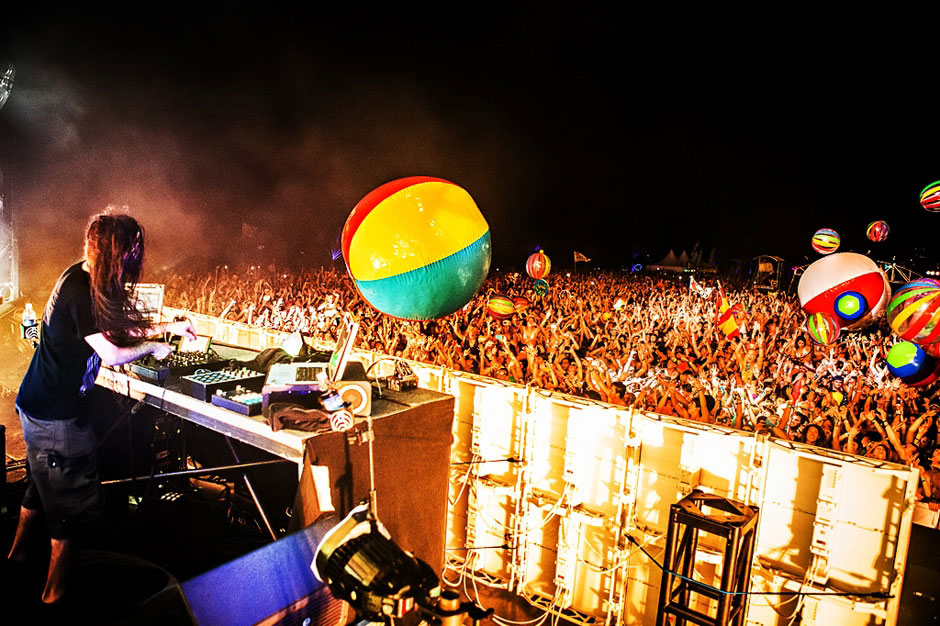 These guys put out their first record 50 years ago, but at Hangout Fest 2013, they were still hotter than Daft Punk. The Breeders did a bruising cover of "Happiness is a Warm Gun," Galactic jammed out "I Am the Walrus," and Stevie Wonder had a funky take on "Daytripper." Even the future-minded Bassnectar wound down with a version of "Lucy in the Sky With Diamonds."
26.Best Capturing of the Moment: BRASSFT PUNK
26/26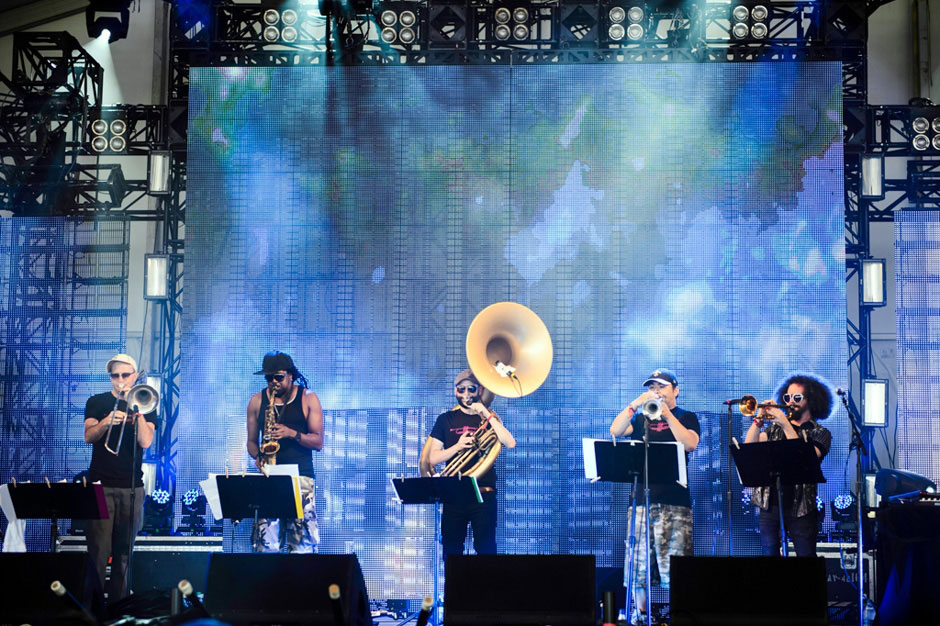 The album's not out until Tuesday, but Brassft Punk — a tribute to Daft Punk played on NOLA brass — already had an arrangement for hot single "Get Lucky" worked out. Two trumpets coolly honked Pharrell's melody, while the disco beats were replaced by percolating second line rhythms — and just to give it a little robo-gloss, one of the horn players broke out the EWI (a synth you blow into like a clarinet), for a futuristic conclusion. The hits kept coming —"Harder, Better Faster Stronger," "One More Time" with a careening trumpet solo, "Da Funk" — until they closed with "Around the World," where folks dressed as characters from the Michel Gondry video (skeleton, space cadet, mummy, swimmer) tossed beads and other doo-dads. C.W.