SPIN Rating:
Release Date:
May 07, 2013
Label:
4AD
Rock'n'roll still ain't noise pollution, but just about everything else is. For each advance in our ease of communication, there's a new source of deafening distraction. Yeah Yeah Yeahs, who gave Deerhunter an early lift, have finally gotten so fed up with attention-deficit digital devices that they've posted a sign banning smartphone use at their shows. Other groups are following suit. This is what passes for a polarizing issue in 2013 indie-rock culture.
If nothing else, let's agree that this Atlanta-based indie-rock institution excels at all sorts of noise pollution. Deerhunter's musings on death and lovesickness peer out through a cloak of fuzz, haze, squall, drone, and clang. Their discography, too, has a volatile signal-to-noise ratio: five proper albums now, plus assorted EPs, side projects, and more music shared for free online than the Strokes have produced over their entire career. And with frontman Bradford Cox's alternating-albums solo sideline Atlas Sound, along with his cranked-to-11 public presence, whether as an oft-theatrical live performer or always-quotable interview subject, the band's songs can struggle to be heard over the din.
That should've changed with 2010's Halcyon Digest, Deerhunter's clearest sonic statement to date, thanks to ace producer Ben Allen (Gnarls Barkley, Animal Collective). Sparkling, summery, and pristine, it perfectly evoked the glow of an outdoor festival; live, too, the band sharpened up, practiced and professional, though still stretching out into dizzying suites of subtly shifting repetition. Cox likened his mania for music, an obsession he has long credited with helping him steer clear of the traps that doomed some of his friends, to biblical salvation on the ornately arranged jangler "Revival." The boy whose first CD purchase was the Breeders' Last Splash, and whose musical passions (girl groups, the Beatles, Pauline Oliveros, krautrock, Brian Eno, the Fall, the B-52's, R.E.M., Pavement) tell the story of "alternative" music, finally seemed ready to join that pantheon.
Which, of course, can make fans nervous. When Monomania leaked in early April, one Twitter user pined for a return to more "fun, breezy songs like 'Helicopter'" — a Halcyon Digest track implicitly sung from the point of view of a suicidal gay Russian prostitute. This is also their most accessible record yet, but no one does "accessible" quite like Bradford Cox. An impishly brilliant 12-song set of scruffy garage rock with moments of dreamy shimmer, Monomania leaves no confusion about what sort of band Deerhunter are: one that won't stoop to conquer. Even in the most crowded of genres — rough-shod, indie-leaning rock'n'roll — their unique mix of sensibilities guarantees the results will be both stylized and off-kilter. If their previous albums built art out of a reverent faith in the underground-rock canon, this time, they need only believe in themselves. They won't convert everyone, but the converted should be of the fanatical sort.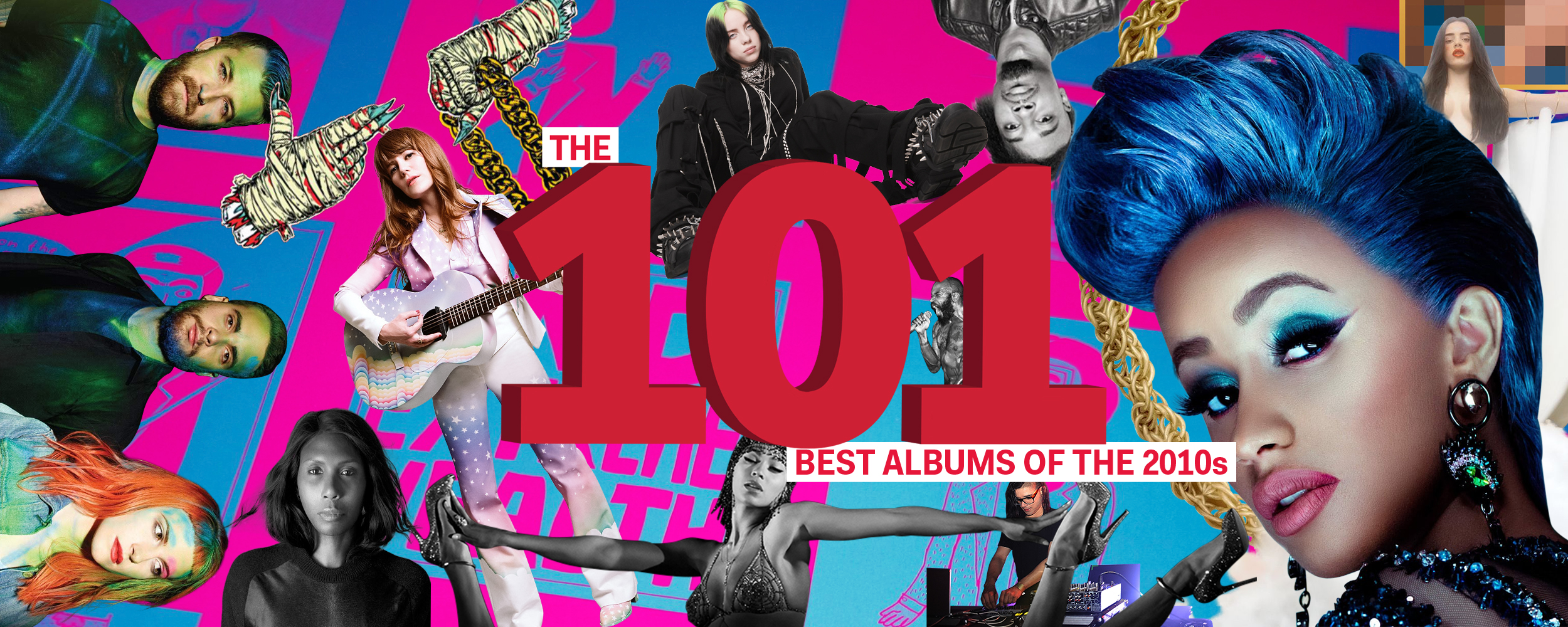 As with Kurt Vile's recent, quietly dazzling Wakin on a Pretty Daze, Monomania has an apparent ease that disguises seriously diligent work. With a couple of lineup changes (Josh McKay replacing longtime bassist Josh Fauver, joined by new second guitarist Frankie Broyles), the band now has a loose swagger, the kind that only results from tight cohesion. Deerhunter reunited with producer Nicolas Vernhes (who helmed 2007 breakout Cryptograms), but with a new approach: "We strung together a bunch of eight-tracks so they were like microphones, and then made each one like their own character in a play," Cox told BOMB. The results are filthily distorted but rich with sumptuous detail, a sound fellow Atlanta garage-rock provocateurs the Black Lips have described as "transcend-fi."
That mythical clash of lo-fi and hi-fi tells you everything you need to know about Monomania. Trash is treasure, argues jagged opener "Neon Junkyard" ("Finding the fluorescence in the junk / By night illuminates the day"). And treasure is trash, demonstrates the still-more-jagged "Leather Jacket II," which follows with a bit of strutting glam, echoing the warped dissonance of Blur's 13 oddity "Swamp Song," except instead of cryptic ruminations on heroin, we get cryptic ruminations on cultish fame ("That was my problem, everybody / I was a gold mine"). The confrontational one-two punch is then undercut by "The Missing," a low-key indie-pop strummer sung by guitarist Lockett Pundt, who voiced Halcyon Digest's catchiest songs, put out a fine solo album last year as Lotus Plaza, and gives this record an early, refreshing breather.
Throughout Monomania, off-putting noise and cracked mainstream appeal dovetail beautifully. On the steel guitar-drenched "Pensacola," Cox whoops and hollers through this atypical Southern band's atypical version of Southern bar rock; for the stomping, organ-bedecked "Dream Captain," he echoes a line from Queen's "Bohemian Rhapsody," howling, "I'm a poor boy from a poor family" between cocksure riffs. Last year, Animal Collective, Grizzly Bear, Dirty Projectors, and other indie rockers of Deerhunter's vintage all released albums that sidestepped their earlier popularity, but Cox has opted to toy with the idea of broader success. Once again, the simplicity of the album is deceptive, more concerned with mending a broken heart than contemplating dusty records. "Back to the Middle," the Cox-fronted song most reminiscent of Halcyon Digest's anthemic tracks, waxes bittersweet about lost love and a man who "used me" in a way that was "so brutal"; even "Pensacola" includes the deadpan admission, "The woman that I love had took another man."
Bare-bones acoustic ballad "Nitebike" — which comes closest to the ethereal intimacy of his last release, Atlas Sound's 2011 Parallax — first surfaced during Atlas Sound shows; at a New York City gig, Cox said it was "written for somebody that shoulda been here, but's not." Here, it begins with our one-year-old "queer" protagonist being subjected to some type of procedure and left "no longer in good health" with "scars you relate to" but that "are only burdens to me." Cox, who once called himself a "gay virgin," sings these words in a voice so lofty and grandiose, the pain is hidden in plain sight.
Whether or not you can actually relate to that, the most deeply buried secrets buried here are also the most tantalizing. The easygoing "Sleepwalking" looks back without malice on a lost decade, addressing people who've "grown apart" and conjuring more images of a body threatening to "shut down": When Cox murmurs about wanting to find harmonies for "all the people that were just like me, yeah," it's unclear whether he ever expects to find those people. On "T.H.M.," one of many instances where a wordless vocal utterance turns into a gorgeous pop hook, he relates a tale of insanity, sexual ambiguity, and murder, suicide, or both. "Bohemian Rhapsody" might be a fitting reference point after all.
What Monomania acutely reveals — what's maybe most "avant garde" about it, to use Cox's almost old-fashioned phrase — is the folly of appreciating Deerhunter's noisy rock while complaining about their noisy public image. It's deeply patronizing to celebrate an earlier crowd-pleaser like Microcastle's "Nothing Ever Happened," yet lambaste the band for the flamboyance, the prolificacy, the documentary film, the hour-long "My Sharona" cover, the "poop journal," the online homage to novelist Dennis Cooper's blog images of nude young men, or Cox's frequent media provocations, like the time he told Dusted that indie culture was nothing more than "a bunch of attractive straight people patting themselves on the back about how 'open-minded' they are." Become monomaniacal about Deerhunter, and you find the fluorescence in the junk, the harmony in the bad taste. And unlike Morrissey, another recent Cox target, his band has never disappointed on wax.
When Frank Ocean went on Late Night With Jimmy Fallon last year and sang about loving a man, we praised his bravery and candor; when Cox recently went on the same show and snarled about wanting a boy who wouldn't leave his lady, writers like me let ourselves be distracted by his wig, his bandaged fingers, his long stroll to the elevator. That song, Monomania's title track, ends with Deerhunter's most deeply barbed hook, one word repeated over and over again through a scratchy cacophony: "Mono, monomania / Mono, monomania / Mono, monomania / Mono, monomania / Mono, monomania." The signal is the noise, and the noise is the signal, and I am he as you are me and we are all together, whatever, nevermind, yeah yeah yeah, amen. Semper transcend-fi.