Ben Gibbard is reliving 2003 one album at a time. First, the Postal Service united for Coachella (and an ongoing tour), playing songs from their only full-length, 2003's Give Up. And now Death Cab for Cutie will be playing all of their widely beloved 2003 LP Transatlanticism at the 2013 installment of Seattle's Bumbershoot festival.
The three-day fête will begin Saturday, August 31 at Seattle Center park and wraps on Monday, September 2. Other headliners include Kendrick Lamar (don't expect Hub City Threat though), recent SPIN cover stars Tegan & Sara, fun., MGMT, Bassnectar and, um, Heart, who were recently inducted into the Rock and Roll Hall of Fame.
Among the other legacy acts slated to play are Gary Numan, the Breeders, the Zombies, Eric Burdon, Redd Kross, Superchunk, and Bob Mould. Additional highlights include Joey Bada$$, Icona Pop, Matt & Kim, Tamaryn, Alt-J, Deerhunter, and Baroness, who recently announced the addition of Trans Am drummer Sebastian Thompson.
Poster and full lineup below, via Stereogum.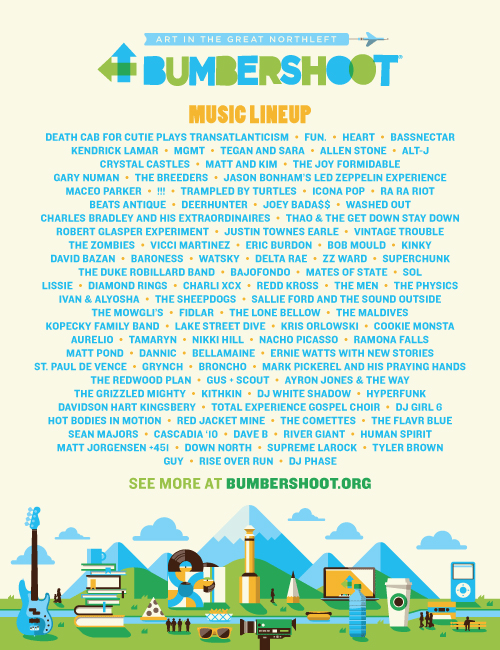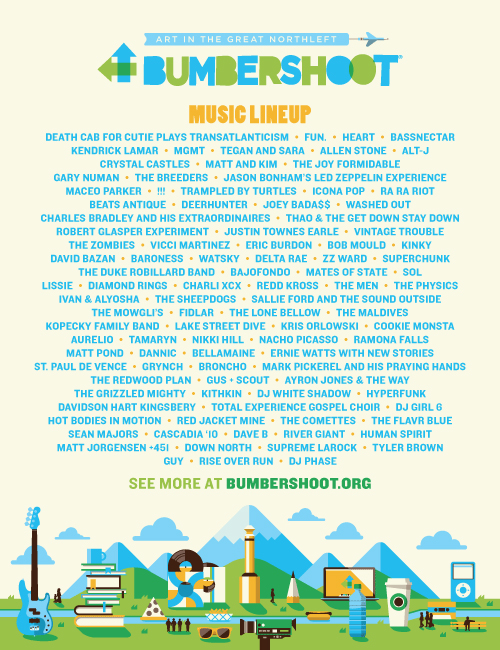 Saturday, August 31
Heart
Kendrick Lamar
Crystal Castles
Gary Numan
Jason Bonham's Led Zeppelin Experience
Maceo Parker
!!!
Icona Pop
Joey Bada$$
Washed Out
Charles Bradley and His Extraordinaires
Thao + the Get Down Stay Down
Robert Glasper Experiment
Watsky
ZZ Ward
Diamond Rings
The Physics
Sallie Ford and the Sound Outside
Lake Street Drive
Kris Orlowski
Cookie Monsta
Nacho Picasso
Dannic
Ernie Watts with New Stories
Grynch
Gus + Scout
Hyperfunk
Davidson Hart Kingsbery
Total Experience Gospel Choir
The Flavr Blue
Sean Majors
Dave B
Human Spirit
Matt Jorgensen +451
Down North
Tyler Brown
Sunday, September 1
Death Cab for Cutie plays Transatlanticism
fun.
Tegan and Sara
Matt and Kim
The Breeders
Ra Ra Riot
Beats Antique
Vintage Trouble
The Zombies
Vicci Martinez
Eric Burdon
Bob Mould
David Bazan
The Duke Robillard Band
Mates of State
Sol
Charli XCX
FIDLAR
Tamaryn
Nikki Hill
Ramona Falls
Matt Pond
BRONCHO
The Redwood Plan
Ayron Jones & the Way
The Grizzled Mighty
Kithkin
DJ White Shadow
DJ Girl 6
The Comettes
River Giant
Supreme LaRock
GUY
Rise Over Run
DJ Phase
Monday, September 2
BASSNECTAR
MGMT
Allen Stone
alt-J
The Joy Formidable
Trampled by Turtles
Deerhunter
Justin Townes Earle
Kinky
Baroness
Delta Rae
Superchunk
Bajofondo
Lissie
Redd Kross
The Men
Ivan & Alyosha
The Sheepdogs
The Mowgli's
The Lone Bellow
The Maldives
Kopecky Family Band
Aurelio
BellaMaine
St. Paul de Vence
Mark Pickerel and His Praying Hands
Hot Bodies in Motion
Red Jacket Mine
Cascadia '10