The 20 Coolest Tributes to the Rock and Roll Hall of Fame Class of 2013
Call us cynics, but in our world, there are cooler honors than having John Mayer guitar-face one of your songs in front of a bunch of industry vets in suits. While, yes, we will be watching as (we assume) Jerry Cantrell chugs out his best "Barracuda" and Dave Grohl totally doesn't slam out "Tom Sawyer" at the Rock and Roll Hall of Fame induction ceremony tonight in L.A. (which airs on HBO May 18), we just want to point out that the best tributes to this year's inductees — Public Enemy, Heart, Donna Summer, Rush, Albert King, and Randy Newman — have probably already happened. No shots, Paul Shaffer.
1.The 20 Coolest Tributes to the Rock and Roll Hall of Fame Class of 2013
1/21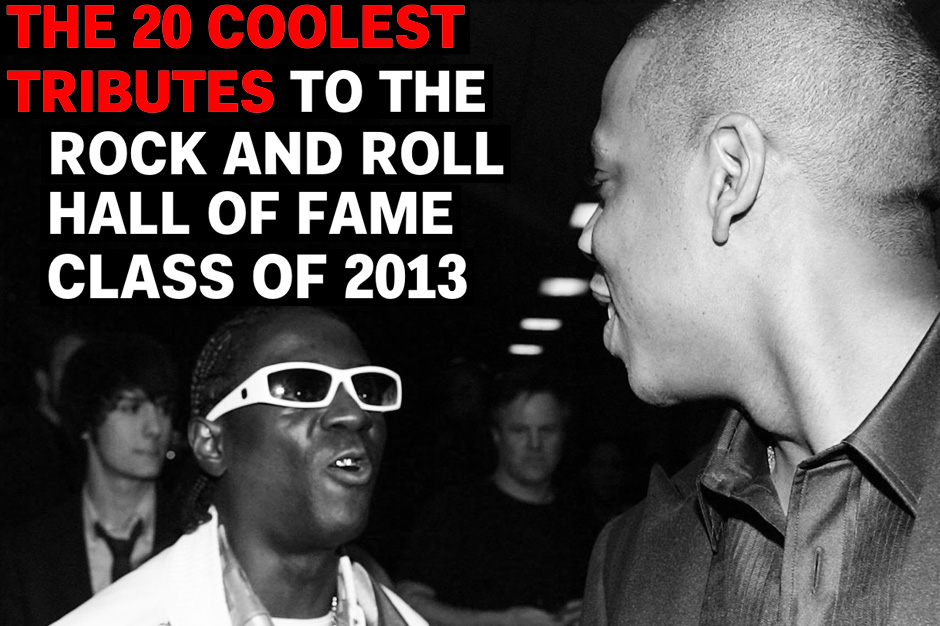 2.Francoise Hardy - "I Think It's Gonna Rain Today" (originally by Randy Newman)
2/21
While Randy Newman's 1968 self-titled debut foundered (later going out of print), that record's most straightforwardly compelling song, "I Think It's Going to Rain Today," emerged as a timeless, female-voiced anthem of despair and hope. It was covered in 1966 by Judy Collins (on her album In My Life), in '68 by a mesmerizing Dusty Springfield, in '69 by Nina Simone, who made the cosmos weep with her emotionally roiling version — not to mention by a cavalcade of names ignominious, legendary, and banal (Claudine Longet, Helen Reddy, Melanie, Bette Midler, Peggy Lee, Maxine Weldon, Cass Elliott, Barbra Streisand, Norah Jones, et al.).
But there's something delicately, unforgettably poignant about this version by French chanteuse Francoise Hardy from her mixed-bag 1972 album If You Listen. That record had mythical origins in a meeting, arranged by producer/label impresario Joe Boyd, at Hardy's Paris apartment with iconic folk singer Nick Drake. She tried to speak with (the mutely shy) Drake about writing some songs for her that she'd potentially record with him in a London studio, but the collaboration never materialized (though it was reported that Drake did show up later at the Los Angeles studio where Hardy was working on If You Listen). Instead, she substituted Newman's composition plus a variety of others, included a couple of tunes written by a young upstart named Mick Jones, the future guitarist of Foreigner, and father of natty retro-soul-bro Mark Ronson. CHARLES AARON
3.The Bad Plus - "Tom Sawyer" (originally by Rush)
3/21
Transforming heavy, familiar rock tunes into cerebral avant-jazz puzzles isn't all these upper-Midwest boys excel at — but it's certainly helped them build an audience beyond jazz fans. For their 2007 Prog LP, they grounded the Rush radio staple in heavy piano bass, all the better to explore some surprisingly lyrical moments. Sometimes Reid Anderson's bass takes over the melody, sometimes pianist Ethan Iverson darts between tuneful bits and atonal clusters, sometimes drummer Dave King thunders with arena-ready lack of restraint. And it ends with a gong crash that Neil Peart should've thought of first. KEITH HARRIS
4.The Flamin' Groovies - "Have You Seen My Baby" (originally by Randy Newman)
4/21
Propulsive yet straightjacketed, Randy Newman's 1970 "Have You Seen My Baby" is a masterpiece of neurotic restraint sung by a hopeless cuckold whose baby dances with gypsies, screws the milkman, and talks to strangers "'cause I'm a stranger too." One year later, San Francisco rock'n'roll revivalists the Flamin' Groovies romped through their version with a sharply self-conscious imitation of '50s go-cat-go spontaneity, as giddy as if they'd rediscovered a classic that Fats Domino himself forgot he'd ever recorded. When Newman sings "hold on" he's desperately trying to keep himself together. The Groovies are warning listeners they're in for a hell of a ride. K.H.
5.Ultimate Force - "I'm Not Playin'" (originally Albert King's "Cold Feet")
5/21
Albert King's iconic, hard-rockin' 1967 hit "Born Under a Bad Sign" was the moment when cover versions by Eric Clapton, Paul Butterfield, and Jimi Hendrix inducted the piercing bluesman into the Rock and Roll Hall of Fame 45 years early. But King's hard-funkin' follow-up "Cold Feet" was his first charting hit on pop radio, and a perfect precursor to the sound of mid-'80s hip-hop: a knocking breakbeat, a trebly Walkman-ready guitar riff, and a cool rap about cold chillin' in the studio and gunning for Sam and Dave's No. 1 spot. No one made better use of the original's template than a young producer who went by the name Diamond D, later of the Diggin' in the Crates crew, in 1988. While his Ultimate Force bandmate Master Rob bragged that he's got more hair on his chest than Chuck Norris, Diamond chopped, layered, and refashioned multiple parts of the King track — prickly guitar stabs, twisty riffs, and "heys" — foreshadowing beat-digger '90s boom-bap. After the album never dropped, "I'm Not Playin'" stands as one of the great lost singles of hip-hop's golden era. CHRISTOPHER R. WEINGARTEN
6.Contemporary Hip-Hop Loves Heart Ballads
6/21
Post-"Lose Yourself" rap loves its histrionics, so it shouldn't be a huge surprise that hip-hop producers have found plenty of hooks in Heart's gushing arena rock. By chipmunking vocals from Heart songs, producers like the Heatmakerz — who shaped this type of rock-turned-schlock pilfering on Dipset's Diplomatic Immunity album — have strived for a certain type of pained, overflowing emotion…to somewhat mixed results. Eminem, who, as his career progressed, had no qualms about over-the-top samples, based his "Crazy In Love" — an album track off 2004's Encore — on 1976's enduring FM rock-radio staple "Crazy On You." Unable to translate the intensity of Heart's original, Em bookended the pitch-shifted sample with Kim-slandering verses sung in a whiny lullaby. By contrast, producers Stargate looped the opening piano riff from Heart's gothic 1987 No. 1 tear-jerker "Alone" for Nas' "Not Going Back," an album cut off 2006's controversial but forgettable Hip Hop is Dead. With vocals handled by Nas' then-wife Kelis, the single obscured the sample and took a more subdued, treacly approach.
But easily the best example of a rapper using the Wilson sisters' emotional power to full effect was Lil Wayne, whose pre-Carter III leak "Something You Forgot" sliced a sizable portion off the 1985 Heart comeback smash "What About Love?" A stirring song about his mother that ceded its entire chorus to one of Ann Wilson's best vocal performances, "Something You Forgot" has become one of Wayne's most enduring underground tracks, with bootleg videos racking up tens of millions of YouTube views despite no official release or high-quality MP3. JORDAN SARGENT
7.Wu-Tang Clan - "Protect Ya Neck (The Jump Off)" (originally Albert King's "Oh, Pretty Woman")
7/21
With the clip for "Protect Ya Neck (The Jump Off)," the first single off The W, Wu-Tang Clan's third album (released in 2000), the group presented a scene that slid into line with the rest of contemporary rap — women dancing in a club, people happily conversing over drinks — and was light years away from the hoodies-and-stairwells imagery of the original "Protect Ya Neck," Wu-Tang's first single in 1992. But the song wasn't Wu-Tang going going soft, and that's mostly thanks to a guitar lick snipped from Albert King's solo on "Oh, Pretty Woman" — a track from his landmark 1967 album Born Under a Bad Sign — which stabbed with the force of King "sticking pins in your head like a fucking nurse," as Ol' Dirty Bastard rapped on the '92 original. J.S.
8.The Accüsed - "Barracuda" (originally by Heart)
8/21
Washington State trash-core creepos the Accüsed sounded like they were trolling when they covered one of Heart's circa-'77 headbangers in 1988, a year after the Wilson sisters scored a No. 1 with the teased-hair power ballad "Alone." Their rendition is gritty, rigid, and tuneless (just like the best Accüsed songs), and frontman Blaine Cook sounds like he might be passing a gallstone through his throat. But considering the band's version comes from Hymns for the Deranged, an LP that also sported Deep Purple and Black Sabbath covers, they probably just considered Heart a part of the hard-rock canon; much like the Alice in Chains, who covered the song more dutifully in 2007 for VH1 Rock Honors. KORY GROW
9.Sun City Girls - "Fly By Night" (originally by Rush)
9/21
Who says the perennially demented Sun City Girls couldn't let loose and rock like normal folk sometimes? Perhaps tired of constantly detuning their Gibsons and anxiously hollering, the avant-rock desiccators recorded this quasi-reverent cover of Rush's 1975 ode to self-change for their 1986 cassette Midnight Cowboys From Ipanema. The Girls must have felt some sort of power-trio kinship with Rush, because guitarist Richard Bishop recorded a full-blooded blues solo, and whichever Bishop sang lead (Richard or bassist Alan) cracked his voice only once. K.G.
10.St. Etienne - "Conchita Martinez" (originally Rush's "Spirit of Radio")
10/21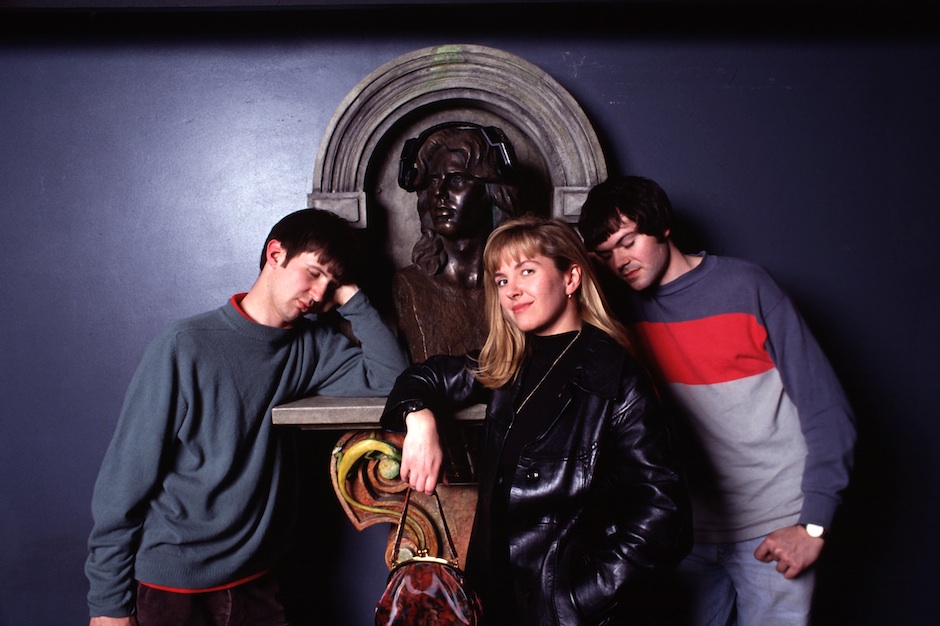 Why recontextualize a piece of music when you can obliterate its context altogether? Back in 1993, these Britons, best known for post-modern trickery and their waaaay-ahead-of-the-curve indie-dance blends, sampled Alex Lifeson's spazzy guitar break, ran some speedy drumming underneath it, and then drifted off into a Morricone reverie. The overall effect is like an AM radio drifting between stations on a cloudy day. K.H.
11.Cassius - "Cassius 1999" (originally Donna Summer's "[If It] Hurts Just a Little")
11/21
Donna Summer's groundbreaking '70s work with Georgio Moroder continues to inspire everyone — from Madonna to Daft Punk. But her iffy 1982 self-titled album with Quincy Jones just makes us appreciate the genius of Michael Jackson that much more. So, it took the ingenuity of two French house maximalists to reduce, reuse, and recycle the trifling "(If It) Hurts Just a Little" on their 1999 debut. Processing and spindling Summer's original vocal, they strip away Q's corny Off the Wall horns to accentuate the rubbery electronic bass, and accelerate the tempo so you don't have time to think about what it all means. K.H.
12.Ice-T - "Personal" (originally Heart's "Magic Man")
12/21
The lyrics of Heart's 1976 single "Magic Man" tell the story of an older man seducing a younger woman, which, a decade later, would be the foundation for many of Ice-T's pimp and mack narratives. So it's no surprise that the tune surfaced as a sample on "Personal," a cut off the Iceman's 1988 near-masterpiece Power, even if it was simply a few seconds of Nancy Wilson hammering away at her guitar strings with a few filigrees here and there. Lyrically, the tune isn't an example of the Pusherman's prime poetry —he brags about his mic skills, criminal history, and the fact he doesn't use drugs — but it's one of his catchiest, thanks to that enchanting riff. K.G.
13.Blondie - "I Feel Love" (originally by Donna Summer)
13/21
"Wanna hear somethin' else?" teases Blondie singer Debbie Harry at the beginning of this 1979 live recording of Donna Summer's '77 classic "I Feel Love" — which is a huge understatement considering how uniquely she and her bandmates fuse the seemingly opposing forces of disco and punk rock. Just a few months earlier, they'd made their first disco-punk declaration, "Heart of Glass," and the aftershocks resulted in this typically resplendent eight-minute jam, which highlights Jimmy Destri's keyboard skills and guitarists Chris Stein and Frank Infante's string-bouncing just as much as it did Harry's elated moans. K.G.
14.Jay-Z - "Show Me What You Got" (originally Public Enemy's "Show 'Em Whatcha Got")
14/21
No one was surprised when Jay-Z "returned" to rap after his three-year "retirement," since he'd never really gone away. After being named the president of Def Jam, he played shows often, and had a number of high-profile guest verses. Hov's comeback single, "Show Me What You Got," lifted the horns that Public Enemy lifted from Lafayette Afro Rock Band on 1988's "Show 'Em Whatcha Got," then added some prime Flavor Flav vocal samples, lending rap's greatest hypeman to a rapper who never needed one. It laid the lush blueprint for a new chapter of his career.
In the Bomb Squad's hands, the Afro Rock Band's horns were suffocating and swarming, giving an ominous bent to Sistah Souljah's voice encouraging black people to derive strength and power from leaders like Marcus Garvey and Malcom X. Eighteen years later, on "Show Me What You Got," Just Blaze sped that timeline forward, creating a luxurious and relaxed beat that glinted with shades of the big band era, suitable accompaniment for a man who soon would become one of the most successful black entrepreneurs in American history. But arguably the beat's true landmark moment was when Lil Wayne snatched it up in the midst of his historic mixtape run to boldly and provocatively announce: "Lil Wayne, Weezy F. Baby, is the best rapper alive." J.S.
15.Tricky - "Black Steel" (originally Public Enemy's "Black Steel in the Hour of Chaos")
15/21
Trip-hop's most diabolically shifty sound architect descended a level below Public Enemy's most vivid narrative, the not-quite-paranoid jailbreak saga "Black Steel in the Hour of Chaos." When Martina Topley-Bird sings, "I'm a black man / And I could never be a veteran," her pleased, drugged drawl is as defiant in its own way as Chuck D's strident bark. But where Chuck sparks a prison riot on the original, Martina sulks and swoon within the bottomless churn and ebb of guitar, impenetrably cool and hopelessly delusional, as a snare pings like a kicked tin can. Then the track rocks out, and it sounds more hopeless than ever. K.H.
16.Big Daddy Kane - "Young, Gifted, and Black" (originally Albert King's "I'll Play the Blues For You")
16/21
"I'll Play the Blues for You," off Albert King's 1972 album of the same name, is a song about comfort. King had abandoned the taut aggression of Booker T. and the M.G.'s in favor of a luxurious Hot Buttered Soul update courtesy of the Bar-Kays. He sings of soothing the loneliness of a companion with nothing more than his voice and his guitar. Big Daddy Kane, circa 1989, on the other hand, didn't do soothing or comforting, so producer Marley Marl nicks the opening horn riff from "I'll Play the Blue" for a song that could act as Kane's mission statement. In its original form, the horns emanate hope — they beckon and welcome. In Kane's hands, they are regal and triumphant, the king parading around his kingdom and raising a gold staff to the peasants: "I still get ill and kill at will and build the skill to fill your grill / So don't tell me you're real." The irony is that Kane might have one day found comfort in the smoother sounds of "I'll Play the Blues": His reputation began to slide just a year later with the decidedly softer sound of Taste of Chocolate. J.S.
17.Danzig - "The Hunter" (originally by Albert King)
17/21
Glenn Danzig's rewrite of Albert King's '67 stud-muffin statement, "The Hunter," errs toward the sentimental side of the metal warrior, but it's still injected with just the right amount of steroids — the perfect mix of macho sleaze and comic-book horror that defined his 1988 debut. Sporting a genuine boogie-woogie beat right after ZZ Top had spun off the charts (and when shuffle-lovers Pantera were still aping Van Halen licks), "The Hunter" displays an uncharacteristically fun side to the overly serious Danzig. His only misstep was the revisionist lyrics (King's love gun is loaded with hugs and kisses; Danzig "don't need no kissing" and is "gonna light you up like Christmas"). Oh yeah, and failing to credit the song's writers, 1992 Rock Hall inductees Booker T. and the M.G.'s. K.G.
18.Raekwon feat. Ghostface Killah & Blue Raspberry - "Rainy Dayz" (originally Donna Summer's "No More Tears (Enough is Enough)")
18/21
"It's raining / It's pouring / My love life is boring / Me to tears," the disco queen mooned on her 1979 Barbara Streisand duet. Here Blue Raspberry, the go-to hook singer on so many classic solo Wu-Tang joints, varies that lament to, "It's raining / He's changing / My man is going insane," adding outside perspective to wall-punchingly stir-crazy rhymes from Ghostface Killah and Raekwon the Chef. "Don't put up with his stuff," Babs and Donna insisted. But this woman is as trapped within the street life as her man. And with RZA drizzling strings over a characteristically claustrophobic beat, a lyric like "no sunlight" is just redundant. K.H.
19.DJ Q-Bert - "Demolition Pumpkin Squeeze Musik" (originally Rush's "Tom Sawyer")
19/21
The crateloads of turntablists tumbling out of the late-'90s loved, loved, loved Rush's "Tom Sawyer" break. Mixmaster Mike would open up "Intergalactic"-era Beasties shows by slicing it to ground beef, Z-Trip scribbled all over it and ended up on the Small Soldiers soundtrack, and DJ Swamp cut it up with Deep Purple's "Smoke on the Water" when he toured with Beck. Maybe they all found common ground with a band that made pop out of chops — or maybe that Minimoog laser-gun noise was just dope as hell. But no one did better work recomposing it than DJ Q-Bert on his self-released 1994 cassette. At 0:48, he made the an assured, reliable, scientifically precise frontman Geddy Lee stutter and stumble; he pitch-shifted and slurped the descending synth groan until it's a malfunctioning robot; he played call-and-response with the majestic da-na-na-naaah part. Mean, mean stride. C.W.
20.Madonna - "Justify My Love" (originally Public Enemy's "Security of the First World")
20/21
When Madonna kickstarted her '90s shock 'n 'awe campaign with the first of many NC-17 moves, she naturally borrowed a beat from Public Enemy, at the time the World's Second Most Dangerous Group. (The most dangerous group, N.W.A, had already borrowed enough of Public Enemy's ideas by that point.) The beat was jacked without credit by producer Lenny Kravitz (who also jacked songwriting credits from poet Ingrid Chavez, who sued), creating a serious brouhaha in the final year when the legality of sampling was still cloudy. But Def Jam's Bill Stephney told the Village Voice that P.E. were "staunch defenders of sampling" and their beat propelled this song to the very top of the Hot 100. Drolly, P.E. producers the Bomb Squad responded by having goofball white rappers Young Black Teenagers rap come-ons over the same break between porno noises on a track titled "My Donna." C.W.
21.Anthrax and Public Enemy - "Bring The Noise" (originally by Public Enemy)
21/21
Public Enemy had one of the best starting lineups in rap history: Chuck D sounded like a revolution in progress, Flavor Flav got you to believe the hype, and the Bomb Squad's thatchwork of James Brown, George Clinton, and Malcolm X samples created a funked-up version of Phil Spector's Wall of Sound. So even today, a quarter of a century after they recorded their benchmark 1988 LP It Takes a Nation of Millions to Hold Us Back, it seems ridiculous to suggest that a cover of a P.E. song could even approach the original.
Enter Anthrax, a band of mad New York City headbangers who had the gall to thrash around with hip-hop on their 1987 EP I'm the Man. As legend has it, Chuck had seen guitarist Scott Ian rocking a Public Enemy shirt onstage, so he shouted out Ian's band on P.E.'s 1987 single "Bring the Noise." Then in 1991, P.E. joined forces with Anthrax for a beefy redux, armed with Charlie Benante's Morse-code bass drums, sledgehammer riffs, and some eerie slide-whistle guitar leads. The Anthrax guys added gang vocals ("Turn it up!") while Chuck and Ian traded verses. Although Run D.M.C, Aerosmith, and the Beastie Boys had already set precedents for fusing rap and rock, it's this cover's metal edge that paved the way for groups like Rage Against the Machine and Biohazard. And what about Limp Bizkit, you say? Well, maybe nothing is ever as good as the original. K.G.