George Jones: The Legacy of Country's Greatest Voice in 15 Tracks
Universally acknowledged as country music's greatest singer as well as its most enigmatic n'er-do-well, George Glenn Jones was born in Saratoga, Texas, in 1931, and went on to record and perform for more than six decades. When Jones died this past Friday at the age of 81, he left a throne with no heir. Such was his talent, that few living country vocalists — save, say, Merle Haggard or Dolly Parton — even rate a mention in the same conversation. Let's take a look back at the hits, lesser-known gems, and other songs that owe him gratitude to grasp Jones' unmatched impact.
George Jones, R.I.P.: The Legacy of Country's Greatest Voice in 15 Tracks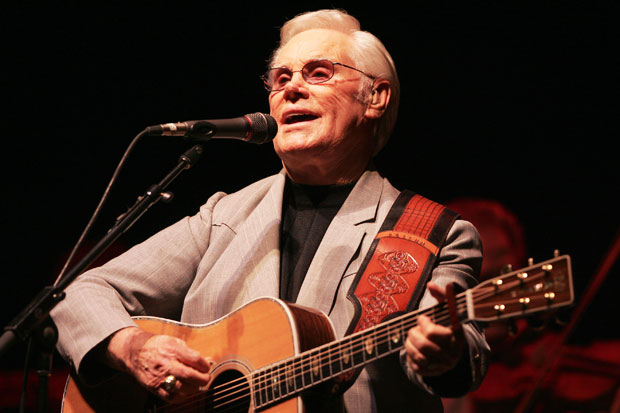 George Jones - "White Lightning" (1959)
On his first No. 1 country hit, Jones recklessly celebrates the eye-buggin' moonshine of his feds-dodging pappy with rubbery hiccups, sloshed lip splutters, and winded whooshes, delivering the title in a comic baritone. The tricky upright bass intro that spurs the galloping rhythm onward sounds even more impressive when you learn that bassist Buddy Killen had already worn his fingertips bloody playing it 82 other times that day, waiting for the liquored-up singer to finally spit out an acceptable take. When Jones' thick tongue stumbles over the word "slug," he's not acting.
George Jones - "She Thinks I Still Care" (1962)
Possum the footloose honky-tonker makes way for Jones the master of barroom heartbreak. Just because he can't stop talking about her or thinking about her or calling her or lurking around the same old places doesn't mean he's hung up on her, but the sadness that undercuts his stoic protests every time he holds onto a vowel a little too long comes to a head on the bridge, where he wrings sheer pathos out of "foolish" and "idea." To think, "She Thinks I Still Care" is as sad as some lives get. Jones was just warming up.
George Jones and Tammy Wynette - "We're Gonna Hold On" (1973)
Jones dumped his first wife for Tammy Wynette in 1969 and "Mr. and Mrs. Country Music" began recording some of the most celebrated husband-and-wife duets in American music. The verses here acknowledge the difficulty of commitment; the chorus voices a grasping desperation that might not be entirely healthy. As the pair flawlessly synchronize their curlicued "o"s every time they sing "hold," it's hard not to lament the sad gap between Jones' art and life, that such a steady duet partner could be such a shitty husband.
George Jones - "The Grand Tour" (1974)
Jones the mordant carnival barker sings, "Step right up / Come on in," and flaunts his historic gift for immersing himself in sadness and heartbreak while simultaneously viewing it from an eerie distance. He guides us through a house that's been left almost exactly as it was the day before his wife left, and each step of the way — from her bed, to her picture, to her rings, to her clothes — you think it can't possibly get more pathetic. Then he directs your attention to the empty nursery. Makes you wonder why anyone getting divorced would ever want to keep the house.
George Jones - "He Stopped Loving Her Today" (1980)
"I'll love you till I die," some loser tells a woman on her way out the door, and that's usually how the song ends. Not this time. We watch that cliché march deliberately and miserably to its logical end: the grave. What could have been cheap melodrama or an even cheaper gag soars to sublime heights as Jones, in the voice of a funeral guest, expresses nothing less than abject awe at the heartbroken corpse's terrifying triumph of devotion — and in the singer's own unsurpassed ability to convey it.
George Jones and Melba Montgomery - "We Must Have Been Out of Our Minds" (1963)
Jones seems to have never turned down a duet opportunity — over the years, he's paired off with everyone form Gene Pitney to Aaron Lewis of Staind. But while the Wynette duets are justifiably celebrated, they shouldn't overshadow the brilliant collaborations preceding them with the even countrier Montgomery. Here a reunited couple fondly reminisces over the decision to split apart, and two huge voices manage to flawlessly harmonize without sacrificing any of their individual idiosyncrasies.
George Jones - "These Days (I Barely Get By)" (1974)
George's car dies, his wife leaves, he loses at the track, it rains — at times, this song might seem one dead dog away from parodying country-music cliché. But the emphasis on the excruciating physical grind of enduring another day, the inexorable trudge of the music, and Jones' calm misery at the eye of the storm elevate it from the generic to the downright existential. And the last line makes the hopelessness universal: "These days one barely gets by." Just in case you were pretending you had it any better.
George Jones - "I've Aged Twenty Years in Five" (1980)
George wakes up in a bar, looks in the men's-room mirror, and doesn't recognize the ancient zombie glaring back at him. The song follows the standard arc of an A.A. talk: carefree younger days, impinging darkness, total loss, moment of clarity, and chin-up final verse, where Jones pledges to "erase 20 years in five." But that lonesome harmonica floating in the background sounds less than reassuring, and like a lot of enthusiastic newcomers to sobriety, Jones would struggle much longer than five years.
George Jones - "The King is Gone (So Are You)" (1989)
A once-again-dumped Jones sits alone at home, pours Jim Beam from an Elvis Presley-shaped bottle into a "Flintstone jellybean jar," and has a little chat with Elvis an Fred, who offer ultimately useless advice about the ladies. Then George uncorks a game "yabba dabba doo" to acknowledge the absurdity of his situation, and regretfully accepts the truth of the song title, without deciding whether he's worse off for having no bourbon or no woman.
George Jones - "Wrong's What I Do Best" (1992)
As Jones aged, failures that once seemed tragic — the relapses, the broken marriages, the cancelled concerts — became viewed as part of an elder statesman's colorful past. If his younger admirers could forgive his flaws, well then, why couldn't Jones forgive himself as well? This statement of purpose lopes along so amiably that even when Jones sings, "I'm just trying to find myself before I get too old," you can't help but think the 60-year-old has a pretty good sense of who he is already.
Moe Bandy - "I Just Started Hatin' Cheatin' Songs Today" (1974)
A sad drunk sits alone in a bar as country classics on the jukebox taunt him with tales of infidelity and his imagination runs wild with painful fantasies about what his woman might be doing, and with whom. Cheatin' songs weren't necessarily Jones' style — he rarely sings specifically about why he's been abandoned, and intemperance not lust was his devil of choice. But that catch in Bandy's voice is pure Possum, transplanted to the ugly realm of fuckin' around to which sad drunks are no stranger.
Elvis Costello - "Stranger in the House" (1976)
Costello's infatuation with country music is common knowledge by now, but back when critics were still mistaking him for a punk, this piano-driven country song was revelatory. The influence isn't just vocal — Costello evidently heard in Jones' music how quickly loneliness can edge over into genuine alienation. And when Elvis re-recorded it as a duet with George himself a few years later, Jones sounded right at home. In a suitably alienated way, of course.
Randy Travis - "1982" (1985)
Nowadays, Travis may be more regularly identified with sunnier pledges of fidelity and moments of wistful humor (or tabloid arrests). But the most soulful of country's neotraditionalists learned from the master that the purest expression of regret comes from letting the bottom suddenly drop out of a vowel. You can hear it in "On the Other Hand" or "Reasons I Cheat" and, most strikingly, on this lament for a different life lived just three short years earlier.
Keith Whitley ~ "I'm No Stranger to the Rain" (1989)
Despite his lifelong struggle with alcoholism, Jones lived to be 81 years old after a nearly six-decade career. That's kind of astounding. Keith Whitley's star was still on the rise when a .477 blood alcohol level cut his life short at 34 in 1989. Though there's often plenty of Merle in the lightness of his upper register, Whitley is most influenced here by Jones, as he adapts a pop melody to a Jones-like song about defiance in the face of adversity.
Alan Jackson - "Wanted" (1990)
Alan Jackson was a huge Jones supporter when the legendary singer's career was on the wane — after the Country Music Awards snubbed Jones in 2000, Jackson interrupted a performance of "Pop-a-Top" during the awards show to sing Jones's current single, "Choices," in protest. Jackson's style often suggests a mortal man's take on Jones' monumental sadness, and never moreso than here: You can hear him lift Jones' trademark intonation wholesale when he sings, "This is how it should read."