David Bowie drafted actress Tilda Swinton for the music video to "The Stars (Are Out Tonight)," the second single off his recently released comeback album, and now the Thin White Duke has tapped another of Hollywood's finest for his next visual short: according to the Daily Mail, Gary Oldman will appear in the video for "The Next Day," the next single (and title track) off Bowie's latest LP.
Bowie and Oldman were reportedly spotted on the set of the shoot in New York earlier this week and, according to sources, the Low mastermind was wearing "long religious robes" that made him look like Obi-Wan Kenobi from Star Wars. Onlookers also noted that the pair of Brits were standing near extras who were dressed as a monk, a bride, and the Pope. Maybe Bowie's trying to outdo Depeche Mode in the creepy, otherworldly religious imagery department?
This upcoming clip won't be the first time Oldman and Bowie collaborated together; the pair sang together on a version of the song "You've Been Around." The track originally appeared on the Duke's 1993 album, Black Tie White Noise, but an alternate rendition featuring the Tinker Tailor Soldier Spy star on backup vocals was recorded for The Sacred Squall of Now, the 1995 full-length from guitarist Reeves Gabrels, who wrote the song with Bowie.
Revisit David Bowie's many iconic looks: Fa Fa Fa Fa Fashion: Images From the 'David Bowie Is' Exhibit at London's V&A Museum.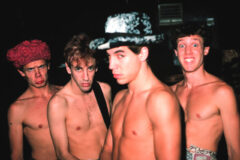 No info yet on when the video officially premieres. But, till then: