This gigantic snail is actually moving in our midst. Beware, Coachella. You may get slimed.
Ghost B.C. took the main stage at the height of the blazing afternoon sun completely covered in black shrouds. Frontman Papa Emeritus II, who wore his traditional cardinal outfit and skull mask, plus a pair of black gloves, wished us a good evening — at 1:30 p.m. — but, as a Nameless Ghoul explained post-show, the group is wickedly jet-lagged, having come to the fest direct from Sweden.
Today's afternoon mosh pit brought to you by Cloud Nothings, fist-pumping ferocity imported to Coachella straight from Cleveland, executed by dudes whose T-shirts are fresh from the laundry pile.
Someone tie weights to the legs of these wispy DIIV boys. They look like they're liable to blow away in this mild breeze. Fitting though, considering their swirling psych-pop is the breeziest.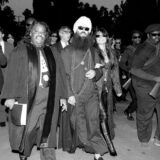 This Coachella "water bar" is poppin' off. People will line up to "taste" anything — even if it patently has no taste. Thanks for that, Sideways. Thanks a lot.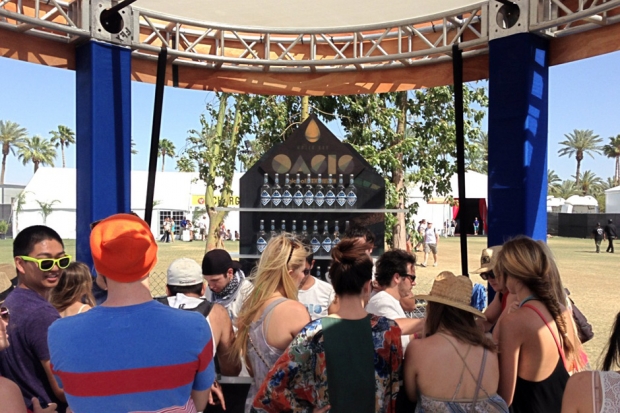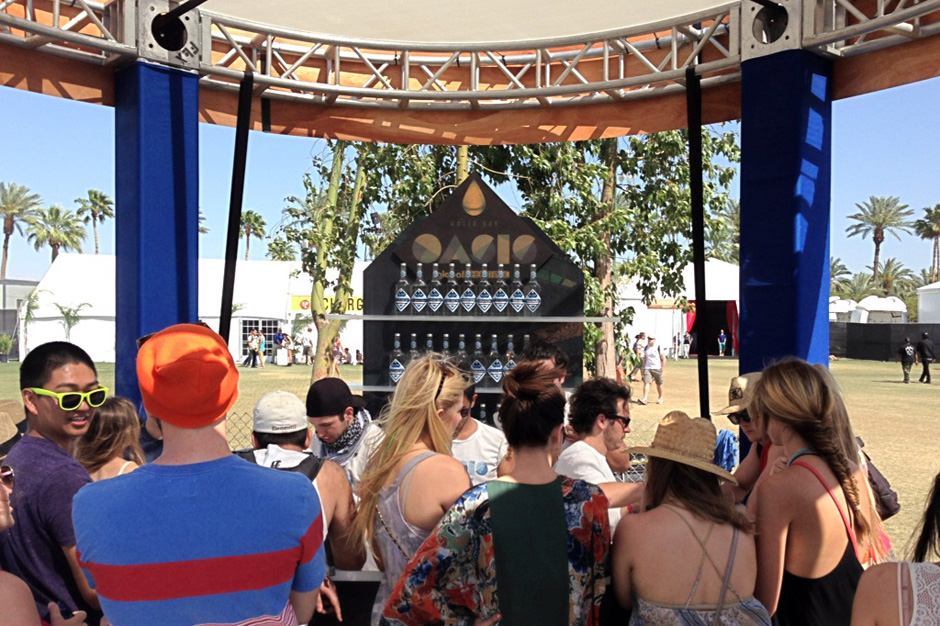 This is the line for Jamie XX at Coachella's new Yuma Dome, the white tent beyond the white awning. Whoa.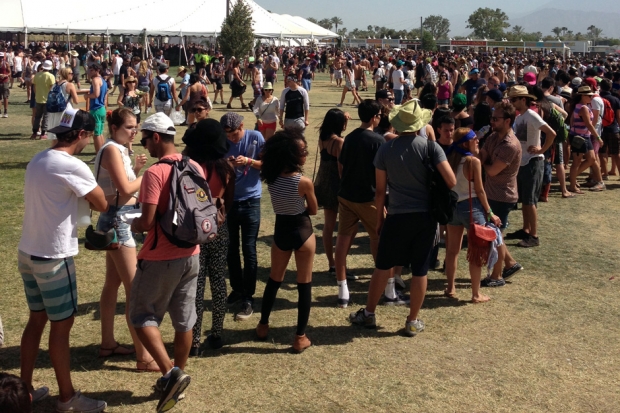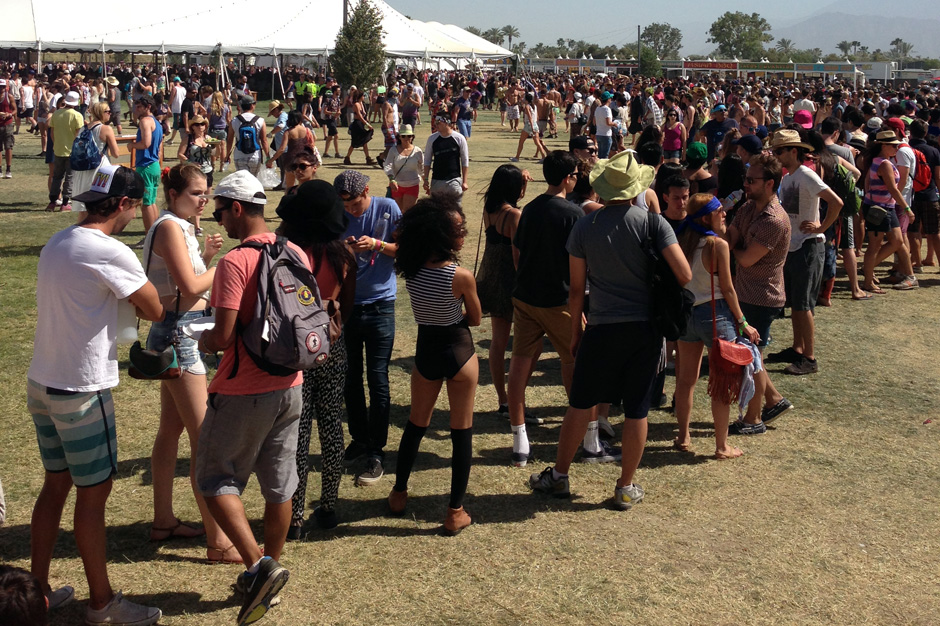 Father John Misty seduced the Gobi Tent with his mesmerizing mix of '70s folk-rock charm, overly dramatic gestures (knee drops, hip swivels), and unique sense of humor ("Just so you know, this thing is called a laptop," he said while gesturing at his acoustic guitar). His band's sartorial choices were a curiosity — his drummer wore a Christmas sweater and his bassist appeared to be wearing one of Liza Minnelli's sequined shirts.
Steampunk aerial acrobatics are also happening here at Coachella, because duh, of course they are.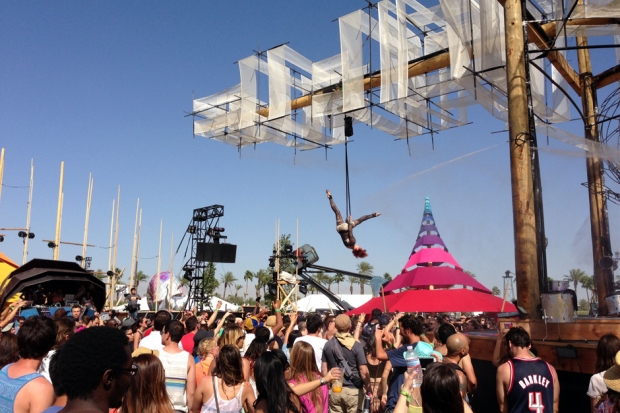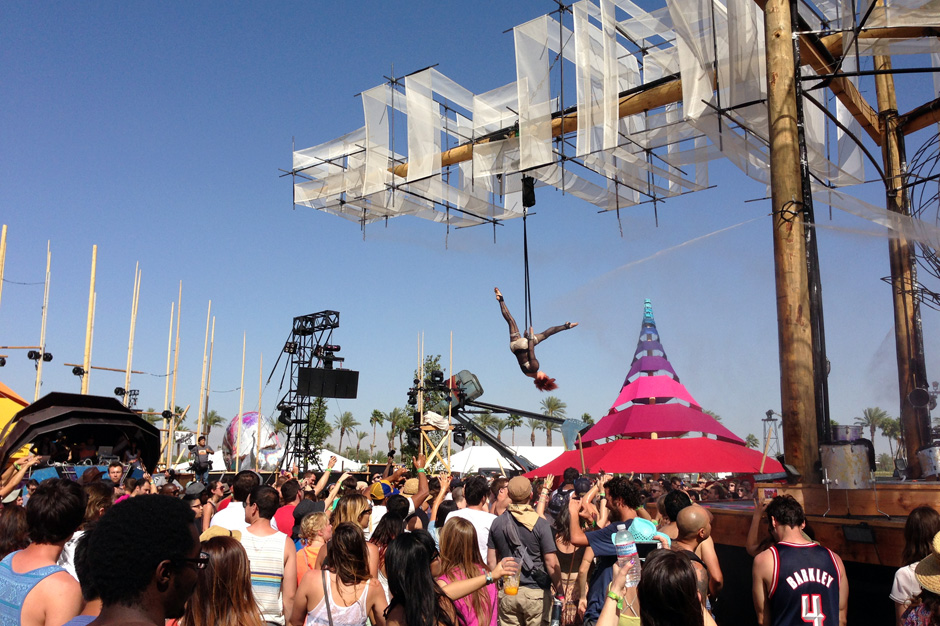 Kurt Vile's attempted Gaslight Anthem joke: "Hey, the Boss sounds good over there, doesn't he?"
Coachella's VIPeople really do love their ironic(?) Guns N' Roses shirts.
How many "yeahs" does a Kurt Vile yeah when a Kurt Vile yeahs on stage? Thirty? A hundred? One "yeah" for every tasty lick? (He has a billion tasty licks, FYI.) Look! Here he is is asking for more "yeah" in his monitor.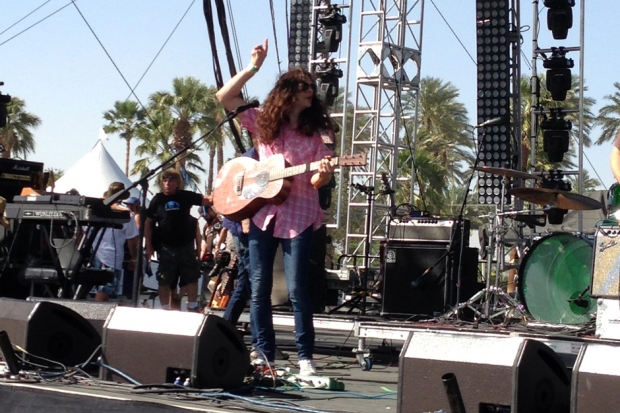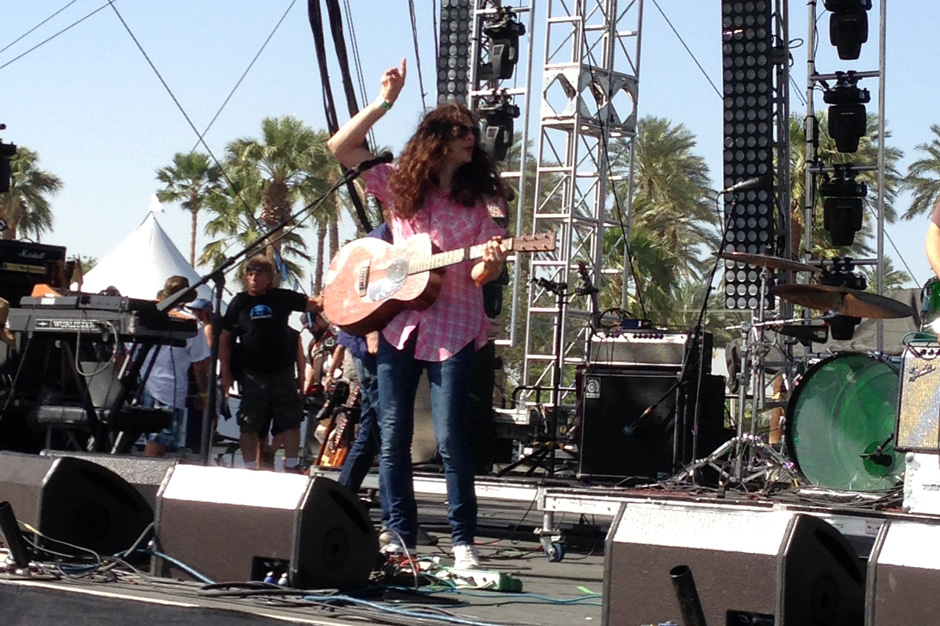 While at Alex Clare, we got an overwhelming urge to browse the Internet. This set brought to you by Microsoft. Moments later, dude is barefoot doing a live band dubstep version of Prince's "When Doves Cry." Shoes are necessary at Coachella. This is not.
The Dinosaur Jr. set at the Outdoor Stage featured two plastic dinosaurs in the crowd and one crowdsurfer dressed head-to-toe in a green fuzzy dinosaur outfit. That's dedication.
Playing to a crowd at least partly tuned into the drop-build-drop of structure of EDM, Grimes did not flirt with Skrillex wubdowns like she has been known to do at fests. She does, though, have "Oblivion," which features a tension release that most artists would kill for.
This is Happening: Emerging sandwich spotted. Roast beef, turkey and bacon. Remember the name "T-Bone." #meatwave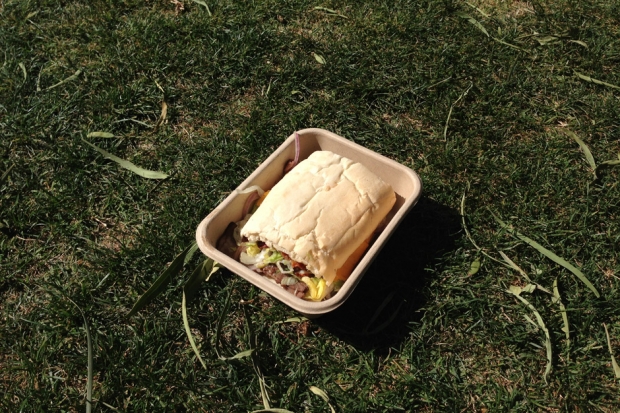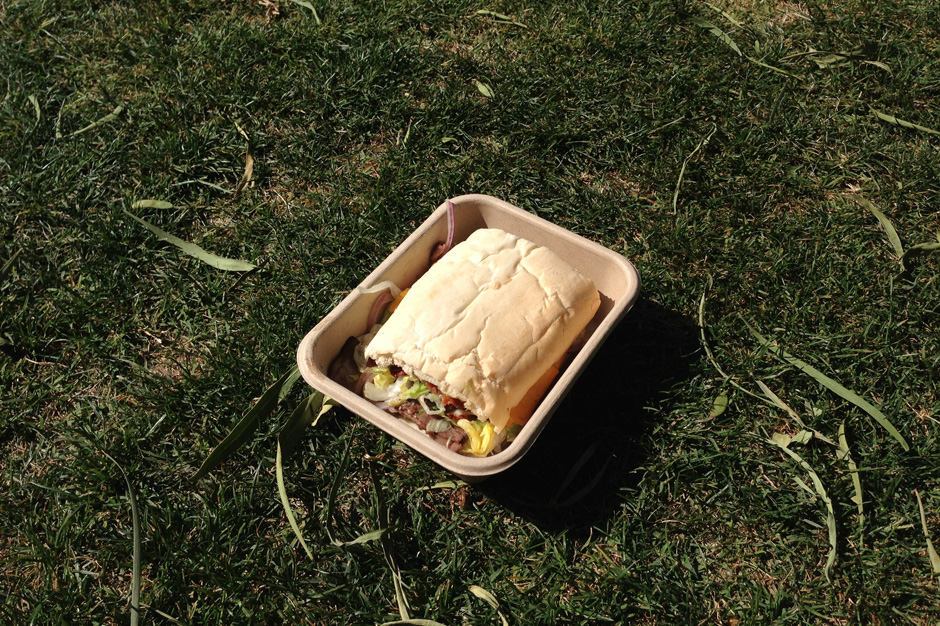 Sunday was owned by the British: Disclosure, Jessie Ware, James Blake, La Roux, and Alex Clare. Their sets ranged from fantastic to "these songs were/could be in a commercial."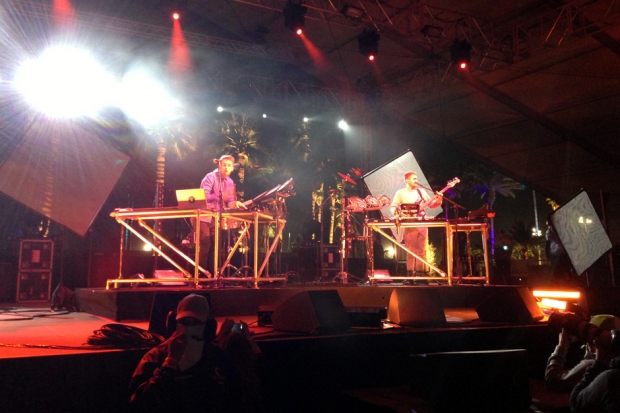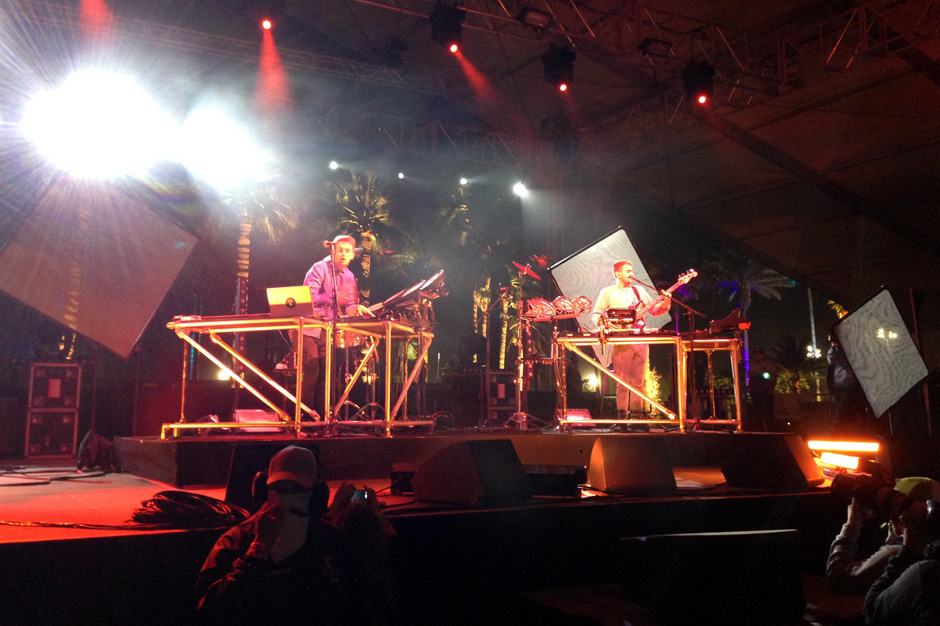 Social Distortion at Coachella feels right. Hometown heroes made good. Story of their life.
Vampire Weekend aren't on the main stage so much as in it, like goldfish in a very large lake. Huddling for warmth, gents? At least all of these summer songs are helping to stave off the cold a bit. Ezra Koenig battles the fog-dust demon below.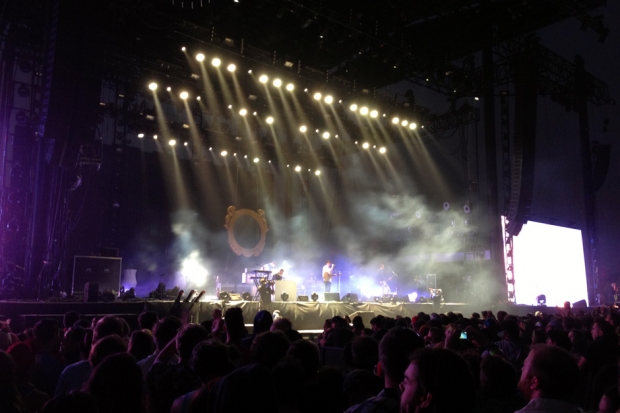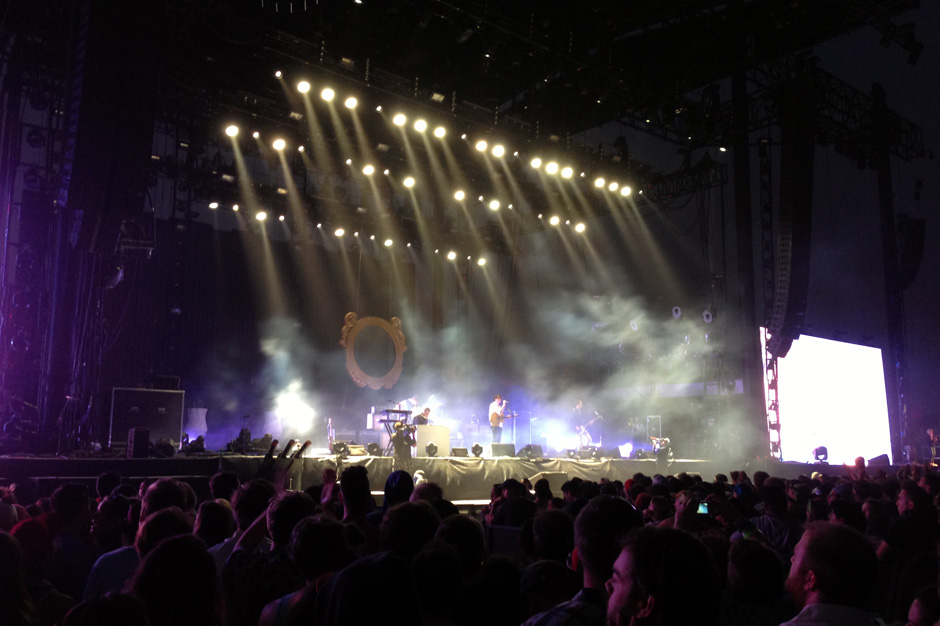 The wind has gotten so bad that the indoor bar in the Sahara-adjacent VIP looks like a refugee center — people sitting on the floor, huddling for warmth and trading war stories. #Coldchella sandstorm tips and tricks: 1. Hug a stranger; 2. Buy two burritos, shove fists inside; 3. Go home; 4. Dig.
Note: Do not enter the Sahara Tent after dark unless you're prepared to be tackled and/or tickled by a frat boy in a Pikachu outfit.
Red Hot Chili Peppers teased a bit of "Beast of Burden," perhaps as a nod to rumored Coachella headliners the Rolling Stones. No Stones emerged, but Flea took the stage shirtless despite the frigid temperatures and insane sandstorm that covered the entire grounds in a thick layer of soot. When he left the stage, Flea implored the audience to "support live music."
Found: One molly powder dispenser. Will leave at official Coachella Lost & Found for pickup at owner's convenience.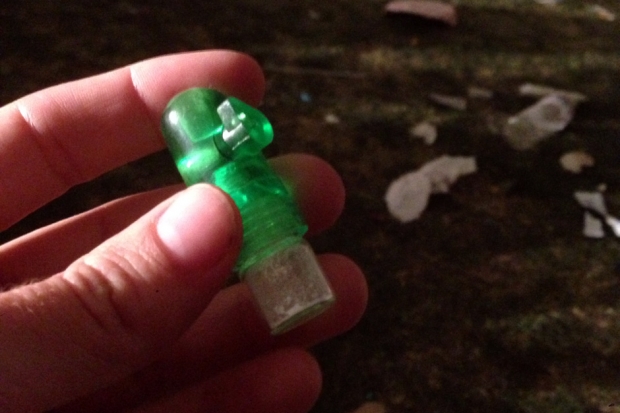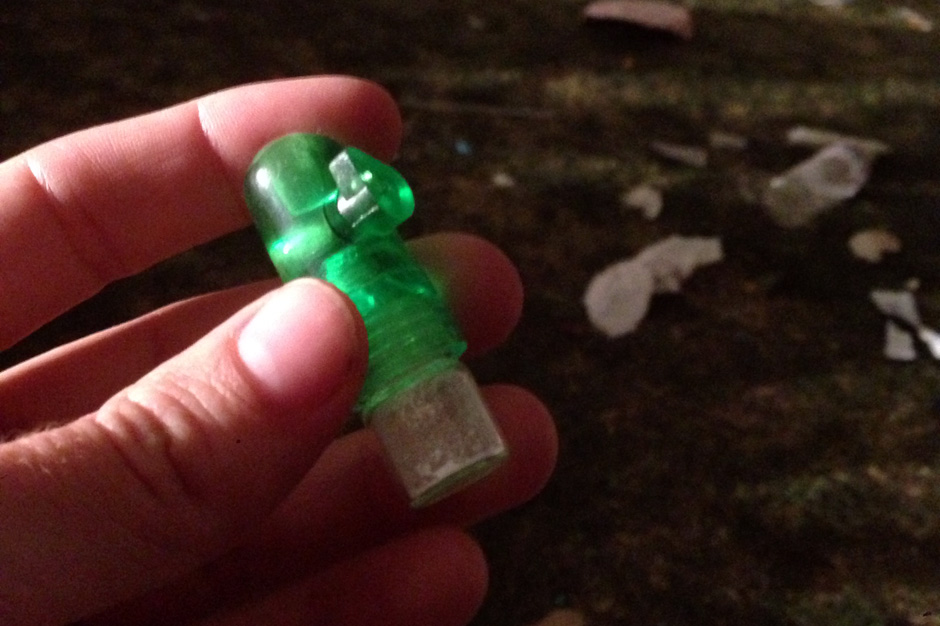 Notes by Chris Martins, Caryn Ganz, and Jordan Sargent