Blunderbust: The 2013 Grammys' Highs and Lows
Taylor Swift brought an insane clown posse. Rihanna brought a jackass. Nobody brought a freaking snare drum. SPIN separates Music's Biggest Night into its wildly entertaining moments and unfortunately painful embarrassments.
1.Blunderbust: The 2013 Grammys' Highs and Lows
1/21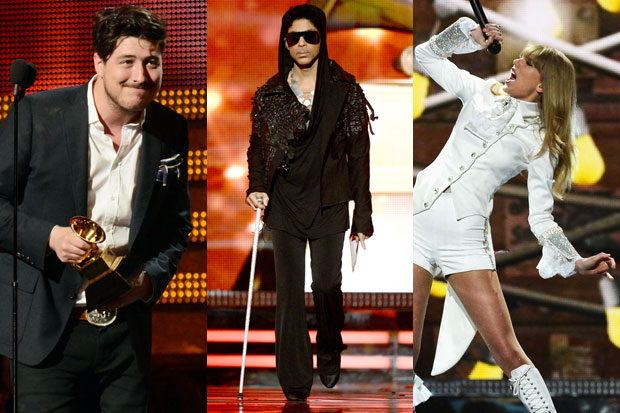 2.High: Jack White Kicks Your Teeth In
2/21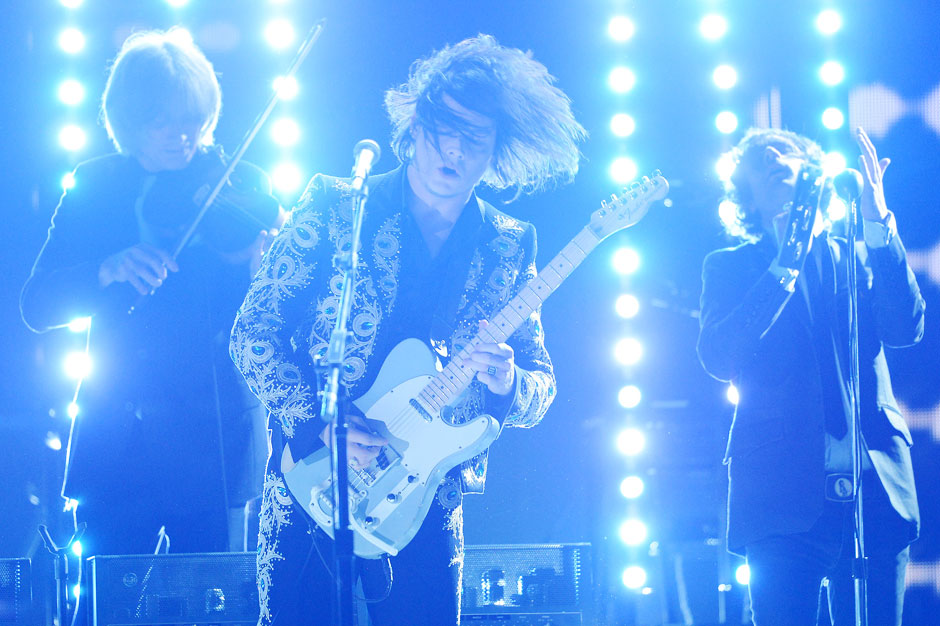 On an evening won by horehound-sucking, suspender-wearing lightweights (and their Nashville nemeses the Black Keys), White sliced the Staples Center stage in half for the telecast's finest performance by a considerable margin. He opened alongside the all-female Peacocks for a soulful, sensual, expletive-enriched rendition of Blunderbuss beauty "Love Interruption," then pivoted without pause into the turbulence of "Freedom at 21" with his all-male outfit, Los Buzzardos. It was more than electric — just the way White tossed his Telecaster when he was done was enough to wake everybody up for few seconds.
3.Low: We Will Never Ever Ever Understand Taylor Swift's Performance
3/21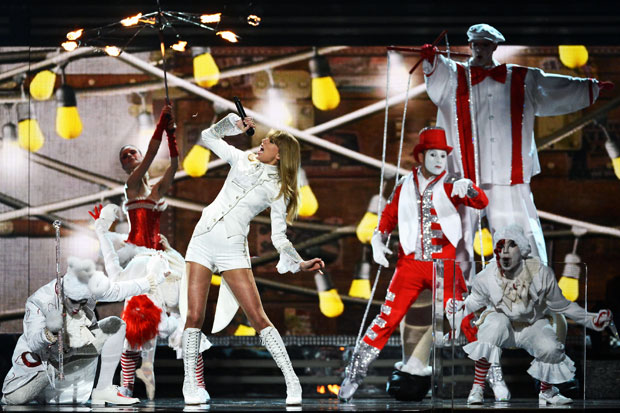 Did Taylor Swift never see IT? Clowns are scary, and the cabal of candy-colored steampunk circus freaks she kicked off the show with were downright terrifying. Add to this a Mr. Peanut ringmaster outfit, a cane that looked suspiciously similar to Prince's, and Grammy-dress-code-approved hot pants, and we hope to never, ever see this again. Like, ever.
4.High: Sting Reclaims His Song From Bruno Mars
4/21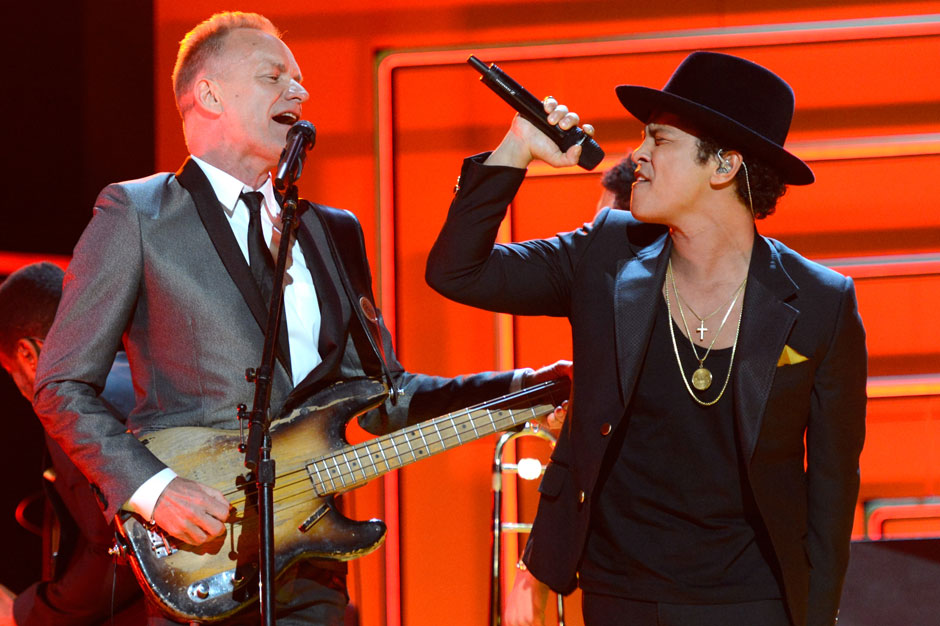 Here's something we never thought we'd write in the last 25 years or so: "Sting was really awesome tonight." First off Bruno Mars comes out and plays his enormous and emormously awesome Police rip-off "Locked Out Of Heaven." Then Sting floats on out holding that same ratty bass he's been playing forever and steals the song back. Then he breaks into the tenth most popular Police song ("Walking on the Moon") and invites out Ziggy Marley, Damian Marley, and Rihanna for an ostensible tribute to Bob Marley. Though it was more a tribute to the popularity of the Marley documentary. And even more accurately, a tribute to the idea that everyone in the audience wants to sing along to something that isn't fucking "Ho Hey."
5.Low: Los Angeles Suffers Snare Drum Shortage
5/21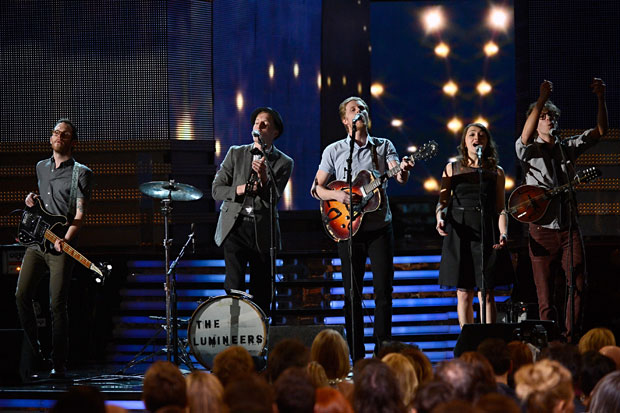 Both the Lumineers and Mumford & Sons did their respective whatever-man-acoustical-jam thing with guitarists playing busker-style bass drums. In a year where the popularity of EDM is probably putting California's session dudes out of work, can't any of these bands give the drummer some? Like seriously, two folk-rock bands combined are gonna touch less snares than Alicia Keys? Not to mention that the blink-and-you-missed-it tribute to Dave Brubeck played "Take Five" with no drummer at all — itself a pretty lousy tribute to Brubeck drummer Joe Morello, who died not even two years ago.
6.High: Frank Ocean Beats Chris Brown
6/21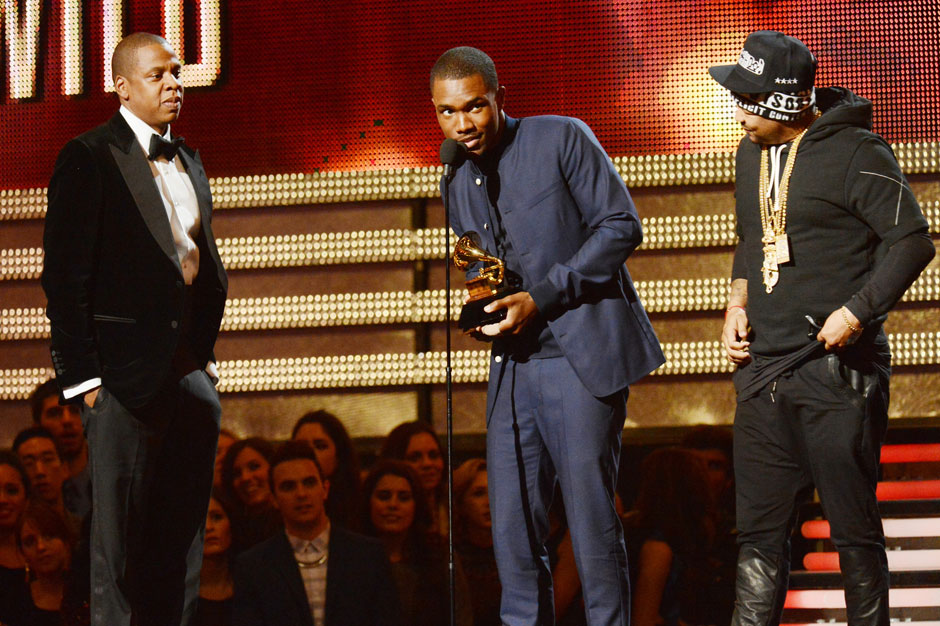 After coming out of his altercation with tireless asshat Chris Brown intact, Frank Ocean rose victorious over the music industry's biggest bully when his now gold-certified channel ORANGE LP won the award for Urban Contemporary Album. The audience gave him a well-deserved standing ovation and, with the Internet watching his every move, Ocean took the high road and gave a short acceptance speech that didn't further the beef. Still, seeing Chris Brown's "oh well" face was worth sitting through a Dierks Bentley performance.
7.Low: Rihanna Shows Up on the Arm of the Douchebag Who Beat Her
7/21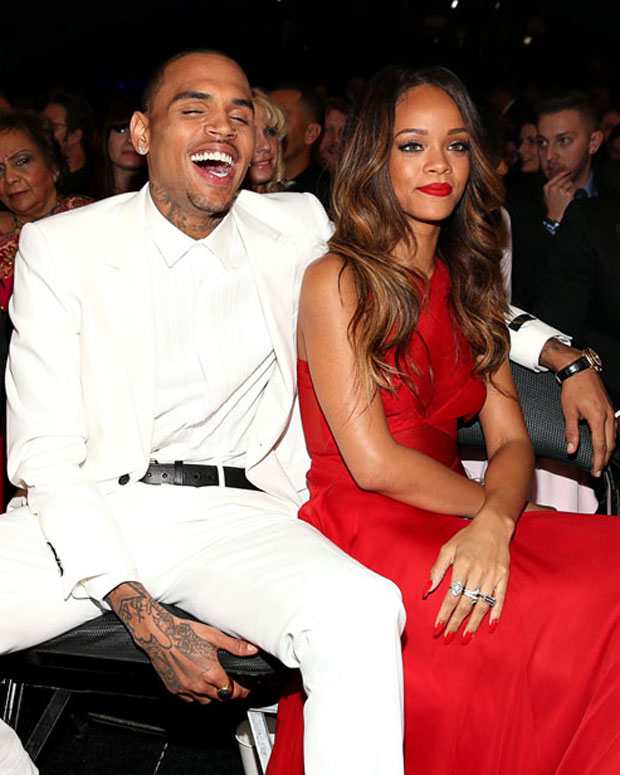 The 2009 Grammy Awards were infamous for transforming Chris Brown from "the next Michael Jackson" into "America's Next Top beansle" in the time it took him for bash in Rihanna's face. Over the following four years, Brown made sure everyone became well aware of his terrible rage problem, his propensity for using homophobic slurs, and his habit of attacking women who criticize him with vicious sexist rants. The many folks in the music industry who make money off him have been willing to overlook these transgressions — and, evidently, so has Rihanna, who's been having a jolly ol' time taunting the press (and everyone with a conscience) by reconciling with her ex. Just in time for the Grammys, so we could get plenty of shots of them canoodling.
8.High: LL Cool J Takes the Grammys Back
8/21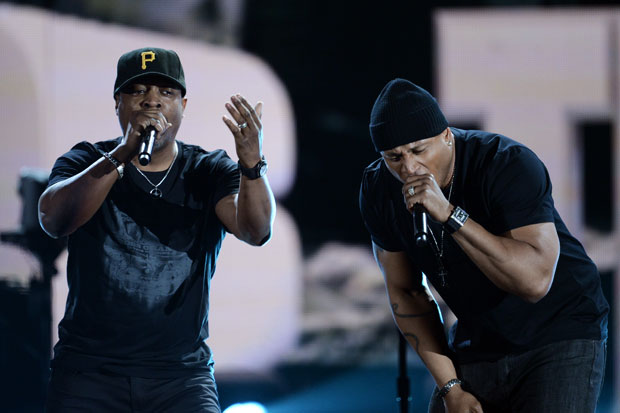 Oh, you thought CBS only hired Ladies Love Cool James to introduce Ed Sheeran and solve Navy crimes? Call it a comeback or not, dude hasn't gone hard-as-hell-knock-you-out since, what, the "4,3,2,1" remix in '97? Plus his supporting cast of Chuck D (quoting "Terrordome," possibly his hardest song), Travis Barker, Z-Trip, and Tom Morello basically apologized for all the sins that rap-rock committed between 1994 and 2004. A welcome blast of adrenaline to close a night consisting of bands playing rustic banjo jams made to warm beans over a trainyard fire.
9.Low: EDM Not Invited
9/21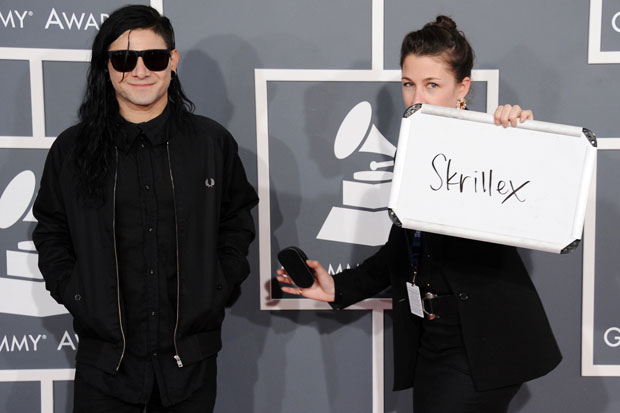 Remember last year's awkward jam sesh between Dave Grohl and Deadmau5 and some molly? Well, the Grammys apparently are never ever ever getting back together with EDM because they completely shut the genre out of the ceremony this year. Even though Skrillex walked the red carpet and Steve Aoki sat in the audience and Al Walser is besties with everyone, we couldn't even get an award during the broadcast let alone a chest-caving performance. We've gone to festivals and seen Swedish House Mafia's fireworks displays and Avicii's giant head podium and the Skrillex space shuttle and we can tell you they're all more fun to look at than Hunter Hayes.
10.High: Drake Sees Jennifer Lopez's Right Leg, Gets So Far Gone
10/21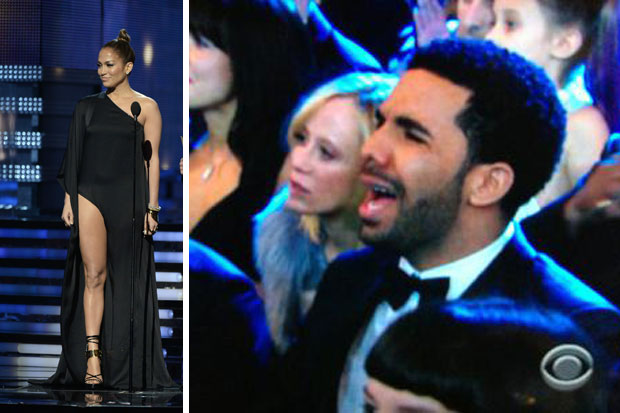 We didn't get to see his initial reaction to Katy Perry's dress, but the look on young Aubrey Graham's face when J.Lo brought her leggy "I Got the Boob and Booty Memo" get-up onstage was a thing of beauty, an expression of pleasure, pain, and complete bewilderment so real it zapped us back to the first the first time we saw Ben Affleck firmly pat her ass in the "Jenny on the Block" clip way back in 2002. So, so much to process.
11.Low: Miguel and Wiz Khalifa Pay Tribute to MC Escher
11/21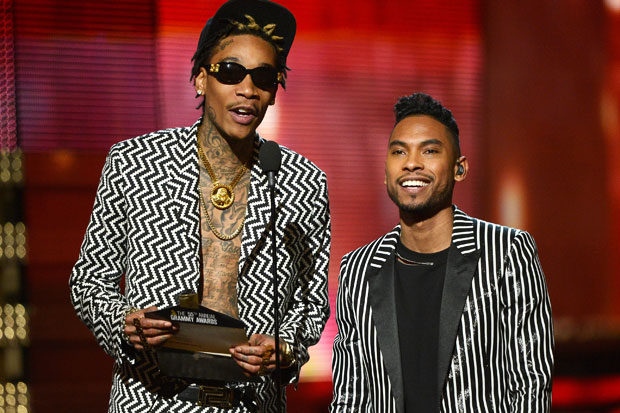 The black-and-white, geometrically blessed suits these two donned for their duet was pure Trapper Keeper chic. Or "Men by Beetlejuice."
12.High: Beyoncé and Ellen Bring the Yuks
12/21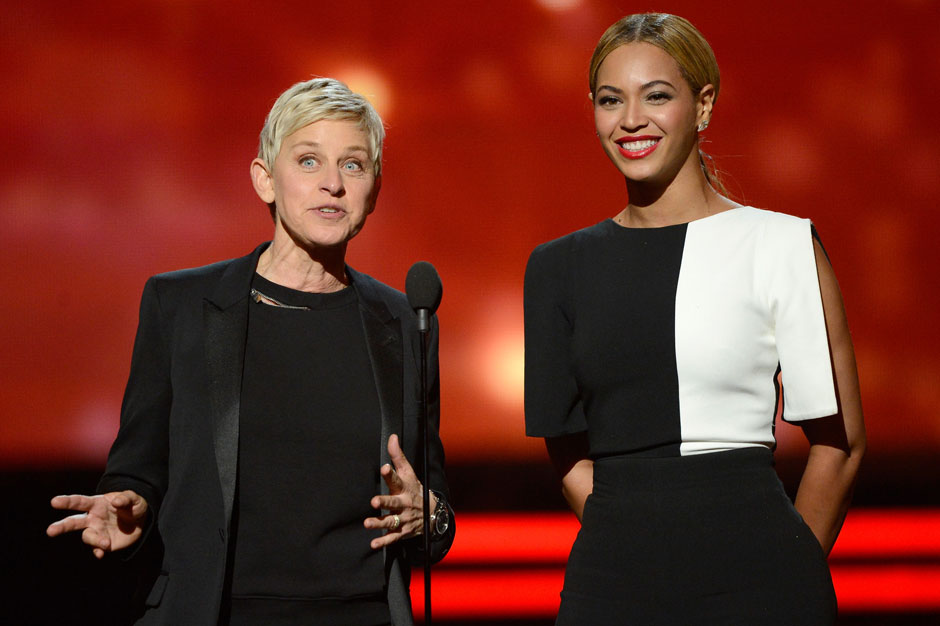 The banter Grammy writers pen for the folks introducing artists usually runs the gamut from "humiliating" to "career-killing." But somehow beloved talk-show host Ellen DeGeneres and adored zillion-threat Beyoncé turned their few moments together into pure glee. "This is a Grammy moment that millions of us have been waiting for," Beyoncé said as Ellen leaned in closer. It appeared as though Bey lost her place on the teleprompter for a second and Ellen was leaning in to taunt her (or go for a kiss?). Everyone laughed. Even Tyler, the Creator, who mouthed, "Oh shit!" Their intro to Justin Timberlake's much-hyped comeback set was more natural and enjoyable than the performance itself.
13.Low: Justin Timberlake Brings Sexy Back to the 1940s
13/21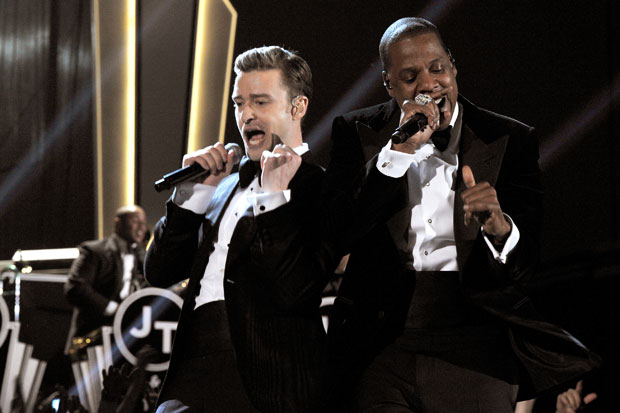 Apparently unaware of Bruno Mars' Rat Packy performance of "Runaway Baby" at last year's Grammys, Justin Timberlake broached eerily similar retromania vibes, taking things even further back with a Glenn Miller-esque stage set for "Suit and Tie" and "Pusher Love Girl." But not the formalwear nor the choreography nor even a guest appearance from Jay-Z could save JT's PG-rated blue-eyed soul from coming off like a stale dick in a box.
14.High: Jay-Z Enjoys His Evening
14/21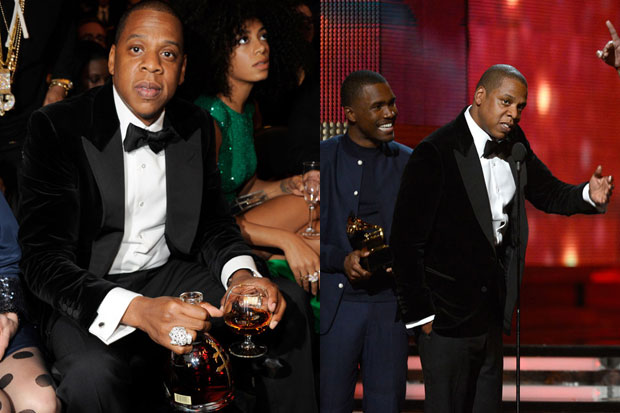 Was there anyone in the arena more comfortable than Jay? Ken Ehrlich's cameramen paid an early visit for a reaction shot only to find him cradling a snifter of (had to be his own) cognac in his seat, taking in the show like it'd been put on just for him. And in the two times he took to the stage — once to save Timberlake from shaming his loved ones, the second to accept a collaborative Grammy with Frank Ocean and a thankful Terius "The-Dream" Nash — he opted not to throw his weight around. When he opened his mouth to speak, the walk-off music stopped on a dime.
15.Low: Maroon 5 and Alicia Keys' Murky Mashup
15/21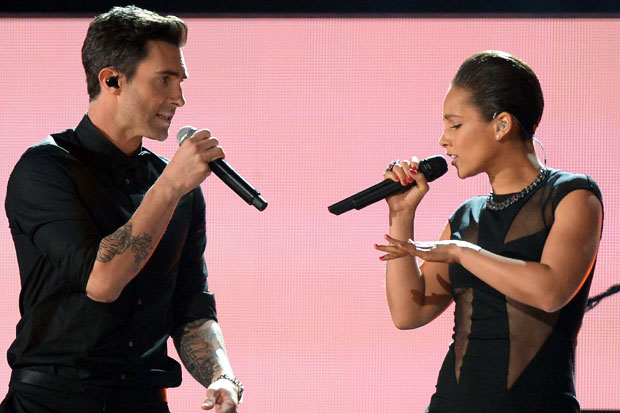 We imagine the conversation between Grammy producers, Adam Levine, and Alicia Keys went something like this: "All right, guys… we've got four minutes. You can squish your songs together, or sit in the audience all night." For some inexplicable reason they opted to mash up Maroon 5's abysmal ballad "Daylight" with Keys' pretty okay "Girl on Fire." Why go for this blah moment when so much talent was in the building? This performance was a waste of everyone's time and underboob.
16.High: Two Minutes of Prince
16/21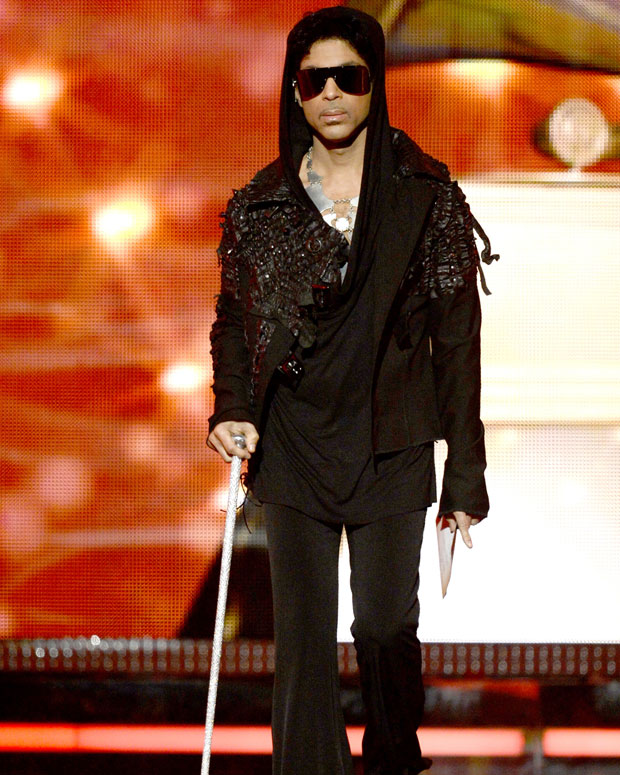 The shades, the hood, the cane, the strut, the fact that he big-upped Gotye's "Somebody That I Used to Know" the second he opened the big envelope for Record of the Year: The man shared maybe two sentences but his presence alone was enough to make this particular exchange feel like an event within the event.
17.Low: LL Cool J Saying "Hashtag." Over and Over and Over
17/21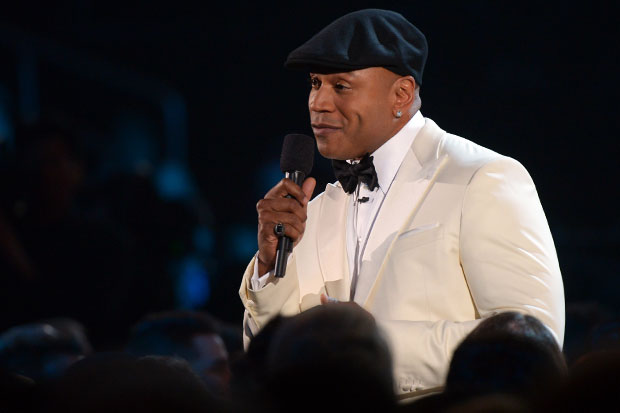 When the term "hashtag" ages into adorable obscurity like "laser disc," "CD-ROM," "Betamax," "8-track," "Edsel," and "Crystal Pepsi," LL Cool J will look back at the Grammys during which he said it one million times and shrink into his Kangol. We get it, LL, you dig new-fangled technology — especially one that allows you to quote Einstein and post selfies in the same location. But saying we were about to see "#KellyClarkson" perform crossed two lines… twice.
18.High: Some Actual MCA Love
18/21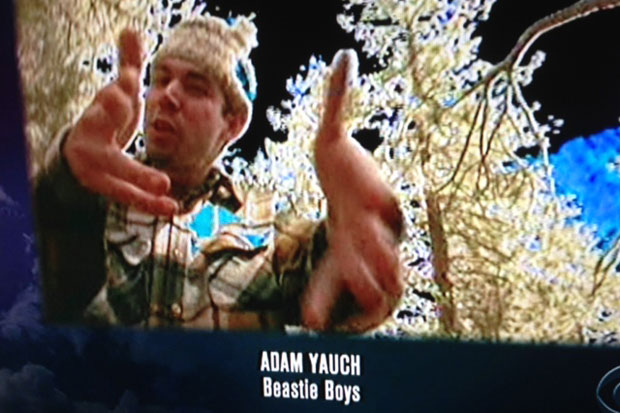 The MTV Video Music Awards, the place that gave the Beastie Boys a lifetime achievement award 15 years ago, gave Adam "MCA" Yauch about 12 seconds of tribute. The Grammys, who only gave the Beasties a mere three awards (and one was for Instrumental Album, btw) gave him his own slot on the obituary reel and a loving musical shout-out in LL Cool J's curtain-closing performance, featuring RIP MCA in eight-foot-tall letters. That's called gratitude!
19.Low: Mandolins Take All!
19/21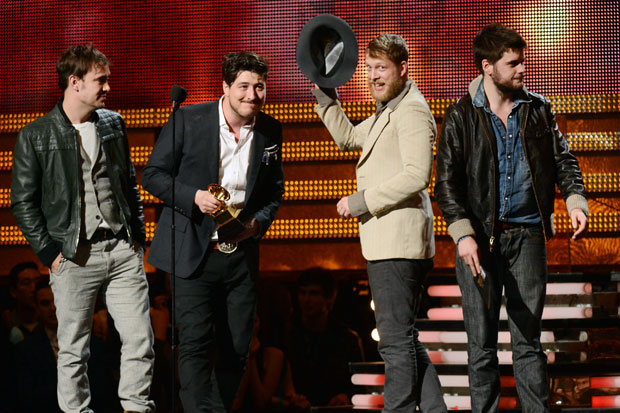 Over the past decade or so, Grammy voters have most often loaded their Album of the Year ballots with artists they know (Steely Dan, Ray Charles, Herbie Hancock), powerful young pop singers (Adele, Taylor Swift, Norah Jones) or anything that uses "folky" as a substitute for "authentic" (Dixie Chicks, O Brother, Where Art Thou?, Robert Plant and Alison Krauss). This year, the latter category beat out far superior albums by Jack White and Frank Ocean and Black Keys and fun., when Grammy voters rode the Big Easy Express to Babel. We saw this coming like a slow train to nowhere.
20.High: Adele Is Still Charming as Hell
20/21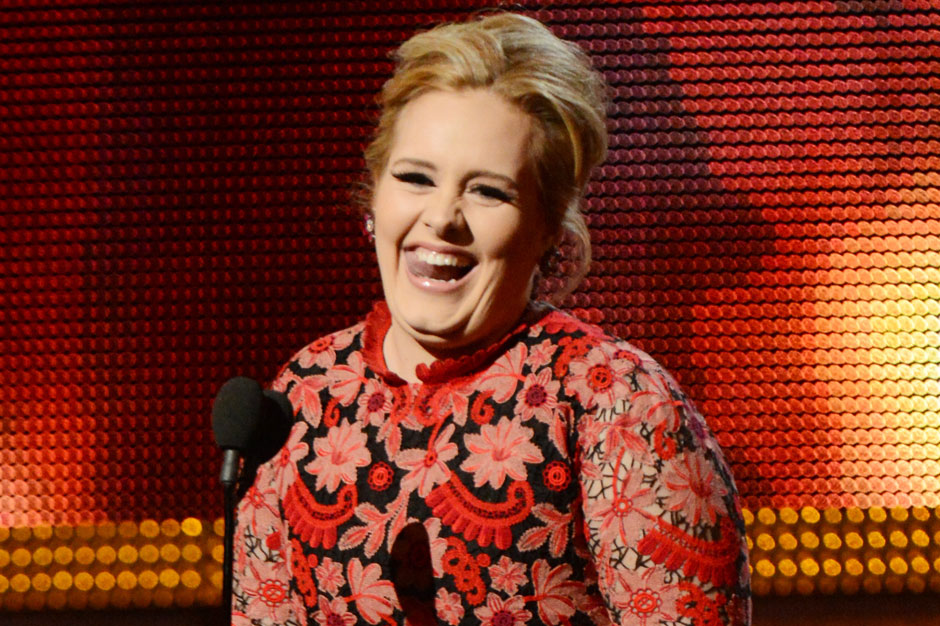 Last year Adele left the Grammys rolling in the deep with an armful of trophies and the distinction of having told the Staples Center that she had a "bit of snot." This year, she took the stage to accept her Pop Solo Performance honor with her mouth agape in genuine shock and thanked "My good luck charm, J.Lo" before launching into a quickie speech that was short, sweet, and lovable: "I was happy to just to come and be part of the night because I loved it last year, obviously." Nobody even cared she was wearing the curtains.
21.Low: LL Cool J's Boomin' System Drowned Out By an Airplane
21/21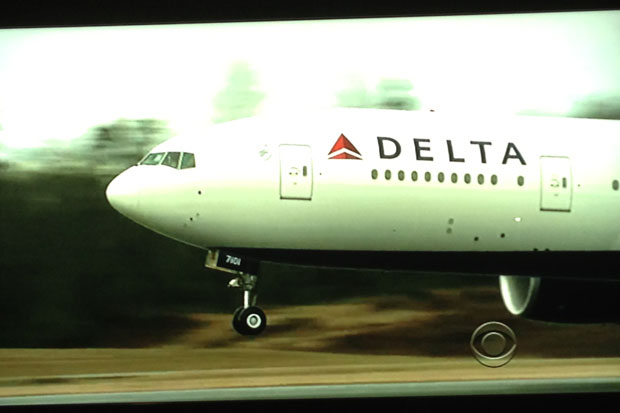 The Grammys delivered with a high-octane conclusion: LL Cool J rocking bells, Chuck D inviting us to the Terrordome, Travis Barker getting wicked, and Tom Morello jamming out the riff to "No Sleep Till Brooklyn." Then, right when it would have climaxed with the guitar solo, the Grammys paid the piper, covering up and muting the entire performance with Delta and Hilton Hotel ads. Maybe since the music-industry is in a total shambles, the show's producers had to get it done before the show's 11:30 end time or fear paying CBS overtime? Regardless, we're the ones who paid.