Rolling in the Deep: Hip-Hop's Greatest Molly Moments
It all started out as a weight-loss gambit. In 1913, German pharmaceutical company Merck patented MDMA (née "3,4-methylenedioxy-N-methamphetamine") for use as a diet pill, beginning the country's long history with the drug (shout-out to trance music). Barring studies and a little experimenting by the U.S. Army during the MKUltra years, it mostly sat on ice for about 60 years; but around 1970, love-addled youth began experimenting recreationally. During the '80s, the drug was known on the streets as "ecstasy" and became more widely used for its euphoria-inducing properties — famed Manhattan nightclubs Paradise Garage and Studio 54 were havens. (It bore no relation to the eponymous, behatted rapper in anti-drug hip-hop trio Whodini.) By 1984, the Drug Enforcement Administration had announced its plan to move MDMA to a Schedule 1 regulated substance as a "hallucinogen" (proving they'd never tried it — who hallucinates on MDMA?).

The next year, a group of psychotherapists who were utilizing the drug in treatment sued to block the motion, but they lost, and by '88 MDMA was criminal... and therefore cooler, setting the stage for countercultures like hip-hop to celebrate its more tactile properties. References to the hug drug under a variety of nicknames — "ecstasy," of course, "E," "X," "XTC," "pills," "beans," "thizz," "blue dolphins," "double stacks" or "triple stacks," etc., have been used by rappers over the years; but in the recent past, as hip-hop and EDM have started passing out together, the term "molly" (supposedly MDMA in a purer form, i.e. not "stepped on") became go-to slang for any form of ecstasy-related rap invocation. But for rappers to fully own their love of the drug, we needed a full-blown crossover anthem, i.e. Trinidad James' sweaty, pill-silly "All Gold Everything." The sly track, which has sent parents all over the country into cracked-out fits of hysteria, surprisingly earned the heretofore-unknown James a lucrative recording deal. Pop that!  JULIANNE ESCOBEDO SHEPHERD and CHARLES AARON
1. Rolling in the Deep: Hip-Hop's Greatest Molly Moments
1/33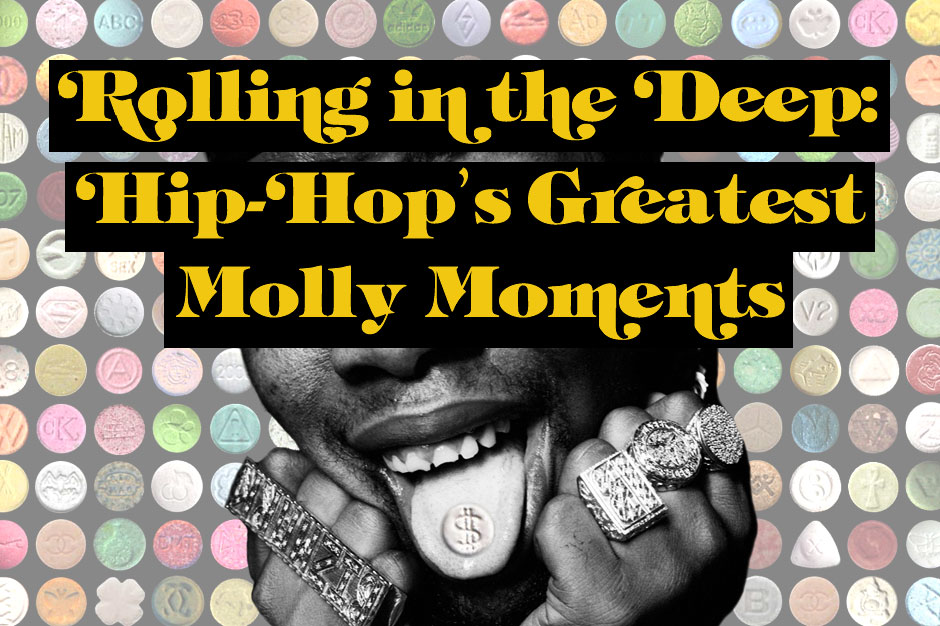 2. STARCK RAVING MAD (1984-1989)
2/33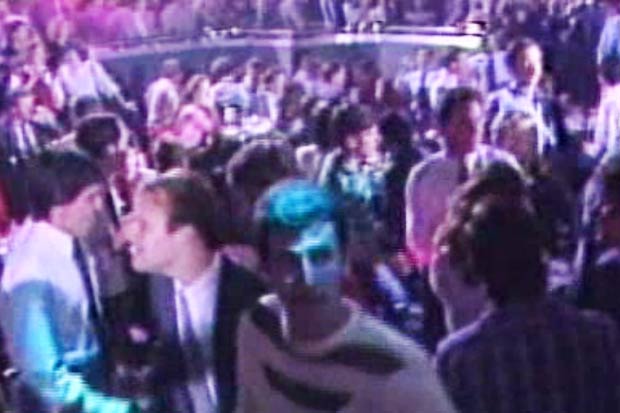 X marks the spot, as they say, and in the 1980s, that unlikely spot was Dallas, Texas — specifically, the Starck Club (the pet project of French designer Phillipe Starck), a crucible of the American underground where a glamorous, pilled-to-the-gills crowd was entertained by a savvy selection of new wave, industrial, acid house, and, yes, hip-hop (Mantronix's "Who Is It?," Rockmaster Scott and the Dynamic Three's "The Roof Is on Fire," and Grandmaster Melle Mel's "White Lines [Don't Do It]" were in heavy rotation). Grace Jones, Chris and Cosey, Book of Love, and Stevie Nicks (an investor) all played the joint, which also hosted after-parties for the Red Hot Chili Peppers and Frankie Goes to Hollywood; in the bathrooms, patrons might bump into Robert Plant, KISS' Paul Stanley, or Michael Alig and his gaggle of New York club kids. There was even a Republican National Convention party attended by George W. Bush. Most importantly, you could buy pills from the cigarette girl — or, indeed, right from the bar, with your credit card.
Ultimately, the fact that so many residents of D-Town were seeing stars can be attributed to one person: Michael Clegg. A Catholic priest who refashioned himself as a missionary for the therapeutic potential of MDMA (he describes his experience with the drug as like "hearing Moses on the mountain"), Clegg is credited not only with coining the name "ecstasy," but also with setting up a formidable production and distribution network, complete with 1-800 numbers and Avon-style pyramid marketing. By 1985, when the drug was outlawed, the DEA estimates that Clegg was flooding the Dallas area with as many as 500,000 pills a month. PHILIP SHERBURNE
3. TRANSMITTING LIVE FROM PLANET E (1988)
3/33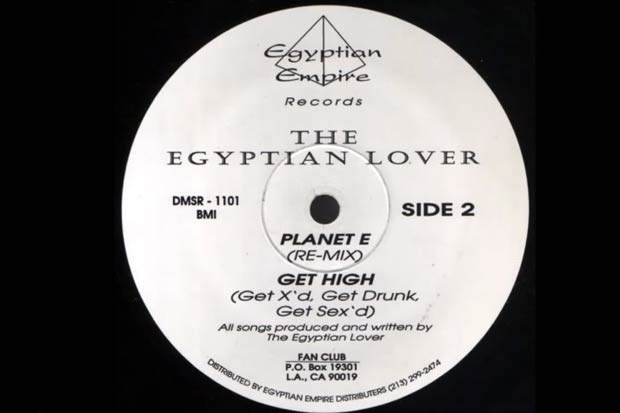 Dallas may have been ground zero for America's ecstasy X-plosion, but it was some 1,400 miles to the west, in Los Angeles, where the drug first bubbled up in American popular music. Ironically, it was the same scene that would give us N.W.A's hardcore gangsta rap, whose macho vibe couldn't have been further from MDMA's empathic, pleasure-seeking effects.
It's possible that the Egyptian Lover — Greg Broussard, who, like the Arabian Prince, started as a member of L.A.'s funk soundystem crew Uncle Jamm's Army — had something totally innocuous in mind with his 1988 song "Planet E." The "E" could've stood for a lot of things: Earth, Egypt, electro — take your pick. But the spoken-word intro ("Attention, all freaks. Attention, all freaks. We are now boarding for the flight, Planet E") and the warning, "So prepare yourself / As we trip to Planet E," certainly suggest that the in-flight snacks weren't entirely Kosher. The following year, the Egyptian Lover released King of Ecstasy (His Greatest Hits Album); in 1993, he courted a new audience with a remix of his 1984 hit "Egypt, Egypt" called "Egypt Rave '93." On the B-side, a "Planet E" remix took the song to trippier extremes, and the B2 cut left no mystery as to how the pyramids were, ahem, erected. Its unambiguous title: "Get High (Get X'd, Get Drunk, Get Sex'd)." P.S.
4. BANG SHOOM! HOUSE AND HIP-HOP GET BUSY (1989)
4/33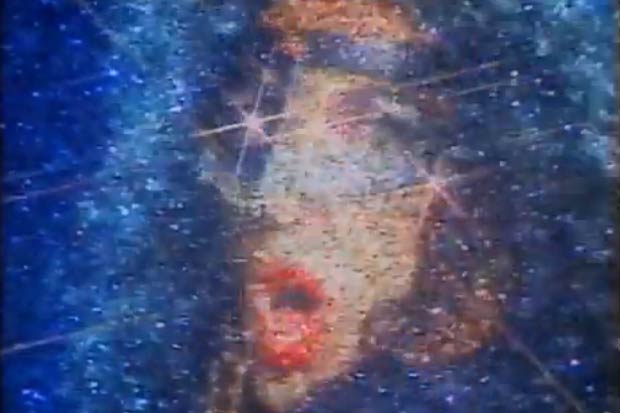 Acid house, in spite of its name, wasn't just about LSD — particularly in the U.K., where Paul Oakenfold and his buddies parlayed the ecstasy-fueled kicks of a 1987 holiday in Ibiza into the most disruptive youth-culture movement since punk rock. As the British record industry struggled to catch up with the new demand for spine-tingling electronic sounds, Chicago acid tracks were repackaged and rebranded under the sign of a different substance; no "shooming" London clubber would have missed the pun behind In the Key of E, a 1988 compilation featuring druggy Chicago tunes — Adonis' "Acid Poke," Bam Bam's "Where's Your Child?," and Fingers Inc.'s "Can You Feel It?" Then, in 1989, as Britain's "Summer of Love" entered its second year, the letter "E" exploded into British pop consciousness, as the E-Zee Possee — the quartet of MC Kinky (Caron Geary), Simon Rogers, Jeremy Healy, and a certain Boy George — led the rush with "Everything Begins with an 'E'," a clunky fusion of New Beat's robo-thump and MC Kinky's dancehall-inspired rapping. Whatever got lost in translation with Kinky's squeaky white-girl patois, the chorus of "E-e-e-ecstasy" was enough to get the song banned by BBC Radio 1.
Around the same time, the Chicago-led hip-house movement — led by Fast Eddie, Tyree, and Mr. Lee — which paired party-starting rapping with squealing 303s, favored acid as its metaphor for getting bent; but that changed as the sound moved around the country and around the world. Consider New Jersey rapper KC Flightt and his '89 song "Planet E," a collaboration with a German disco-pop producer that was a huge hit in British warehouses and raves. Set to a loop of the Talking Heads' "Once in a Lifetime," Flightt's conscious, socio-economic observations have more in common with the Native Tongues than gurning jaws, but, to the crowds freaking to the song's squirrelly, Frankie Knuckles-sampling "Acid Drop Mix," his description of "a city where people greet each other with a smile" was the code-word for E-topia. The mini-genre's biggest beneficiary was D.C. DJ/producer/toastmaster Doug Lazy, who scored three No. 1 hits on the Billboard dance-music charts, most notably 1989's raw, bass-pistoning "Let It Roll." As a rapper, Lazy was just happy to be here (or anywhere), jovially stoking the festivities with tossed-off bon mots like: "I'm rollin', just like a bowling ball." We get it, Doug, roll on. P.S.
5. EVEN HIP-HOP'S MOST INCORRIGIBLE BRATS FEEL THE LOVE (1989)
5/33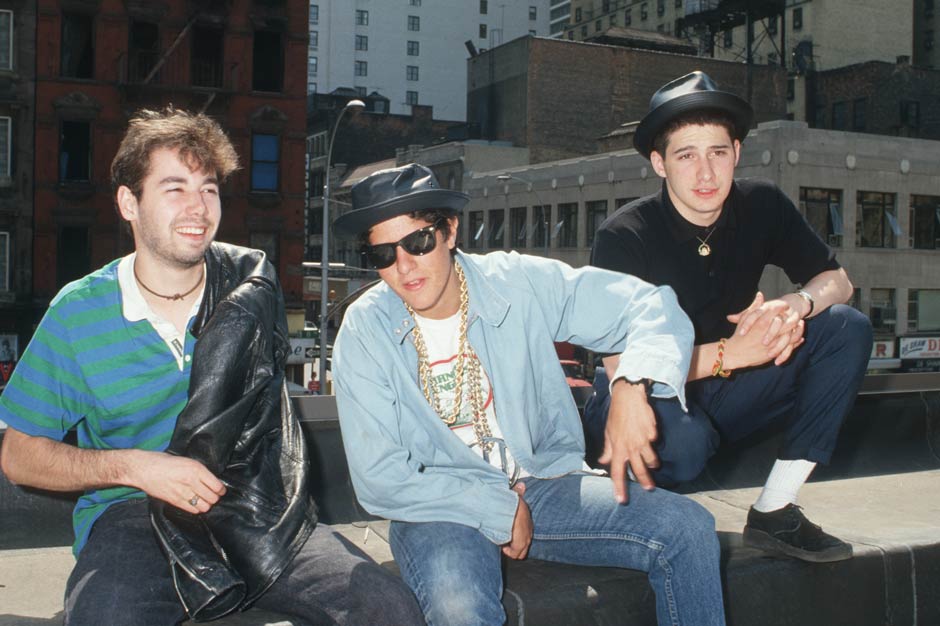 Is it any surprise that original cool-hunting metropoliticians the Beastie Boys were the first kids in their class to drop E into a high-profile, major-label rap song? In this case, a substance-suffused deep cut ("Car Thief") on an album (Paul's Boutique) that went on to sell more than two million copies. When Mike D yelped, "People always trying to get next to me / I had a beautiful experience on ecstasy," it was just another one of numerous drug references littered throughout the song — hash brownies, marijuana, cocaine, PCP, etc. But notably, it was the only one mentioned in a purely positive light. CHARLES AARON
6. BUZZING BRITS CRASH TOP OF THE POPS (1992)
6/33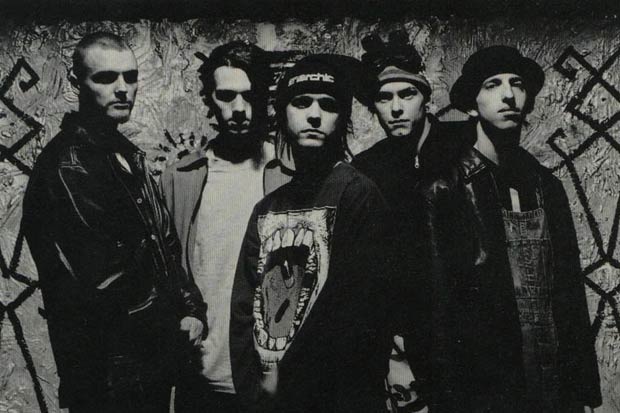 Having already pilfered Chicago house and Detroit techno of their 303s and drum machines, British rockers-turned-ravers decided it was time for a full-on spree, swiping the cadences of U.S. rap music while they were at it. Thus, Scottish former psych-rockers the Shamen gave us 1992's No. 1 U.K. single "Ebeneezer Goode," which paired sparkling acid-house production with frontman Mr. C's amped-up Cockney rhyming slang, and whose chorus was a none-too-subtle homophone for, "E's are good." The same year, Stereo MCs employed hip-hop's boom bap and sing-songy Sprechstimme on "Connected," an acid-jazzy ode to plugging in and turning on. And in 1990, EMF — short for "Ecstasy Mother Fuckers," or so it was rumored — had combined baggy breakbeat psychedelia with shambolic falsetto rapping for "Unbelievable," which went to No. 3 on the U.K. chart and No. 1 on the Billboard Hot 100. (Unbelievable, indeed.) P.S.
7. THE EARLY ADOPTERS (1992)
7/33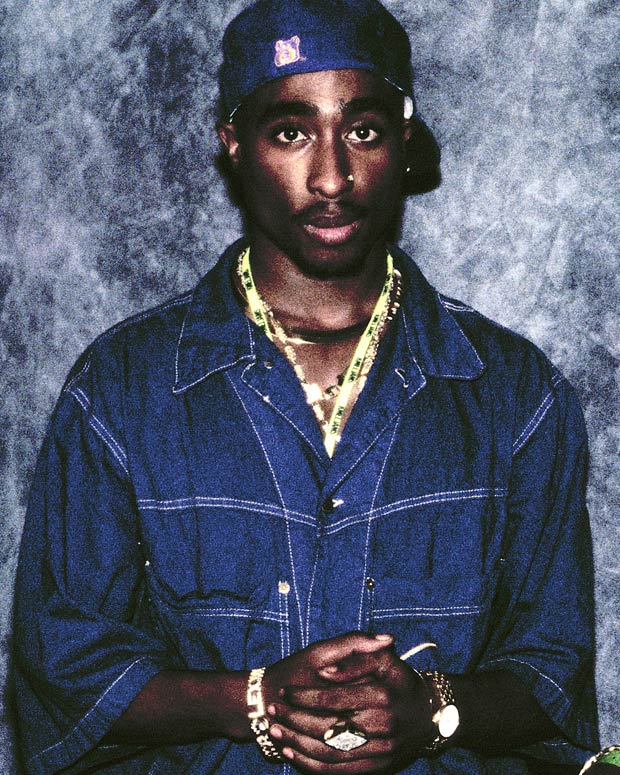 Picture him rollin'. Tupac's "Scared Straight" (an unreleased track that appeared on the 2006 posthumous release Pac's Life) was an exegesis on his badassiness and, more importantly, how much fresher and more futuristic he is than every other rapper. So what better signifier, then, than '92's de rigueur designer drug? "Suckers can't get next to me," he bragged. "Trippin' off some ecstasy." One year later, in Jungle Brothers' "My Jimmy Weighs a Ton," rapper Afrika Baby Bam essentially compares his own jimmy in question to an addictive substance, like "acid or ecstasy / I give you pieces of my love so you'll remember me." Maybe not? JULIANNE ESCOBEDO SHEPHERD

8. PUTTING THE 'X' IN SEX (AGAIN AND AGAIN) (1997)
8/33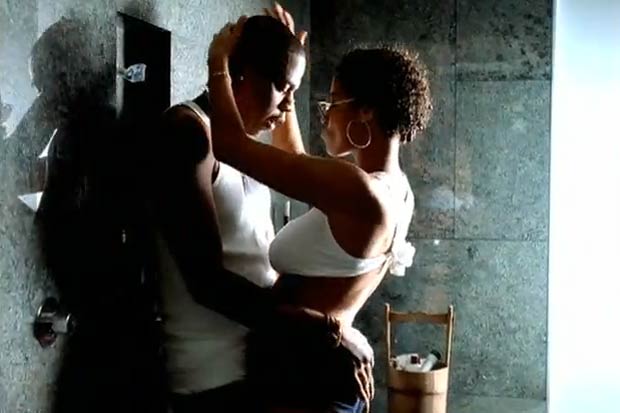 As the decadent '90s transitioned into… the equally decadent early 2000s, hip-hop faithfullly documented ecstasy's ability to heighten the senses, as it were. In '97, Biggie speculated that "some say the X make the sex spectacular" on the midtempo quiet-storm classic "#!*@ You Tonight," appropriately assisted by R. Kelly, who also sexed up the remix of Puff Daddy's '99 hit "Satisfy You" (on which Luniz's Numskull shouted out "three hits of ecstasy"). For Y2K, Jay-Z's paean to drugs and "that gushy stuff," "I Just Wanna Love U (Give It 2 Me)" updated an old Biggie line ("Drunk off Dom / Silk and gators") with his own intoxicants of choice ("Drunk off Cris / Mami's on E"). A year later, on "What's Love," Fat Joe didn't cop to rollin', but used MDMA as a metaphor in a pick-up line. Alternately, Dr. Dre's 2001 "Let's Get High" extolled the virtues of a cornucopia of drugs, including ecstasy, but admitted "ain't no tellin' what the side effects could be." If these songs are any indication, one little-reported side effect might be pregnancy. J.E.S.
9. EMINEM'S TORTURED FLING WITH MOLLY (1999)
9/33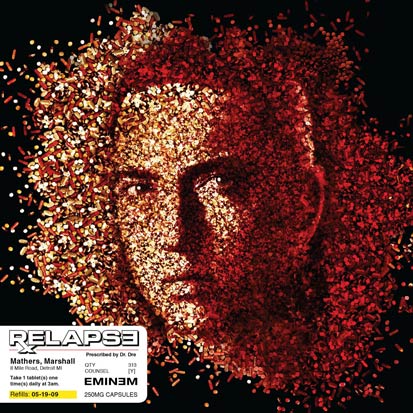 The first verse of "My Name Is" was America's introduction to Eminem — juvenile cracks about celebrities (the Spice Girls!), prankster mayhem, domestic violence, and a kicker that worked as one hell of a thesis: "I don't give a fuck, God sent me to piss the world off." But the verse is punctuated by asides about drugs, which would become the dominant theme of Em's music. Of course, that eventually included ecstasy. In November 1999, nine months after The Slim Shady LP debuted at No. 2, Em was zonked on the cover of Rolling Stone. By the fourth paragraph of the profile he'd already taken a pill, and he'd do two more later that night.
Shortly after The Marshall Mathers LP's release in April 2000, Em told Music365.com that he wrote a few of the album's songs while on X (this was confirmed by Dr. Dre in the Rolling Stone story, saying that the two take ecstasy and "get bugged out, stay in the studio for two fuckin' days"). That album contained "Drug Ballad," where he described the open-hearted effect of the drug: "As ecstasy got me standing next to you / Getting sentimental as fuck spilling guts to you / We just met, but I think I'm in love with you / But you're on it, too / So you tell me you love me, too." 2001 would bring D12's "Purple Pills," a hilariously grotesque love letter to every drug on Earth, but the chorus spelled out Em's true allegiance: "Nothing compares to these blue and yellow, purple pills." These were all billboard-sized signs of what would be a slow descent into reclusion and rehab. He came back after a five-year hiatus with 2009's Relapse — the cover of which was a portrait of Eminem's face rendered in pills. JORDAN SARGENT
10. WHEN LIFE LOOKS (AND SOUNDS) LIKE A PEN & PIXEL ALBUM COVER (1999)
10/33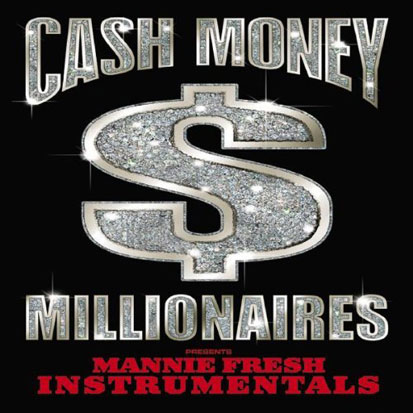 The utilitarian party music of New Orleans' bounce-tinged rap music ran headfirst into rave's acid squelch in the late '90s, thanks to open-eared, Cash Money worker-bee producer Mannie Fresh. In a 1999 Village Voice article, critic Simon Reynolds praised Cash Money's never-ending output, placing its success on Mannie Fresh tracks like "Spittin' Game" (Juvenile), "Dog Ass" (B.G.), and "Loud Pipes" (Lil Wayne). Those signature Mannie Fresh retro-future skitters and shuffles reminded Reynolds of "early Todd Terry, Belgian hardcore, Sheffield bleep'n'bass, hip-house, [and] Uberzone." The author of 1999's dance music history Generation Ecstasy also discovered a collaborative connection between Fresh and Chicago jackmaster Steve "Silk" Hurley. Hurley is credited with the final mix on the 1989 Fresh-produced Gregory D Rules the Nation, and in an interview with the website Baller Status, Fresh recalls meeting Hurley during a brief move to Chicago: "I programmed some drums with Steve Hurley and he took me under his wing." Though hip-hop's ongoing molly-mania and EDM-rap crossover craziness hasn't motivated DJs to challenge party rockers' ears by mixing in some cuts from Platinum Hits: Cash Money Instrumentals, it seems like it's only a matter of time. Surely, some rave heads would go nuts for the Big Tymers' "Get Your Roll On." P.S.
11. LOOK, Y'ALL, WE'RE ROLLIN' IN THE VIDEO! (2000)
11/33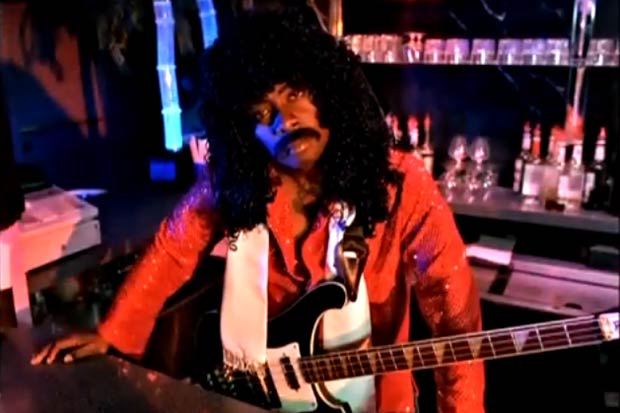 NOLA jammer "Hennessey and XTC" was pretty self-explanatory in its mission: getting high on the eponymous intoxicants and hanging out at a strip club. (The Big Tymers' Mannie Fresh rhymes Hennessey and XTC with "there's a naked chick next to me.") The video was equally direct: Mannie, BG, and Baby rapping in said strip clubs…but with really freaky effects distorting their faces and simulating the blurry eye goggles of a particularly turnt-up evening. Unrelated, but worth noting: Fresh's ad-lib whisper "shake it shake it shake it," sound like a time-signature prototype for certain aspects of Trinidad James' "All Gold Everything." We are all connected by the time-warping properties of recreational drugs. (That's what the last season of Lost is about, anyway.) J.E.S.
12. THE CUDDLE PUDDLE AIN'T FOR EVERYBODY (2000)
12/33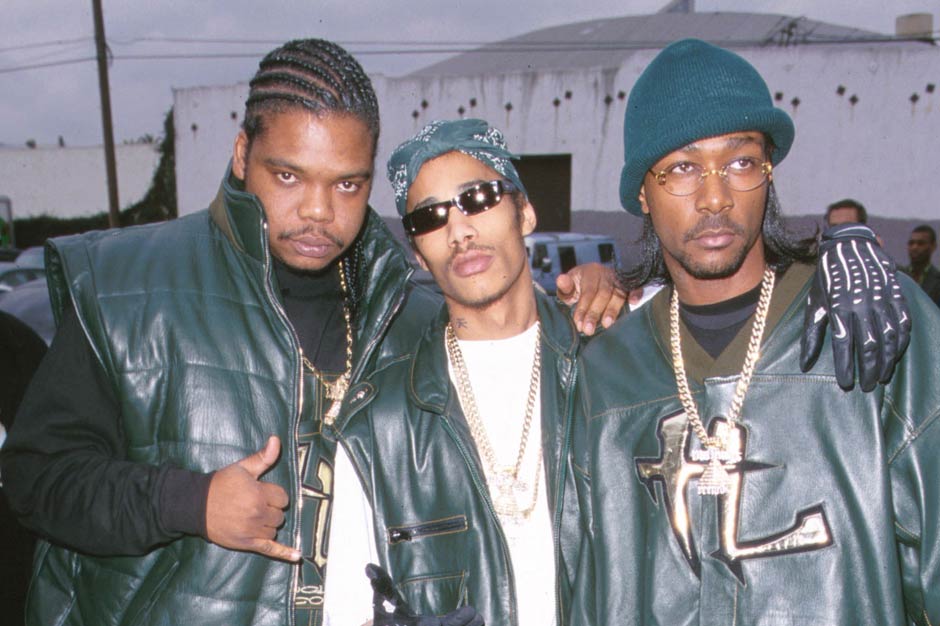 With "Ecstasy," Bone Thugs-N-Harmony perfectly nailed the miasma of feelings the drug can induce. Krayzie Bone and Flesh Bone rather brilliantly captured its time-altering effects ("I feel so realish realish realish / Cause we floating in ecstasy"). Bizzy Bone then characterized it as feeling "so ziggidy ziggidy ziggidy," which is not a word, but totally makes sense if you've ever felt the extra-sensory body buzz of ecstasy. Meanwhile, Wish Bone says he feels so "violent violent fucking wit that ecstasy / Come roll wit me," throwing up a double entendre, alluding to street violence, and possibly becoming the only person on record who wants to fight after popping an E. Cleveland so real(ish). J.E.S.
13. THE AGONY AND THE ECSTASY OF JA RULE (2000)
13/33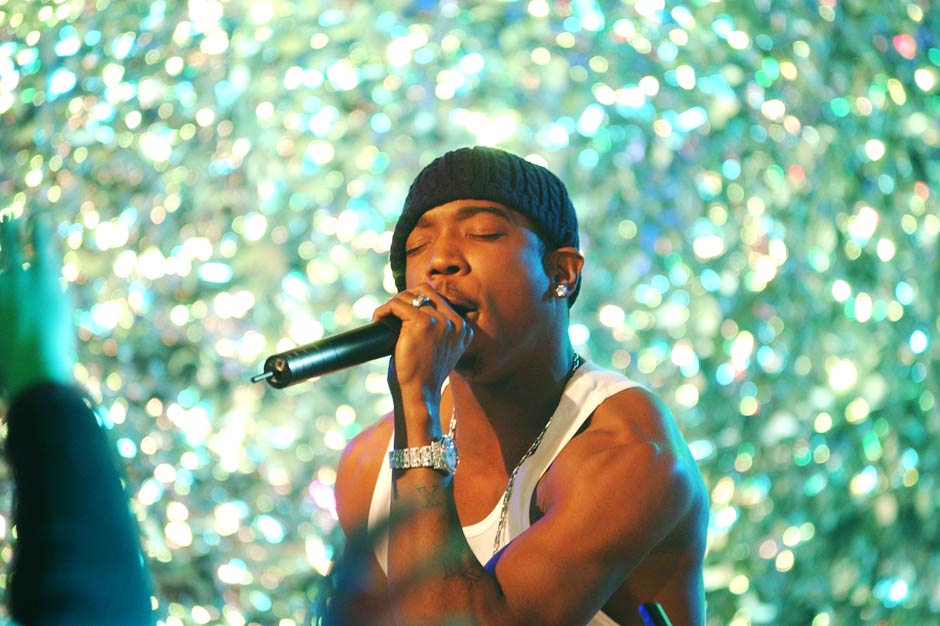 The early 00s' most vociferous X aficionado was a walking advert for the drug's more tactile properties, not only in his 2000 hit "Exstasy," but during his affair with Karrine "Superhead" Steffans, documented in her book Confessions of a Video Vixen as being fueled by booze and "XTC pills." (He also rather nihilistically bragged about keeping "hoes" "drugged up off that Ecstasy" on 2001's "Always on Time.") Unfortunately for Ja's career, it also made him an easy target for rivals. In 2003, on "Hail Mary" with 50 Cent and Busta Rhymes, Eminem dissed the drug and Ja's subsequent references to it by rapping, "You ain't no killa, you a pussy / That ecstasy done got you all emotional and mushy." Even though Em was flexing some extreme hypocrisy (this was pre-Recovery, of course), no one seemed to notice, and Ja's career never really recovered from the blows. Call it the ultimate comedown. J.E.S.
14. NASIR JONES, YOUR OFFICIAL ANTI-ECSTASY SPOKESMAN (2001)
14/33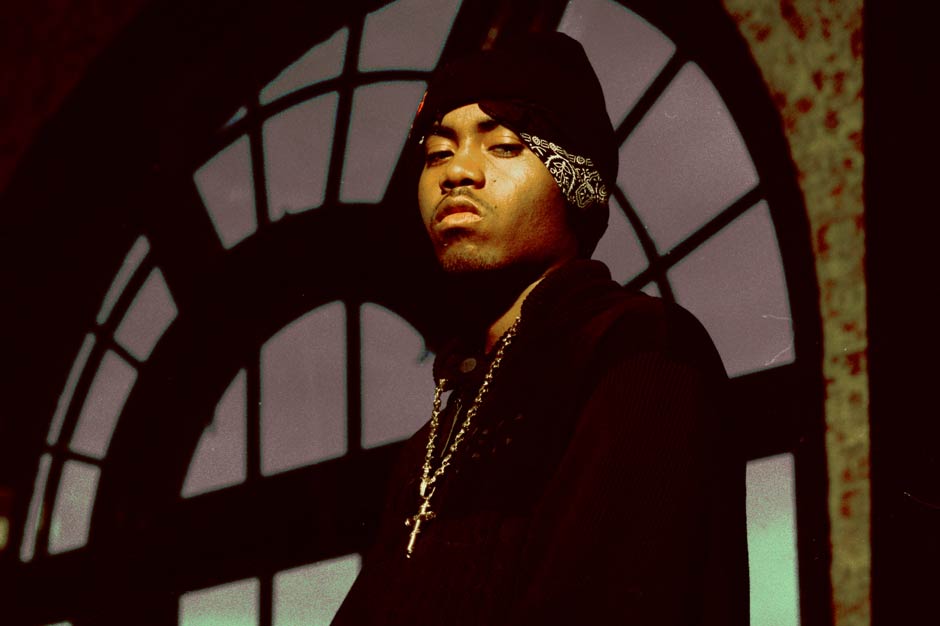 As ecstasy continued to roll through rap culture in the late 1990s, a backlash was inevitable. Enter Nas, whose own substance intake seemed mostly limited to blunts and liquor. "What Goes Around" was stuck on the end of 2001's Stillmatic, but it staked out a peremptory posture at a time when popular rap was still at its excessive peak. In its diagnosis of society's ills, the track is rather wide-ranging and unfocused, with Nas reaching back to the Pilgrim era by the fourth verse. But the chorus itself is pointed: "Ayo, it's poison / Ecstasy, coke — you say it's love / It's poison." The same year brought G-Dep's "Special Delivery" — which popularized the original Harlem Shake that's now blurring rap and dance cultures. Although the song features (yet) another cognac-and-ecstasy reference ("I'm raw like Xo mixed with X, yo"), it nonetheless fleshes out the drug's various connotations. J.S.
15. ECSTASY AS METAPHOR AND MUSICAL INSPIRATION (2001)
15/33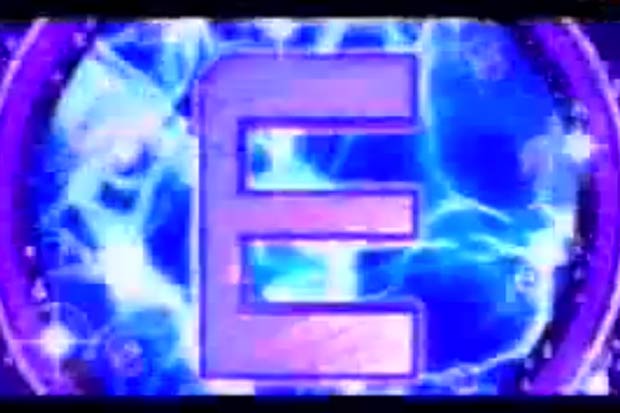 Missy Elliott must have been psyched when she realized that she could parcel out her name as both a cheeky catchphrase, and an assertion that her love was the real drug. ("Pop this CD in right here," she says on the intro, "and take a hit of me.") But Miss E… So Addictive was more than just a big-time ecstasy shout-out; the "E" was meant as a metaphor, sure, but it also referred to the electronic direction she and Timbaland were taking her forward-thinking music — incorporating ever-more 808s and buzzy synths. Of course, it wasn't all triple-entendres and subtle allusions. The "4 My People" video — for "my people / my ecstasy people" — featured ginormous Xs and tweaky 3D forms, not unlike the trip-out visuals popping up all over underground rave parties in '01. Rap should really resurrect the fractal poster, no? J.E.S.
16. HIP-HOP'S GENERATION ECSTASY MASTERPIECE (2001)
16/33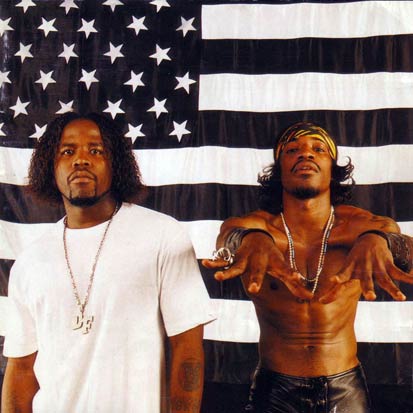 "Nowadays you got different drugs on the scene," André 3000 told CMJ New Music Monthly in 2000. "X done hit the hood. It ain't chronic no more. They on some other speed-up type shit. Some of them on blow, little kids snorting cocaine, so that's why the tempo… had to get a lot faster." He said almost exactly the same thing to MTV: "It's a whole new breed of kids, it's a whole new generation. The drugs not even the same no more. You got little kids doing cocaine, doing ecstasy, and all kinda speed-'em-up drugs, not like chill-out drugs no more. That's the heartbeat of what's going on."
As a result, the heartbeat of Stankonia sped up to match that racing pulse: "B.O.B." skyrocketed to well over 150 beats per minute, trailing scraps of drum and bass and arpeggiated techno bleepery in its supersonic wake. "?" also played with jungle's speedy breakbeats, while the quick-stepping "Humble Mumble" mirrored deft wordplay with nervous 16th-note hi-hats. The album's slowest, rubberiest track, ironically, had the most to do with ecstasy's polymorphic pleasure centers: The opening "Intro" is a gravity-defying, pupils-dilated journey to "seven light-years below sea level," joining the Egyptian Lover's "Planet E" with Drexciya's Afro-futurist aquatic kingdom in a single conceptual stroke. "Bounce, baby! We bouncing!" the duo cry, over quavering synthesizers and plunging tabla, and every sound seems calculated to replicate the sensation of MDMA pulling the user's skin taut as a tuned drum.
That doesn't mean Stankonia offered anything like a manifesto for recreational drug use. The interlude "I'm Cool" balanced on the knife's edge between libidinally tingling and straight-up chilling, with arctic winds and Gregorian chants alternately blowing hot and cold over a woman's murmurs and moans. It's unclear whether she's dissolving into a rapturous puddle or curled up in a fetal ball — at least until the cry that breaks the vision of ambiguous abandon: "Bitch, stay off that blow!" Still, especially given Big Boi's public outing as an ecstasy user in 2011, it's not unthinkable that the drug played more than an ambient role in Stankonia's creation. Something, after all, has to account for the empathic epiphany that gave birth to "Ms. Jackson," a soul-baring apology to the mamas of the baby mamas. Was it the E talking? P.S.
17. THIZZ IS YOUR BRAIN ON HYPHY (2002)
17/33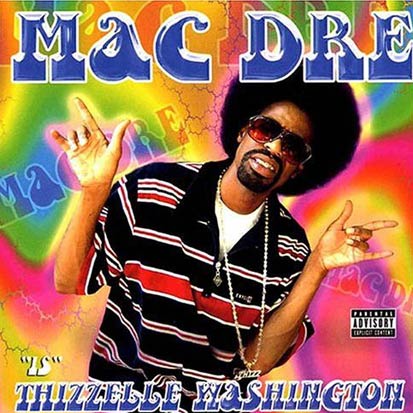 Ecstasy was a curio for most rappers, but in the Bay Area it defined a culture around the local frenetic sound hyphy. At the forefront of the Bay's ecstasy obsession was the legend Mac Dre, who in 1996 founded the label Thizz Entertainment, which borrowed and then popularized Bay Area slang for being high on X. His verses were peppered with references to ecstasy (and his beats often rode acid bass lines that could've appealed to those deep in Europe's rave and club culture). It all culminated in 2002's Thizzelle Washington album and "Thizzle Dance," a song that is less about a specific movement and more about rolling and sweating and going dumb. Thizz culture would span a number of local hits before cracking the pop charts in 2006 with E-40's "Tell Me When To Go," the outro of which references "Thizzle Dance." J.S.
18. POPPIN' BOTTLES – AND THAT'S NOT ALL (2003)
18/33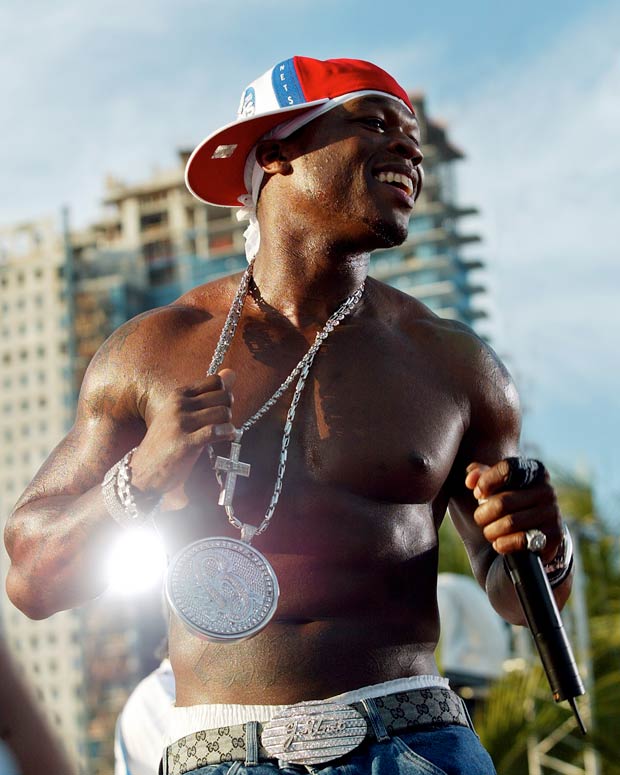 It's remarkable that one of the most commercially successful rap songs of all time — 50 Cent's "In Da Club" — namedrops ecstasy. These days, the proliferation of molly songs is alarming parents and local news blogs, but this song further proves it's been an integral, even iconic, element of hip-hop's darker side. Everything about 50's mushmouth delivery on this party track sounds nihilistic, but the nonchalance with which he tosses off the lyric, "Look mami, I got the X if you into takin' drugs," suggests that the rapper's got a lot more in his arsenal where that came from. J.E.S.
19. PETER JENNINGS VS. THE DEA (2004)
19/33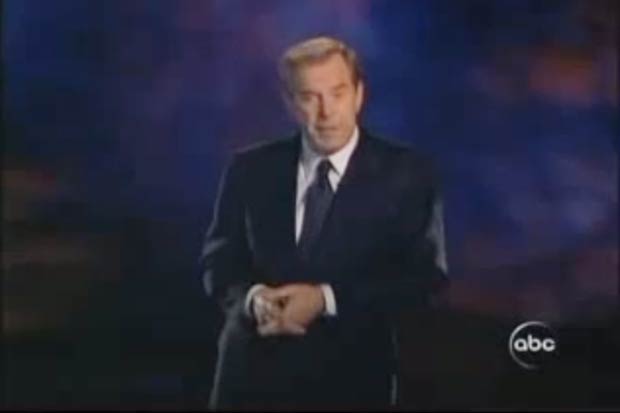 In 2004, as the use of ecstasy continued its steady climb in the United States and the government started increasing its crackdown efforts, ABC news anchor Peter Jennings aired a documentary called Ecstasy Rising that aimed to explain the phenomenon to, well, the type of person who would learn about drugs from an ABC documentary. But there was none of the paranoid fear-mongering that often colors news reports about drugs — instead, Jennings explicitly rejected the government's claims that MDMA was a destructive, brain-damaging substance. Still, the DEA continued to ramp up its focus on the supposedly dangerous ecstasy epidemic, publicizing their confiscation efforts, even ensnaring Diplomats honcho Freekey Zekey, who skirted charges in 1999 after being arrested for possessing $30,000 worth of pills. In 2003, he was shot in an attempted robbery attempt, then hospitalized, and eventually imprisoned in 2004 after police discovered his prior arrest. J.S.
20. A MULTITASKING DIDDY ECSTATICALLY MONETIZES THE SCENE (2005)
20/33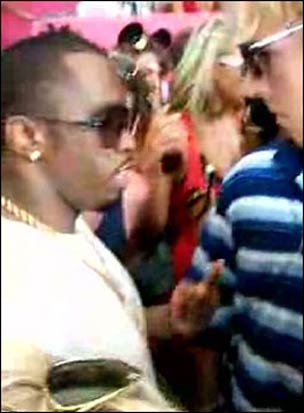 Stars buy their own drugs, too. In 2007, Diddy was caught on a cell-phone camera in an Ibiza club, bobbing along to a thumping beat while purportedly buying ecstasy from some mop-haired blonde guy. It was just another moment in Sean Combs' nearly decade-long love affair with dance music. It started — publicly, at least — during Miami's Winter Music Conference in 2005, where he performed alongside Felix Da Housecat and DJ Hell. It peaked with his Dirty Money project's Last Train to Paris, a stunning R&B picaresque with pronounced house and techno influences. It continues with his documentary IBIZA — about the legendary Spanish island and dance-music mecca, where Diddy is a familiar face — which should be released this year. J.S.
21. THE DIRTY SOUTH IS MAD GEEKED (2007)
21/33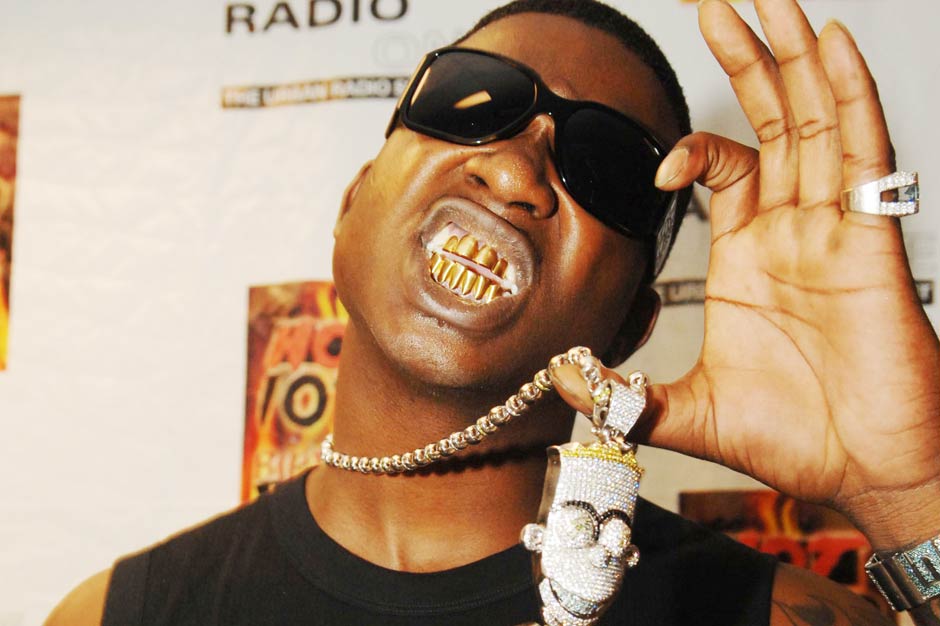 In 2007, the DEA busted an international drug ring running ecstasy into Atlanta, Georgia, and other Southern states. Coincidentally, that was around the exact time a slew of rap songs about getting geeked started rolling out the South. With the oeuvre of Three Six Mafia as their spirit guides, Fabo and Young Jeezy's "Geeked Up" has Jeezy talking about how rolling makes him want to kill people (bummer), but it was Gucci Mane's "Pillz" (a.k.a., "I Might Be") that became the South's unofficial proto-molly anthem. A drug rhetorical, Gucci's ever-direct chorus explains that he might be rolling on ecstasy; we are, of course, to assume the affirmative and act accordingly. A street classic, it ended up sampled in Jackie Chain and Jhi Ali's ecstasy jam "Rollin" (2008); and, improbably, on the track "Pillz" by U.K. producer Zomby, from an album dedicated to early rave culture (Where Were U in '92?), closing the circle between dub, jungle, hip-hop, and future nostalgia (while itself predicting the coming wave of "trap EDM"). J.E.S.
22. X GETS PRESIDENTIAL (2009)
22/33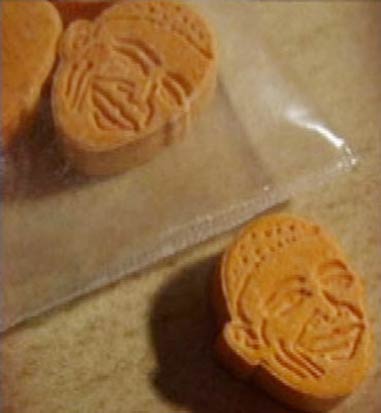 Jay-Z didn't land his first-ever No. 1 single until 2009's "Empire State of Mind," the track that effectively asserted Hov as the undisputed King of New York — and referred to ecstasy by its government name, via the line, "MDMA got you feelin' like a champion." That same year, DEA agents discovered ecstasy shaped in the likeness of President Barack Obama — in Texas, of all places. Now, that's that presidential work (literally). J.E.S.
23. FOR THERAPEUTIC USE ONLY (2009)
23/33
Gucci Mane's "Pillz" was certainly prescient about the coming molly wave, but it was his protege Waka Flocka Flame who actually did more to popularize the drug. Tellingly, the Atlanta giant's debut track, the major street hit "O Let's Do It," recounts his days as a young d-boy in Riverdale, Georgia, who used to take ecstasy in much the same way that therapists employed it back in the early '80s. "Ever since they killed my nigga Trav," he raps, "start poppin' pills and acting crazy." Then he repeats the line, just to emphasize the self-medication of it all. J.E.S.
24. THE ECSTASY OF INFLUENCE (A.K.A., DRY SNITCHING) (2010)
24/33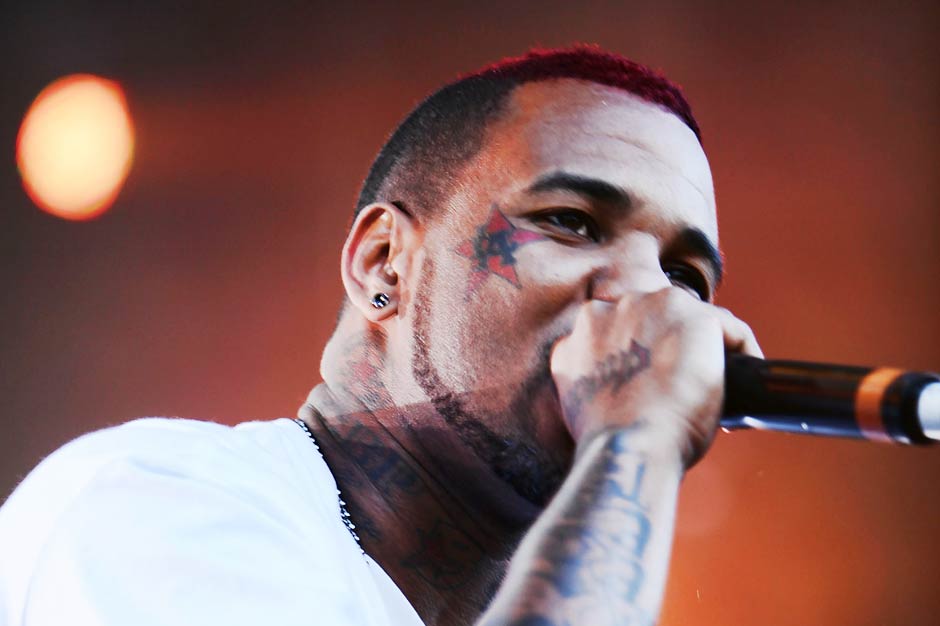 The Game's entire career is predicated on networking with famous friends and telling everyone about it on record. So it should come as no surprise that when he wrote a song called "Ecstasy" in 2010, it was all about, you know, taking ecstasy with famous people. In the first verse alone he mentions the following artists: Eminem (who gave him a green pill in Detroit), Jay-Z (who he feels like when he takes X), Beyonce ("I jack off every time I think of Beyonce"), Lil Wayne (makes him want to pierce his lip), Kanye, T-Pain, Lil Wayne, and Ludacris. The song itself is unremarkable, but Game's tardy adoption of the drug carries its own significance. J.S.
25. IT'S SEXTASY WHEN YOU'RE NEXT TO ME (2011)
25/33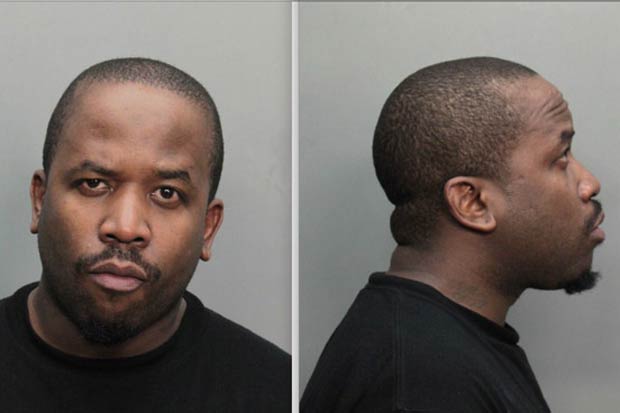 André 3000 is the most revered of OutKast's two MCs, but the events of Aug. 7, 2011 made one thing clear: it's Big Boi who you want to party with. Ten years after the group's Stankonia fed off the extensive aesthetic of X in hip-hop culture, Antwon Patton walked off a cruise ship in Miami and through customs, where he was busted for possession of Viagra and molly (a combo often called "sextasy"). A few months later, he would agree to a plea deal — three months of drug testing, plus community service and charitable donations — to avoid jail time. Somehow, we really don't think this did much to slow Big's roll. J.S.
26. YOU CAN JUDGE AN ALBUM BY ITS COVER (2011)
26/33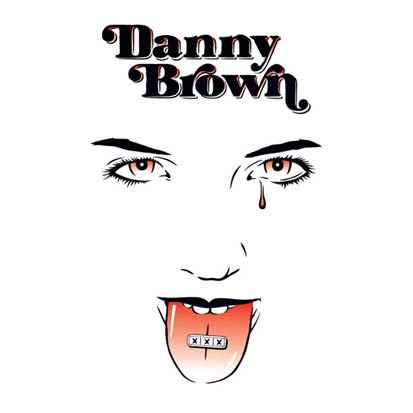 Even by 2011, ecstasy had not yet reached ubiquity in hip-hop culture. And that made Danny Brown, whose lurid raps over wobbly, warped beats actually make you feel fucked-up, look particularly prescient when he released his breakthrough album XXX on the cusp of MDMA's hip-hop explosion. The album title itself serves to warn the listener that the 30-years-young Brown is both nasty and old (at least for a new rapper), but its cover is an iconic bit of historically druggy imagery, with a pill sitting on a tongue protruding from the outline of a face. Since the rapper has often confessed to taking Xanax, it's unclear what that pill might be; but after Brown's manifesto "Molly Ringwald," it was clear where his allegiances lie. Soon, he'd be joined by fellow rappers Problem and Fat Trel, whose 2012 albums Welcome to Mollywood and Nightmare on E Street, respectively, were evidence that MDMA was becoming one of hip-hop's true dominant themes. J.S.
27. ALL MOLLY EVERYTHING: TRINIDAD JAMES TRIPS AND WINS THE LOTTERY (2012)
27/33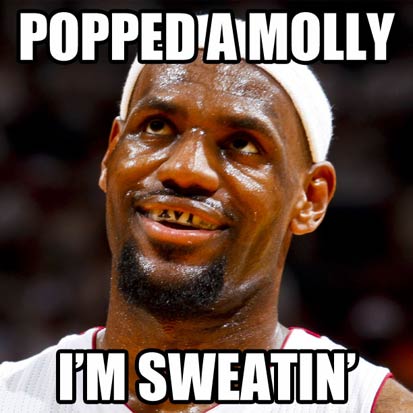 G.O.O.D. Music scored one of 2012's most memorable rap hits with "Mercy," a track that will be remembered for Big Sean's ass puns, 2 Chainz' career-making verse, its bewitching production, monster hook, and MoMA-baiting video. But it's also marked by MDMA references from Pusha T ("these blue dolphins need two coffins") and Kanye West ("She gone off that molly / Now the whole party is melting like Dali"), both of whom are important figures in how drugs (or, more specifically, drug dealing) have defined rap music over the last decade. Pusha, as one-half of the Clipse, made his career off rapping about dealing coke, while Kanye eventually became rap's dominant persona, in turn pushing the genre away from the type of cred that used to come from being an ex-dealer.
But "Mercy" eventually would be usurped by a little-known Atlanta rapper with a big lopsided afro and a garish gold grill. Late in the year, Trinidad James became the first rapper to sign a major-label deal off MDMA (a three-million-dollar deal with Def Jam, to be exact), and it only took him one line: "Popped a molly / I'm sweatin'/ Woo!" It was a mantra that became both the line to hear at parties and an Internet meme, the greatest of which — "LeBron James Pops a Molly & Sweats For 5 Minutes" — was as hilarious as it was instructive. Lebron is the face of some of the world's largest brands — Nike, McDonald's and Coca-Cola, among them — and no one batted an eye when he was caught on camera dancing and rapping about taking ecstasy. J.S.
28. THE DECLINE AND FALL OF THE THIZZ EMPIRE (2012)
28/33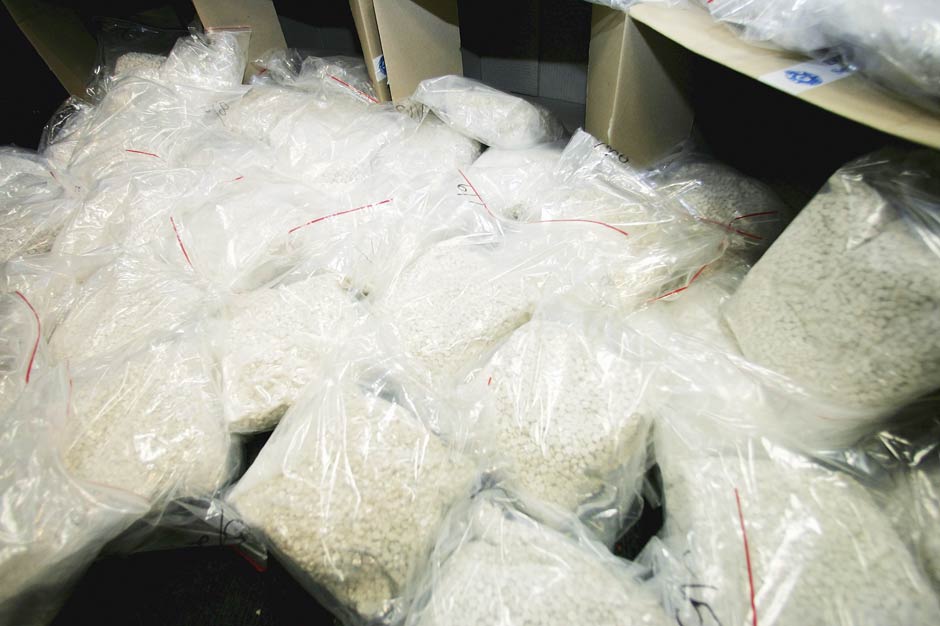 Mac Dre's Thizz Entertainment was obviously not shy about its love of ecstasy, but no one suspected this. On April 24, 2012, the legendary Bay Area rap label was decimated by a police raid after a four-year long investigation revealed that it was supported by trafficking drugs, with X chief amongst them. The feds seized 45,000 ecstasy pills after raiding the label and charging 25 people — many of them rappers — with distributing ecstasy, cocaine, heroin, marijuana, and codeine. The investigation had hit its first major milestone in July 2008, when rapper Miami the Most — who took over as CEO after Mac Dre's death — sold $200,000 worth of ecstasy pills to an undercover cop.
Thizz members weren't the only Bay Area early adopters ecstasy to fall on hard times. In February of this year, Shock G of Digital Underground explained to the public why fellow group member Saafir is now confined to wheelchair. The root of his disability stems from a 1992 incident in which he jumped off a burning jumbo jet onto the runway at New York's JFK airport, seriously injuring his back. But Shock G also attributed Saafir's decline to popping "hella ecstasy without drinking the required water to protect the spine from dehydration." Clearly, neither of these cautionary tales have done much to dampen the popularity of ecstasy in hip-hop culture. J.S.
29. YOU ARE TRAPPED IN A HOT DARK ROOM (2012)
29/33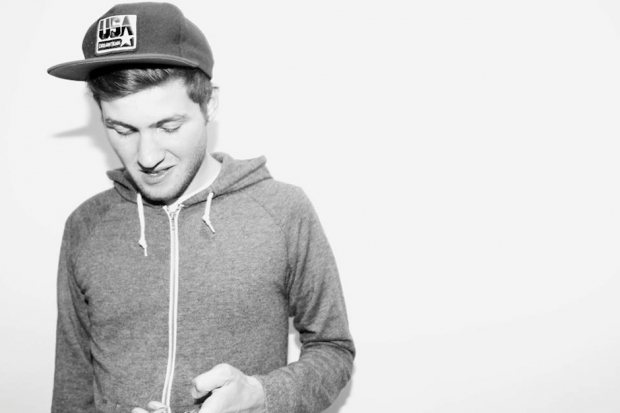 An inevitable confluence of druggie impulses, the quasi-genre known as "trap rave" has juiced up electronic music by borrowing the triple-time squerks of southern rap producers like Lex Luger and Mike Will Made It. Baauer's "Harlem Shake," trap rave's cornerstone track and unlikely No. 1 Billboard hit, neatly fused rap's molly fetish with EDM's electric zoo, though some accused the Brooklyn producer of being clueless about the hip-hop from whence he borrowed (despite collaborations with legendary hip-hop producer Just Blaze). Answering critics, Baauer admitted his ignorance to XXL in a trap rave piece, underscoring that the unifying factor between trap and rave is that any kind of bass sounds really bitchin' when you're rolling on MDMA. J.E.S.
30. LEGALIZE IT, DON'T CRITICIZE IT (2012)
30/33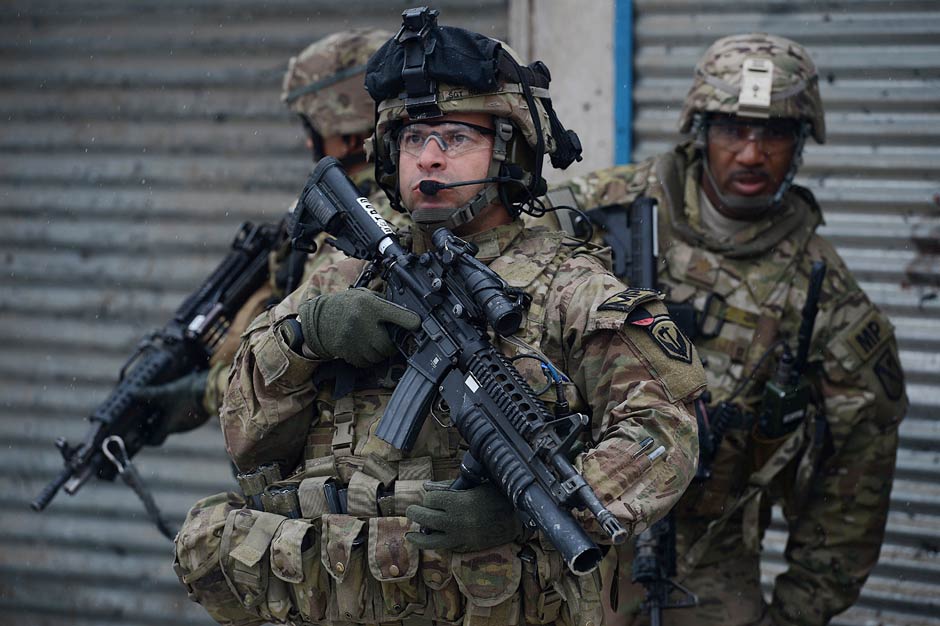 When the DEA formally banned MDMA in 1985, members of the psychotherapy community objected strongly, maintaining that the drug was useful in getting patients to become more receptive to other forms of treatment. Fast-forward to an America still dealing with the fallout of George W. Bush's wars on the domestic front, and ecstasy has been allowed to make a slight comeback as a method of therapy. A limited number of labs in the U.S. have been permitted by the federal government to produce MDMA as a means of treating Iraq and Afghanistan war veterans, and many have deemed the experiment a success. Of course, there is still a stigma to the idea of ecstasy as therapy — a New York Times article on the resurgence only quoted patients on a first-name basis — but, then again, many in the armed forces community are suspicious, if not hostile, to the idea of mental health in general. The bigger hurdle, of course, is the government — with pot legalization still stalled, it's hard to imagine X being brought out of the shadows. J.S.
31. I'VE GOT BETTER THINGS TO DO 
THAN SIT AROUND AND FUCK MY HEAD (2013)
31/33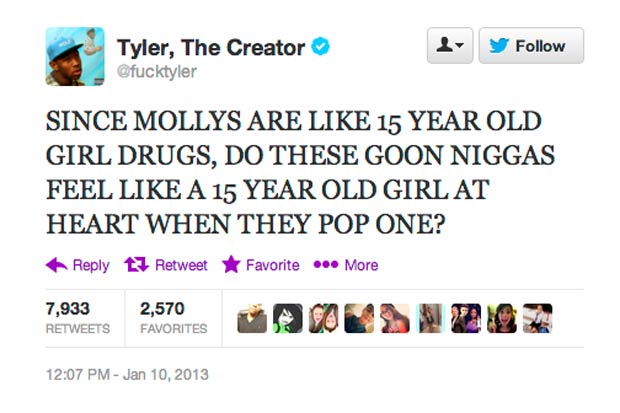 This year has already featured its own notable rebuke of ecstasy: a tweet from Odd Future's straight-edge leader Tyler, the Creator. In January of 2013, the perpetual shit-stirrer — who frequently ribs his peers for repetitive collaborations and using VEVO, among other things — lashed back against molly, calling it a "girl drug": "DO THESE GOON NIGGAS FEEL LIKE A 15 YEAR OLD GIRL WHEN THEY POP ONE?" Well, it'd certainly make for more interesting music if they did! J.S.
32. ONE FOR MY BABY (AND ONE MORE FOR THE ROAD) (2013)
32/33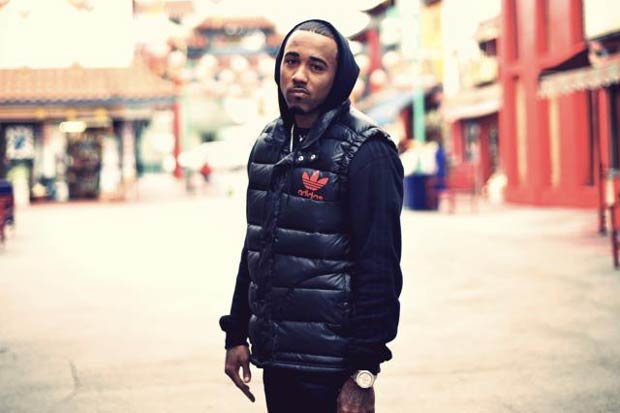 At no point in his recent track, "My Last Molly Song Ever, I Promise," does Compton rapper Problem ever actually address the idea of no longer writing songs about MDMA. Instead, he recruits Gunplay (whose usually into the harder stuff) and Trinidad James (Woo!) for yet another geeked-out song about getting geeked up. It's as if the song is like one of those goals you set that you know you're never going to accomplish, so you tell everyone that you know as a means of motivation. J.S.
33. RICKY ROZAY RUINS THE PARTY (2013)
33/33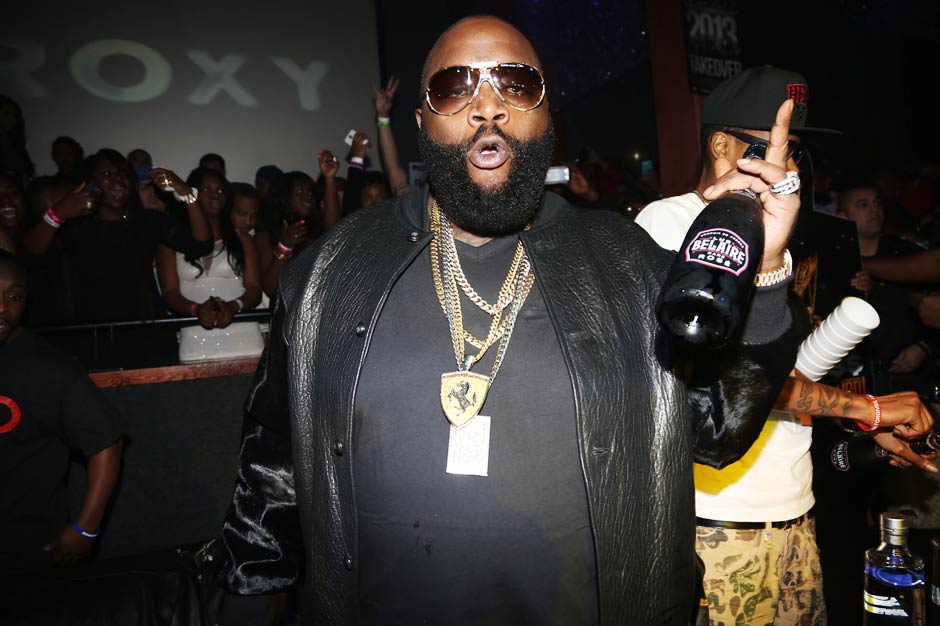 Molly was pretty much all harmless fun and games until someone invited Maybach kingpin Rick Ross to the soiree. Rocko's new single "U.O.E.N.O.," featuring Future and Ross, is truly one of the most bizarre and singular rap songs in recent memory, but unfortunately, it's marred by the Bawse's brutally casual date-rape braggadocio: "Put molly all in her champagne, she ain't even know it / I took her home and I enjoyed that, she ain't even know it." Maybe we shouldn't be all that surprised after Ross showed up on Lil Wayne's mindless syrup-and-X tribute "Pill Poppin' Animal." Regardless, after listening to "U.O.E.N.O.," you feel like calling the cops. J.S.