To quote American Express, membership has its privileges. Ever since Dave Grohl was asked to join Nirvana in 1990, he became a part of an exclusive community. Near the beginning of that journey, the band traveled to ramshackle Sound City Studios in Van Nuys, California, to record their groundbreaking second album Nevermind. The experience was revelatory for Grohl, who was enamored by all the luminaries who had recorded there, including REO Speedwagon, Tom Petty, and Fleetwood Mac. Nevermind that he started out as a punk rock drummer, Grohl cherished the history of great music and determined to make his mark. Don't be fooled by his humble, happy-go-lucky persona. Grohl has grown into one of the most ambitious and gifted songwriters and performers in contemporary rock, one who has always thought outside of Nirvana Heart Shaped Box.
Last night his recent promotional blitz supporting his documentary about Sound City (aptly titled Sound City) reached New York City with a show set up like a Rock and Roll Hall of Fame induction ceremony: brief clips from the film played on a massive screen, then its subjects took the stage for all-star-jam-style sets.
For Grohl, the event seemed less like a promotional effort than a party with some of his best friends and biggest musical heroes. The fan favorites were John Fogerty and Stevie Nicks, yet Grohl reveled in every moment of the evening, grinning broadly and bobbing his shaggy head to the tunes of Alain Johannes' former band Eleven, and those of Masters of Reality frontman Chris Goss (who was joined by Rage Against the Machine drummer Brad Wilk).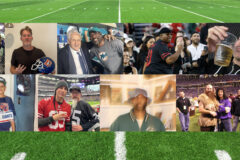 "People always ask me what it's like to play with Paul McCartney, Stevie Nicks, and Tom Petty," announced Grohl in the middle of a blazing punk rock set with Fear's Lee Ving, one of Grohl's childhood counterculture heroes. "I always tell them it's like playing with fucking Lee Ving!" Joined by Nirvana second guitarist Pat Smear, the band blasted through the soundtrack cut "Your Wife is Calling" as well as Fear proto-hardcore classics "Beef Bologna," "I Love Living in the City," and "I Don't Care About You," which Ving, looking like a middle-aged biker in a sleeveless jean jacket, introduced as a song about "our deep abiding love for each and every one of you who we consider personal friends."
The Foo Fighters were the versatile house band for most of the evening, and switched their style slightly for each performer. Other regulars through the evening were Wallflowers keyboardist Rami Jaffee and Johannes, who played a variety of instruments, including bass for Goss and mandolin for Nicks. Most of the night consisted of old songs by Grohl's special guests, but the Players also performed five tracks from Sound City Real to Reel, including Johannes' "A Trick With No Sleeve," which started the night with a lunging bassline, off-kilter beats and ethereal, fuzzy guitars and blossomed into a chorus redolent of Screaming Trees. On the flipside, the band joined Rick Springfield for the perky power-pop album cut "The Man That Never Was," strengthened by Hawkins' heavy, steady beat.
Grohl didn't play any Nirvana or Foos songs. Neither did he perform the album duet with McCartney, "Cut Me Some Slack," which the pair debuted at the 12-12-12 concert for Hurricane Sandy relief. But all surviving members of Nirvana took the stage — Grohl behind the drums — during a five-song set with Cheap Trick guitarist Rick Nielsen, the only segment to feature Krist Novoselic. In his liner notes for the B-sides album Incesticide, Kurt Cobain wrote, "I'll be the first to admit that we're the '90s version of Cheap Trick… but the last to admit that it hasn't been rewarding.
Nielsen may have looked frail in a black suit, matching baseball cap and thick black glasses, but he played with the agility and vigor of a youngster under the spell of the cheering audience. Since Slipknot's Corey Taylor was in Los Angeles with Stone Sour, a shirtless, spazzy Taylor Hawkins grabbed the mic. The band opened with "Hello There," Nielsen deftly manipulating his trademark checkered Gibson Explorer, then powered through "Still Competition" before Hawkins, clad in blue, black and yellow surfer Bermuda shorts marveled, "I get to sing fucking Cheap Trick songs with Rick Nielsen! This is my rock'n'roll fantasy camp!"
It's an apt comparison for both Hawkins and Grohl. Nirvana's rhythm section joyously powered through "I Want You to Want Me" and the Fats Domino cover "Ain't That a Shame." The quasi-Nirvana reunion concluded with Hawkins gleefully exclaiming, "This is the first song from our new album" the dialog that begins the Cheap Trick album cut "Surrender," which concluded with Nielsen flinging one of his band's LPs into the audience like a Frisbee and plucking the multicolored guitar picks that lined his mic stand and flicking them into the crowd.
While Grohl is a punk rocker at heart (or at least started out that way), he reserves a soft spot for '80s pin-up and soap opera star Rick Springfield. Clad in a brown leather jacket and a black vest, Springfield played the Sound City song "The Man That Never Was" and several of his hits. When he removed his jacket, Grohl picked it up and playfully said, "I get to touch your sweaty leather jacket, Rick Springfield." The quips continued and Grohl always referred to the singer by his full name. "You need to tune that guitar, Rick Springfield." "It's close enough for rock'n'roll," replied the singer, then started the new wave-light hit "Love Is Alright Tonight," his voice lacking the sheen of the song cut at Studio City decades ago.
"Rick Springfield, I think it's time for the next performer to come on… unless there's another song you think the people might enjoy," joked Grohl, seconds before Springfield began the song the crowd had waited 20 minutes for. Three notes into the sinfully infectious "Jessie's Girl" and the cheers were almost as loud as the guitars.
If nostalgia and kitsch-factor fueled Springfield, it was genuine love for unadulterated rock'n'roll that made John Fogerty a highlight. Likely, Grohl realized the magical chemistry the Foos have with Fogerty, which is why he gave him a seven-song set. "I'm up here with the frickin' Foo Fighters," Fogerty exclaimed," seemingly thrilled by the realization. "I love these guys," he added later. "Especially that kid over there who's so excited to be here — Dave Grohl." The Foos anchored Fogerty's country-ish songs with a hard rock vibe that acted as a steroid injection to "Born on the Bayou," "Bad Moon Rising," and "Proud Mary." The marriage was reminiscent of when Neil Young discovered Pearl Jam and later recorded the Mirror Ball album with them. Fogerty, appropriately clad in plaid, bobbed and swayed impulsively to the powerful beat, smiling almost as widely as Grohl.
The final guest of the night, Stevie Nicks, began in euphoric fashion as she and Grohl addressed each other like a feuding couple in "Stop Dragging My Heart Around." Then she got serious. "A year ago my godson, who had just turned 18, went to a frat party and died of an overdose," she said. Nicks dealt with the experience by writing a poem, which became the motivation for the haunting "You Can't Fix This," one of most moving cuts on Sound City. The song began with tribal drums, delicate guitar picking and foreboding vocals: "Dancing with the devil / Call it respect call it fear / But we never allow the devil to come to the party," sang Nicks in the verse. The chorus was hooky, yet melancholy, concluding, "Friendships break like glass / and the Devil pours another glass."
After the morose drama, Nicks picked the mood back up with a trio of Fleetwood Mac hits. "Dreams" was the low point; Nicks was unable to reach the high notes, so she restructured the song into a more monotonal arrangement, which Grohl had trouble following. But "Landslide" which featured Grohl on acoustic guitar, underscored how mystical Nicks can be when singing in her register. The show closed with "Gold Dust Woman," which began with an extended near-psychedelic vamp and peaked with crashing cymbals and brash guitar strums. Johannes played distorted mandolin and the song flowed through an extended vamp then ended with the exultant chorus, in which Nicks instructed the crowd to "Pick up the pieces and go home."
Far from being a mere promotional vehicle for Grohl, Sound City was more like a catalog of great musical moments he experienced in his youth and early adulthood, brought to life by his mentors and bandmates. Beyond being such a personal and intimate revelation, the evening was proof that great songs transcend boundaries, regardless of era or genre. Punk rock shook hands with new wave, classic rock embraced hard rock and perhaps new seeds were planted for future generations. If Grohl is, indeed, a member of privilege, at least he's using his abilities to benefit a frequently stagnant and uninspired music scene. JON WIEDERHORN