Perhaps as a way to overcompensate for putting out an album of sheet music, Beck is hard at work on a new, fully immersive project: a cover of David Bowie's "Sound and Vision" that will be performed with 170 musicians and recorded with 360-degree equipment to make viewers feel as if they're actually at the show.
The Lincoln car company has drafted the Sea Change singer to reinterpret "Sound and Vision," off Bowie's 1977 LP, Low, as part of their new "Hello, Again" campaign. To tie in with Lincoln's own retrospective of their 90-year history, "Hello, Again" asks artists to "transform classic works of art, fashion, film, and music into entirely new, fresh, original creations," according to the program's website. Beck's experimental "Sound and Vision" will be the first in the series.
To help make the gig Beck-appropriate levels of bizarre and innovative, the Los Angeles native has teamed with music video director Chris Milk and an orchestra of 170 musicians to play on a "specially constructed circular stage and [work] within a multi-directional sound environment" (via Beck's website). Thanks to 360-degree binaural microphones and cameras, fans who watch the performance online will be able to move around the environment and change the direction of the audio in real time.
"The idea of being able to assemble a huge number of musicians to play a piece of music — I've never had anything like that come my way and I probably won't again," Beck says in the video preview above. "That's what's interesting to me. There being so many variables, so many things that can go wrong or go right."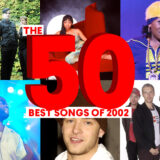 Sounds much more dramatic than Beck's previous reworkings of Bowie (see below). Funny, since the Thin White Duke himself is reverting back to his "classic" sound for upcoming full-length The Next Day (due March 12), which is of course one of our 50 Albums You Gotta Hear in 2013.
Beck will unveil his take on "Sound and Vision" in L.A. on February 5, and the footage will be available to watch on February 10 via the "Hello, Again" website. Head up top to watch the preview clip, and scroll down for Beck's strummed rendition of Young Americans cut "Win," as well as his live version of "Diamond Dogs," which he covered for Moulin Rouge!