Set the dimmer to low, 'cause Iron & Wine has a new album ready to go.
Sam Beam will release his fifth full-length, Ghost on Ghost, on April 16 via Nonesuch and 4AD. The album was produced by Beam's longtime collaborator Brian Deck and features a still from photographer Barbara Crane's "Private Lives" series. Whereas Beam's early albums were intimate, acoustic guitar-only affairs, his last two albums — The Shepherd's Dog and 2011's Kiss Each Other Clean — had a full-bodied sound, and Ghost on Ghost will continue that trend thanks to a backing band comprising Burger, Steve Bernstein, Brian Blade, Curtis Fowlkes, Tony Garnier, Marika Hughes, Briggan Kraus, Maxim Moston, Tony Scherr, Doug Wieselman, Kenny Wolleson, and Anja Wood. Unlike the previous two LPs, though, Ghost on Ghost won't have what Beam described as "anxious tension": "This record felt like a reward to myself after the way I went about making the last few," he says.
The album's first single, "Lovers' Revolution," is a jazzy tongue-tied sing-along featuring horns by the Tin Hat Trio's Rob Burger. The rest of the release is packed with trademark I&W song titles such as "Singers and the Endless Song" and "Sundown (Back in the Briars)," which you can oggle in the full track list below. Iron & Wine plan to head out on the road to support the album later this year.
Iron & Wine, Ghost on Ghost track list: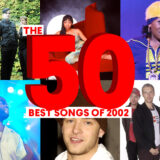 1. "Caught in the Briars"
2. "The Desert Babbler"
3. "Joy"
4. "Low Light Buddy of Mine"
5. "Graces for Saints and Ramblers"
6. "Grass Windows"
7. "Singers and the Endless Song"
8. "Sundown (Back in the Briars)"
9. "Winter Prayers"
10. "New Mexico's No Breeze"
11. "Lovers' Revolution"
12. "Baby Center Stage"