Sludge-metal pioneers the Melvins are attempting to break a world record: 51 shows in 51 states in 51 days. Join SPIN for their exclusive tour diary of this ridiculous and completely inadvisable endeavor! Catch up here.
October 17, 2012 – Little Rock, AR @ Juanita's Cantina
October 18, 2012 – Baton Rouge, LA @ Spanish Moon
October 19, 2012 – Austin, TX @ Mohawk
October 20, 2012 – Norman, OK @ Opalis Production
October 21, 2012 – Albuquerque, NM @ Launchpad
October 22, 2012 – Phoenix, AZ @ Crescent Ballroom
October 23, 2012 – Las Vegas, NV @ Las Vegas Country Saloon
October 24, 2012 – Los Angeles, CA @ Hollywood Forever Cemetery
October 25, 2012 – Honolulu, HI @ The Republik
51 down, 0 to go!
The last week of the tour was probably the hardest. Mentally, not physically. A good stretch of I-10 was closed in Louisiana causing delays. We almost didn't make it to Phoenix. We were about to cross the finish line and then we have van trouble. Thankfully Tweak Bird came to the rescue on that one! What's a little drama to keep it interesting, huh? Finally, back in Los Angeles we had a first-time experience playing at a cemetery. I've been to the Hollywood Forever Cemetery a few times. Lots of famous people buried there Douglas Fairbanks, Mel Blanc, Peter Lorre, and Johnny and Dee Dee Ramone. I can't believe that almost all the Ramones are dead! It wasn't that long ago that we ran into them at a Cracker Barrel. I had an amazing conversation with Joey about gravy. "Yeah, dey got good gwavy here!" We played in the Masonic Lodge. Weird gig. It kinda felt like we were playing a big house party. I had the same trouble Trevor had when he stopped at home for one night. I couldn't sleep worth a damn. Maybe because I knew I had to get up at 6 a.m. to leave for the airport. Anxiety about missing the flight I guess.
We ended the whole damn thing in Hawaii. The last territory to become a state, and the last date of our tour. The openers were a local band called Beaman. The singer was pretty funny. He was drunk off his ass and jumping around so much his pants were falling down. He told the crowd that they were from West Dakota. Shit, I guess we missed a state! We played our set and were done with it. The next morning we had about an hour before we had to leave for the airport, Trevor and I ran down to Waikiki Beach and jumped in the warm, blue Pacific. Staring at Diamond Head I realized what we had done, and felt a great sense of accomplishment. We did it! We really fucking did it! Take that George Thorogood's lying ex-booking agent, or whatever you are. I mean, "Whatever, bitch!"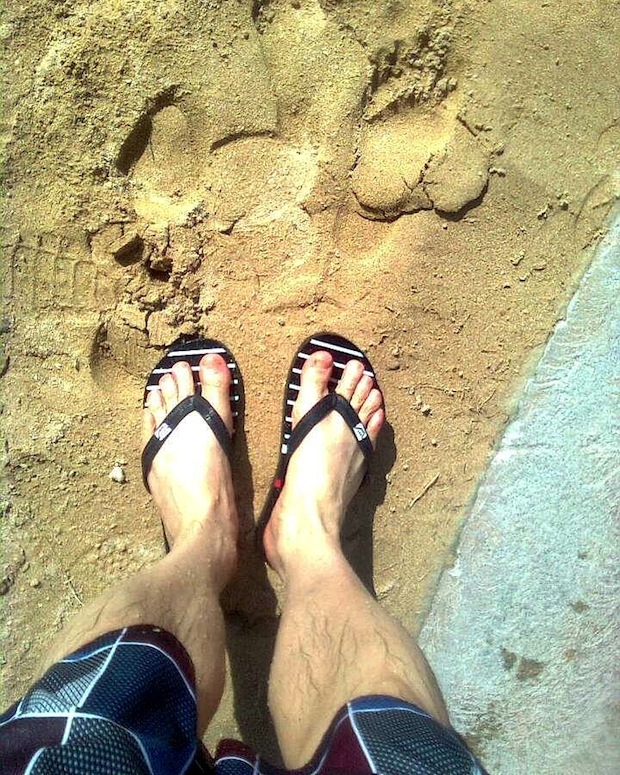 It's a weird feeling going from 100mph to a complete dead stop. You're constantly on the move on tour: Driving, setting up gear, and playing, tearing it all down only to jump back in the van and drive again. When everything stops, you don't know what to do with yourself. It takes a few days to decompress. You go through a bit of Post-Tour Depression (PTD's). Eventually the world catches up with you. I was surprised to feel jet lagged when we got back from Hawaii. Then again, we did go through five different time zones and back in two days.
Thanks to everyone involved with the tour! Thanks for coming to the show, or shows if you did! We feel grateful to be able to still do this after almost 30 years, and we don't take it for granted. Thanks to SPIN for letting us write the tour diary. It was fun to do. It was funny seeing people getting pissed off at us for shit talking certain rock stars. All of what we said is true! People don't like the truth. They get defensive and weird when you say Billie Joe is a big baby for throwing a rock star tantrum, or that Rob Zombie is a total dick! It's fucking true! I'm one of the nicest guys you'll ever meet! I say it's true! Oh well, why believe us? We should just tell lies like Bob Dylan does. It's more interesting than the truth anyway.