Sludge-metal pioneers the Melvins are attempting to break a world record: 51 shows in 51 states in 51 days. Join SPIN for their exclusive tour diary of this ridiculous and completely inadvisable endeavor! Catch up here.
October 1, 2012 – Boston, MA @ Paradise Rock Club
October 2, 2012 – Pawtucket, RI @ The Met Cafe
28 down, 23 to go
Well, we have made it halfway. We somehow defied the laws of gravity, inertia, hunger, disease, and blaring loud music. We somehow were able to drive in a van all the way across an entire country, set up our gear every night and play music! How is this possible? Last night we played in Boston, a town which will forever hold a special place in my heart ever since the movie The Departed came out. Oh how we enjoy mimicking racist, homophobic tirades in pidgin Bostonian. I somehow managed, once again, to not get my ass kicked for wearing a Yankees cap on stage. As if I care about that crap. I don't even follow baseball! I'm all up for a game once in a while as long as a sandwich is involved. In fact, to quote the Narragansett Beer can I'm nursing at the moment, "Hot dogs, peanuts and, of course, delicious lager beer. They all help make baseball more enjoyable." Yes they do, my New England friend. Yes they do. Maybe there are just too many bad memories from Little League of getting beaned by jocks twice my size. Half the reason I got into music in the first place was to get away from all the jocks and popular people in high school. If you take a close look at my Yankees cap there are two pins in the side. One says "cunt." I bought that at an S&M store the first time ever went to New Orleans in 1992. The other is a prairie dog from Prairie Dog Town in Oakley, Kansas. I would say those two pins sum up life on the road quite nicely.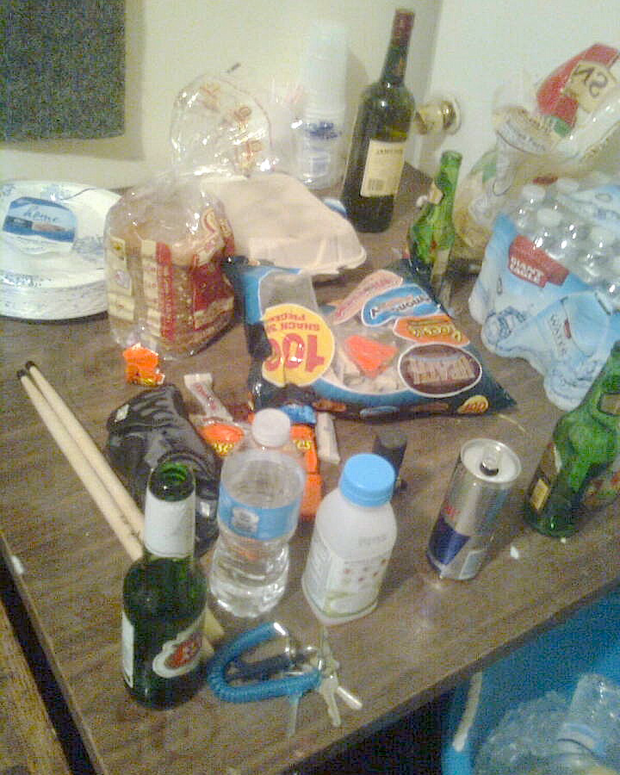 After the show Boston, we drove about 70 miles to a hotel somewhere in Rhode Island. I have no idea where exactly. I went straight to bed, woke up at 11 a.m. and enjoyed a lovely "breakfast sampler" at a Cracker Barrel across the road. My waiter had one eye and a lot of scabs on his fingers. Then I took a nap. Then I worked out in the hotel gym for an hour, took a shower and watched some garbage on TV. We left the hotel at 4:30 and loaded into the Met Cafe in Pawtucket. Now I'm sitting backstage on a leather couch eating cookies. I don't know how I will survive this lifestyle. Of course, one of the hardest things to do on tour is maintain one's health. After over 25 days into the tour it's no surprise that we have all passed around the same bug. Everyone is coughing up phlegm and looking beat. God knows where we got it. It certainly couldn't be the 25 different toilets I've sat on in the past three weeks; the hundreds of public doorknobs, remote controls, sink faucets and silverware that I grope every day. Nor could it possibly be from the fans, God bless 'em, who hang around after the show and want to shake sweaty hands, go in for an inappropriate hug or lend me a pen they've probably been chewing on to sign a poster. Believe me, I wash my hands a lot. Germs are pretty much a given byproduct of highway travel.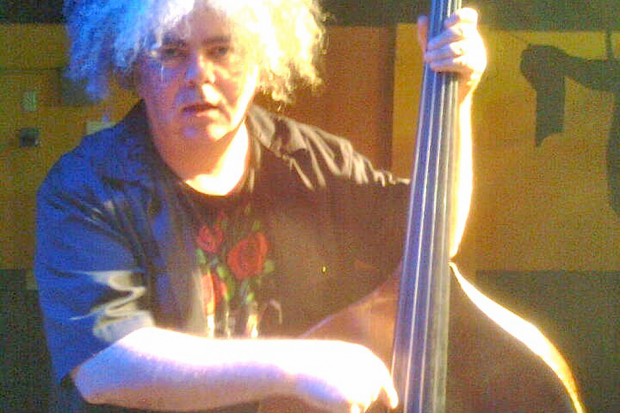 Somewhere backstage I found the ingredients to make a fine sandwich for myself. There was an entire head of luscious green leaf lettuce that my stomach was begging for me to consume. One of the many things you will not find backstage, along with a bottle opener, corkscrew, or cutlery, is a colander. Now, I'm no germaphobe but flirting with salmonella, botulism, or giardia is where I draw the line. Touring has a lot in common with camping, or being hospitalized, so I took this lettuce into the bathroom (food in the bathroom is a big no-no for me) and did a half-assed job of washing it in a sink that, thank goodness, couldn't talk. I would gladly prefer walking the street markets of Bangkok dining on pig stomachs and fried bamboo grubs than making a sandwich in a rock'n'roll bathroom. But beggars can't be choosers now can they? And it goes without saying that chiggers can't be boozers. It's an exciting life. I'm not harvesting the fodder for a book as compelling as anything Nikki Sixx or Keith Richards have ever "written," but I have more money than both of them combined, so I don't need to write a book. Both of those guys are still alive apparently, so who am I to judge? No one, that's who. I made my sandwich and stared mindlessly at the TV in our dressing room as the Red Sox suffered four Yankee home runs in the second inning.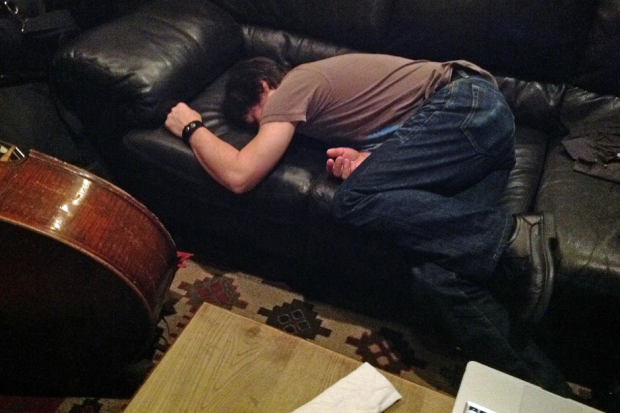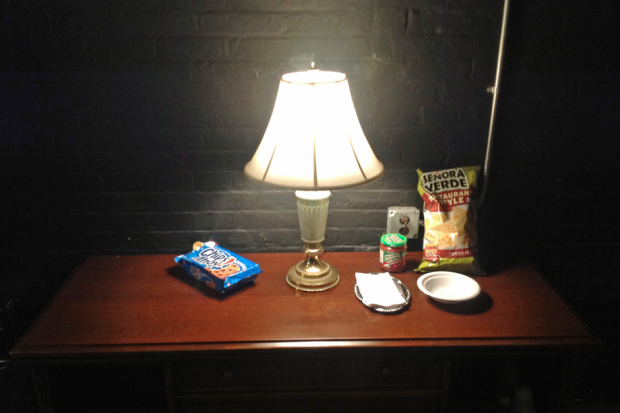 In the meantime, between naps and sandwiches I've watched Elia Kazan's Splendor in the Grass for about the 50th time. It's one of my all time favorite heartbreaking movies about denial and frustration. I'm also reading Oscar Wilde's Picture of Dorian Gray. In its own, completely antithetical way, it is also heartbreaking. By way of selfishly succumbing to base desires, the characters in this book fill me with pity and despair. I stare out the window of the van between chapters, chewing on sunflower seeds trying not to cry. Then I crawl into bed with Natalie Wood on my laptop, dejected and melancholy — her and I both — and ponder asceticism, morality, and compassion. Not unlike the two pins on my hat, these two poetic treatments from Kazan and Wilde combined make utter sense to me. I could never be so graceful though. After all, I'm getting paid to slam my hands into a hollow piece of wood with metal strings on it. The thing is amplified so a couple hundred people can hear it from across the room. For some reason when and where I place my fingers seems to make a big difference. If I can somehow coordinate my physical motions with that of the two other guys' motions, the reaction it produces is to great effect. People seem to like it. It's not an enormous amount of people, but it's impressive enough. What can I expect? I'm a total weirdo, but then again, so was Natalie Wood.