Arcade Fire: 50 Rap Songs Based on Video Game Samples
Gaming music is nothing new. Video games and hip hop have been practically inseparable since their birth in the 1970s. Here are 50 songs spanning four decades, showcasing the fruits of this Atari teenage riot.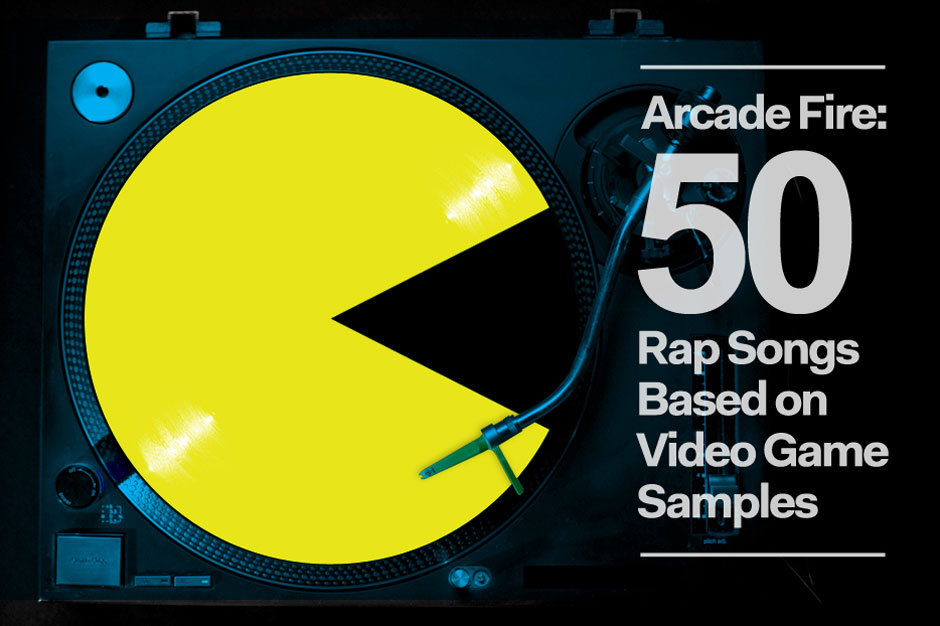 Video games and rap music have been practically inseparable since they both sprang to life in the 1970s. The former served as one of the most popular distractions for the teenagers who invented hip-hop in the later part of that decade, and you can feel how hip-hop absorbed video games' deep mythologies, colorful characters, and — once Afrika Bambaataa hit the planet — their epileptic bloops, as well. In 2012, it's the same as it ever was, especially since the best-selling video game of 2011 (Call of Duty: Modern Warfare 3) pushed about three times as many copies as Lil Wayne's chart-topping The Carter IV (which, we might add, had a song called "MegaMan"). Here are 50 songs spanning four decades, showcasing the fruits of this Atari teenage riot.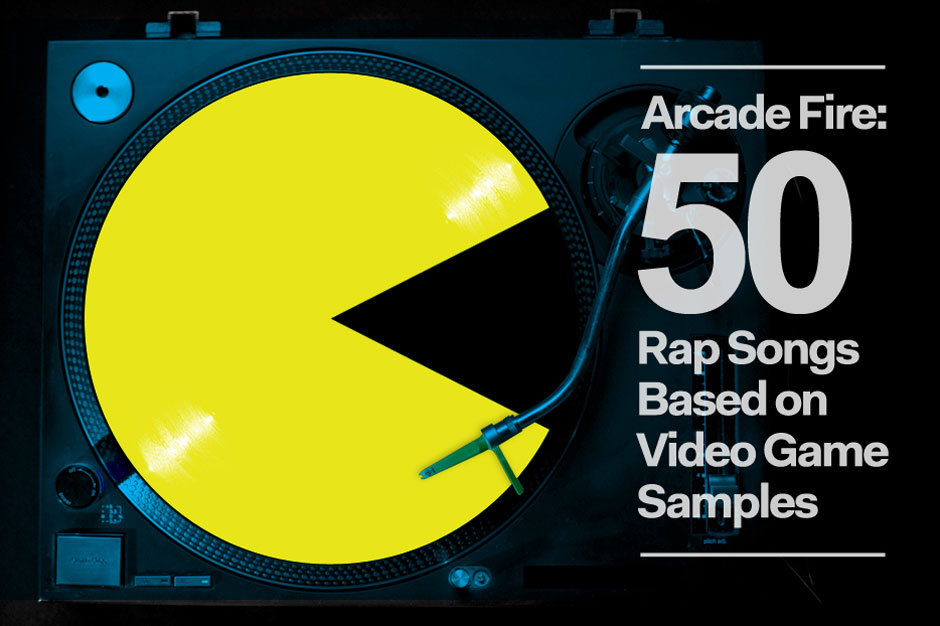 Video games and rap music have been practically inseparable since they both sprang to life in the 1970s. The former served as one of the most popular distractions for the teenagers who invented hip-hop in the later part of that decade, and you can feel how hip-hop absorbed video games' deep mythologies, colorful characters, and — once Afrika Bambaataa hit the planet — their epileptic bloops, as well. In 2012, it's the same as it ever was, especially since the best-selling video game of 2011 (Call of Duty: Modern Warfare 3) pushed about three times as many copies as Lil Wayne's chart-topping The Carter IV (which, we might add, had a song called "MegaMan"). Here are 50 songs spanning four decades, showcasing the fruits of this Atari teenage riot.
3. SPACE INVADERS (1979)
3/52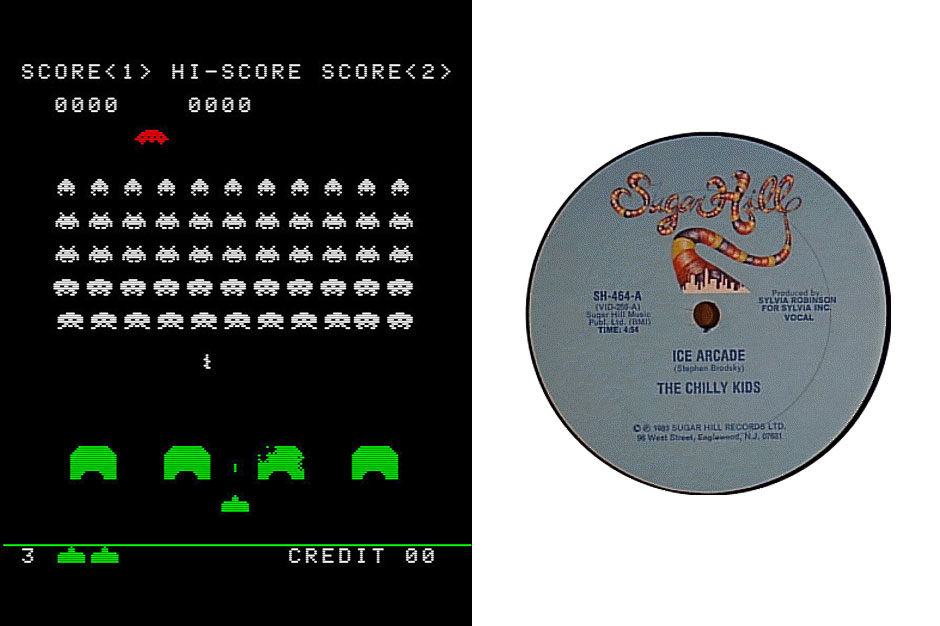 The Chilly Kids "Ice Arcade" (1983)
Surveying the then-relatively short history of video games, youthful rap crew Chilly Kids weave the sounds of Jeff Spicoli coin-operated classics like Space Invaders (1978), Asteroids (1979), Berzerk (1980), Pac-Man (1980), and Donkey Kong (1981), around a classic Sugar Hill Records sing-rap. "I flunked my test, the teacher's annoyed / But we rock the ice arcade, playing Asteroids!," a disturbingly chipper voice exclaims. Try to imagine a song a little too tailor-made for rollerskate parties as performed by a miniature version of the B-52's, and you're almost there. BRANDON SODERBERG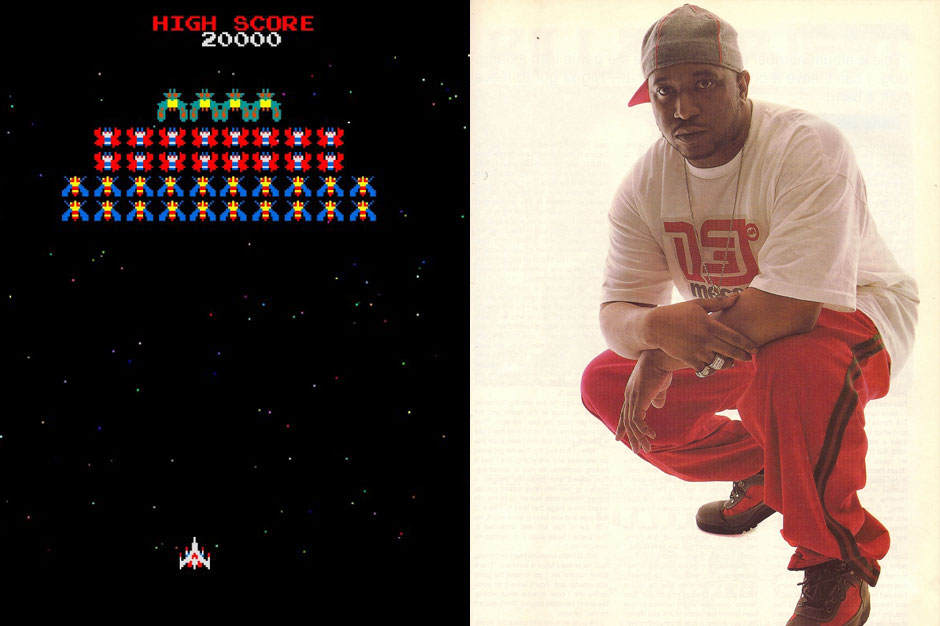 U.N.K.L.E., feat. Kool G Rap "Guns Blazing (Drums of Death Pt. 1)" (1998)
Slicker than Space Invaders, Galaxian took the same single-screen, alien-annihilating formula and spruced it up with color graphics and elaborate attack patterns. Queens gangsta rap hard-nut Kool G Rap never copped to misspending his youth hanging around arcades shooting space-blobs, but U.N.K.L.E. head honcho James Lavelle has always been tuned in to Japanese pop culture (plus Futura 2000's U.N.K.L.E. cover art would have been a smart fit on the side of a Galaxian cabinet). For "Guns Blazing," a sample of the Galaxian ship's laser cannon adds closing atmospherics to G Rap's ferocious waves of rhymes. PHILIP MLYNAR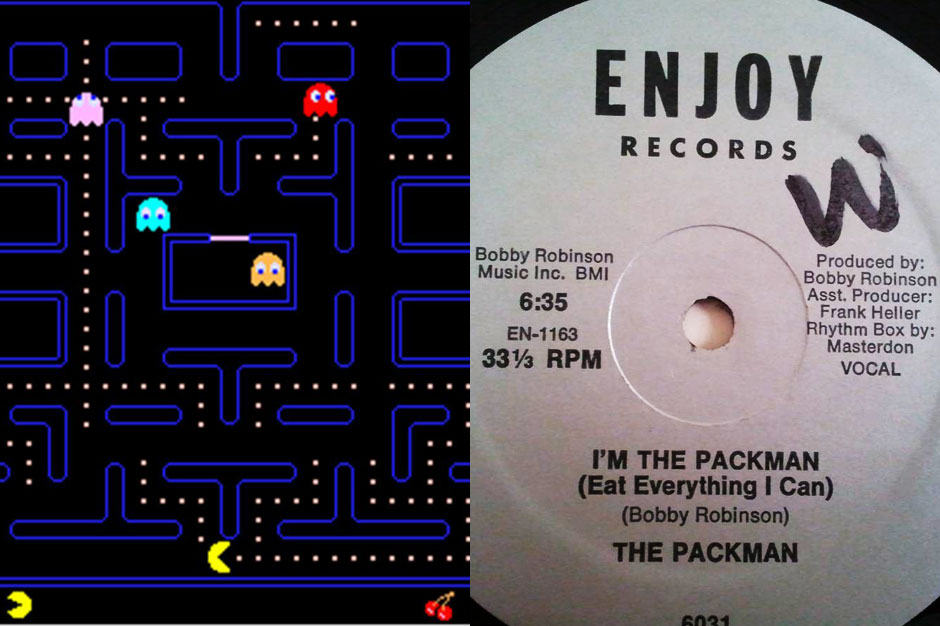 The Packman "I'm The Packman (Eat Everything I Can)" (1982)
Released within a year of Buckner & Garcia's cult novelty single "Pac-Man Fever," Enjoy! Records contrived a hip-hop electro take on that blipping hit. Despite the song's cynical origins, it's an excellent example of early rap's no-rules, figuring-it-out-as-we-go-along spirit. "I'm The Packman (Eat Everything I Can)" is an ominous alien transmission, with vibrating vocodered vocals that recall an oversize insect chanting. Meanwhile, chomping sound-effects mimic Pac-Man's lo-fi munching, though they sound more like brash, primitive Jam Master Jay-style scratches. B.S.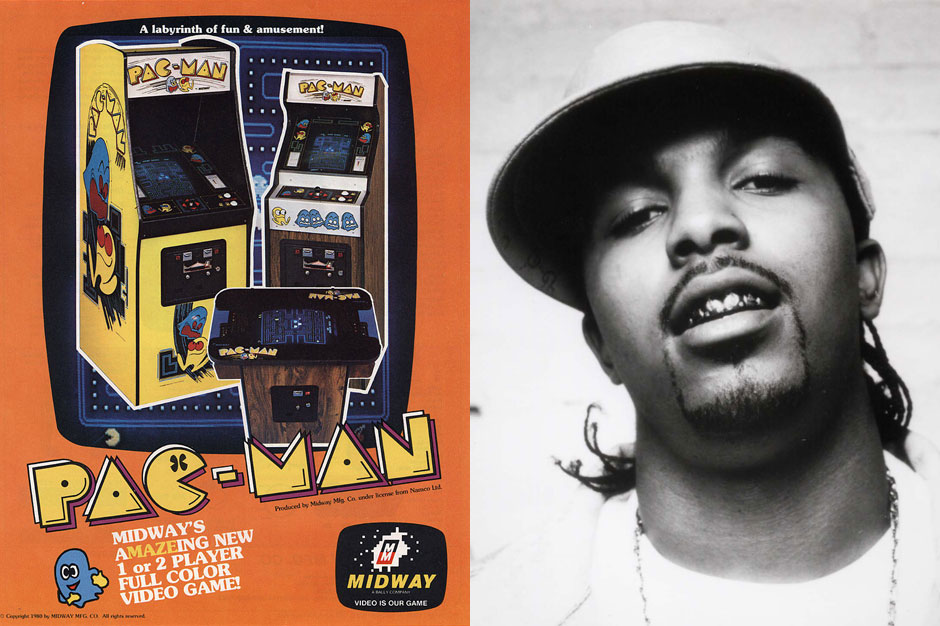 Lil' Flip "Game Over (Flip)" (2004)
On "Game Over," Houston's Lil Flip and producer Nick Fury — named after a Marvel Comics character, so we're already in nerd territory, here — connect the sonic dots between Pac-Man's simple 8-bit melody and the burgeoning synth-crunk of Lil Jon. Flip's pissed-off raps make no canny nods to the sample's fun-loving, pizza-parlor origins; instead, he grits his teeth and treats the beat like any other fight-rap party-starter. Namco actually ended up suing Flip and his label Sony BMG for this jack, but eventually settled out of court. Hopefully they did not pay in quarters. B.S.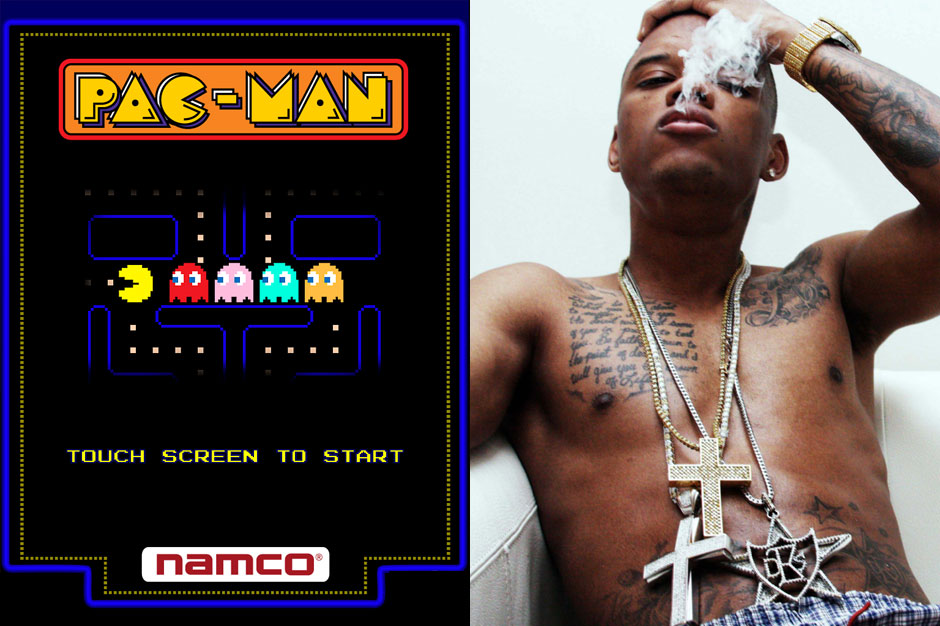 Rich Boy "Da Pacc" (2009)
Alabama scrapper Rich Boy made his name with "Throw Some D's," a song that Polow Da Don curled into an arcade-sounding plink-plonk on the verses and a soaring slab of symphonic '80s soul, on the hook. For "Da Pacc," produced by proud gamer Supa Villain — in this interview with the blog Space Age Hustle, the Mississippi beatmaker gave out his Xbox Live screen name — Rich Boy just went straight to video games for that cheap-but-triumphant electronic ambience. Once more, Pac-Man inspires talk about "packs," and another unlikely ode to drug-dealing is born. B.S.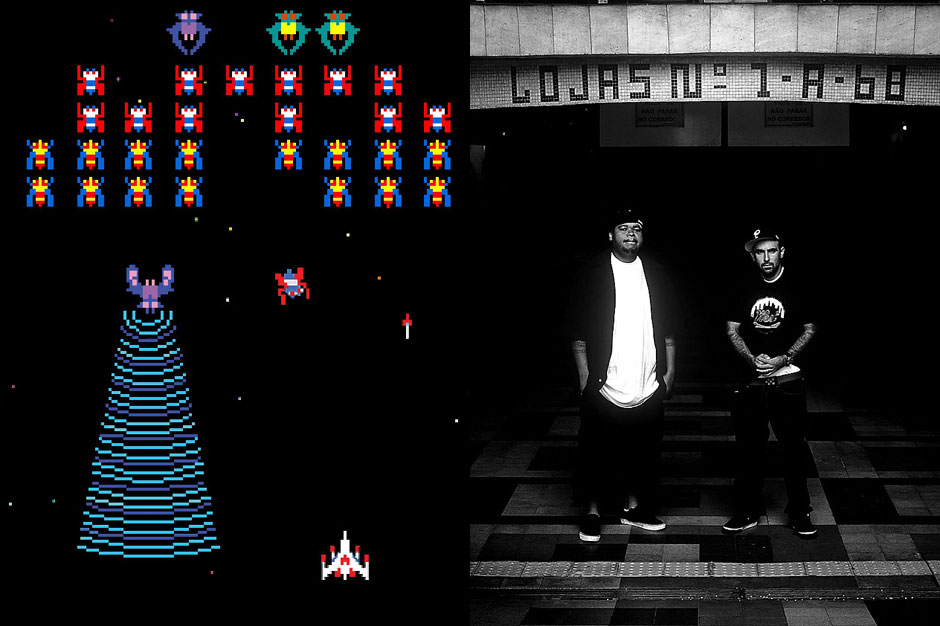 People Under The Stairs - "Gamin On Ya" (2008)
PUTS dropped the nostalgic "Gamin On Ya" on their retro, summer-loving mixtape Funner Than Leather, dusting off the oldster's shooter almost 30 years after Galaga first blew minds in pizza parlors across America. "Up, up, down, down, left, right": The song's not just about sampling the arpeggiated robot soundtrack, but actually jammin' in the arcade in the '80s. (Spyhunter and Double Dragon get namedropped, too. People Under the Stairs are nerds.) At the time, the alien-shooter platform was enjoying a resurgence thanks to that same nostalgia, plus geek-irony hitting critical mass — you can still cop logo tees off eBay with corny taglines like "You Complete Me" — so PUTS' track hit a nerve with their relative age group, though never explained why the upper levels never change aside from speeding up, a bummer of then-limited technology. JULIANNE ESCOBEDO SHEPHERD
9. DONKEY KONG (1981)
9/52
DJ Jazzy Jeff & the Fresh Prince "Human Video Game" (1988)
Always one to speak up on edgy issues, Will Smith penned this cautionary tale to warn morally panic-stricken parents about the dangers of video-game addiction. Finding himself unable to quit pumping quarters into a Donkey Kong arcade machine, Smith wards off impending ruin by finding salvation in Ready Rock C, who can perform a beatbox rendition of the game's opening riff on demand (coincidentally, one of the greatest beatbox performances ever put to wax). Without this important interjection, the early-'80s would have been blighted by rampaging youths leaping over barrels and saving princesses. P.M.
10. MS. PAC-MAN (1982)
10/52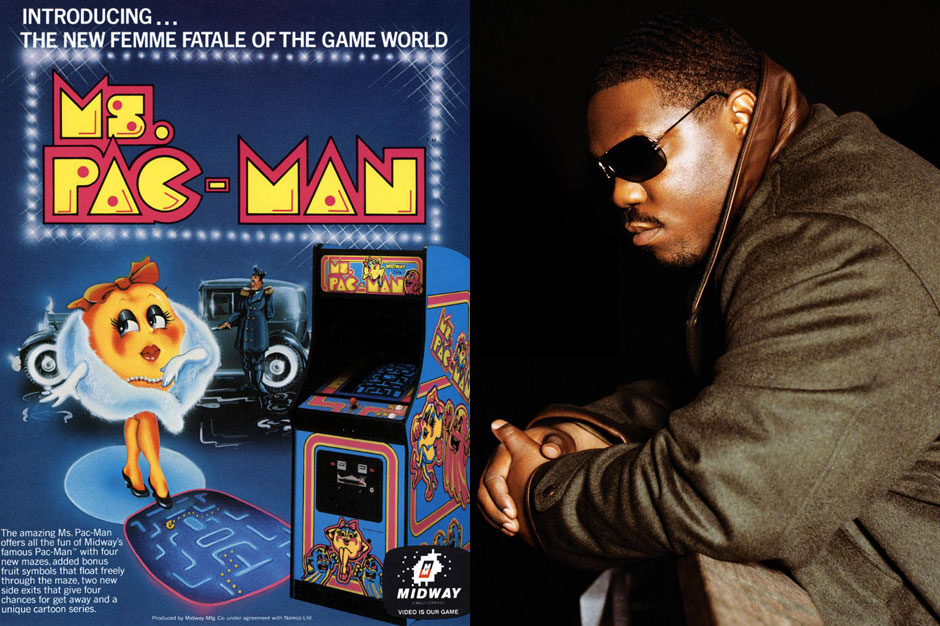 Beanie Sigel "Mac Man" (2000)
The Roc's former head hard-ass turns the 8-bit universe of Pac Man's wifey into the gritty streets of Philadelphia: "Yo, I cop power pellets (and y'all call them bricks) / I make little dots (and y'all chop rocks to flip)." As Sigel keeps the arcade-game-as-the-corner wordplay going, it grows more absurd and charming: "I got a worker named Frogger / When I say 'jump,' he leaps." And in a tribute to one of video gaming's greatest sequels, Beans' cadence on the song was ultimately lifted for Jay-Z's similarly list-based single "Girls, Girls, Girls." B.S.
11. SUPER MARIO BROS. (1985)
11/52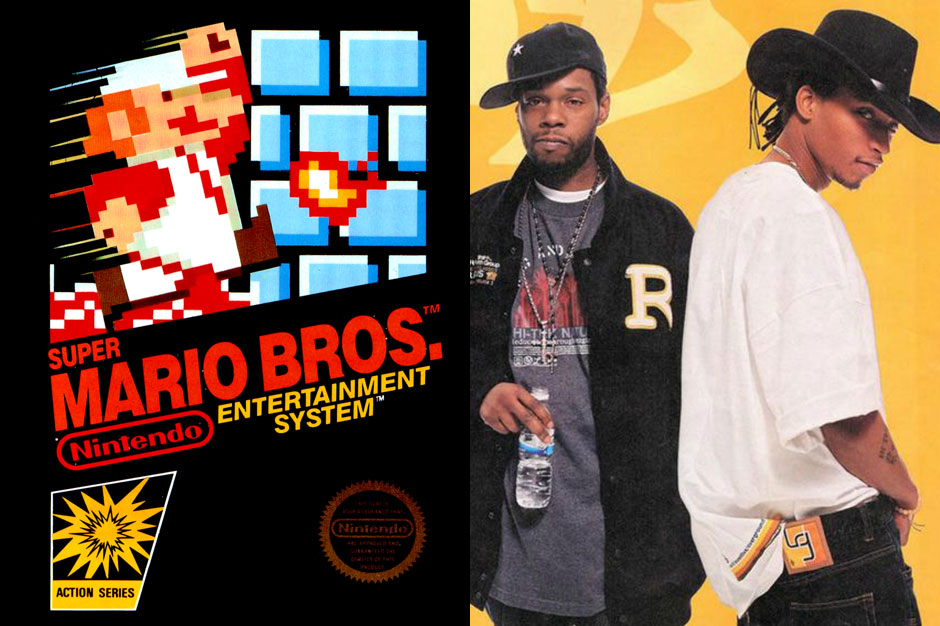 Cocoa Brovaz - "Super Brooklyn" (1998)
"Imma Brooklyn survivor / These streets is hotter than lava": When Cocoa Brovaz dropped this crucial BK track over Super Mario Bros.' "Underground Pipe" theme, they were doing more than paying homage to one of the best video games ever made — they were embodying its existence. Imagining themselves as errant Super Marios on a quest through the mean streets of Brownsville, they rap about busting heads and running the streets, though instead of a Princess at the end, there are several models namechecked in the last verse. Rap crews had referenced video games before, but this was around Game Boy Pocket-fever time, and "Super Brooklyn" was one of the illest. J.E.S.
12. SUPER MARIO BROS. (1985)
12/52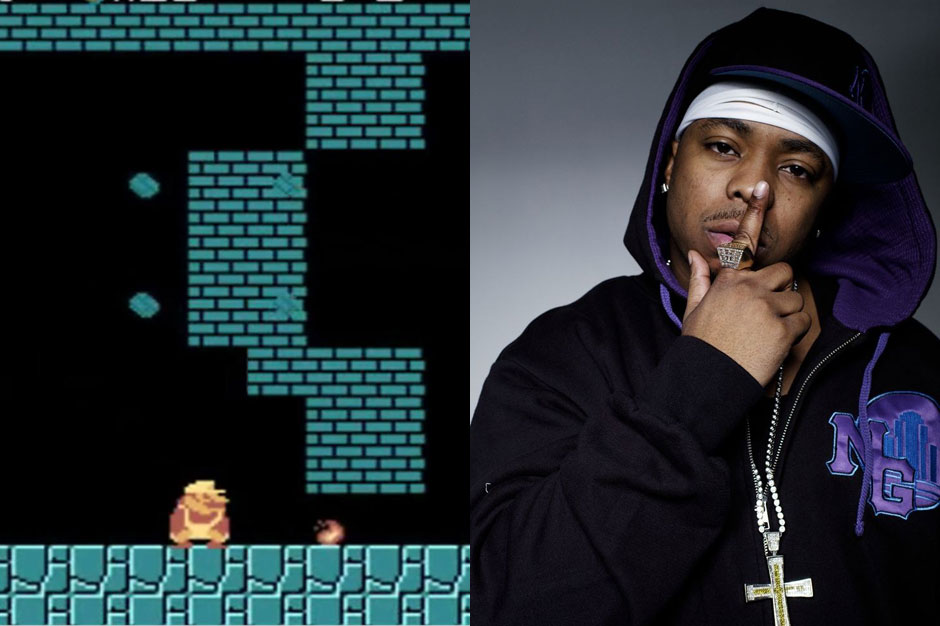 Saigon "Get Busy" (2010)
"Get Busy" first emerged in video form, which featured actual clips from someone playing Super Mario spliced in with narrative scenes from Saigon's track — which sampled the video game's main theme and actually flipped its storyline into a hood tale. In Saigon's version, Luigi's a 'shroom-popping adversary who kidnaps Mario's girl, but Mario's also a tough dude who threatens Luigi with his cigarette. From there, the tale fizzles off but eventually Saigon's the hero, saying he can spit fireballs, do the Roger Rabbit, and bump with your girl "like a joystick." For murder music, it's remarkably cheery, and impresses how indelible Super Mario Bros. has been through the years: For those of a certain age, the theme song will forever inspire warm feelings in the most hardened heart. J.E.S.
13. SUPER MARIO BROS. (1985)
13/52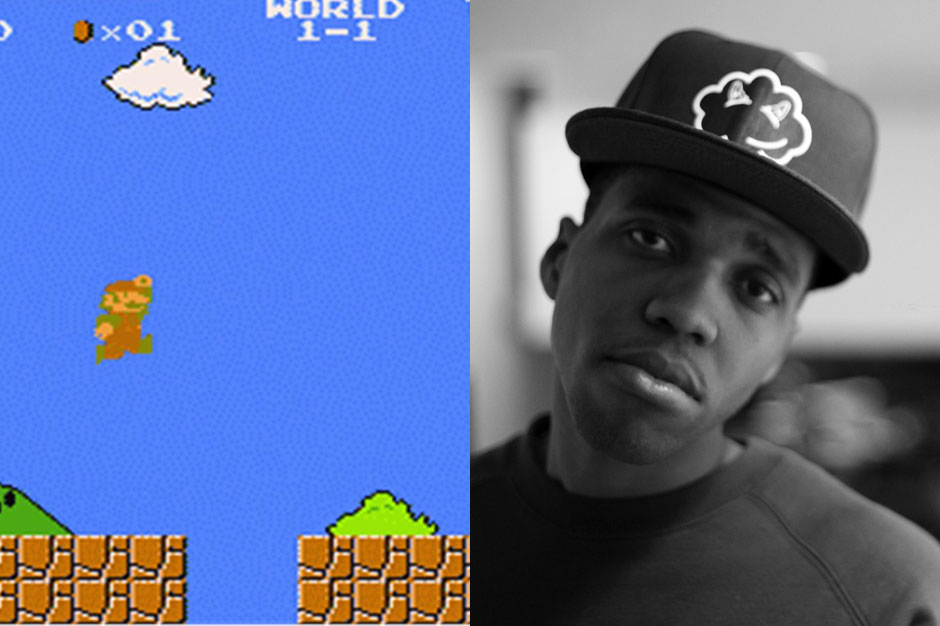 Curren$y "Star Power" (2009)
The invincibility round in Super Mario Bros. had the best music of the whole damn game — when the Mario avatar hopped on a little smiling star, the tune would switch into this fortissimo Brazilian jazz number. So it was smart for Curren$y producer N.O.L. to nab it for a juiced boom-bap comeback, cut on the fly while they were in Austin for SXSW. (Hey, that festival's basically music-industry day camp with booze, so they can be forgiven for looking back to their youths for inspiration.) It preceded his track "Wave Race," which sampled the Nintendo 64 game, and his Grand Theft Auto-themed This Ain't No Mixtape. Clearly, dude was in the zone. J.E.S.
14. KID ICARUS (1986)
14/52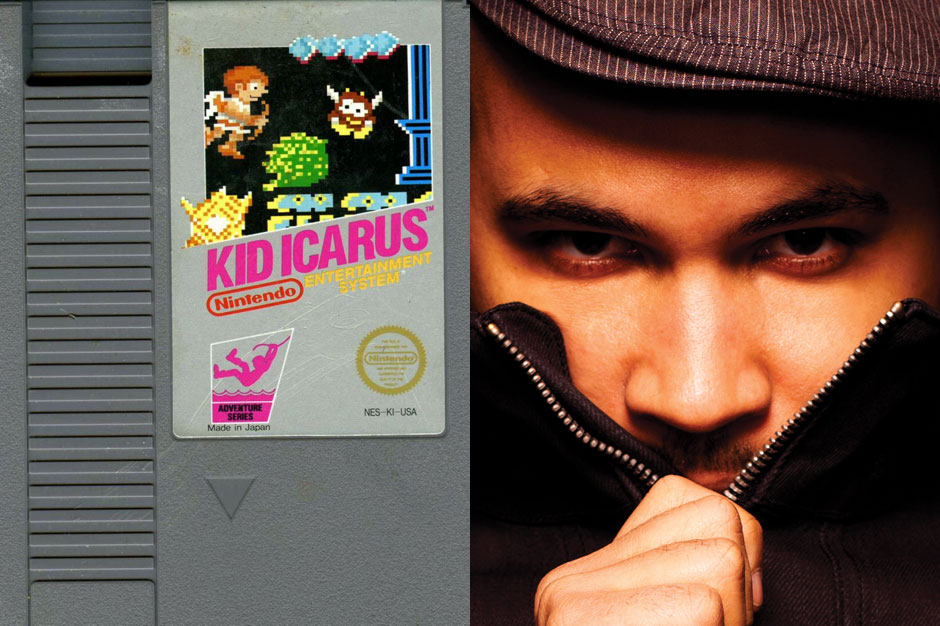 Tonedeff "Round 'Em Up" (2001)
If you had a NES in 1987, by default you surely played Kid Icarus, a great reminder of how gloriously goofy games used to be. Ostensibly based on Greek mythology, you played as a winged lad who could not fly, used credit cards, and battled wizards who could turn you into a walking eggplant. Though he's attempted to distance himself from it since, early-aughts rapper Tonedeff's appreciation for Kid Icarus' jaunty chiptunes was at one time very apparent, as on "Round 'Em Up" where the Queens rapper masterfully used the games' bouncy grooves to construct a vehicle for his own overclocked flow. RYAN RAYHILL
15. CASTLEVANIA (1986)
15/52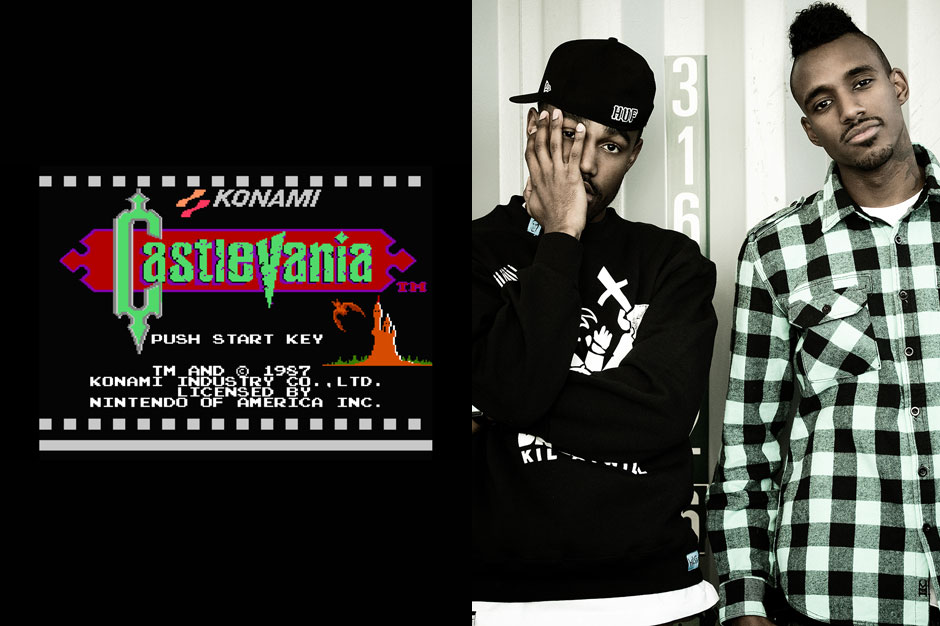 U-N-I "Castlevania" (2008)
It's remarkable how infrequently actual goth music has been sampled in hip-hop — you could argue that Mobb Deep's darkest music is basically that, but still, mean basslines and boom-bap should go hand in hand. In lieu of a Sisters of Mercy/Shawty Redd collabo, U-N-I's "Castlevania" is about as close as it gets, with producer Diaba$e copping the spooky 8-bit theme for maximum ominousness. Though U-N-I opts to pay homage to practically every video game but Castlevania, they still turned out a classic analogy between gaming and their careers in hip-hop, claiming, "This rap shit be the code of life, it's like up, down, up, down, A, B, left, right." Not to nitpick, but Konami Code is actually "up, up, down, down, left, right, left, right, A, B, select, start," guys. Still, we got the point. J.E.S.
16. MIKE TYSON'S PUNCH-OUT!! (1987)
16/52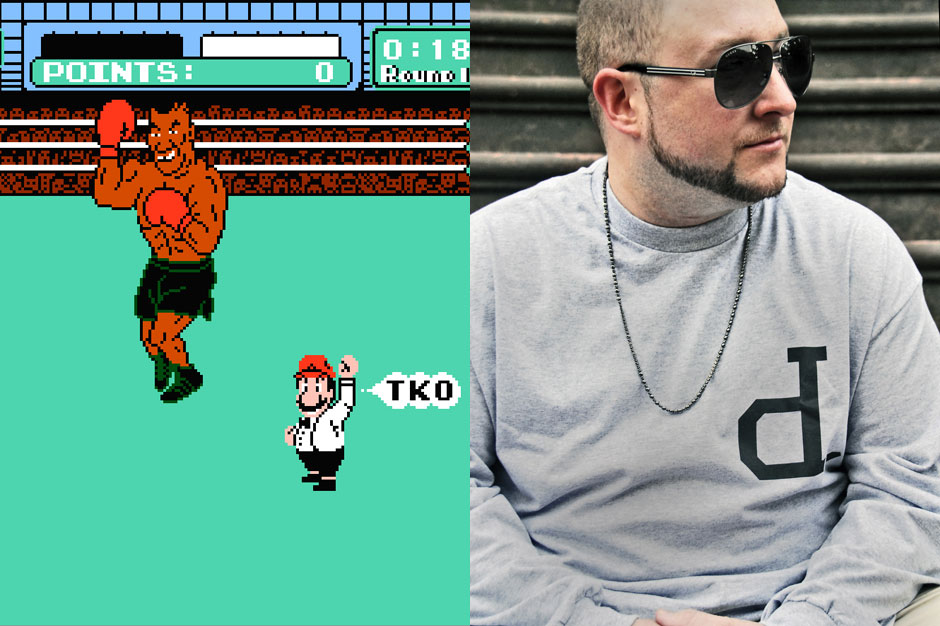 Statik Selektah, feat. Big Shug "Punch Out" (2008)
Top-notch pixel pugilism! Video-game lore has it that Mike Tyson was asked to endorse an American release of the NES game after a Nintendo executive was so struck by the upcoming boxer's power in the ring. Twenty years later, revisionist boom-bap producer and '80s baby Statik Selektah invokes a hearty swab of the title theme for his own take on "Punch Out," although Gang Starr associate Big Shug might be taking a more expansive view of the Queensbury Rules by bragging about doling out a "slap to the face, kicked in the ass, and punched-out." P.M.
17. DOUBLE DRAGON (1987)
17/52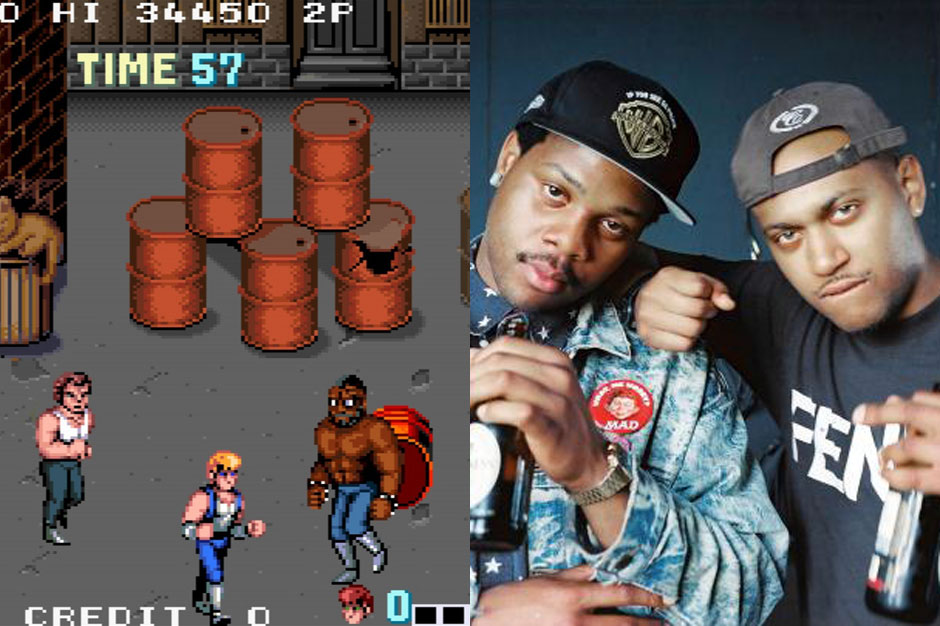 Fat Tony & Tom Cruz "Double Dragon" (2012)
Producer Tom Cruz and rapper Fat Tony joined forces for an entire album of beats sampling the classic beat-'em-up game Double Dragon. But Cruz all but eliminates the potential for shtick, taking a sensitive Dilla-like ear to these blips and bloops, pulling out ominous melodies, and using blown-out digital noise for bizarro low-end. On the title track, Cruz and Fat Tony trade bro-boasts about scoring chicks together. And "Bad Habits" features Bun B, marking the second time the UGK legend has gone multiplayer over a video-game beat (in 2004, he appeared on the remix to Lil' Flip's "Game Over"). Nerdcore, this is not. B.S.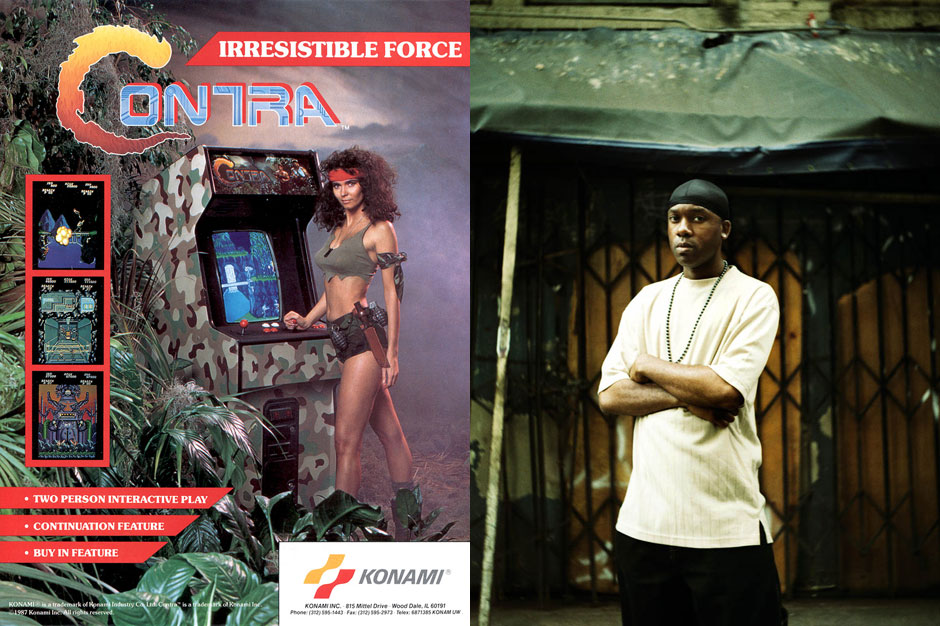 Percee P, feat. Diamond D "2 Brothers from the Gutter" (2007)
Contra is a product of the oozing-with-machismo '80s: Shirtless, buff dudes with big-ass guns are inserted into one of Reagan's South American invasions to fight rip-offs of H.R. Giger's famous alien creation. And who better to transport this male power fantasy shoot-'em-up to hip-hop than New York rhymers Percee P and Diamond D? Over a Madlib loop of the game's start-up screen music, these hardheads grit their teeth and fire threats and insults in all directions, with the reckless abandon of Contra's coveted power-up, the spread gun. B.S.
19. GOONIES II (1987)
19/52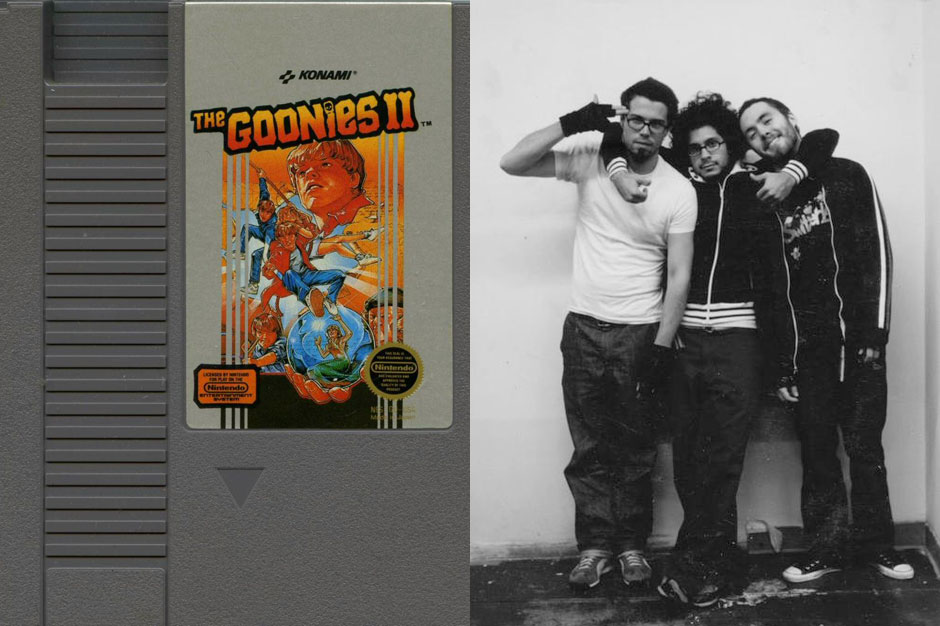 cLOUDDEAD "JimmyBreeze (1)" (2000)
While there was no shortage of games based on movies in the '80s, Goonies II for the NES was one of the most confounding. Was there a Goonies II movie that Spielberg swept under the rug? Why is Mikey fighting rats with a yo-yo? Was the game the only true way one could continue to enjoy the hi-jinks of shimmying fat kids and the mentally challenged? The real answer was that Goonies II was simply a sequel to another Goonies game that existed in only a handful of arcades, ensuring hardly anyone ever played it. Often just as confusing were Anticon's avant hip-hoppers cLOUDDEAD, whose "Jimmy Breeze" included a sample of the Goonies II 8-bit version of Cyndi Lauper's "Goonies R Good Enough," all before steering their One-Eyed Willies into a sea of abstract psychedelia. R.R.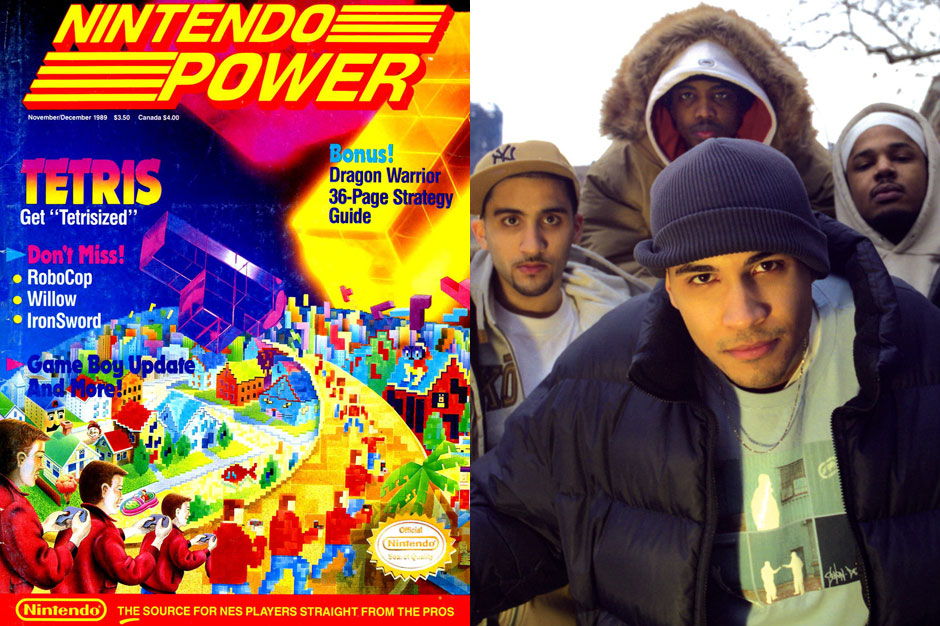 Extended Famm "Line Drop" (2002)
Tetris' theme song essentially sounds like the tinny theme for a Medieval court, which is cool for a platform that was once called "the Soviet Mind game." Extended Famm was an underground mini-supergroup featuring CunninLynguists' Tonedeff, and they were not good. But they used the Tetris theme really creatively: As a player moved up in levels, the song played quicker too, and Extended Famm adhered to the tempo change, rapping faster and faster over the course of three-and-a-half minutes until the track was essentially drum'n'bass. "Line Drop" satisfied underground hip-hop's early-aughts fascination with super-fast rapping — plus, Extended Famm predated a million Tetris dubstep remixes by about eight years. J.E.S.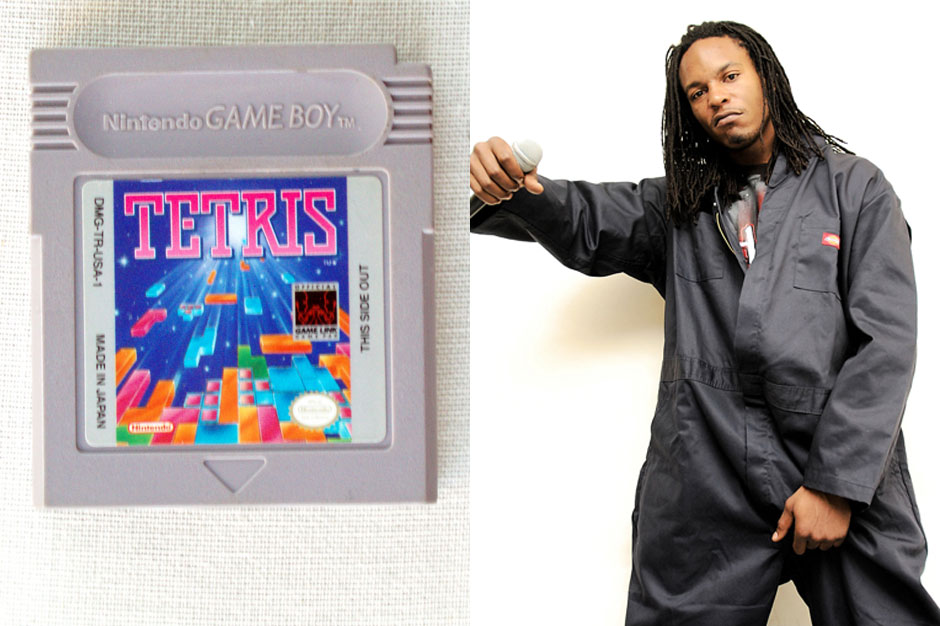 Shady Nate, feat. T-Nutty and Mitchy Slick "Cuzblood (Remix)" (2011)
Who would have thought the Tetris theme would pair so perfectly with trap shit? DJ Fresh, apparently, who tricked out the beat on this Oakland track that gives new meaning to the idea of "stacking chips." Chosen more for its eerie, ominous sound than its gamer cachet, Fresh underscored the Tetris theme by running it through an echo chamber and adding a few tuba bleats like a funeral procession. But you've got to appreciate the conceptual parallels between stacking up blocks to clear out your screen and, you know, amassing cheddar. Next time might we suggest sampling Mouse Trap? J.E.S.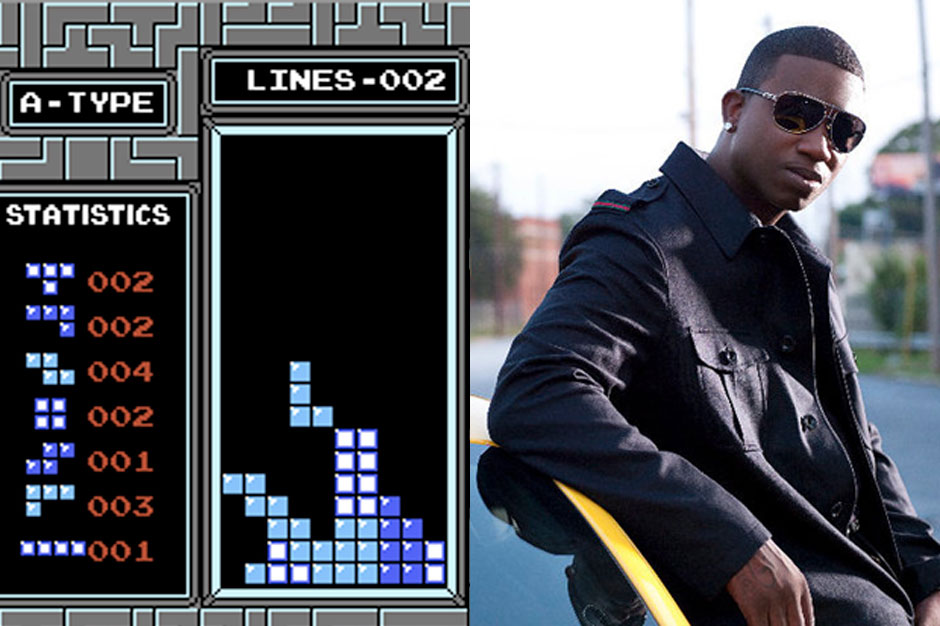 Gucci Mane, feat. 2 Chainz "Get It Back" (2012)
Gucci's version of the Tetris theme is more locationally trap than Shady Nate's take — it's off the Trap Back mixtape, after all. Slowed down and pried apart for Gucci's plainspoken flow, its harpsichord style assumes a sing-song melody, a Gucci-trademarked jingle in the spirit of "Lemonade." The song's about burning through money because there's so much to be had, so the Tetris arpeggios function as cheeky flossing, the ATL version of screaming, "in your face." There are many versions of the "Tetris dance" on YouTube, but the one below, starring the Twerk Team, is the only one that many rap blogs reposted as "Sexy Spandex Chicks Doing the Tetris to Gucci Mane." J.E.S.
23. CASTLEVANIA III: DRACULA'S CURSE (1989)
23/52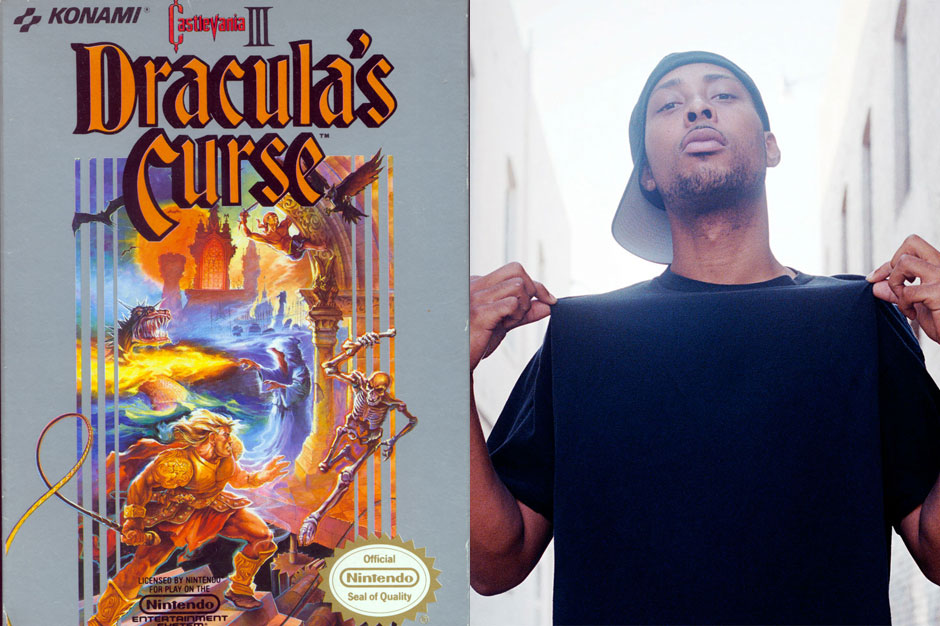 Oh No, feat. Medaphor "The Ride" (2004)
Video-game fanatic Oh No claims to own practically every video-game console under the sun — including the highly coveted Bandai Pippen. For his debut album, he freaked a sample from Castlevania III, with edgy aplomb, for this Medaphor team-up. Endearingly dusty and digital. P.M.
24. CASTLEVANIA III: DRACULA'S CURSE (1989)
24/52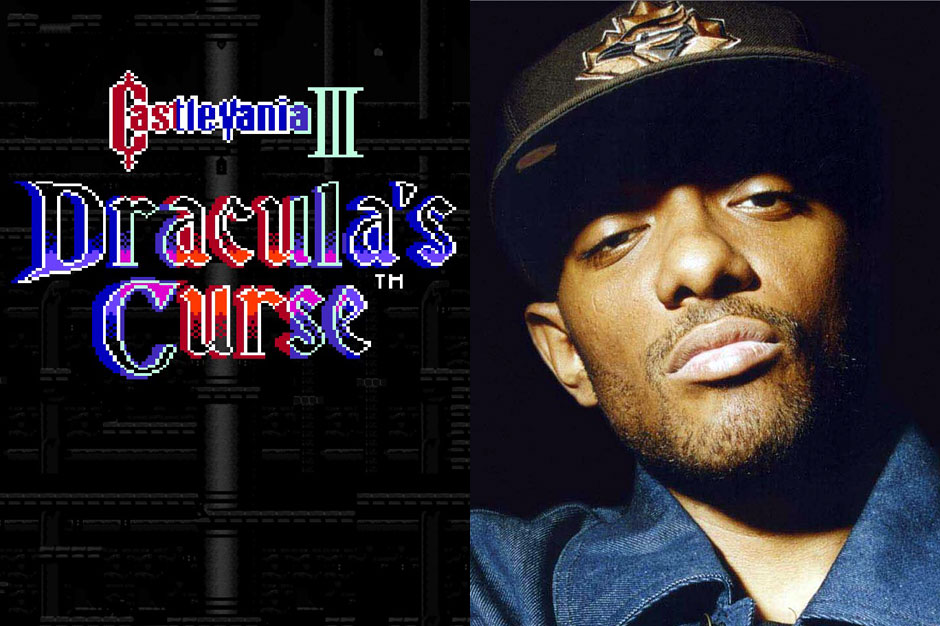 Prodigy "Catch Body Music" (2008)
Seeing how Prodigy often rants about the Illuminati, demonic owls, and how New York prisons are plagued with bats, we'd like to think he's talking about being a descendent of the vampire-battling Belmont clan when he raps, "This is how we kill shit / Slice 'em, dice 'em, carve 'em up real nice." Alas, Banana Clip P is just running through his usual threat list, although producer Sid Roams' liberal use of the Castlevania III music gives his words an eerie menace. P.M.
25. GOLDEN AXE (1989)
25/52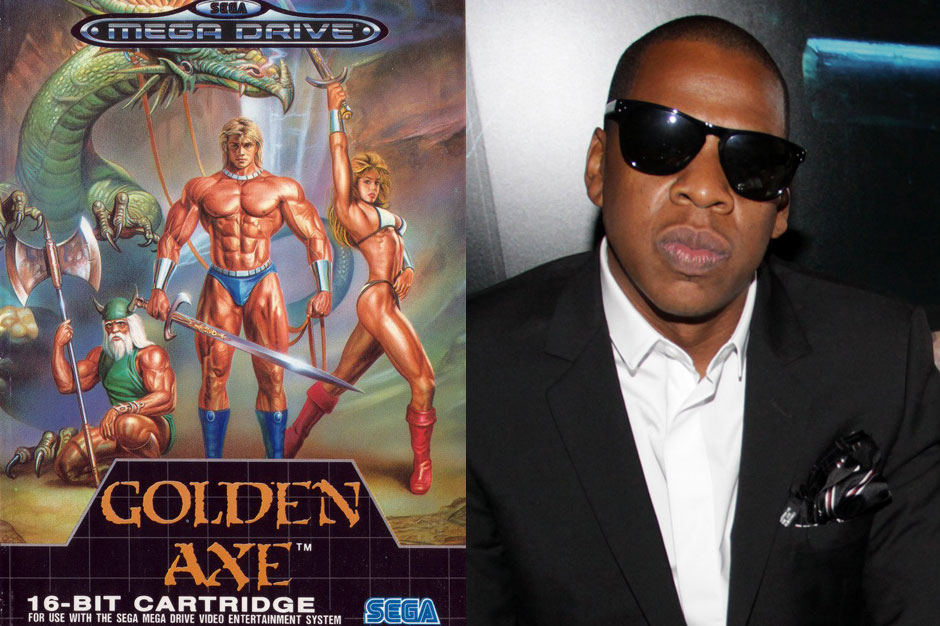 Jay-Z, feat. DMX "Money, Cash, Hoes" (1998)
It's a bit of a coup for gamers that one of Jay-Z's most iconic songs samples the "Thief's Theme" from Golden Axe (don't tell Nas!). Leave it to art-nerd Swizz Beatz to flip something so obvious into something so brilliant. It's really just the trill from the beginning of the track, run backwards, but it transformed a bit from a game about a bunch of sword-wielders saving a kingdom into a song that defined the blingy late-'90s, digitizing a cash register ch-ching for the coming millennium. J.E.S.
26. ACTRAISER (1990)
26/52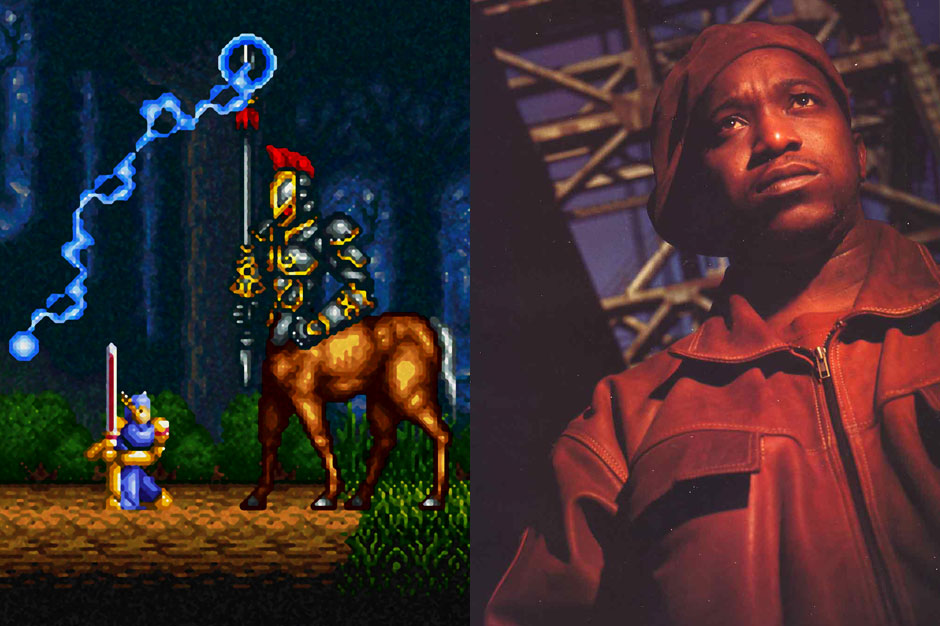 Kool G. Rap - "Gangsta Nigga" (2007)
Producer Yogi (from late-'90s Def Jam footnotes Cru) hooks up a beat based around a piano riff from Actraiser, a SNES game that fused side-scrolling 2-D platformer sections with early "god-game" and world-building overtones (and, allegedly, a Christian subtext and end-of-level bosses representing various religions). For his part, G Rap decides to cast himself as a non-playable Queens deity who rolls through with "Teflon on the chest, steel on the hip." P.M.
27. SONIC THE HEDGEHOG (1991)
27/52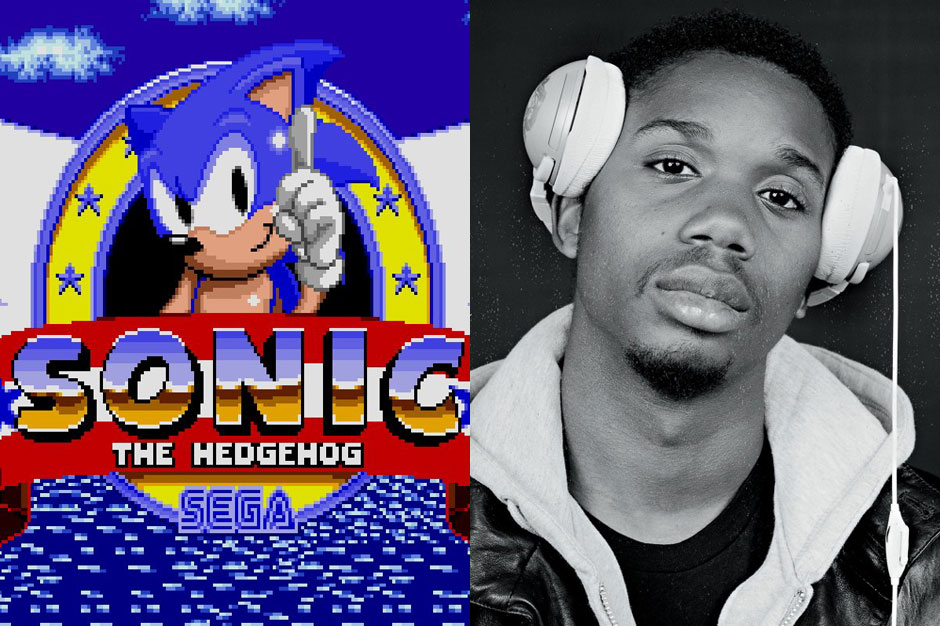 Charles Hamilton "Where's My Fucking Genesis" (2008)
A classic case of a man coming of age and incorporating the thing that defined his pre-pubescence into his art: Sonic the Hedgehog might have had more of an influence on Charles Hamilton's career than, say, The Warriors had on any rapper ever. As he says on this song, which intros his 21st-birthday mixtape,Sonic the Hamilton, "Am I going to take my morning piss, or go with my insatiable need to play Sonic the Hedgehog?" You can bet which he chose by the Sonic coin trill that embellishes the track. J.E.S.
28. SONIC THE HEDGEHOG (1991)
28/52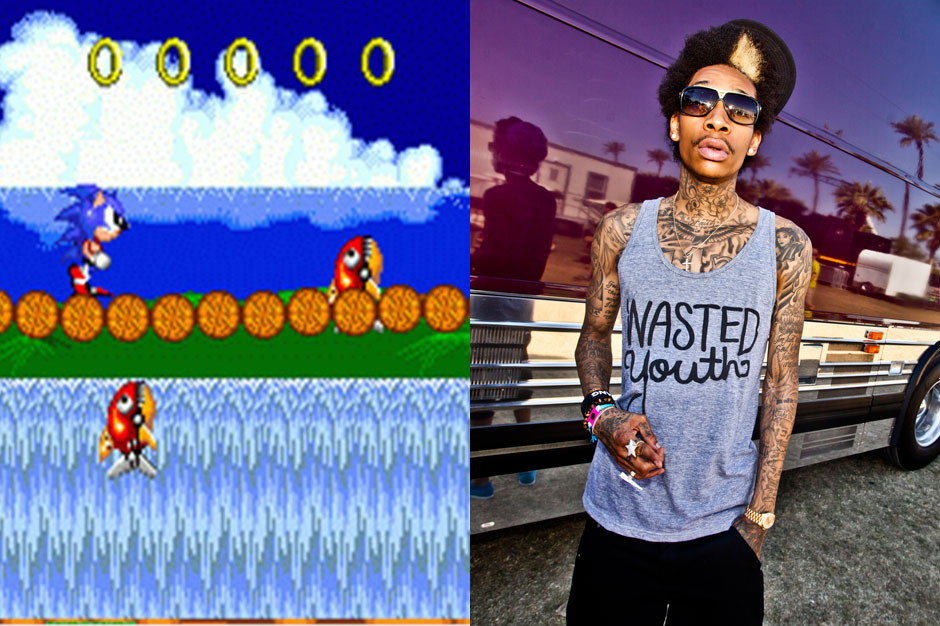 Wiz Khalifa "Ms Rightfernow" (2009)
Wiz really recognized the emotional potential in the Sonic the Hedgehog theme song, which slips in a couple melancholy minor keys when you're not looking, perhaps to express empathy after "SONIC HAS DIED." Turning the track into an ode to a freaky one-night stand, the Pittsburgh rapper Auto-Tuned his face off (it was 2009, after all) and bragged about leaving the lights on. He also dropped the line "Imma hit it in high definition," perhaps not the most romantic come-on ever, but certainly appropriate for a sex song set to a video-game theme. Good job on getting a girlfriend, Wiz. J.E.S.
29. SONIC THE HEDGEHOG (1991)
29/52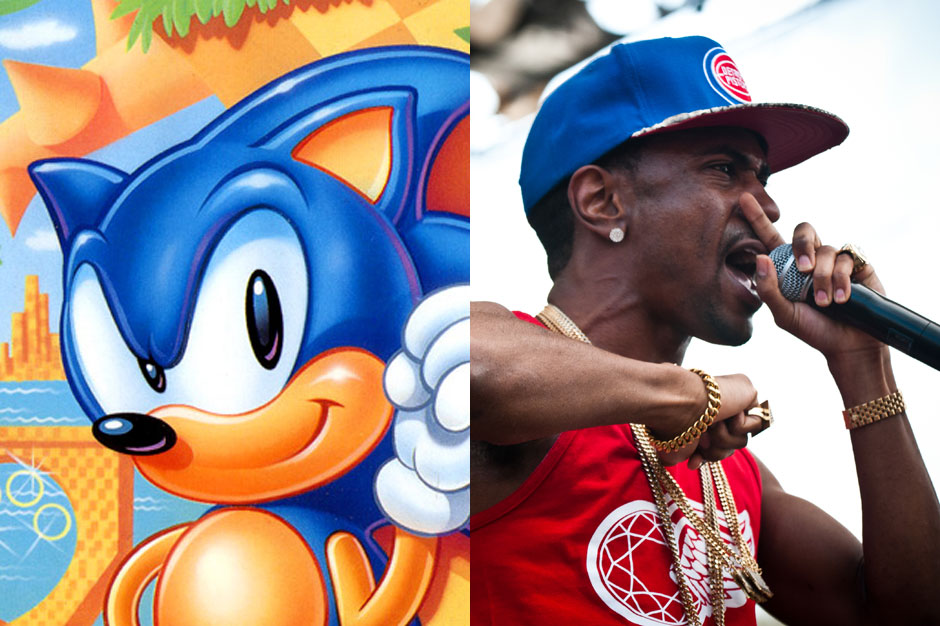 Big Sean "Intro" (2011)
http://www.youtube.com/watch?v=WxEGKiT7YYk
This appetizer from Big Sean's UKnowBigSean mixtape samples the original Sonic the Hedgehog's theme from the bonus round — which approximate how we feel about the fact that this run-of-the-mill rapper still has a vaguely A-list career. Still, he made good on the somber, sweet strings of Masato Nakamura's original, doing his Drake-y emo-brag thing, wondering if he really needed an intro. It's a good reminder that these video-game themes are actually written by real composers, not just generated by some magical computer phantom. J.E.S.
30. STREET FIGHTER II (1991)
30/52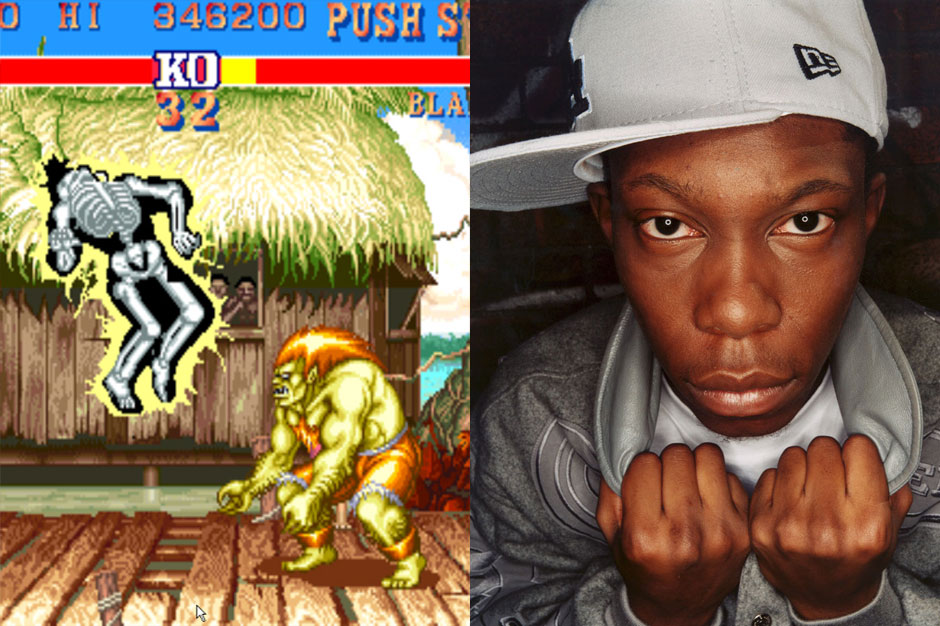 Dizzee Rascal - "Street Fighter" (2004)
The most beloved of 2-D fighting games, Street Fighter II dominated arcades and the home-console scene in the early '90s. U.K. loudmouth Dizzee Rascal might not have been tall enough to see over the cabinet during the game's peak years, but he rapped over a cacophony nicked from Chun-Li's theme song for his homage "Street Fighter." Young Dylan loses marks for not referencing the part in the game where you can see Ms. Li's underpants, though. P.S.
31. STREET FIGHTER II (1991)
31/52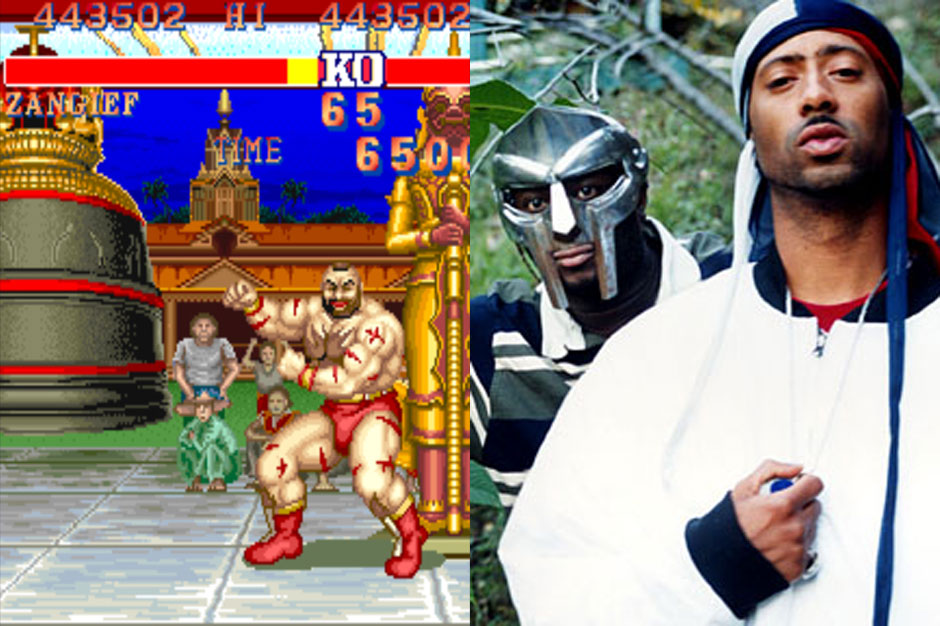 Madvillain "Do Not Fire" (2004)
At some point, the Jackson family caught console mania, with both Madlib and brother Oh No dipping into the digi-stash for samples to embellish their productions. Here 'Lib's in tandem with MF Doom and the duo use Dhalsim's calling card to compliment the mystic vibe of "Do Not Fire." Doom earlier accepted his nerd side by rapping about games like Spy Hunter, Pitfall, and Robotron on the Molemen's "Put Your Quarter Up." P.S.
32. STREET FIGHTER II (1991)
32/52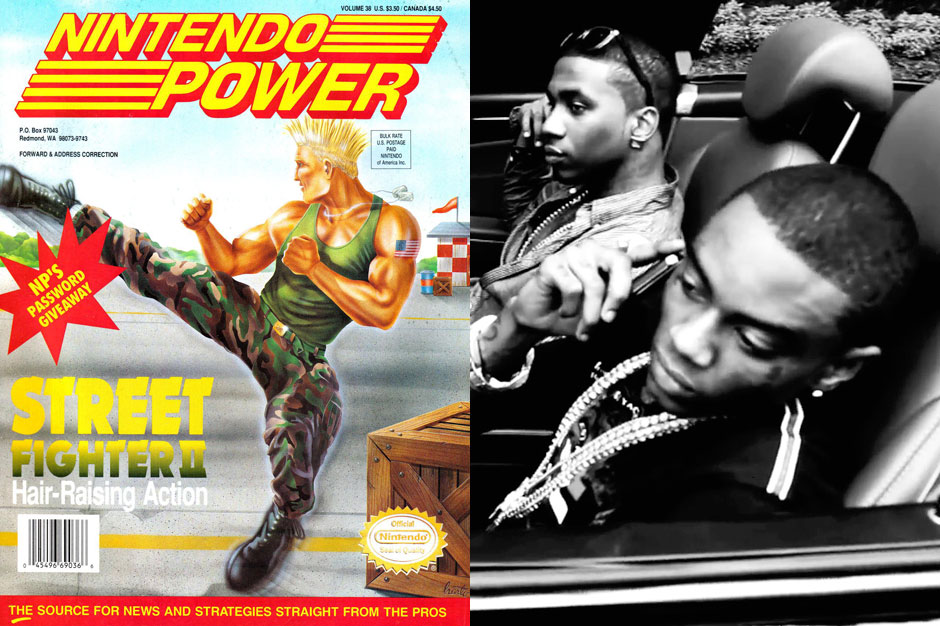 Lil B & Soulja Boy "Sonic Boom" (2010)
In case the world was unconvinced about their collective genius, Internet kids Lil B and Soulja Boy invoked Guile's "Sonic boom!" holler to push home the power of their raps on this subdued track. Think of the vocal sample as a plucky exclamation point amping up their vocals. P.S.
33. MORTAL KOMBAT (1992)
33/52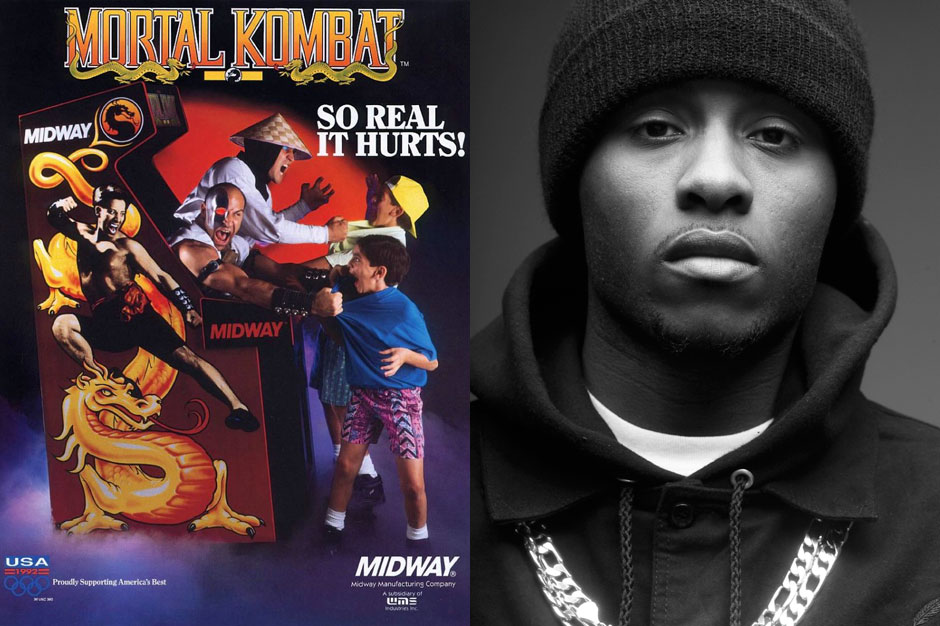 SPACEGHOSTPURRP "Get Ya Head Bust" (2011)
Self-described "trillwave" producer SpaceghostPurrp is a clever curator of dark, ridiculous popular culture from the early '90s. Coming from the same aesthetic world as skull'n'crossbones goth-hop of Bone Thugs-n-Harmony and Three 6 Mafia is the ultraviolent (for its time, at least), blood-spraying fighting game Mortal Kombat. Echoing through many of SpaceghostPurrp's productions, and adding one more chunk of nostalgia to his blenderized version of occult regional rap, is MK's ominous, iconic "FINISH HIM!" — the impetus for the game's brutal "fatality" moves that lead to decapitations and spines getting ripped out. B.S.
34. MORTAL KOMBAT (1992)
34/52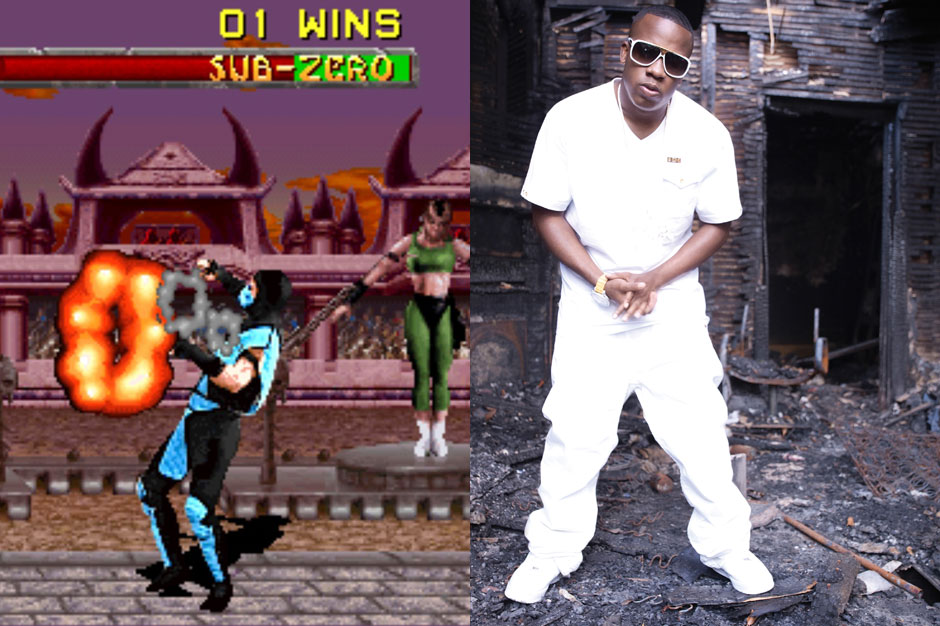 Yo Gotti, feat. 2 Chainz "Cases" (2012)
Forever on-the-verge Memphis hero Yo Gotti and rap's of-the-moment cameo kingpin 2 Chainz take on a slightly tweaked version of the trap-music stomp made famous by Lex Luger. Atlanta producer Mike Will Made It mixes tried and true Luger-isms — glitching drums, tinny treble — with the gabber-influenced theme from Mortal Kombat, allowing the contrasting sounds to battle it out. B.S.
35. KIRBY'S ADVENTURE (1993)
35/52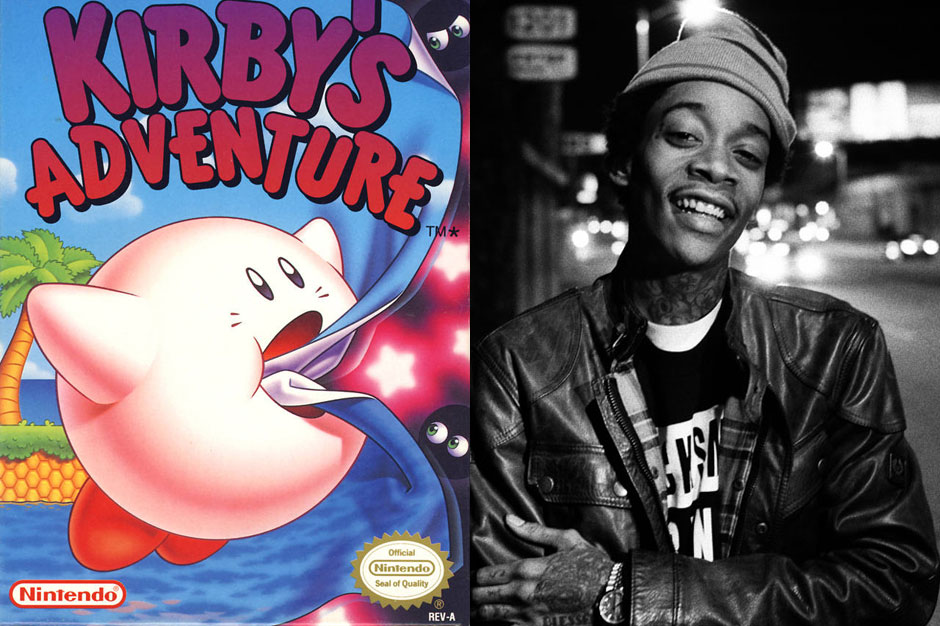 Wiz Khalifa "One Way" (2009)
Here, Wiz Khalifa lifts from, of all places, Kirby's Adventure, a 1993 game about a puffy, pink denizen of Dream Land who inhales nightmare enemies and spits them out in weaponized form. Though we imagine his lung capacity is far below that of Kirby at this point, "One Way" is no doubt an interpretation of his own life and those who stand in his way, painting a portrait of a rapper on the rise, and "up" being the only direction he knows to go. R.R.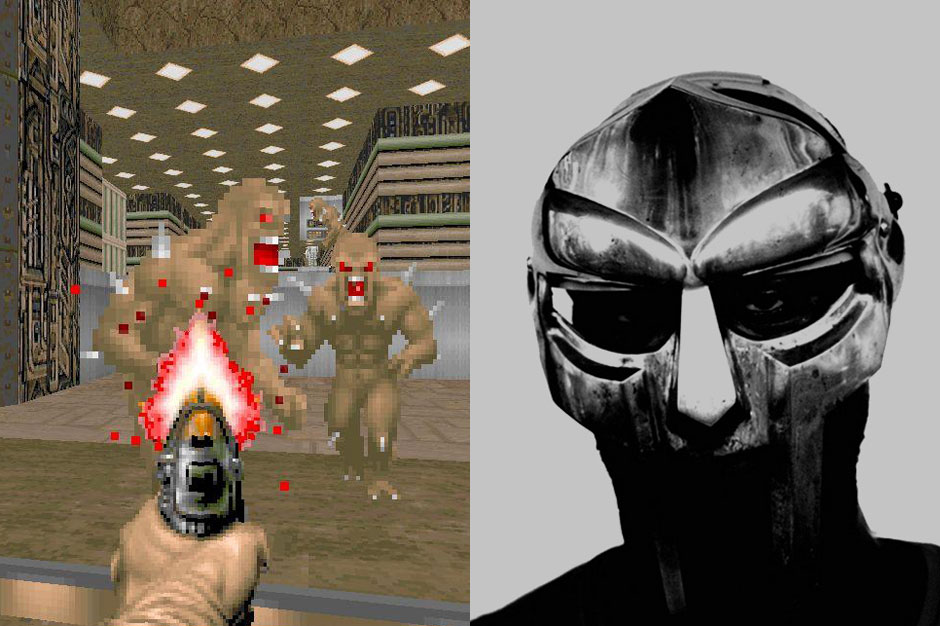 MF Doom "Pennyroyal" (2004)
In the most meta moment on this list, Doom samples Doom! On the masked rapper/producer's glorified beat-tape series, Metal Fingers Presents: Special Herbs Vols. 5 & 6, a rickety loop of Galt MacDermott's "Cathedral" stumbles around while, in the background, guns fire and demons wail. The addition of sounds from the pioneering, first-person shooter game provide a witty commentary on what so many blunted beat-freaks do with these Doomstrumentals CDs: They put them on while playing a video game, and bliss out.
37. ETERNAL CHAMPIONS (1993)
37/52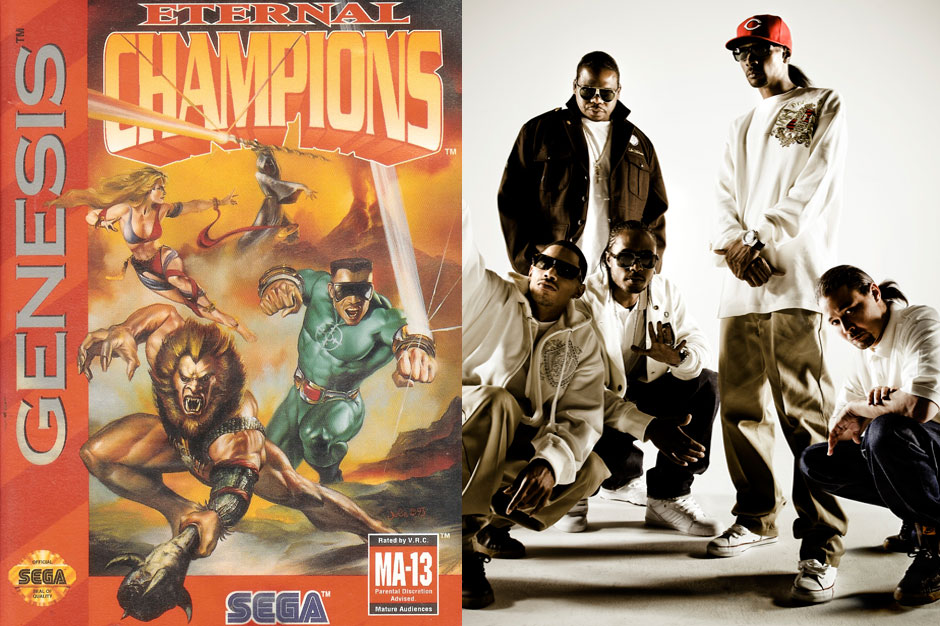 Bone Thugs-N-Harmony - "Eternal" (1995)
Eazy-E's Cleveland kids tenderly use the suitably mournful Eternal Champions character bio song. The game itself was as frustratingly tricks-y as their hyperkinetic rhymes, and the 2-D fighter that came with a loopy list of characters that kind of sounded like rapper names. Jetta Maxx was a Russian aristocrat-turned-acrobat whose nomenclature begged to be taken up by one of the Wu-Tang Clan's extended '90s family members. P.M.
38. DONKEY KONG COUNTRY (1994)
38/52
Childish Gambino - "Eat Your Vegetables" (2012)
But of course Childish Gambino, the smarty-pants tongue-in-cheek rap incarnation of actor Donald Glover, has rapped over a video game sample. In fairness to Glover, when he raided Nintendo's resurrected mid-'90s Donkey Kong franchise he looped up the subtle, atmospheric, seapunk-foreshadowing "Aquatic Ambience." Possibly due to the game's Brit-based coding team, Rare, the song sounds like it could have hailed from a Mo Wax trip-hop comp. P.M.
39. DARKSTALKERS (1994)
39/52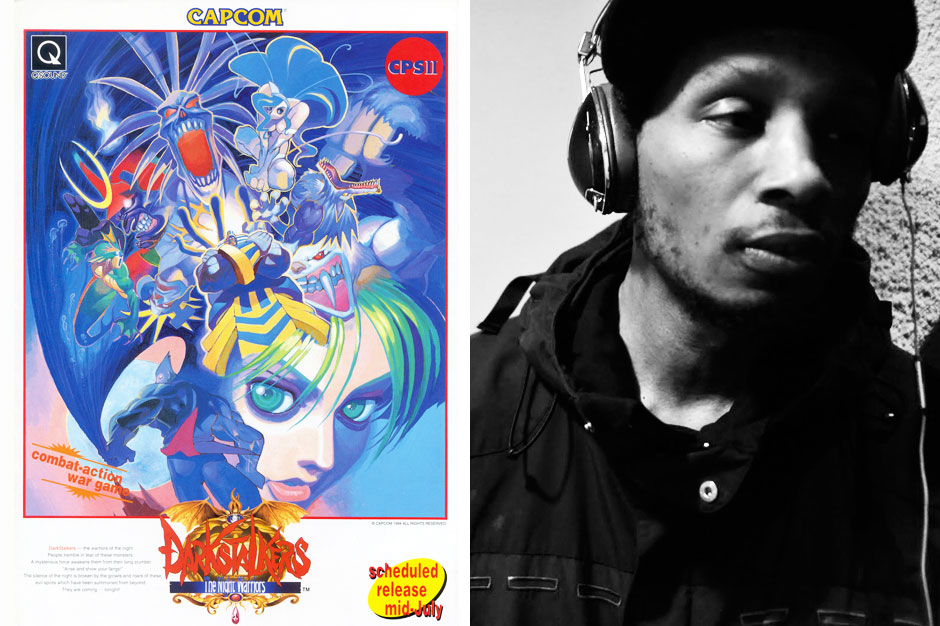 Del the Funkee Homosapien ft. Khaos Unique - "Protoculture" (2000)
Easily the most gleefully geeked-out song about video games on this list, Del and Khaos Unique's "Protoculture" bandies around references to former Sega CEO Bernie Stolar, the Saturn's optional external RAM, and video game conference E3. The production has them rapping over victory music that accompanies the character Morrigan Aensland from Darkstalkers, one of Capcom's sterling series of 2-D fighters. At the time Del was a confirmed Sega junkie and even put in an appearance at the Dreamcast's U.S. launch party! P.M.
40. CHRONO TRIGGER (1995)
40/52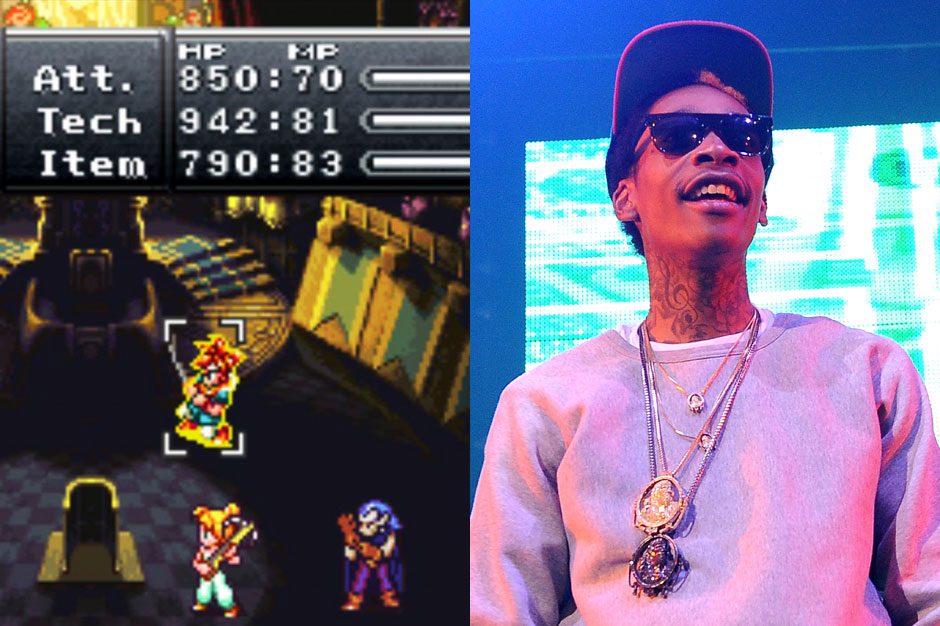 Wiz Khalifa - "Never Been" (2010)
When literally giving himself ulcers to produce the soundtrack to one of the most important RPGs of the '90s, we can't imagine that a young Yasunori Mitsuda considered that his efforts on Chrono Trigger might one day result in a smoothed out ode to "bad bitches and good weed." On his 2010 mixtape, Kush & Orange Juice, Wiz Khalifa's "Never Been" took "Schala's Theme," a delicate, morose bit of melancholy for a doomed princess, and laced it with indo-infused rhymes and the smell of one dollar bills. While a few vocal video game purists were incensed at the idea of a soundtrack giant being flipped for hip-hop, "Never Been" remains a strong, haunting tribute to the SNES days. Oh, and strippers. R.R.
41. CHRONO TRIGGER (1995)
41/52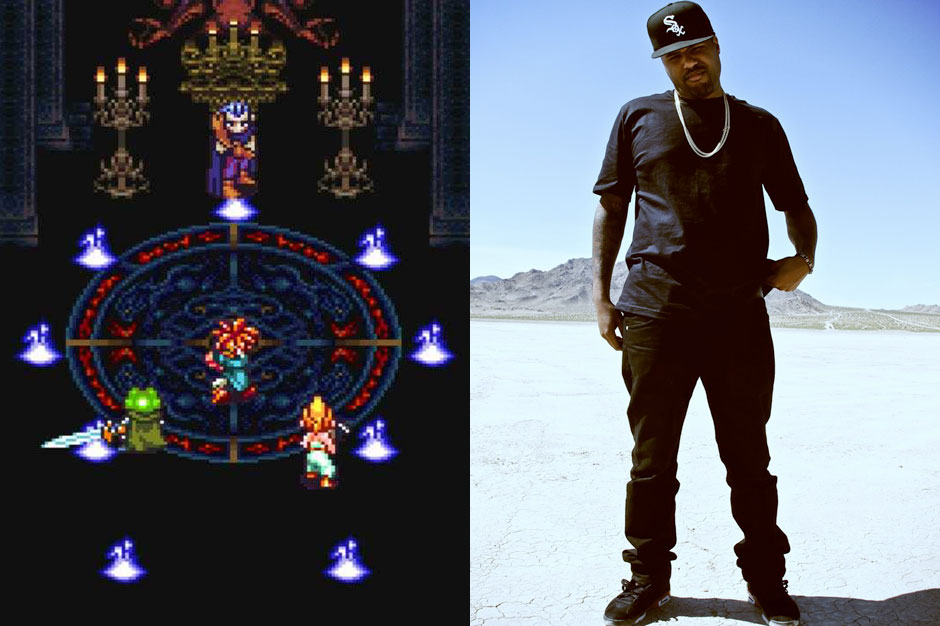 Dom Kennedy - "Locals Only" (2010)
Getting love from hip-hop once again, Yasunori Mitsuda's Chrono Trigger soundtrack traverses the epochs and finds yet another fan in L.A. rapper Dom Kennedy. A twinkly piano piece meant for a serene forest setting in Chrono becomes a laidback hymnal on the virtues of 24/7 hustle. Again, probably not what Mitsuda had in mind, but the workaholic can no doubt relate. R.R.
42. GOLDENEYE 007 (1997)
42/52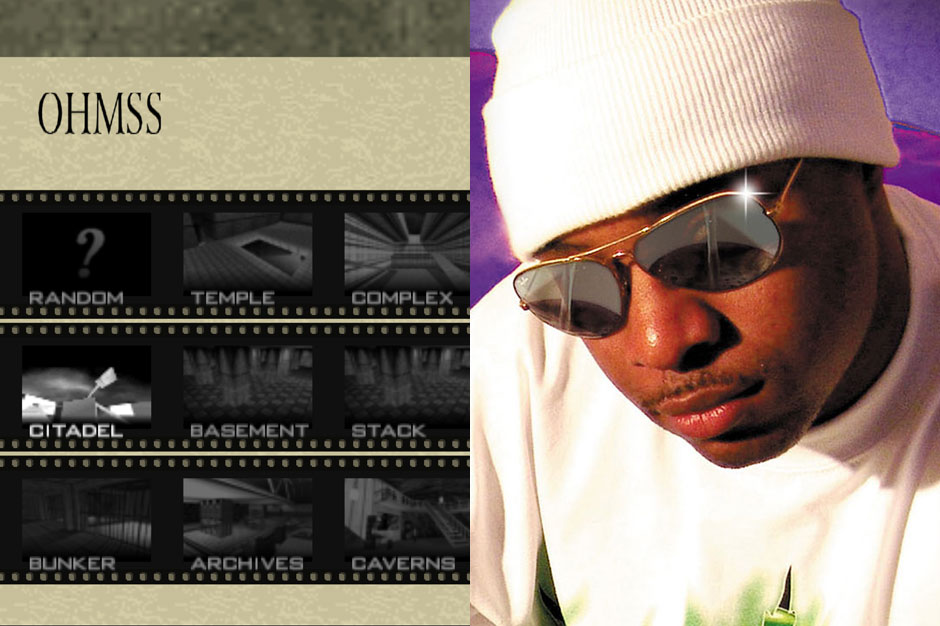 Indo-G & Three 6 Mafia - "Throw Dem Thangs" (1998)
GoldenEye 007 for the N64 was perhaps the first non-PC game to make multiplayer shooters viable on home consoles in 1997. Less than a year later, Memphis rapper Indo-G and his cohorts in the Three 6 Mafia decided to shake and stir a little Bond into their own kind of game on crunk classic "Throw Dem Thangs," which featured several of Goldeneye 007's sample-ready beats and effects. R.R.
43. GOLDENEYE 007 (1997)
43/52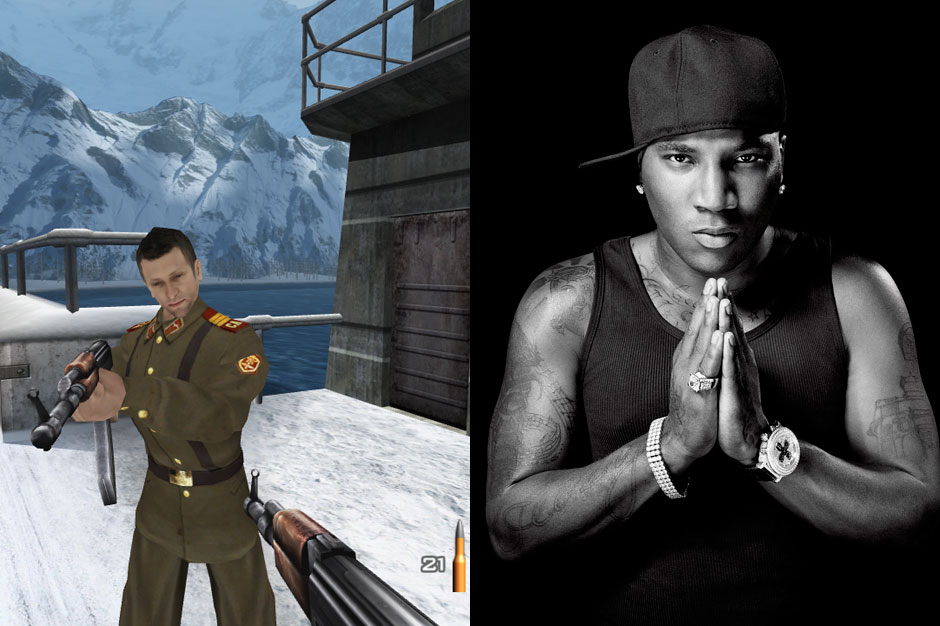 Young Jeezy ft. Akon - "Soul Survivor" (2005)
In more recent years, artists have been keen to acknowledge Goldeneye 007 as a multiplayer classic, as evidenced in 2005's "Soul Survivor," a late night battle from Young Jeezy and Akon. The duo managed to take a disquieting xylophone riff from a tense bunker area of the game and turn into the crucial element of this bleak street banger. R.R.
44. FINAL FANTASY VII (1997)
44/52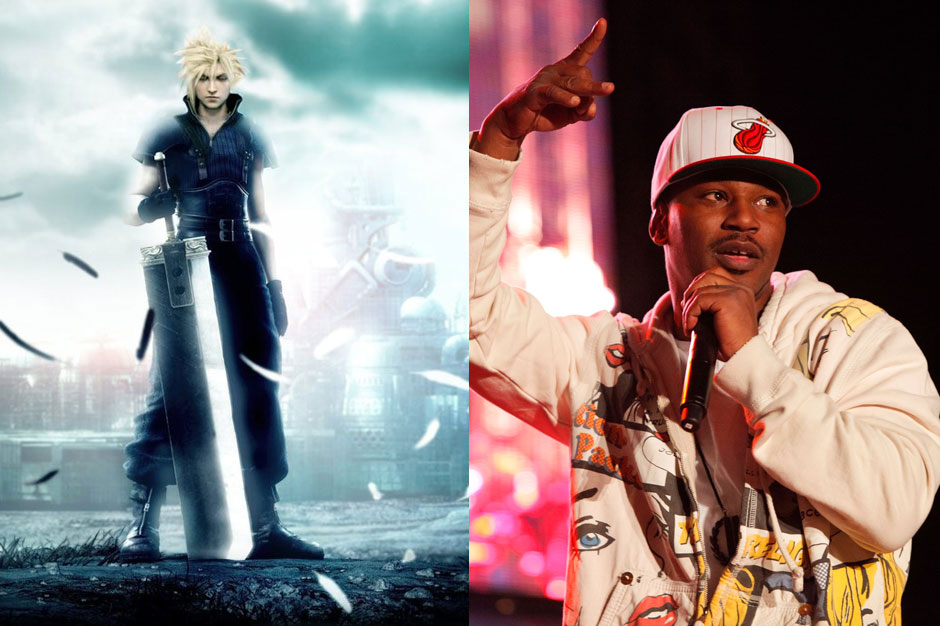 Cam'ron - "Troublemakers" (2008)
Composing utilitarian music for video games is anonymous work. But due to his ornate Final Fantasy scores over almost two decades, Nobuo Uematsu is something like a rock star to gamers. One of his most ambitious songs is "One Winged Angel," a Hendrix-quoting, digi-symphonic epic from Final Fantasy VII. If a video game can have a "hit single," this is it. Cam'ron and company speed it up, rip it apart, and turn it into another one of their screaming, street anthems, like the Carl Orff flip of "Get Em' Girls" or the Rick Wakeman-sampling "Girls, Cash, Cars." B.S.
45. FINAL FANTASY VII (1997)
45/52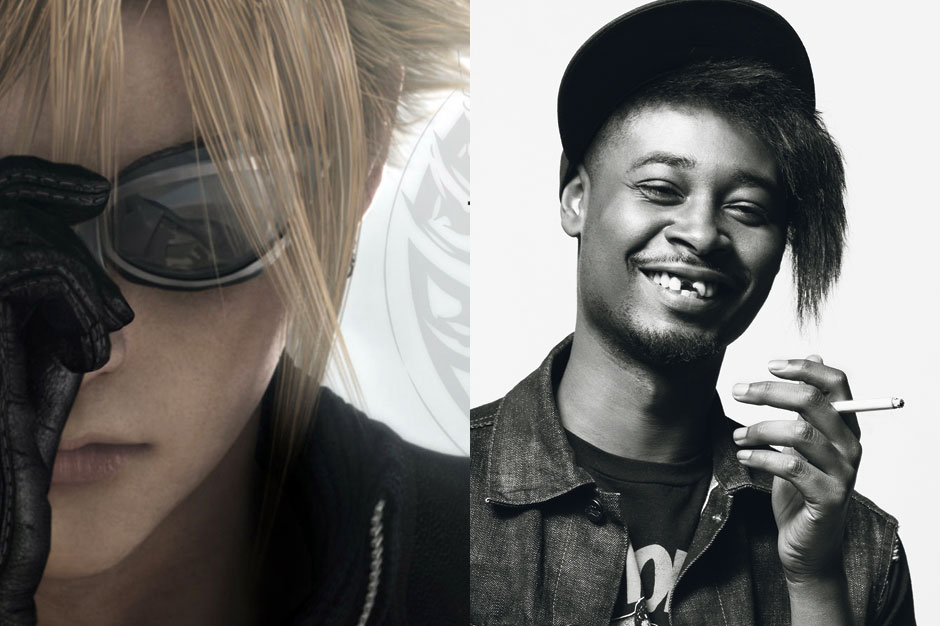 Danny Brown - "Lincoln Continental" (2011)
Brandun DeShay who produced "Pac Blood," "Radio Song," and "Party All The Time," from Danny Brown's breakthrough XXX approaches Nobuo Uematsu's theme to Final Fantasy VII like a good, old fashioned loop-digger. Almost three minutes into the slow-building song, DeShay locates a swell of strings. He slows them up, piles on fake vinyl grit for atmosphere, and lets the sample wobble drunkenly, turning roleplaying melodrama into a maudlin d-boy desperation that's better suited for Danny Brown's poverty poetry. B.S.
46. SOULCALIBUR (1998)
46/52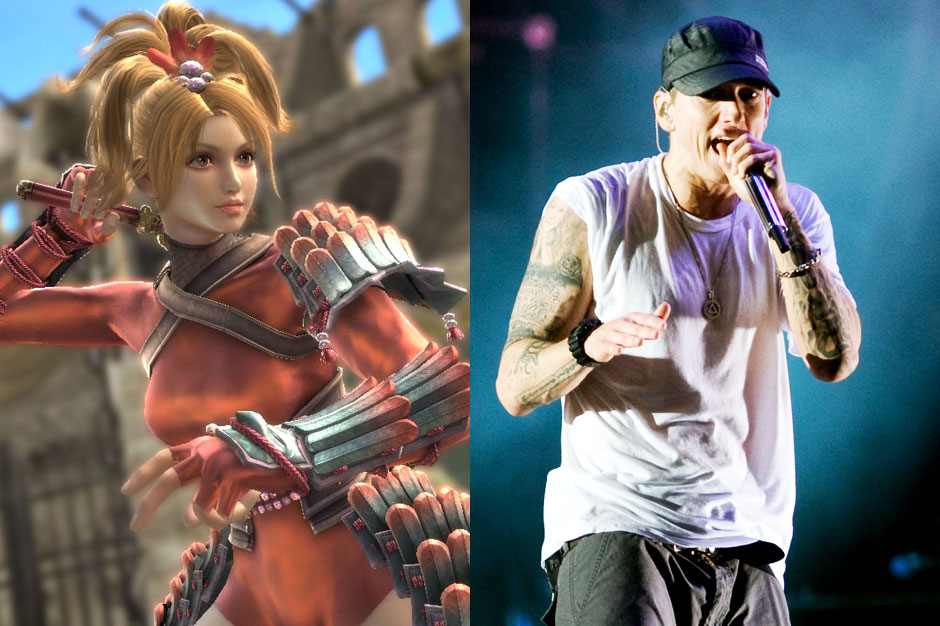 Eminem, J-Black, and Masta Ace - "Hellbound" (2001)
Rapping is like lyrical fighting! So runs the thinking that has Eminem, Masta Ace, and the lesser-spotted J-Black spitting fire over a beat culled from Namco's 3-D spar-fest Soul Calibur, a one-on-one fighter that received an arcade-perfect port to the Sega Dreamcast. Adding to the nerd connections, "Hellbound" was originally featured on Game Over, a compilation of rappers rhyming over video-game-sampling productions, while Masta Ace used to compete in Madden Bowl, a tournament pitching hip-hop artists against each other at John Madden Football. P.M.
47. FINAL FANTASY VIII (1999)
47/52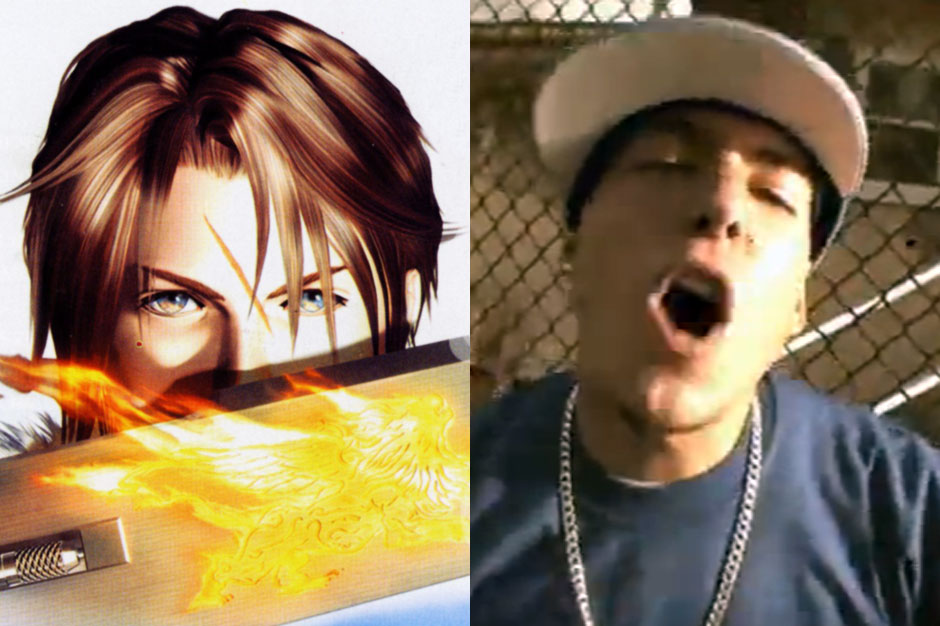 Randam Luck ft. Vinne Paz - "Raw (Remix)" (2009)
Despite becoming entirely overwrought and completely daunting to actually play over the last decade, the Final Fantasy series was still excelling in 1999 thanks to the tremendous tunesmithery of Nobuo Uematsu. Fully aware of this, Randam Luck and Vinne Paz's borrow Final Fantasy VIII's liberal use of ominous choral arrangements and booming timpanis — shorthand for "epic" — for this portentous powerhouse.R.R.
48. NAVY FIELD (2000)
48/52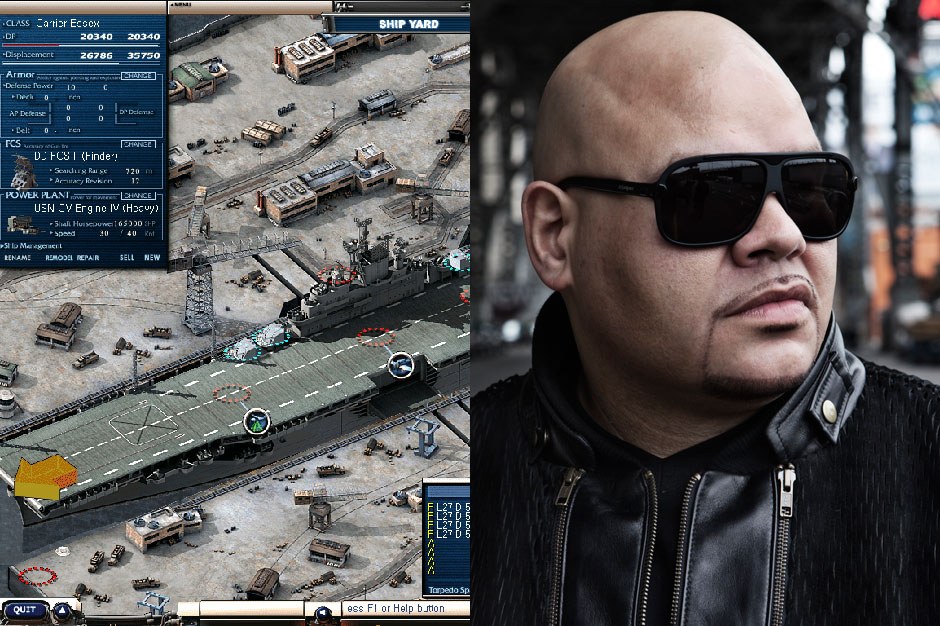 Fat Joe - "Take a Look at My Life" (2002)
Brassy and full of good ol' American moxie, the theme from free-to-play MMO Navy Field somehow managed to find its way down to Bronx don Fat Joe. There's some dispute about whether producer Buckwild dug deep into some Korean crates during the game's early stages (it made it to the States a few years later) or it's just some shared public domain fun, but he took the same big, blaring horns from the game's main menu screen and made them a triumphant call to action. R.R.
49. FINAL FANTASY X (2001)
49/52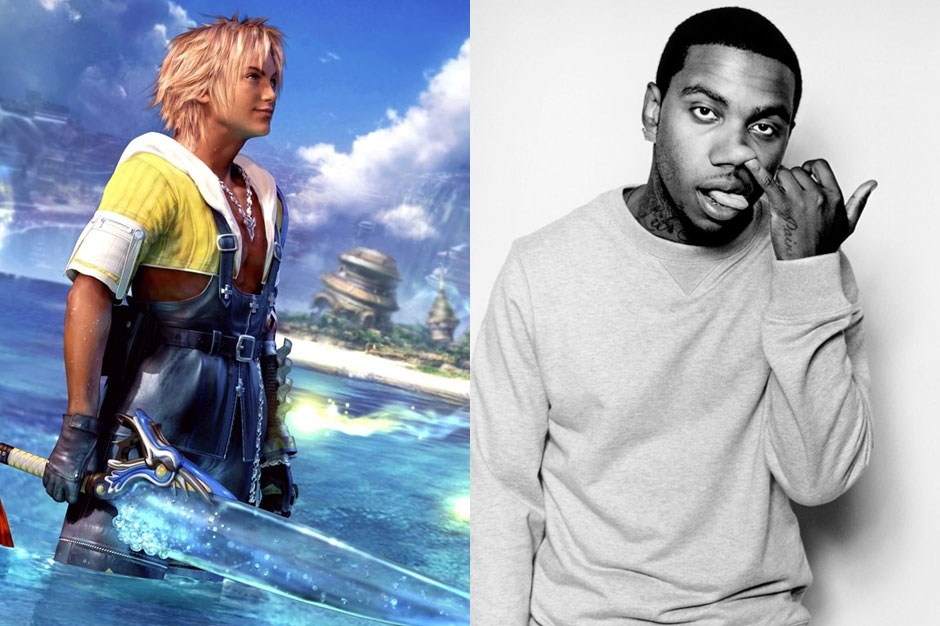 Lil B - "I Love You" (2012)
The Based God, forever stretching hip-hop's limits and testing his audience's patience, doesn't even rap on "I Love You," the gloriously goofy closing tracks from his 34-song, nearly two-hour long mixtape, God's Father. Over the twinkling sounds of the "Besaid Island" theme from Final Fantasy X — which sounds not unlike one of his iconic bliss-rap productions from Clams Casino or Keyboard Kid — Lil B thanks his fans in a pleasant, Barney the Dinosaur voice. It is ridiculous. It's also pretty damned touching. B.S.
50. KINGDOM HEARTS II (2006)
50/52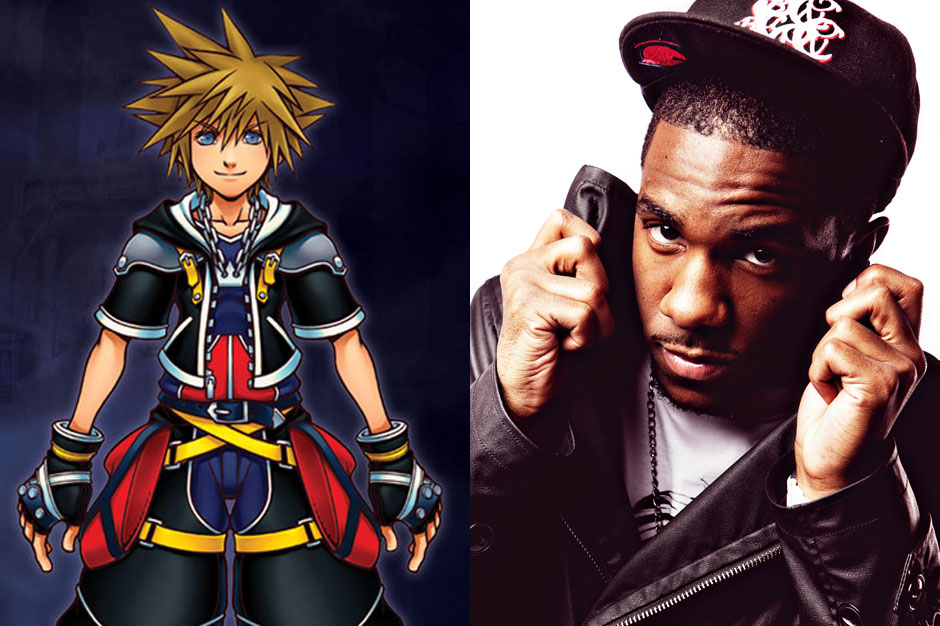 XV - "When We're Done" (2011)
Even in the realm of video games, the Kingdom Hearts series is a bit of a weird bird. It takes Disney regulars like Donald Duck, throws them in a sword-and-sorcery world with the ultra-pretty ladyboys of Final Fantasy, and mixes it all up with equal parts darkness (think Malificent) and syrupy schmaltz (think the "power of friendship!"). Gamers love what they love, however, and rapper XV clearly loves Kingdom Hearts II as he built his 2011 track "When We're Done" around the soaring arrangements of Japanese pop star Hikaru Utada's "Sanctuary," the game's main theme and all-around inspirational jam. R.R.
51. KINGDOM HEARTS II (2006)
51/52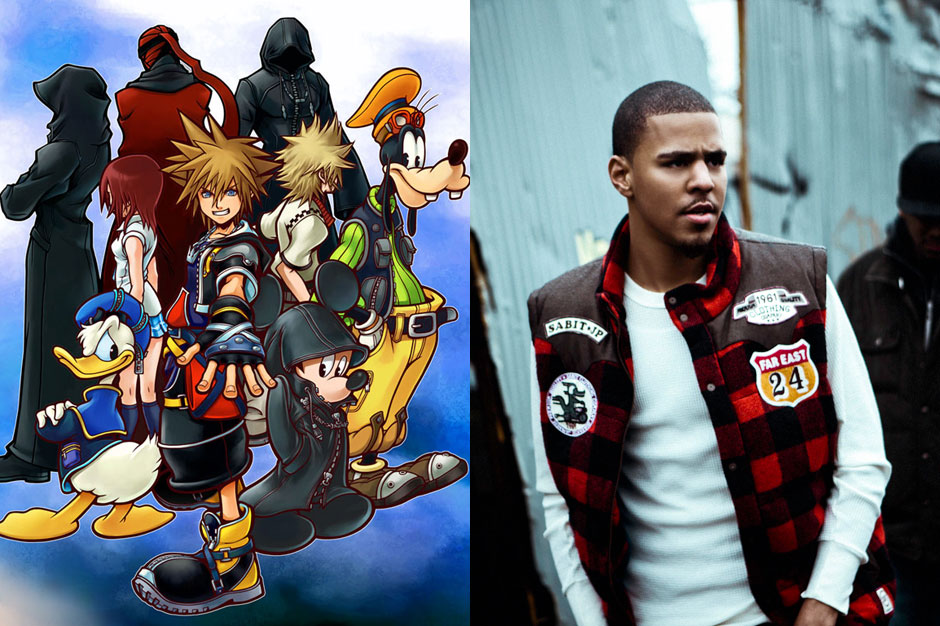 J. Cole - "Dollar and a Dream III" (2011)
Heart-spilling rapper J. Cole chose to use a lush section of music from the Disney and Square collaboration Kingdom Hearts II to spark his debut album Cole World: The Sideline Story into life. Casting himself as something of a book-smart college-grad, it's not exactly hard to imagine Cole settling down to engross himself in an epic RPG — although the Roc Nation penny-pinchers may have simply decided it was cheaper to sample an orchestra (the score is performed in part by the Tokyo Philharmonic!) than to ask Jay to move his in-house orchestra from out of Blue Ivy's playroom. P.M.
52. SUPERBROTHERS: SWORD AND SORCERY (2011)
52/52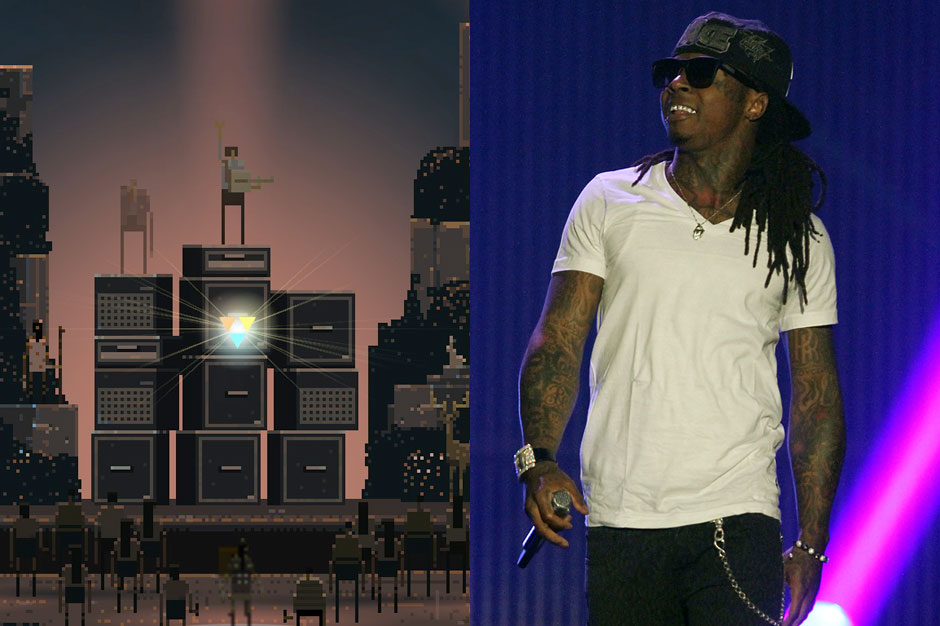 Lil Wayne - "She Will" (2011)

The video game equivalent of Jay-Z riding for some indie rock band, Superbrothers: Sword and Sorcery is an artsy independent iOS game scoured from the depths of the iTunes store. The soundtrack to this musical adventure was recently tapped up by producer T-Minus to bed Wayne's "She Will." But you can currently buy the Weezy-less Superbrothers score (by Jim Guthrie) on a limited vinyl release. P.M.