If melodic hardcore outfit Title Fight are reshaping punk with their forthcoming full-length Floral Green, they're pretty modest about it: bassist Ned Russin only sings about his feelings when no one can understand him over the crappy P.A. system, and his band "helps out" at an underground venue they actually opened and maintain themselves close to their hometown of Kingston, Pennsylvania. After taking Title Fight's DIY ethos on tour with Rise Against and into the studio with producer Will Yip (Circa Survive, Cradle of Filth), Russin took the time to walk us track-by-track through the making of Floral Green, due September 18 via SideOne Dummy.
:audio=1:
"Numb, But I Still Feel It"
I started the lyrics to this song maybe three or four times and I scrapped them every time. And then I had the one line, the first line of the song in my head, "But did you know I hold my breath through every tunnel?'" and I literally wrote the whole thing on the 20-minute car ride home. Putting it first on the record makes a statement for the overall theme, of young insecurities and still being confused and going year by year and thinking it's getting more understandable, but every year I grow older it's still insane.
"Leaf"
One of the biggest things I struggle with in my life is be really open about my feelings, but I wrote the first verse and just went with it from there. When we practiced, the P.A. we have is pretty bad — we turn it up pretty loud and practice in a storage unit so you can't really decipher anything. It sounds like garbage in there, so I don't feel any discomfort in singing lyrics like "I'm just a single leaf blowing in the wind," because I know no one can understand what I'm saying. Singing it for the first time and knowing how sad and depressing and weird it was, but no one could understand me, it helped me open up to the idea of using those lyrics.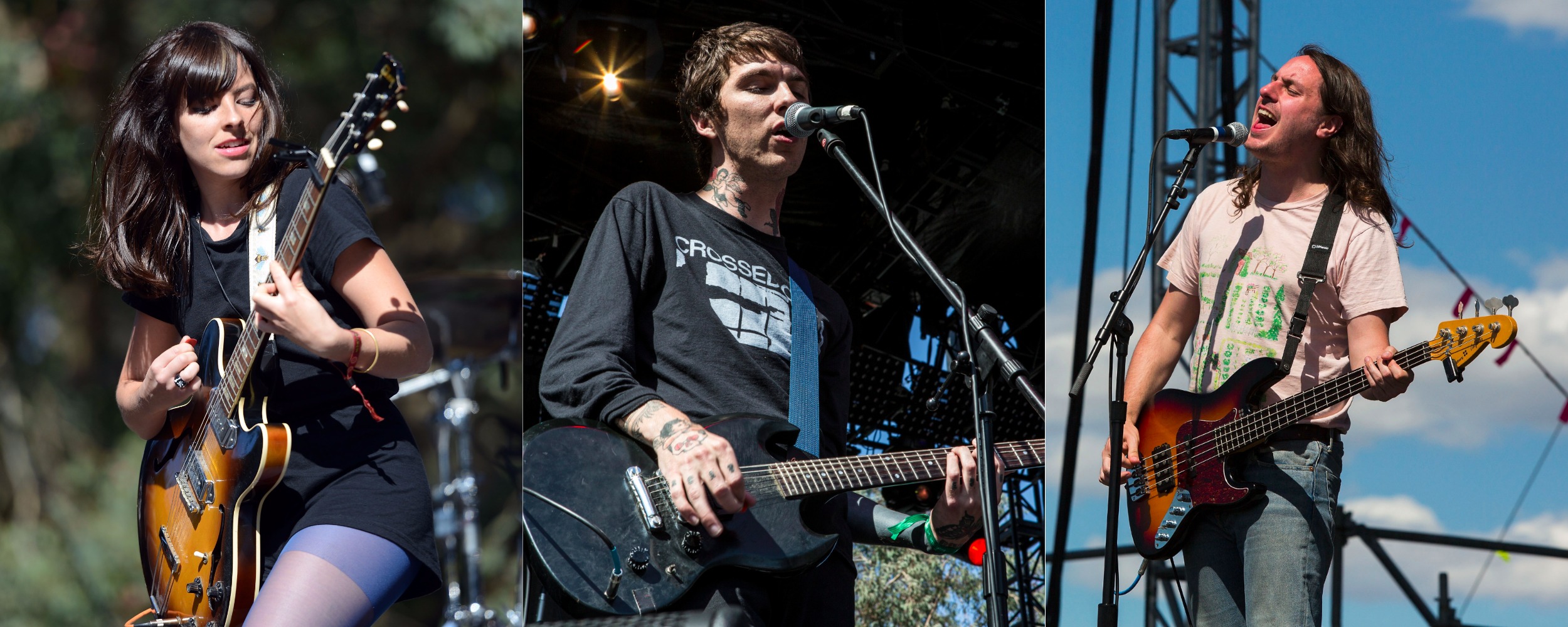 "Like A Ritual"
I was on a big Sebadoh kick when I wrote that. The whole basis of the song was to have a bass intro and then a bass part and then a guitar repeating that same part, and that's a complete Sebadoh riff. This record was the first time we've written songs longer than two, two-and-a-half minutes, so to have a three-minute song was a pretty big deal, I guess. We always have this mentality that we don't want anything to get boring, and I think everyone else was scared that it was going to be a boring song. It's a different one for us: the end part gets crazy and Sonic Youth-esque. We combined elements of bands we've always loved and been really into but never took their influence into our songs before.
"Secret Society"
It kind of wrote itself more than anything. When it was written, nobody was really that excited about it, but when you hear just the music of it, before you add any lyrics, it was such a weird song, especially for us. The big thing that we talked about so much for the record and that we tried to pull off was the term "beautiful ugly." To make something sound so disgusting and crude, but still be something that you listen to and go, "Wow, this is beautiful." That was definitely a beautiful ugly song that we were going for.
"Head In The Ceiling Fan"
We've always loved bands like Hum, and this song was definitely supposed to be along those lines. They do this thing where it's very slow, and the chord changes take a long time, but they make it so heavy it's almost hard to wrap your head around. Shane wrote all the lyrics to the song, and the title comes from the first line of the song. It's about thinking too much, getting too wrapped up in your own thoughts. He was trying to go for a more abstract feel with the lyrics. With our lyrics we're always very straightforward, and to do a song so drastically different, musically, to match those lyrics really tied it all together.
"Make You Cry"
This wasn't supposed to be for Title Fight originally, it was just a riff that [Shane] wrote. Shane wasn't too happy with it, because he wanted it to be this aggressive music and the vocals kind of low and sad, but the lyrics are really crazy and depressing and I took it more from taking that energy and being so frustrated and angry that I'm screaming at the top of my lungs. We also did another version of the song where it was just Jamie playing guitar and singing. Not even an acoustic song, it was just a stripped-down version. It was supposed to be for iTunes and somehow that got screwed up, so now it's a weird B-side that will… I don't know what's going to happen to it. And Shane said that's the one that fits the mood for him.
"Frown"
I had the chorus in my head for a while, and the inspiration for the chorus was from right around the time our friend Justin passed — which the song "Make You Cry" is about — and I was practicing with his band for a show in memory of Justin, and it was just different and weird. All we've ever done music for was for fun and to express ourselves, and to hang out with our friends, and it was a weird reunion of things. I had a lot of fun at the show and it turned out to be a great thing and a great time, but it was just a really kind of awkward thing to go through. It was just a weird mix of emotions and that's what came out.
"Sympathy"
"Sympathy" was the first song that I wrote, and it was another one that kind of fell into place. Right when we got back from tour in January, we went to Europe for a couple weeks, and we had decided that we were going to do the record, and we needed to start writing songs. So I picked up a guitar and wrote the verse within 20 seconds of playing. I was really into Sonic Youth — not even "I want to sound like Sonic Youth" so much as the idea that Sonic Youth does so many weird, different things that push any genre forward, and I have so much respect for that — and my whole process and my whole attitude for the whole record was to do something that pushed ourselves and pushed the listeners of the band in a different direction."
"Calloused"
I was at the point where I was reading a lot about Nirvana, and I was watching the VH1 Greatest Albums thing on Nevermind or whatever. And someone says something about wanting the music to sound like children's music, like that basic of a level. That kind of struck a chord with me. It's such a cool way to look at music, and so that was the influence for that one. It was just supposed to be such a basic, easy song to write. It just goes first chorus, first chorus, bridge, chorus. It's almost like a pop song structure, but it's very weird at the same time, and very dark.
"Lefty"
The working title for the song was '"Rap Song." Shane wrote that one, and it was another one where the lyrics came late, so we had the music for a long time. And the only thing I could think of while we were playing it was "Slow Jamz" with Kanye West and Twista. All I could think of was someone rapping really fast over it. When we were in the studio, we had the music recorded, and if we listened to Twista, it made so much sense. It almost upset me. It took me so long to get that picture out of my head.
"In-between"
We were in pre-production for the album. We did this song, and we all liked it, and then Jamie said, "I don't like this song. This song sucks." So we started recording and we were recording for two or three weeks and Jamie still had nothing. We were literally getting to the point where we had a week left. He is crazy. He writes stuff that's so cool and so interesting, and I'll ask him, 'Why are you afraid to play these parts?' and he says he goes through his head so many times about how he wants the picking to be, and how he wants to hold one note longer, and he can never really decide when a part that he's written is done.