Totally disagree with Noz and the Cocaine Blunts peanut gallery: At the very least, Nas' Life Is Good is, well, good. A few weeks after its release, there are still plenty of little details grabbing my ears. "World's An Addiction" exudes empathy thanks to a final verse about an overworked doctor going through a divorce in one of Nas' best-rapped verses ever: "The other night, just in the emergency room / A patient said she needs to see a doctor soon / Doctor busy operating on a lady who's sedated / He can barely concentrate, because he's newly separated / His estranged wife like entertaining her acquaintancesb / In the house they were married in / Mad people waiting…" Ornate, melodramatic intro track "No Introduction" sounds like the opening song to every rap album right now. It's J. Cole's "Intro" off Cole World, Drake's "Over My Dead Body,"with the important exception being that Nas has caves of experience behind him, so the goofy bombast feels earned. It's the opposite of those youngsters stretching their formative years of inexperience into a cocky, underdog anthem. Life Is Good is like Watch The Throne's millionaire double-consciousness raps trickling down to someone a little bit more attuned to how most of us live and think and worry.
Beautiful Lou, feat. Heems "Runnin' Thru The Jungle"
Beautiful Lou's Sumone 2 B Young With is an odds-and-sods collection of unreleased songs and RSS-feed stragglers that maybe didn't get their due the first time around. Listening to it is kind of like a screencap of weirdo hip-hop at this exact moment. Kitty Pryde and Riff Raff exist for some reason, Lil B's still doing his thing like he's from another planet, Fred the Godson isn't planning on stopping any time soon (his song here is titled "Fader pg. 46," which is a "we're through the looking glass, people" moment) and then there's Das Racist's Himanshu, quietly becoming one of the most dependably no-B.S. rappers around. Beautiful Lou is one of those producers whose beats — slurring, dubbed-out things — allow an MC, or even a non-MC like Kitty Pryde, to totally coast. But Heems locates a pocket in the smeary samples and quietly goes off. He maybe makes the best case for why chillwave and '90s nostalgia ain't going anywhere (the line, "'80s baby but the '90s made me crazy," will be the title of a master's thesis on hypnagogia soon enough), and provides a bleary-eyed look into what it's like to be making a little money and feeling equally thrilled and weirded-out about it.
https://youtube.com/watch?v=GYTrfKmVNbQ%3Fversion%3D3
Nas "A Queens Story"
Hammy strings dip and dive around a breakbeat, punctuated by a sample from Run-DMC's "Peter Piper," and then, all of a sudden, the whole thing stops and starts over as a Chopin piano piece? Salaam Remi went all out with this one, cobbling together something ambitiously jumbled, yet somehow seamlessly put-together and genuinely cinematic. It's the type of grab-from-anywhere brilliance that only hip-hop can really do and get away with. This is Illmatic's "New York State Of Mind" gone Broadway; imagine ballet dancers in Timberlands swerving behind Nas-as-Sinatra rapping his ass off with one of those old-timey microphones. Nas snaps here, getting real ("I never claimed to be the toughest / Though I'm to blame for a few faces reconstructed"), then, maybe a little too real ("Now, I'm the only black in the club with rich yuppie kids / Sad thing is, this is the top"), concluding, "old videos show niggas that was murdered since / Another reason to get further bent." We must allow rap music to age gracefully and this is a big-budget example of how to do it right.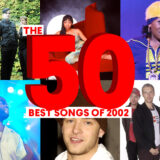 https://youtube.com/watch?v=Ydsu_edl1X8%3Fversion%3D3
Rick Ross, feat. Andre 3000 "Sixteen"
"Sixteen," a luxurious Michael Mann-ish meta-rap about how restrictive the 16-bar rap blueprint is, botches its conceit and ends up making a pretty good case for GZA's classic "half short, twice strong" aphorism. Rick Ross never actually does anything with his extra space and his verse is pretty much a testament to the fact that his newfound success and life experience haven't taught him anything about anything. And all the goodwill conjured up by Andre 3000's reflective verse disappears when he unleashes an unbelievably terrible, song-ending guitar solo. I heard about the Jimi Hendrix biopic Three Stacks is starring in, but maybe after that, he's going to take on Sonny Sharrock? That's the only excuse for this atonal skronk. Still, there's something compelling about this hot mess, which begins with a neon-noir saxophone and ends with "maybe the worst guitar playing that's ever appeared on a major-label rap album." Of a piece with "3 Kings" in that it defers to living legends like Jay-Z and Andre and lets them do whatever they want, "Sixteen" is God Forgives, I Don't's most inspired and bloated moment.
https://www.youtube.com/embed/VgKmJRhsx4o?version=3 Starlito "Nightmares"
Hip-hop's strangest street rapper usurps Kanye West's Hit-Boy-produced "Too Cold," but not before, in a moment that one-ups Lil Wayne's infamous non-sequitur about how much he used to love the movie Gremlins, Starlito tells you the three most recent books he's read: The Power Of Habit by Charles Duhigg, Hop On Pop by Dr. Seuss, and Dream Psychology by Sigmund Freud). And then he paints a witty, self-conscious picture of the downside of being a d-boy: "Picture me in Publix buying baking soda / Sandwich bags and I'm potent with that weed smell / Play in the parking lot want a half an L? / Stupid clientele, but I'mma go to jail / Who gonna make my bail? / Who gonna bail me out? / Only place that collect my calls is my momma's house / Now I'm really trapped / I should've got a job / Trying to impress all these niggas I should've robbed." Post Traumatic Stress is Lito going off over industry beats, but the trick is how he doesn't borrow cadences or concepts when he beat-jacks and just makes these songs his own. He also boasts about having a threesome in the most indirect way possible: "I never had a foursome or a pot to piss in."
https://youtube.com/watch?v=rCdOkx3AyMc%3Fversion%3D3
Trinidad James "Females Welcomed"
Still don't know too much about this Trinidad James guy, but his mixtape Don't Be S.A.F.E. (Sensitive As Fuck Everyday) arrived this week, and it's an A.D.D-addled slab of weirdo ATL hip-hop — like every non-Jeezy-tinged Atlanta rap trend all at once. "Females Welcomed," which begins like a swirling country-rap screamer (if Big K.R.I.T. knew how to have fun) and morphs into a dubstep-rap that samples Kito's "Sweet Talk," does everything right. James struts up to the beat with a killer opening line ("Fuck love, it's overrated"), indulges in some self-deprecating pimp-rap wordplay on the hook ("Now my side bitch my main bitch because my main hoe ain't feeling me no more"), and when the dubstep change-up appears, it's somehow exhilarating in its gaucheness yet also surprisingly tasteful. James' voice shifts back and forth like a hip-hop DJ sending it back and forth between turntables, does the Bmore club-by-way-of-LMFAO stuttering word thing, and then drops. Coolest, weirdest dubstep fusion since "Niggas in Paris."