I'd been invited to perform at Bumbershoot back in the late '90s. I was so happy to even go, much less with an all-access laminate swinging from my neck like the God of Indie Cred's cock itself. Ninety-six hours in Seattle over Labor Day weekend, under skies as blue as a Joni Mitchell album and as clear as a straight-edger's urine sample. I knew how amazing Seattle audiences could be, but at a music festival as friendly, ambling, and all over good-vibey as Bumbershoot? They were an opium addict's vision of the perfect crowd, a "What if comedy were this fucking fun?" ideal, passed like wistful folklore among comedians who'd suffered through hell gigs in Pittsburgh or Boston. I can still remember the Monday night after that long weekend, when the other comics and I were drinking like test pilots back at the hotel. We all agreed, without ever really saying it: Do not get used to this.
Two days later, I started a four-night run in Walnut Creek, California. It felt like immediate karmic balance.
But as awesome as Bumbershoot was for us lowly comedians, I can't imagine how much fun it must have been for the bands. I've only gotten a glimpse of the life of a touring musician, but it was a grueling and soul-deadening one.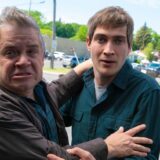 I guess I'm laying on the general atmosphere so thickly in hopes that the following story will make some sort of sense. Because my enjoyment of a show that never happened had a lot to do with the mood I was in, which, I'm embarrassed to say, was brought on by the overall huggy, drum-circle-y hempiness that had wormed its way into my heart, like a microbus squeezing into the last parking space at a Phish concert.
I didn't see Hasil Adkins that weekend. And in not seeing him, I probably got to see the best Hasil Adkins show of my life.
You can pause here and hop onto Wikipedia to get Hasil's story, which ended in 2005. He was run over by an ATV on the lawn of his home in West Virginia ("Willfully," said the local police) and died a few days later.
Up to that point, he'd spent his life belching some of the scariest, most teeth-rattling, flat-out hilarious rock'n'roll ever to flop and crawl through our dimension. An actual one-man band, he played all of his instruments, all at once. Listening to folks like Hank Williams and Elvis on the radio as a child, legend has it young Hasil assumed they were playing everything themselves. So, with peerless white-lightning logic, Hasil contrapted a rig he could play. Drums, guitar — he'd sit in the middle of it all, a redneck spider spinning webs of sonic silk.
I approached the outdoor stage for Hasil's 2 p.m. set. There was a respectable crowd of hardcore music freaks, like me, gathered. You didn't feel a velvet-rope "true believers only" vibe in the front the way I did at a Grateful Dead concert (maybe one of the most unhippie, pecking-order music experiences I'd ever endured). And there wasn't a razor-blade ocean of moshing like at the few metal shows I'd attended before realizing I'm a massive pussy when it comes to sonic assault.
There, onstage, honking and barking his way through "The Hunch" was a man wearing a flight helmet with a telephone receiver jury-rigged into the frosted faceplate. Since Hasil was wont to perform in drag or Viking headgear or whatever he'd found lying around that day, this didn't faze me. I settled onto the grass and watched him nitro-bulldoze through "She Said," "We Got a Date," and "Sally Weedy Waddy Woody Wally." It was wonderful. The voice was distorted and staticky, adding a layer of bedlam over the bass-note psychosis of his everyday persona.
Then the show was over, the crowd cheered, and the visor of the helmet flipped open.
It wasn't Hasil. It was this kid, Bob Log III, who immediately announced, "Hasil wanted to be here, but he just bought a new tractor, and he was letting it chase him around his front yard, and it ran over his legs."
We'd all just not seen Hasil Adkins. And, unwittingly, had been given an eerie portent of his death. But for the moment, all the diehards looked at each other and reassessed the facts: Hasil Adkins had been run over by his own tractor and had sent some kid to perform for him instead. We'd just witnessed the essence of Hasil Adkins. And by not seeing him, we'd truly experienced him. Take that, hologram-Tupac.
There was no riot — not like when I went to see the Vandals, years earlier, at WUST Hall in Washington, D.C., when the band didn't show and the night ended with a row of vans on fire like a medieval gutter-punk siege. No, this was Bumbershoot. This was Seattle. This was beautiful weather and good weed and strong coffee and no hurry. This was a story we'd get to tell our friends someday. It was one of the best shows I (n)ever saw. I'm sure you have one too.
So keep going to 'em.
This edition of Patton Oswalt's column This Way to the Egress originally ran in SPIN's July/August 2012 Outside Issue, on sale now.