In 2011, Beyoncé put out a No. 1 album, shot and released a live DVD, and nearly broke the Internet by announcing her pregnancy, so performing four Memorial Weekend concerts can't even jokingly be considered a comeback. Only three months passed between the birth of her daughter with Jay-Z, Blue Ivy Carter, and Beyoncé's announcement that she'd be returning to the stage at the opening of Atlantic City's lux Revel resort and casino — three years separated her debut solo album Dangerously in Love and its follow-up B'Day. But stakes are so high in diva-dom these days, nobody can afford to take a breather. B dropped last year's 4 in the height of Lady Gaga domination; now the music biz is tethered to Adele's ruptured vocal cord, Britney's serving as a judge rather than facing one, Madonna is starting a world tour, Katy Perry is a divorcee, and Rihanna won't stop patting her crotch on TV.
But the difference between Beyoncé and all those other (legally, for now!) single ladies is black and white, which is exactly the color palate she chose to employ at her Revel shows. Beyoncé is the greatest performer of her generation and she knows it well. Her Revel concerts were more Liza With a Z than MTV — predicated on nothing but the tour de force of its creator. Saturday night's two-hour show featured no gimmicks, no backing tracks, no hard-to-follow narratives, no whipped cream cannons. It was old school Vegas-style Entertainment with a capital E: singing, dancing, and charisma wrapped up in a few sparkly Ralph & Russo outfits.
Beyoncé entered larger than life as a center-stage shadow ordering the 5,500-strong crowd (with special guests Michelle, Sasha, and Malia Obama in box seats) to "stand up on your feet" for 4's "End of Time" and quickly demonstrated her voice and and hips are as limber as ever. Flanked by her 11-piece all-female band, a corps of 10 dancers, and a few cleverly deployed LED screens flashing blocks of black and white and dizzying geometric patterns, Beyoncé devoted the first part of her set to light-hearted uptempos: "Love on Top," "Get Me Bodied," "Baby Boy."
After her first costume-change break, she returned for a trio of numbers that paid homage to Vegas cabaret chic, breaking out fluffy feathered fans for a "Naughty Girl" that included a tribute to Donna Summer's "Love to Love You Baby." But the party didn't last, and she soon slipped into a series of earnest ballads, singing "1 + 1" perched on her knees atop a grand piano after admonishing the front rows not to scuffle over a perspiration-covered souvenir: "Okay, listen, don't fight over this towel — it's just a towel."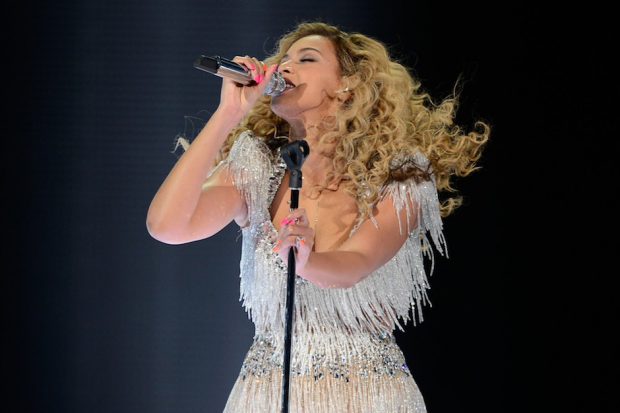 The lovefest was swiftly supplanted by the jilted-lover part of the set. "We all know how it feels to be hurt and lied to," Beyoncé insisted, asking the ladies to help her sing "If I Were a Boy" seamlessly mashed up with a bit of the Goo Goo Dolls' "Iris." The women belted even louder on her cover of Lauryn Hill's "Ex-Factor," though, which served as an unfortunate reminder of how genius can go awry.
But right now Beyoncé is owning her brilliance like a boss. The Revel show highlighted how she's become an accomplished multi-instrumentalist — her arsenal includes her powerhouse voice, her toned thighs, her whipping hair, her Vaudevillian eyes, and of course, her wind machine. And now she's become even more adept at playing our emotions, too, eliciting Beatlemania screeches by revealing a mere glimpse of Blue Ivy during a video montage. She's unlocked the secret to balancing her super-human talent with über-humanizing rhetoric like another megastar who only requires one name: Oprah.
As the night progressed, Beyoncé's strict black-and-white aesthetic began to slip, and in the set's final frames, the LED screens flashed blinding walls of color heralding the arrival of "Countdown" like the conclusion of The Wizard of Oz. The swaggy march of "Run the World (Girls)," led into a funky version of "Why Don't You Love Me," then B hit the reset button again, returning for her Whitney Houston tribute "I Will Always Love You" dressed in red.
She wrapped, of course, with her ultimate razzle-dazzle, "Single Ladies (Put a Ring on It)," and a series of earnest thank yous — to her band, her dancers, her crew ("It's very hard working for me because I want things perfect for y'all"), and to Revel "for building a place for all of us on the East Coast to go have a good time." That's entertainment, folks. In AC, the lady is a tramp, and this showgirl's a business, woman.