Two incontrovertible truths about the scurrilous cyclone we know as Courtney Love: she is a master of misery (see Live Through This) and she airs her personal demons publicly and indiscriminately (see her Twitter). She is fragile and has no problem telegraphing that fact, but usually shrouds it in a hard exterior. These truisms couldn't seem any clearer than after viewing her first visual art exhibit (or, as it often is in Love's case, exhibition), And She's Not Even Pretty, on view at Fred Torres Collaborations, a gallery halfway down a warehouse-strewn aisle of Manhattan. The show, which runs through June 15, features nearly 50 of the most colorful and revealing works of Love's career — this time done in colored pencil, watercolor, acrylic, marker, and even highlighter. And much like her music, her sketches depict the hardships and insecurities that plague her. For the woman who once proclaimed, "Someday, you will ache like I ache," she invites us one step even farther into her not-so-personal life.
Entering the gallery, a visitor is first struck by how nearly all of her sketches are of women with blonde hair, big bangs and bigger eyes, many of which might be self-portraits. They're scribbled in bright yellow, orange, purple, and blue pastels, colors that belie the underlying sadness of each portrait. The women are mostly naked and posed in vulnerable ways, similar to Nan Goldin's photography but drawn too pretty — almost like 1940s fashion sketches — to warrant the alarm of Goldin's pictures. Each is treated with words, sometimes recalling the irony of an artist like Barbara Kruger. The scenes come across like a voyeuristic glimpse inside Love's diary, telling her own stories as well as those belonging to the likes of Gwyneth Paltrow, Marianne Faithfull and Lola Schnabel (daughter of artist Julian Schnabel, whom Love calls one of her mentors).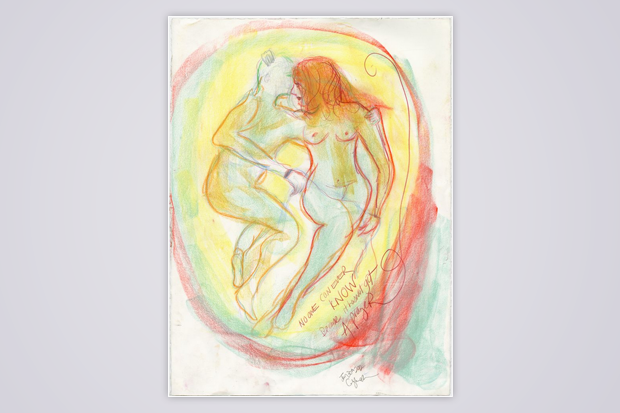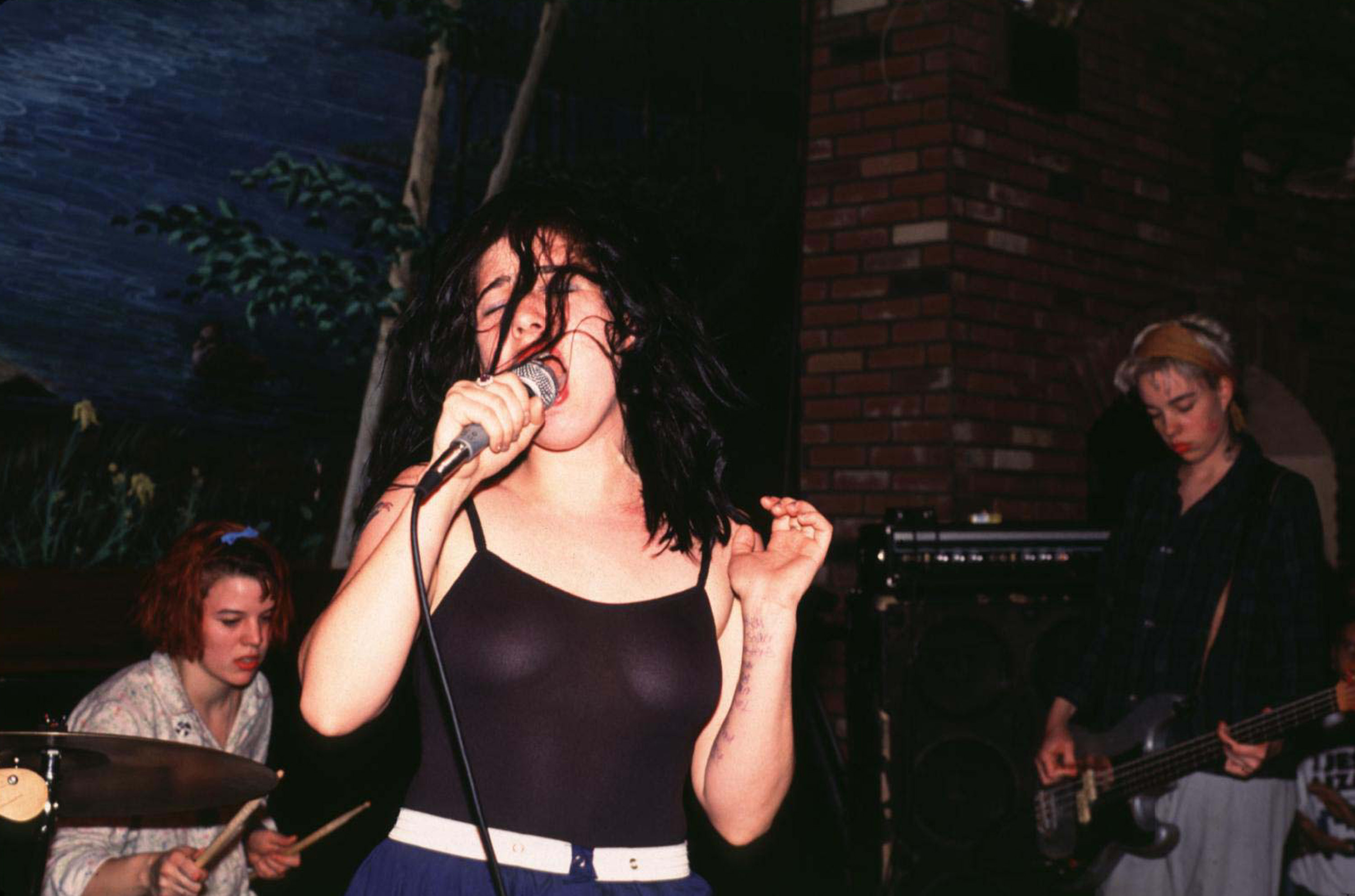 On one end of the gallery sits a large-scale drawing of a blonde covered in black, bearing the words "Return of the Punisher," and on the other end is a montage of Love's smaller, seemingly more personal works, including a particularly grotesque one of a nude blonde, legs spread, eyes dripping, liquor and pills on a nightstand, titled "I'm Dead." The exhibit is an homage to anxiety, and it comes at you from every corner. The most arresting piece is a wedding dress John Galliano designed for a marriage Love says never took place (allegedly to actor Edward Norton), on which she scrawled in lipstick, "NOT MY CUNT ON MY DIME MISTER," accompanied by a broken glass slipper and a veil bearing phrases like "Fuck yes" and "Tell me it doesn't hurt." That piece, it turns out, isn't for sale and in a way it does a disservice to her drawings, which tend to show off more emotion and nuance.
Love paints like a self-aware pop star. One depicts a nude crucified woman, juxtaposed with the words, "How you must have suffered getting accustomed to ME." The title? "Keep It Up, Mother Fuckers." Another, more sobering one, titled "Fuck It All," depicts a blonde, nude woman holding a knife, one arm cut and bleeding, with the words "The glamorous world of…" arcing over her head. And then there's the heavily scribbled sullen, makeup-smeared girl crying under the words "Please come home" and the phrase "This is a fantasy," which Love crossed out, à la Basquiat.
It's the confessional nature that makes the exhibit compelling. She even signed one of her darker captioned pictures — this one showing a blonde holding her head in anguish, with the words "No one made me cry like you made me cry —CL Michelle," ending it with her birth-certificate middle name. Others tie in more explicitly with the chronology of her life. Her art reflects some famous faces, such one depicting Paltrow with her baby and another of Cowboys cheerleader turned Guggenheim board member Amy Phelan. She also offers a glimpse into her music collection by including lyrics by the Rolling Stones, the Clash, Nine Inch Nails, Faithfull's latest and Smashing Pumpkins. Others reference current events, such as one titled "Amy Winehouse Funeral Day" and another regrettably titled "# Winning"[sic]. One piece, which has the words "I'm a celebrity, get me out of here," she has said was inspired by something she overheard at the Golden Globes. And another bears a lyric she shared on Twitter the day before she made the sketch. If you're wondering, absent is any explicit reference to her late husband, Kurt Cobain.
But, it's this flowing stream of consciousness that makes it all good pop art. The fact that Love spent two years at the San Francisco Art Institute in the '80s and said she learned nothing from the experience underscores this. As a songwriter, she has always opened her own wounds for the world to share. Now we can literally see what's on her mind.