You will never truly grasp the majesty of Marissa Paternoster until you look deep into her eyes as she solos, which, yeah, good luck with that, even under ideal circumstances. There's her face-obscuring, bang-overhang bowl cut to contend with, for starters (don't worry, she smiles occasionally, this isn't a sullen teenager thing), not to mention that she's, like, 5'1″ (maybe), so unless the stage is yea-high you can forget about getting a glimpse of her at all.
Still, it's worth all the effort and frustration, because watching Marissa Paternoster solo in person is amazing.
Let's try it on record first, though, just for fun. The first eruption comes precisely 1:42 into "It All Means Nothing," the leadoff track on the fifth full-length from New Brunswick, New Jersey's finest garage-punk trio, the Screaming Females, ruled by Paternoster with an iron fist and serpentine fingers. The first minute and 41 seconds are just delightful, as the unfinished-basement, distortion-pedal crunch envelops you immediately. The other two (male, mild-mannered) Females — Jarrett Dougherty on drums, "King Mike" on bass — are nimble and propulsive. Paternoster's bemused roar of a singing voice is a literal hoot, with piercing highs and crater-carving lows, like Corin and Carrie from Sleater-Kinney fighting for control of the same corporeal being, Halloween with a pinch of Boxing Day, Kristen Wiig impersonating Danzig. Just delightful.
But gahhh, the solo. An abrupt, shocking meteor shower of notes, fleet and fiery, a compressed symphony rife with both technical ecstasy and actual human warmth, a bracing slap in the face so casually badass all you can do is laugh, especially in person, when you can behold the complete lack of affect or emotion displayed on whatever tiny portion of Paternoster's face is visible as she unleashes that fusillade of hammer-ons and shrieking bends and one-handed show-off theatrics. She acts like she's brushing her teeth. It's glorious.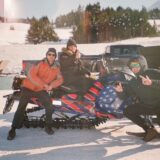 Ugly struggles mightily — as every punk album ever born has — to replicate this feeling, to somehow capture a live show's sense of ferocious wonder, which is, of course, very much a visual, visceral thing. You had to be there; you're not. Thankfully, Steve Albini is there, a guy who's struggled with this quandary for nigh on 30 years, and who imbues these tough, smart, bluntly sweet songs with the same aura of candy-colored violence that blessed Pod, Rid of Me, and In Utero. Happiness, after all, is still a warm gun.
Over in the other locker room, we find the Men, Brooklyn post-hardcore abstract expressionists whose 2011 breakthrough Leave Home aurally calls forth the dank Williamsburg caverns where this music is meant to be heard. Their hurricane-gale shoegaze mosaics radiate the druggy hypnosis of krautrock, the caustic spite of no-wave, the slithering lethality of Amphetamine Reptile noise-punk. You can feel the curb between your teeth, particularly during the harrowing David Yow mash note "L.A.D.O.C.H.," one of their brutally slow, lung-shredding, grotesque-construction-accident percussion numbers. Even through headphones it seems like a death sentence. Facing the same conundrum — how do we put you in the same room/basement/loft/grave with us? — the Men return now with Open Your Heart, ditching the harrowing stuff and…going country.
Good idea.
First, though, comes leadoff track "Turn It Around," whose thrilling opening seconds are pure Freedom Rock, a simple, naked, titanic riff unabashed in its maxed-out-car-stereo virility. Lumbering, prismatic Sonic Youth squall soon engulfs it. Indeed, Heart's most thrilling moments, cacophonous closer "Ex-Dreams," in particular, evoke a sort of Daydream Nation triumphalism and desperation.
But, yes, "Country Song" is not an ironic title: A slow, pastoral, gently reverbed riff is given six minutes to calmly, wordlessly pull off its boots and stretch its legs. "Candy" is an even more explicit dirt-road anthem, acoustic-driven, lightly crooned, spryly shuffling. These countrypolitan nods are surrounded by more familiar careening and caterwauling — the breakneck title track distills the band's rage romanticism, power pop growing fangs and claws: "Even if she says no / I won't let go," singer-guitarist Nick Chiericozzi desperately howls, conjuring up Lou Barlow caught exactly halfway between Dinosaur Jr. and Sebadoh.
The same triangulation works for Ugly, too; and the fact that the Screamales' lane is narrower doesn't downgrade them to being a merely good band, or even an unimaginative one. "Rotten Apple" is a jaunty, hooky thrill because of Paternoster's multiple, daffy line-readings of "I'm a rotten appllllle" alone; "Red Hand" is an ominous, exotic, bass-driven minefield, the male Females fiercely asserting themselves. The death howls that punctuate "Slow Birth" are pretty fantastic. Live, Paternoster usually delivers them by stuffing the whole mic in her mouth and then spitting it onto the floor.
Still, verily, the solos are what kill you, be they "Eruption"-style freak-outs or the (only slightly) more controlled chaos of "High," which melts down ecstatically right after Paternoster howls, "I don't get high / I can't unwiiiiiiiind." This is the climactic moment of the best rock show you've seen in years, wherein you feel compelled to grab the dude who's been blocking your view all this time and throw him into a wall. The Screamales and Paternoster need a bigger stage — she's a fire-breathing guitar heroine every bit as indispensable as ice queen St. Vincent and ADD lightning storm Marnie Stern. (This isn't the Women Who Shred ghetto, either; we're talking the best guitarists in indie rock, full stop.)
And so, when Open Your Heart peaks with "Oscillation," a slow-build stunner that elegantly alchemizes the record's Brooklyn-grit propulsion and newly acquired backwoods elegance into a tirade of tenderness — all that's missing is a "Maggot Brain"-caliber, solo-as-epochal-manifesto. As for Ugly's deep reservoir of deft melodicism, all you'd hope for is a greater sense of scale and possibility — more detours, more gleeful disorientation, a touch of the same absurdly ambitious fervor that elevated fellow Jersey-punk royalty like van-lifer poet laureate Ted Leo and magnificently deranged Civil War re-enactors Titus Andronicus.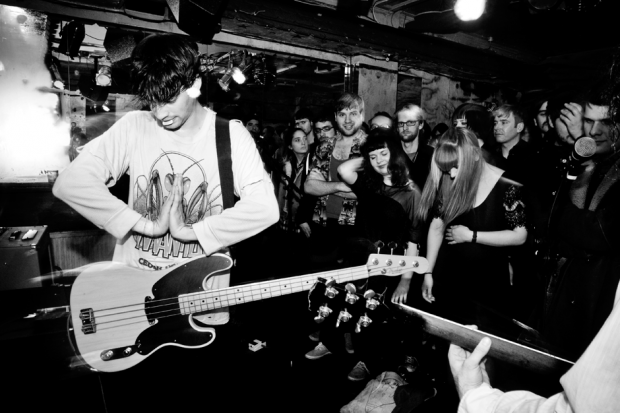 Put simply, the Screamales need to put out a record where Paternoster just rages, formlessly, for 45 minutes straight. Maybe 90. The Men are pushing just as thrillingly in the opposite direction, their intensity channeled into ever-tighter bombs of joyful aggression. Both bands are key players on the how-to-make-an-MP3-flesh front lines, slowly inching closer together, and closer to nirvana.
COMPANION PIECES:
The Wipers
Youth of America (1981)
Meticulously produced, sonically adventurous Pacific Northwest art-punk that drew up the blueprint for the Men and, you know, tens of thousands of other young garage bands looking for grandiose ways to convey their grandiose disillusionment. "When It's Over" and the title track are 17-plus combined minutes of muscular motorik teen angst that deserved to pay off way better.
The Gun Club
Fire of Love (1981)
Meet L.A.'s Way More Violent Femmes, mixing titanic punk hostility with country, blues, even rockabilly (the good rockabilly, not the flame-decals-on-my-upright-bass rockabilly.) The notably Odd Future-esque lyrical content fixates on sex, murder, and misanthropy, including a few in-character racial epithets to wince through. Proof that digging into your Americana roots can make you sound even harder.
Sonic Youth
Daydream Nation (1988)
Too obvious, sure — maybe a dozen "indie rock" records in the past 20 years don't owe it an enormous debt — but this is the Valhalla that Open Your Heart reaches at its loudest, noisiest, and most triumphant, right down to the spazz-out guitars/chill-out vocals dichotomy. Plus, Marissa Paternoster is basically the love child of Kim Gordon and Eddie Van Halen.
The Breeders
Pod (1990)
Everyone's got a personal favorite Steve Albini production; you couldn't sleep on this one if you tried, given the drums alone: so perfect, so vicious. That Kim Deal and Tanya Donelly had two of the sweetest, most alluring voices of the '90s only sharpens the blades whirring all around them. Kurt Cobain loved it. Also: best Beatles cover of all time.
Sleater-Kinney
The Hot Rock (1999)
Wherein both the Beatles and the Stones of riot grrrl temper their breakneck aggression with something knottier, artier, more emotionally fraught, attempting both honest-to-god power ballads (all hail "The Size of Our Love") and the most affecting faux-lovers'-quarrel duets since "Don't You Want Me." Meanwhile, Janet Weiss' drummer-of-the-decade freak-out on "The End of You" means its title literally.
This Head Spin story originally ran in the March/April issue of SPIN.