Journalistic ethics prevent me from doing much in the way of covering Simian Mobile Disco, or at least I'm required to disclose that the U.K. duo once included one of my tracks in their mix CD Is Fixed (#humblebrag). So feel free to consider me biased when I tell you that I'm excited about SMD's forthcoming album Unpatterns, due May 14 on Wichita Recordings.
Simian Mobile Disco will be forever associated with "We Are Your Friends," the raucous dance-punk collaboration between their former band, Simian, and French electro-rockers Justice. But the teaming of James Ford and Jas Shaw has turned into a far more interesting proposition than anything that 2003 anthem might have augured.
SMD's 2007 debut album, Attack Decay Sustain Release, pledged fealty to the most basic principles of electronic music, and they went on the road with a slew of arcane analog gear to present their stripped-down funk in as live a fashion as possible. 2009's Temporary Pleasure stuck with the gurgling, old-school palette while recruiting Beth Ditto, Jamie Lidell, and Hot Chip's Alexis Taylor to round out their pop inclinations. (They later returned the favor by producing Ditto's EP, a pitch-perfect tribute to freestyle and '80s dance-pop.) Then, in 2010, they changed course with Delicacies, a collection of gnarled, snarling, end-of-the-world techno that they also released as a series of 12-inch singles on their own Delicacies label; released a month before, the mix Is Fixed was cut from similar cloth.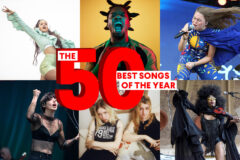 "Seraphim," a teaser for the new album, suggests that they may have changed course yet again. Its slow tempo and melancholy vocals are in keeping with the dusky deep house that's trending right now; its bumpy groove recalls both old-school electro and the new generation of U.K. producers who are rewiring house music with cadences learned from dubstep. There's a touch of keening TB-303, and all the full-spectrum shivers that you'd hope for from a duo equipped with a studio like this one.
"Seraphim" is out April 9; Unpatterns follows on May 14 in the UK, May 15 stateside.