Tablets and smartphones have evolved to the point where they're all essentially carbon-copies of one another. That's why Samsung's brand new Galaxy Note stands out from the crowd. With a 5.3-inch touch screen (the iPhone's screen measures 3.5 inches) and a tiny stylus, it's a unique hybrid of phone and tablet.
The features and apps all say tablet — for example, we've seen the Note used as a portable sketchpad by artists. But it also runs on AT&T's mobile phone and data network, and unlike your iPad, actually makes calls (at least as much as any AT&T phone). Does it hit the marks as either a phone or tablet? Or is it just an overhyped mashup of both that won't satisfy anyone? Let's argue!
Libe:
The Samsung Note is like Benecio Del Toro — it's impossible to tell if it's hot or not. Use it to surf the web or play videos and games, and that bright, 5.3-inch high-res screen looks pretty damn sexy. Use it to make a phone call and you look like Maxwell Smart talking into a shoe phone. Not so hot.
But man, that big screen is nice. I downloaded Angry Birds from the Android Market and, unlike the iPhone, didn't have to move the screen to scope out the pig's locations before launching a bird in their direction. For movie watching, it's also a winner, but way more portable than the iPad or other Android tablets out there. Okay, so this thing won't fit in your skinny jeans pocket, but it's fine for my handbag.
Dan: Sure you can put in your jacket or bag, but it's so big that it's just plain impractical to just whip out on the sidewalk to make a call or send a text. And you can forget about one-handed operation, swiping in commands with your thumb while holding it, unless you have giant gorilla hands.
One other thing that really bothered me was this: Thanks to Android's one-size-fits-all quirks, nearly every website defaults to its lame "mobile" version, making the big, beautiful screen pointless a lot of the time. You can dive into the sub-menus and change the default settings, but the Note should be smarter than that.
That said, the touchscreen is very, very good — browsing speed seems close to an iPhone or iPad, and reading a Kindle book or the New York Times on it is much better than squinting at it on a smaller phone.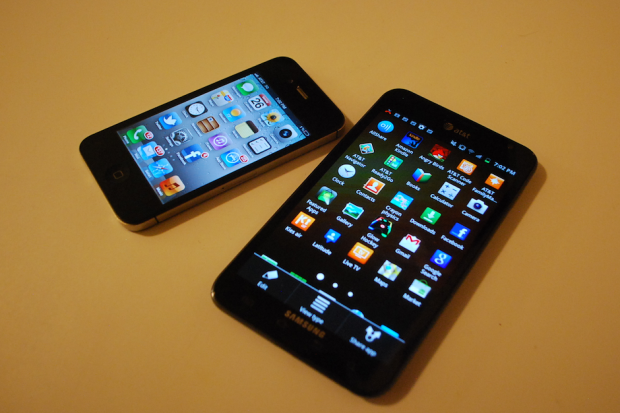 Libe: That screen really comes in handy if you're using one of the handwriting or drawing apps that requires the stylus that's tucked into a slot on the side. It's cool that there's a special pen to scrawl notes, or even do some sketches and edit photos — but it also feels very retro, like it's 2002 and you're using your Palm Treo. Even worse, it's a special "active" stylus, so you can't use a chopstick or something if you lose it, and replacements run around $30.
Dan: The stylus is probably something you'll hardly every use, but it's another feature that makes this a bit unique, so I'm all for it.
I'll admit, when I first saw the Galaxy Note earlier in the year, I liked it a lot, and strictly aesthetically, I still do. In retrospect, it may have been because it was simply something a little different than the norm. Thinking different (as Apple used to say) is a good thing, but maybe there's a good reason almost every other smartphone is roughly the same size, and why Apple has sold nearly 10 million iPads with book-like 9.7-inch screens.
The Samsung Galaxy Note is available now, and costs $299 with a two-year AT&T contract.