Last night's late-TV lineup included two contrasting approaches to psychedelic rock, as Of Montreal returned to Late Night With Jimmy Fallon and Dr. Dog stopped by Conan.
It takes a while for Kevin Barnes and the crew's performance to get suitably trippy, but stay with it. After playing on the show with Solange Knowles a couple of years ago, this time the Athens, Georgia-based band offered up a full-fledged rendition of bleakly catchy "Dour Percentage," from latest album Paralytic Stalks (which Barnes broke down track by track for us). Barnes has said the song is about essentially breaking up with a friend, which might explain why he starts out looking and sounding a bit tentative, hunched over his keyboard. But by the end, the lushly arranged music swells to match the colorful weirdness of the onstage projections.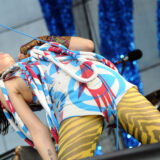 Dr. Dog's earnest, melody-driven style has its feet in both that old time rock'n'roll and also the poppier strains of 2000s indie rock. Last night on Conan, the band performed the wide-eyed rave-up "That Old Black Hole," from new album Be the Void. "I don't rock the boat, but it's always unsteady," guitarist/singer Scott McMicken observes. Sunglasses indoors! Two drummers! Duuude.