An Of Montreal concert is the closest thing indie rock has to a Cirque du Soleil performance, and next year Kevin Barnes and his band of psychedelic marauders will break out the masks and glitter once again in support of their February 7 album Paralytic Stalks. But first, DJ List Christee (a.k.a. Barnes) will play a New Year's Eve gig in their native Athens, Georgia, before embarking on a full tour in March (SPIN has your exclusive first look at the dates below).
Barnes recorded Paralytic Stalks in his home studio with a crew consisting of session musicians for the first time ever, and woodwind/brass player Zac Cowell wound up becoming part of the band's lineup. Barnes pulled quadruple duty as songwriter, performer, engineer, and producer. In addition to previously released track "Wintered Debts", a seven-minute orchestral pop epic, the nine-song disc includes "Gelid Ascent," "Spiteful Intervention," "Dour Percentages," "We Will Commit Wolf Murder," "Malefic Dowery," "Ye, Renew the Plaintiff," "Exorcismic Breeding Knife," and "Authentic Pyrrhic Remission." Read into that what you will.
Of Montreal be showcasing their new album and their incredible stamina on the road in early 2012: From March 27 in Minneapolis to April 7 in Atlanta, a span of 12 nights, the band will perform 12 concerts without an evening off. Before that long streak, the group will also perform a stretch of seven consecutive shows that conclude March 24 in Seattle. That's even more jam-packed than the NBA's rigorous schedule this season. Along the way, Of Montreal will also make a stop at SXSW to play at their label Polyvinyl's showcase.
Depending on where you catch Of Montreal, certain shows will find Cults, Deerhoof, Lonely Dear, Computer Kids, Hard Nips, or Of Montreal's own Kishi Bashi serving as opening act. Check out the dates: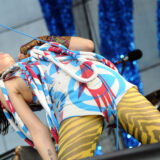 Dec. 31 – Athens, GA @ Go Bar
Feb. 17 – Athens, GA @ Georgia Theatre
Mar. 7 – Jacksonville, [email protected] Freebird Live
Mar. 8 – Orlando, FL @ The Plaza Live
Mar. 9 – Mobile, AL @ Alabama Music Box
Mar. 10 – New Orleans, LA @ Howlin Wolf
Mar. 11 – Houston, TX @ Fitzgeralds
Mar. 12 – Oklahoma City, OK @ ACM @ UCO Performance Lab
Mar. 13 – Dallas, TX @ Tree's
Mar. 14 – McAllen, TX @ Sofie's Saloon
Mar. 15 – Austin, TX @ Emo's East (Polyvinyl Showcase)
Mar. 18 – El Paso, TX @ Tricky Falls
Mar. 19 – Tucson, AZ @ Rialto
Mar. 20 – Los Angeles, CA @ The Wiltern
Mar. 21 – San Francisco, CA @ Slim's
Mar. 22 – San Francisco, CA @ The Fillmore
Mar. 23 – Portland, OR @ Crystal Ballroom
Mar. 24 – Seattle, WA @ Showbox at the Market
Mar. 25 – Boise, ID @ Treefort MusicFestival
Mar. 27 – Minneapolis, MN @ First Avenue
Mar. 28 – Chicago, IL @ Metro
Mar. 29 – Cleveland, OH @ Beachland Ballroom
Mar. 30 – New York, NY @ Webster Hall
Mar. 31 – New York, NY @ Webster Hall
Apr. 1 – Boston, MA @ The Paradise
Apr. 2 – Philadelphia, PA @ Union Transfer
Apr. 3 – Washington, DC @ 9:30 Club
Apr. 4 – Carrboro, NC @ Cat's Cradle
Apr. 5 – Asheville, NC @ Orange Peel
Apr. 6 – Chattanooga, TN @ Track 29
Apr. 7 – Atlanta, GA @ Variety Playhouse
See Also:
• Of Montreal Drop Orchestral-Pop Epic 'Wintered Debts'