Leslie Feist is exhausted. She's curled up beneath the covers of the stately oak-framed bed in her room at the Lafayette House hotel in downtown Manhattan. I ask if she'd like to talk in the ivy-covered private backyard, but she insists on staying put. The singer/songwriter flew in the night before from her native Toronto, now her sole residence after living part-time in Paris, and she's just finishing her first press day promoting her fourth full-length album, Metals. She grabs my recorder, snuggles deeper into the pearl-white sheets, and whispers, "Pillow talk! Pillow talk! I'm sooo tired!!!"
For Feist, the feeling of exhaustion, or of being overwhelmed, is familiar, and in some way, possibly even welcome: It drove her to the brink of mental and physical collapse during the tour and press blitz behind her last album, 2007's The Reminder, and ultimately forced her into years of inactivity. But it also birthed Metals, a reflective, dark, and sonically experimental album that's proved to be transformative.
"I think a lot about the forging and morphing of metal from one thing to another, and the effort needed to go down and dig for it," Feist, 35, says of the LP's title.It's just these raw emotions and how they can be changed over time."
Born in Nova Scotia to artist parents, Feist seemed destined to follow her family's humble artistic path, founding the Calgary punk band Placebo (not that Placebo) at age 15, and later moving to Toronto, where she befriended electro singer Peaches and Brendan Canning, whom she would join in Broken Social Scene.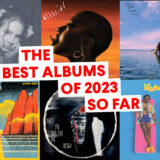 After a pair of solo albums, 1999's Monarch (Lay Your Jewelled Head Down) and 2004's major-label debut Let It Die, which landed Feist Canada's Juno award for Best New Artist and Best Alternative Album, Feist's personal life and career underwent for a tectonic shift in 2007. Her third album The Reminder'sbouncy first single "1234" became a cultural touchstone thanks in no small part to its accompanying video. Shot in one continuous take by director Patrick Daughters, the clip showed Feist in a blue-sequined jumpsuit leading a group of friends, all wearing color-coded outfits, in a choreographed dance as they belted the chorus of ba-da-ba-da-das. It was adorable. For most artists her calibre, this was the definition of success: YouTube hit, career-best sales, sell-out gigs. But then Apple called.
When the TV commercial for the third generation iPod Nano hit that September, Feist became a household name and pop superstar virtually overnight. "1234" shot up the charts, ushering in the age of "pop stardom via Apple commercial placement," paving the road for the Ting Tings and the Submarines. By the end of September, The Reminder had sold nearly a third of its 299,000 units that month, and by spring '08, one year after its release, The Reminder had moved over 730,000 copies. A world tour and TV appearances on Today, The View, Sesame Street, Saturday Night Live, and many others followed. A solid year of work was on the calendar. It was thrilling and fun… until it wasn't.
"It eventually supernova'd beyond me," Feist says, "and at that point [the music] was speaking about me rather than me about it. But I certainly didn't want to thwart the momentum either. I rode it out. I didn't steer or have much say, though." She pauses, giggles a little and repositions herself upright on a pillow. "You know the Polaroid in Back to the Future? It was like that. I just started to fade from the picture."
In November 2008, Feisthad officially faded. "I was ready to stop. I didn't recognize those walls in life and I let myself hit them. If you keep bashing your head against the same wall, at some point you're going to fall over and be still for awhile." She cleared her calendar and returned to Toronto. It was a relief to be home in the city where she launched her music career more than a decade earlier. "This is where my family and old friends are," Feist says. "And I really missed my bike."
She didn't waste time settling back in, adopting a couple dogs, determined to live a life opposite from her dreaded touring regiment. She avoided anything resembling an itinerary, staying at home for weeks, or traveling at a moment's notice. "I didn't do anything that required planning. I saw Egypt and Mexico City a couple of times. I really felt Mexico City. I was in Berlin and Paris with friends. [Laughs] I was buying tickets for flights the day of. I didn't want a plan. It's a sickness that comes from your life being over-jammed into those little squares on the calendar. Everything becomes cubic. Time is no longer fluid."
She took a full year and a half off. She read obsessively: The Road by Cormac McCarthy ("Terrifying!"); The Master and Margarita by Mikhail Bulgakov; David Copperfield by Charles Dickens ("Such a page-turner! And I avoided Dickens all these years!"); Tête-à-Tête, a "very interesting" biography of French intellectuals Simone de Beauvoir and Jean-Paul Sartre; and The Possibility of an Island, a novel by Michel Houellebecq about a dystopian future ruled by nightmarish technology. It's safe to say the Apple money hasn't made her any more at ease with digital culture.
"I get really scared about how the Internet is shifting and changing everyone's minds, and the way we see ourselves and interact online. Everything is so diluted now," Feist says. "I once looked over the shoulder of a friend on Facebook and it looked like hieroglyphs to me. There's merit online, of course, but social media gets super freaky. Imagine if three generations from now, people online have forgotten what date or day of the week it is."
While Feist disappeared from the radar for almost two years (her highest-profile musical appearance was singing backup on a Wilco track), a watershed moment came in the winter of '08/'09, when she wrote the beginnings of "Cicadas and Gulls," one of Metals' most emotionally bare songs, at home in Toronto. "I had just come off the road. I remember being in my bedroom, where I have a fireplace, and it was one of those freezing cold winter nights so I started a fire. All the lights were off and I was alone. I thought, 'Maybe I'll never tour again. But maybe I'll try to play guitar, because I used to like doing it.' I remember thinking, 'I'm going to try and write something I've never written before.' That's a good mindset to get into. A little stretching assignment to help think about music differently."Continue reading Feist's interview on page 2 >>
Another year later and she was stirring. In summer 2010 she traveled to the studio in Paris where she recorded The Reminder for inspiration. "I needed to kickstart myself into that mindset. So I went back alone. I know the owner and engineer very well and they were like, 'Yes, take the house. Nobody is here. Here's coffee and groceries, make yourself at home.' I stayed for a week and Gonzo [Chilly Gonzalez, her longtime collaborator] came for a couple days. I remember telling him, 'I don't even know why I'm here. I don't have anything.' "
Six months later, though, and she had plenty. "I came back from Paris and wrote most of the record that fall."
With Gonzalez and Mocky, another regular musical collaborator, plus newcomer Valgeir Sigurðsson (Björk, Kate Nash, Bonnie "Prince" Billy), Feist headed to Big Sur, California, which she discovered during a drive between San Francisco and Los Angeles "five or six years ago." "I had read Steinbeck's Cannery Row and East of Eden. Both Kerouac and Henry Miller wrote there, so on a fiction-level I felt this sense of familiarity."
Feist was particular on her recording environs: "I was like, 'Where is this fictitious wooden room with tall ceilings that I keep imagining?' " Her manager was given the daunting task of finding it. Turns out, the room in Feist's head was a painting studio on a 350-acre heritage farm overlooking the Pacific Ocean, where children come in the summer months to attend a music camp teaching the fiddle. Soon an ad hoc recording studio was set up and, in January 2011, work began on Metals.
"Big Sur is the edge of the earth," Feist says. "It's this graphic line between land and sea. It was perfect."
Feist temporarily settled in a cottage nearby, walking along a ridge overlooking the ocean each morning. "My commute to work was with my backpack filled with my laptop, journals, and whatever books I was reading. I'd tromp along the cliffs between wild cows as condors circled overhead. Some days were stunning and gorgeous; on others the clouds were so thick you couldn't see 10 feet."
The lyrics were completed before arriving in Big Sur, she says. All except one moody and mournful verse on "The Circle Married the Line," which was inspired by Feist's morning walks and Big Sur's healing natural beauty. "All I want is a horizon line / Get some clarity, following the signs / Get some clear ocean signs," she coos. "It was the only lyric that I wrote there," she explains. "I added it because I really was getting serious clarity walking across the cliffs every morning."
Feist worked with string players and spent the bulk of the time not just in their makeshift studio, but beneath it. "My vocal microphone was picking up every sound, so I moved downstairs in these stables below the barn. There was an old piano downstairs that the owner's grandmother had brought with her when she moved in the late 1800s from New England. She brought it across the country on a wagon, and we ended up using that piano a lot."
The crew filmed and released a 12-part video series piecemeal on YouTube to stoke excitement for Feist's return. There was Feist playing with goats on the farm; Feist recording vocals; Feist tinkering with the piano; Feist watching the sunset. The footage captured the grandeur of the landscapes — and hinted at that of Metals with the song snippets that played in the background.
Metals largely abandons the upbeat pop of Feist's previous releases for an experimental, lush chamber pop sound. There's no "1234" here — uplifting choruses and light lyrics are exchanged for challenging vocal melodies and themes of dark, twisted romance and personal struggle, intricate rhythms, and more agile guitar work. There's layer-upon-layer of folky and electronic flourishes, horns, strings, xylophone, backing vocals, and more. It's perhaps Feist's grand way of reclaiming her art after sharing it with so many, perhaps too many, people, who all wanted a piece.
"We wanted [Metals] to be an absolutely true moment," she says. "This album is like a treasure-hunt of everything in my life — the books I read, movies I saw, people I am close to or observed. It's just the whole messy passion play."
This time around, however, she hopes it'll be slightly less messy. While she's rejuvenated and ready for the impending world tour and press blitz, she'll be taking it relatively easy. Days off are being scheduled between dates so she can relax. "I've never been on a more chilled out tour. It looks like cheesecloth — there are so many holes in the schedule. That'll make ahuge difference,"she says. "I had enough time off that now I'm not daunted by [touring] anymore. It's like getting back on the horse. Like, 'Okay. It will be fun. It will be good.' I think…"
Just before leaving Feist to nap, I hand her my copy of Jennifer Egan's Pulitzer Prize-winning novel A Visit From the Goon Squad, which I'd finished on the subway ride over. We start discussing books again, and Feist says that the title Metals was partially inspired by 1491: New Revelations of the Americas Before Columbus, which is about the Spanish Conquistadors' treatment of precious metals, like gold, versus the Aztec Indians' methods. The former forged intricate weapons; the latter decorated their homes and goods in gold. "It was all dazzle," Feist says purposefully, her eyes widening. "'Mettle' was also a frontrunner for the title. I told a couple of people but they didn't know what that word meant, so I kept having to define it, not to mention spell it."
She again turns to A Visit From the Goon Squad. "Good, eh?" I nod in approval. " In the next few weeks I'm going to Los Angeles, Berlin, London, Paris, and then the tour. On and on and on. This," she says, holding up the paperback, "is going to save my life. Whew."