The 10 Best Sets of Lollapalooza 2011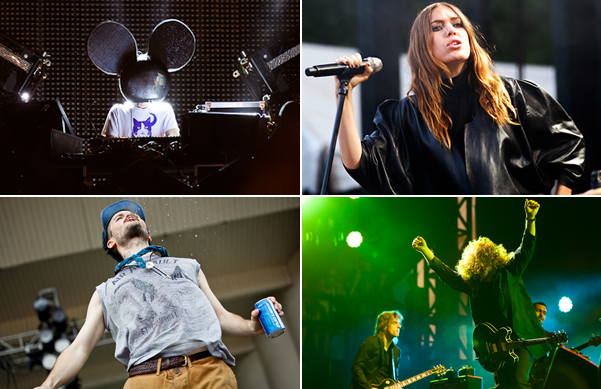 After three action-packed days of live music (and wild weather), Lollapalooza is done for another year. Here, SPIN's team on the ground in Chicago's Grant Park ranks the top shows of the weekend.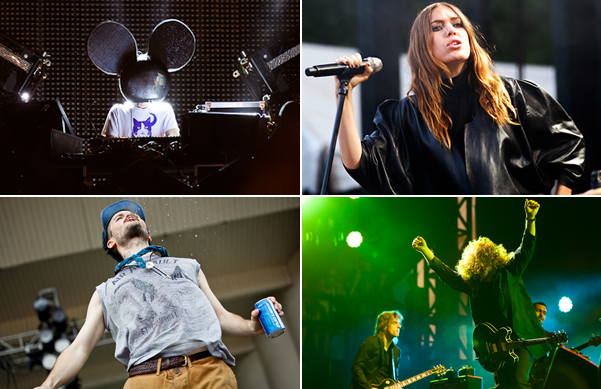 After three action-packed days of live music (and wild weather), Lollapalooza is done for another year. Here, SPIN's team on the ground in Chicago's Grant Park ranks the top shows of the weekend.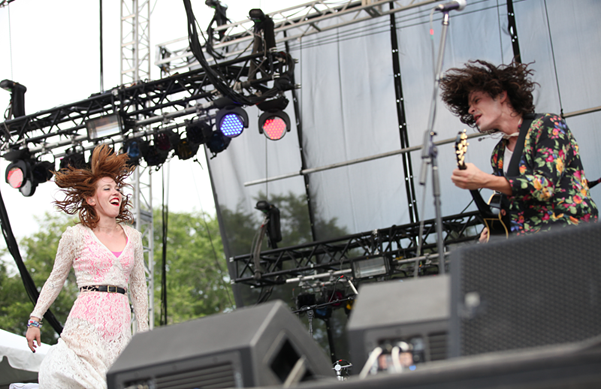 As their name implies, this Los Angeles pop quintet's sound is like a musical anti-depressant, and early-bird concertgoers were rewarded with a hefty dose Friday afternoon at the Sony Stage. Especially noteworthy was the bubbly "Itching on a Photograph," on which vocalists Christian Zucconi and Hannah Hooper "didn't just sound as if they were longing for someone. They sounded as if they were experiencing longing for the very first time," wrote SPIN's David Marchese.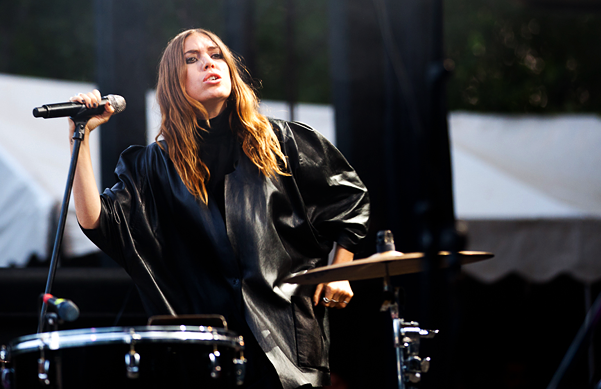 The Swede pop chanteuse's Saturday evening set at the Google+ stage was an "extreme example of the huge bundle of contradictions that is the artistic persona of Lykke Li Zachrisson: vixen and naïf, pop star and eccentric, extroverted performer and self-doubting introvert,"wrote SPIN's Marc Hogan. She banged on cymbals and sang of her unstoppable ascent on "I'm Good, I'm Gone," from her standout 2008 debut albumYouth Novels, then sounded desperate on a cover of Burt Bacharach's "Please Stay." "Desperate to be loved, but equally desperate not to give her love away too cheaply, Lykke Li's immaculate Scandinavian electro-pop may be… deep down, about howeverybodyfeels."
5.No. 8: BRIGHT EYES
5/12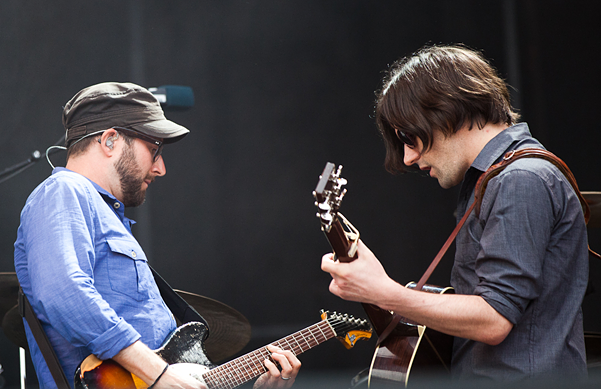 More than 15 years into his career, singer-songwriter Conor Oberst proved with his Friday night set that "when it comes to highly literate, wholly emotive, personal-meets-political rock and roll poetry, his Omaha outfit is still the gold standard," wrote SPIN's Chris Martins. But Oberst has certainly changed a lot as a musician since the late '90s, when he was first hailed as the Next Bob Dylan and redefined "emo" for a generation. He "doesn't emanate a whiff of preciousness these days," Martins added. "This is perhaps owing to time spent in the Monsters of Folk supertrio or his more straight-ahead Mystic Valley Band, but at Lollapalooza the credit was due to the group that backed him — five other players who displayed a mastery over at least twice as many instruments."
6.No. 7: PAINS OF BEING PURE AT HEART
6/12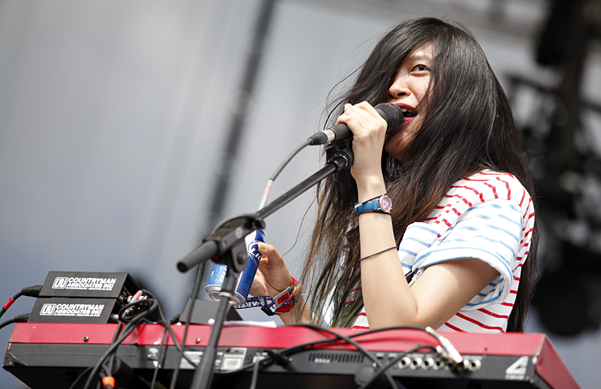 The New York City indie pop act's set on Sunday was a blast from the past: "You reallydidfeel like the band's spectacularly fetching alt-rock simulacrum 'Heart in Your Heartbreak' was emanating from a Lolla '94 time warp, where Stereolab's adorable side-stage chug bled over into the Breeders' adorable mainstage shrug," wrote SPIN editorial director Charles Aaron. "The key to the Pains' evolution beyond tea-cosy indie-pop…was the live boost oftouring guitarist Christoph Hocchheim, whose adept deployment of '90s-centric distortion pedals gives the band an all-embracing, generational group-hug swoosh. For song after song—from Belongand 2009's self-titled debut—the quintet quieted for shimmering, bass-burbling, cymbal-tinkling breakdowns that gradually crescendoed to a twin-guitar gush."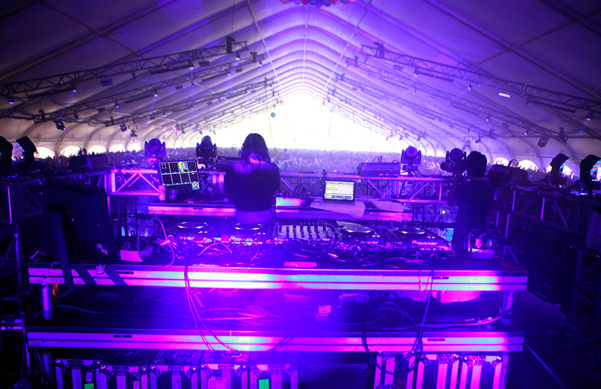 By all accounts Skrillex's set on Friday was wild: "The photo pit was quickly shut down because the crowd was too raucous. Fans were trying to climb the tent. There was blood," wrote SPIN's David Marchese. "These kinds of things are ceasing to be news for a Skrillex show."
Later that night,SPIN caught up with the DJ-producer born Sonny Moore before his set at the Congress Theatre. "It was awesomemagicalinsane people were so fucking cool all the people dug it people were having such a good time," Moore said of his Lolla appearance. "You dream about Lollapalooza then you play Lollapalooza and you can't believe you're playing Lollapalooza." Read more here.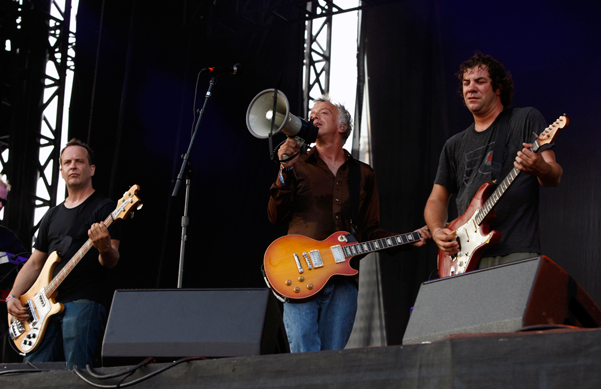 After catching their Saturday set, SPIN's David Marchese praised the Pennsylvania-bred rockers for their goofiness and prowess, a combo few artist hold today. "They play these fantastically arranged joke songs with conviction and virtuosity," he wrote. Among them was the Caribbean groover "Bananas and Blow," a trippy track about magical shellfish called "The Mollusk," their set opener, "Spinal Meningitis Got Me Down," and "Your Party," a "smooth, hairchesty, yacht-rock insinuation from the point of a view of a man who has enjoyed himself immensely at a party during which the hosts served tri-colored pastas and the guests played games of chance.... The songs aren't serious, but Ween takes them incredibly seriously."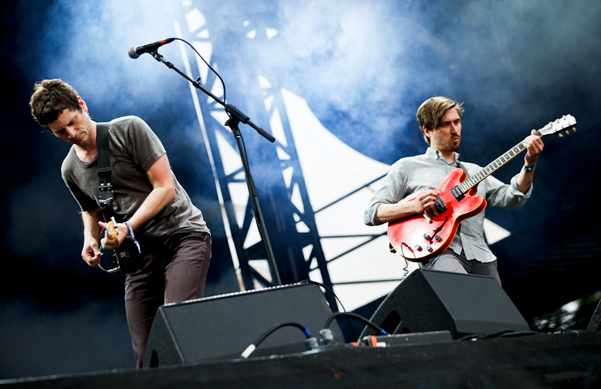 The most searing and experimental set of the weekend came from Chicago rock'n'rollers Disappears, a quartet featuring Sonic Youth's Steve Shelley on drums. With help from local noise duo White/Light, who played slide guitar and an array of ear-piercing electronics, Disappears' set peaked when the group charged into a 10-minute-long song. "Lights flared for the first time, carving swirling patterns into the hazy whorls from the smoke machine," wrote SPIN's Marc Hogan. "They stretched out whirring drum patterns and winding, distorted guitar leads, each of which carried echoes of German art-rockers like Can and English psych-rockers like Spacemen 3."
10.No. 3: MY MORNING JACKET
10/12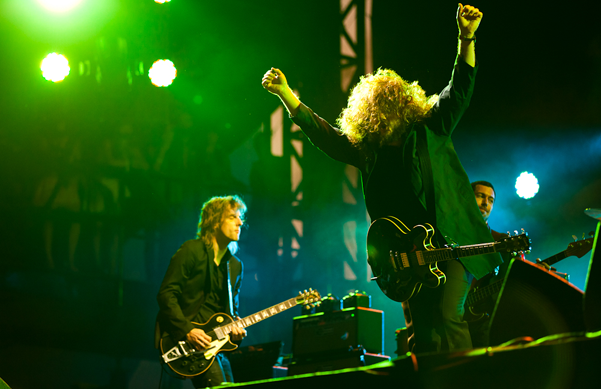 Is there a more reliable live rock band than My Morning Jacket? The Louisville outfit rewarded fans Saturday night in their co-headlining set opposite Eminem. Dressed like a folk-rock shaman in an oversized Civil War coat, singer-guitarist Jim James "led the band through two hours of music, from Circuital opener 'Victory Dance,' to 2008's chiming 'I'm Amazed,' to Z favorite 'Off the Record,' to the biggest crowd-pleaser of all, 'Gideon,'" wrote SPIN's Chris Martins. "My Morning Jacket had just the right mix of easy Southern stomp, wide open atmosphere, slow-burning solos and righteous weirdness to satisfy every hippie heart out there under the swelling stars."
11.No. 2: BLACK LIPS
11/12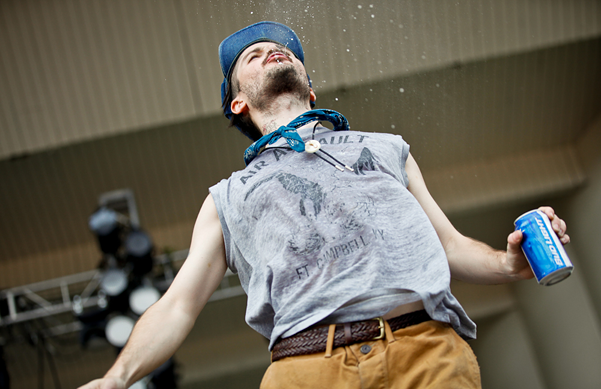 With their Saturday set on the PlayStation Stage, Atlanta's indie rock rabble-rousers reminded us why we love 'em so damn much: "With Black Lips, it's never about moderation," wrote SPIN's Chris Martins. The quartet ran onstage, guitarist Ian Saint Pé shot-gunned a Bud Light, and then they ripped into "Boomerang," which "sounded punker, noisier, grittier than ever before.... They punted beers, crushed beers on their heads, tossed beers up into the air and cracked 'em with guitars." Guitarist Cole Alexander "destroyed his axe, threw the neck into the crowd and dove after it. Bassist Jared Swilley launched the busted body it into the pit where it hit 16-year-old Eric D., who crowd-surfed into the arms of security. His reaction: "Awesome!"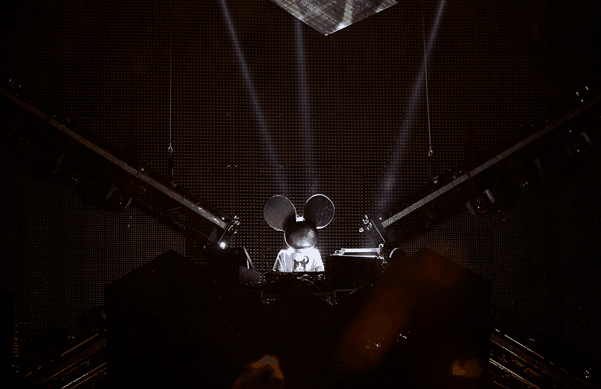 When Lolla founder Perry Farrell carefully made his way through the swampy frenzy of rain-and-sweat-dripping bodies at the Deadmau5 show on the Bud Light stage, carrying his son (who was, yes, wearing a cloak) piggyback, it was tacit acknowledgment that this was a hugely significant breakthrough moment for electronic dance music in America (or least at Lollapalooza). The only dance act to play a main stage, Deadmau5 made it obvious early on that with his bludgeoning, orchestrated beats and ginormous revolving Rubik's Cube stage (plus way more), there would've been no point in him playing anywhere else, and that consigning him to any sort of "rave tent" (or whatever you wanna call it) would have been sheer folly. The level of spectacle that the Canadian electronic musician/producer commands is not just beyond any other electronic act, it's beyond any other act period; even the Muses and Coldplays of the world seem like community theater by comparison.