Since releasing his Interscope debut Trunk Muzik 0-60 last year, Yelawolf has proven himself to be one of hip-hop's freshest voices: a heavily-tattooed, Alabama-bred badass who delivers sharply observed tales of Southern life. In Wolf's world, skate-punks, fast girls, and meth-addicted rednecks nicknamed Billy Crystal rule the roost – and there's no shame in celebrating the rhythmic boogie of classic rock acts like Lynyrd Skynyrd as much as the trunk-rattling beats of OutKast or UGK.
Perhaps not surprisingly, Eminem has taken note of Wolf's talent – the dude has impossibly quick rhyming skills – and has just signed him as the newest addition to his Shady Records roster. Too bad Wolf (real name: Michael Wayne Atha) was one of the last people to hear the good news.
"Me and my team went out to Detroit to get acquainted with Eminem," says Yelawolf, 31, who spent years releasing albums and mixtapes on the underground circuit, including his 2005 debut Creekwater and 2010's Trunk Muzik. "But on the low, my crew were putting together something without me knowing. They were like, 'Yela, you got a Shady deal.' It was crazy!"
SPIN caught up with Yelawolf to talk about his Shady debut, how he overcame being homeless for a time, and why he thinks his music is suited for arenas.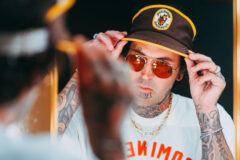 What'd you do to celebrate your signing to Shady?
I called my mama. She like boo-hoo cried. But I'm way too focused to celebrate. As soon as I found out it was official, I started pacing left and right, like, "What's the album gonna sound like? Next, next, next, next, next." I'll celebrate eventually.
You've said your next album, Radioactive, will be well suited for play in arenas.
I've got a few inspirational records, records for people to stay motivated. Not giving up, the American tale, using my blue-collar experiences, you know? I want to be a voice for those people and not get all "poppin' bottles in the V.I.P" or some shit.
Do you think hip-hop fans would be into that?
Anyone can relate to struggle, whether you're European or Asian. Anyone can relate to having to get up and go to work and eat. I'm a small town boy, my grandparents retired from factories and shit, so I have an appreciation for that. I think hip-hop's ready for it.
Which songs specifically have this arena-ready sound?
I got this one record "I See You." It's motivational. There's a lot of organic sounds in radioactive, piano, bass, drums, guitar. One song has an electric guitar drag, with a wah wah pedal.
Like P-Funk or Hendrix?
No funk at all. More like the Edge than P-Funk.
Are you planning to work with any producers or guest collaborators?
We had a record from Diplo and we've got a couple records from Jim Jonsin [who produced Lil Wayne's "Lollipop"]. But we had those before we came out here to Vegas. Those are part of the few records that are getting us saying, 'Alright, this is that sound. This is the bar. This is where we want to be."
You've got an uncanny knack for rapping insanely quickly. Any secret?
I just practice, and it all comes from listening to hip-hop like Mystikal and early Three 6 Mafia. All my chops were inspired by that. I'm from the South and there's a different understanding of how to chop. There's a syllable play. It's a delicate art. Your accent has a lot to do with it. If you're from a certain area, words don't roll of your tongue as slick. But at the end of the day, it's just writing, writing, writing.
Do you feel there's a burgeoning hip-hop scene in Alabama?
Oh, yeah. Jackie Chain, Slowmotion Soundz, G-Side, Attitude. But I pretty much represent my particular side of Alabama. There's no one "me" doing it out there. I represent the paradox of small town Alabama.
How so?
It's just this gutter life, man. It really doesn't seem gutter until you leave it and you realize the world is so far ahead. There's this paradox of hard working people but there's big trucks and mud tires, people bumping UGK. Shit that doesn't make sense.
Trunk Muzik 0-60 has a huge undercurrent of metal and hard-rock sounds. You even quote Nirvana's 1993 song "Moist Vagina" on "Marijuana." Who exposed you to rock'n'roll?
Rock is the core roots of who I am. When I was born, my mom was sixteen and super into rock'n'roll . A few of her boyfriends were in the music industry and I was just around sex, drugs, and rock'n'roll. I didn't live the lifestyle, but the music…I was just wealthy. 10,000 Maniacs, Journey, Chicago, Hall and Oates, and Lynyrd Skynyrd. It goes on and on and on. Rock is where I got my taste for beats.
A few years ago, you split from Alabama and ended up in Berkeley, California, where you lived homeless in Peoples Park for a spell. How'd that experience shape you as a rapper?
I don't know, man. But I do know that I had hit rock bottom, and I've used that situation to create music now. I've always been a dreamer. I was never focused in school; I failed three different grades; I went to fifteen different schools. I got heavy into drugs, and girls, and just anything, really. I've learned to triumph over all that. My life is just one big song.
You've got loads of tattoos all over your body. Any you regret getting?
[laughs] I don't have any regrets. I don't sit under the tattoo gun unless I'm sold on it completely and it will define me as a person.
Like Gucci Mane, who recently got a tattoo of an ice cream cone on his face?I saw that! That was fucking punk rock. Gucci really doesn't give a fuck; that's cool.
When's Radioactive out?
Summertime, I'm hearing. Gonna start getting back on the road, getting back to the streets. I only do a few things things. I make music and I do shows. I skateboard and I drink. I make videos and take pictures and shit. And I talk to people [laughs]. I'm trying to stay in everybody's face for the next ten years.