The most expensive production in Broadway history, U2's $65 million, nine-years-in-the-making Spider-Man: Turn Off the Dark, opened for its first public previews Sunday night at New York City's Foxwoods Theatre, and it's not exactly receiving a hero's welcome from critics.
The New York Post called the three and a half hour musical directed by Emmy-winning Broadway vet Julie Taymor an "epic flop."
"At various points, overhead stage wires dropped on the audience, scenery appeared on stage missing pieces – and the show's star was even left swaying helplessly over them midair during what was supposed to be the climatic end to the first act," wrote Michael Riedel. He called U2's score "dull" and the script "baffling," adding that the show was interrupted four times in the first act alone. The New York Daily News also reported that audience members, who paid up to $275 per ticket, walked out of the 1,800-seat theatre after a fifth malfunction in the second act.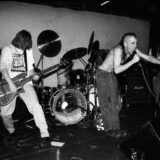 Fans seemed split on the production. Some came dressed in homespun Spider-Man and Green Goblin costumes. "It was really good," said one. "I was pleasantly surprised." Others were less impressed. "I don't know about the rest of you, but I feel like a guinea pig tonight!" one woman shouted. "I feel this was a dress rehearsal!"
Spider-Man: Turn Off the Dark officially opens in January.