Next January, Austin, TX-based singer-songwriter Sam Beam will release Kiss Each Other Clean, his fourth studio album as Iron & Wine and first since leaving indie label Sub Pop for major Warner Bros. And with his move to the big leagues comes a shift in his hushed, tender folk sound: "It's more of a focused pop record," Beam tells SPIN.
"It sounds like the music people heard in their parent's car growing up… that early-to-mid-'70s FM, radio-friendly music."
Beam tells SPIN that Kiss Each Other Clean's 10 songs were recorded over nine months between Chicago and his Austin home, and that working with longtime producer Brian Deck and his recent touring band gave the album "more of a live feel."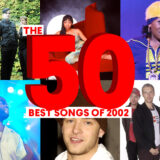 "There are a lot of live horns and synths, too," Beam says, explaining that Stuart Bogie, of Antibalas and TV on the Radio fame, added clarinet and saxophone.
The 36-year-old father of five (all daughters!) says that while the album is more pop-oriented, he also experimented with new genres. "There are straight-up jazz, blues, and African elements."
Beam, who worked on writing the new songs with "a pad and paper every morning in the kitchen," named the album after a lyric from one of its songs, "Your Fake Name Is Good Enough For Me." "It insinuates that shit is wrong and that we're not clean," he says of the Kiss Each Other Clean title. "But at the same time we're doing something about it."
That theme, he says, is in the abstract and poetic nature of his lyrics, starting with the album's opener, "Walking Far From Home." "[It's] an account of a guy walking far from home, what he sees and experiences," explains Beam. "It's surreal and beautiful and sad all at the same time."
Another new track, "Me and Lazarus," is about "Lazarus, the character from the bible, coming back to life and not having anywhere to go," explains Beam. "That song was born out of a lot of my friends who were ready to leave America, almost like the '60s jump to Canada, when shit wasn't going so great. I reacted, 'Where else would you go?' Life is similar everywhere you go."
"Tree by the River" is a nostalgic conversation between a couple. "The man says, 'Marian, do you remember the tree by the river when we were 17?' He describes himself now and then by looking at things from his life."
Beam will hit the road as Iron and Wine with an all-new band in November. See their complete dates here.