After years of tours that featured alter egos, massive stage props, crazy projections, and animal costumes, fans of Athens, GA, psych-pop act Of Montreal are used to the spectacular. But the band's upcoming tour in support of their excellent new album, False Priest, promises to be an immersive experience from the moment doors open each night, frontman Kevin Barnes tells SPIN.com.
"We spent the last four months working on the tour production," he says of the trek, which kicks off Sept. 13 in Washington, D.C., with Janelle Monae opening. "We have new props, new costuming ideas, and we're very excited to see the vision come to life."
Fans got a sneak preview when the band performed their song "Sex Karma" (download it here) along with Solange Knowles on Late Night with Jimmy Fallon earlier this summer, but that was just a taste.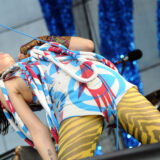 "There's a couple of multi-person puppets, and weird costumes that fit multiple people inside of them that are visually stunning," says Barnes. "There are also 'events' that are going to happen throughout the show."
These "events" will start from the moment doors open each night — and one in particular is well worth the early arrival. "One of the ideas we had was that before doors open, there will already be a group onstage comprised of different members of Janelle's band and Of Montreal and we'll be in the middle of a song when people walk in," says Barnes. "We hope people will be like, 'Wait, are we late? Why are they already starting?'"
Barnes also looks forward to collaborating throughout the night with opening act Monae and her band, who are close pals. "Meeting Janelle and the Wondaland Arts Society [her collective of musicians and producers] was a major event in my life, a huge factor in the direction for what I came up with on False Priest," he says. "Talking to them and trading ideas and collaborating during that period helped direct the ship in a way."
So definitely expect a lot of "cross-pollination" between the two bands' sets, with members of each act joining the other at times throughout the night, original music playing in between sets that ties the whole night together, and performance artists spicing up all the spaces between.
Check back to SPIN.com on Tuesday, Sept. 14, for a full recap of the tour opener in D.C.