Björk recruited Antony Hegarty, singer for Antony and the Johnsons, for "The Dull Flame of Desire," a duet from her last album, 2007's Volta. On "Flétta," a track from the Johnsons' October 12 release Swanlights, she returns the favor. Listen below!
Unveiled Wednesday on Antony and the Johnsons' Tumblr, "Flétta" is a tender duet from two of music's most unique voices. A simple piano melody puts the spotlight on the Icelandic songstress' vocals, as Antony's shivering bellow follows her lead.
"Flétta" is just the latest in a flurry of activity from Björk, who released "The Comet Song" to benefit UNICEF's work with flood victims in Pakistan, and collaborated with Dirty Projectors on the seven-song benefit collection Mount Wittenberg Orca.
Listen to "Flétta" below, then tell us what you think in the comment section.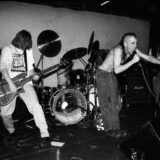 Antony and the Johnsons' "Flétta," featuring Björk
https://www.youtube.com/embed/aDR91B0WGok?fs=1