Zooey Deschanel, the indie actress and seasoned heartmelter on the mic with She & Him, may have found her match in the cute department.
Her band's new video for "Thieves," a folky '70s AM radio-style track about heartbreak off their latest album Volume Two, is shot in black-and-white and has the feel of a children's fairytale with papier-mâché clouds, tin-can phones, games of paper-scissor-rock, and silly mustaches and wigs. Purse your lips and prepare to say, ohhhhhhhwwwwww, that's so adorable. Because it is. Watch below.
She & Him are currently on the road supporting their latest album. See their complete tour itinerary here.
Check out She & Him's "Thieves" video below, then head to the comments section and answer this question: On a scale of one-to-10, how cute is this video?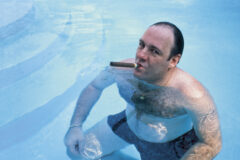 She & Him, "Thieves" video: